At the 'Solo' world premiere, stars praise Ron Howard for stepping in to direct latest 'Star Wars' film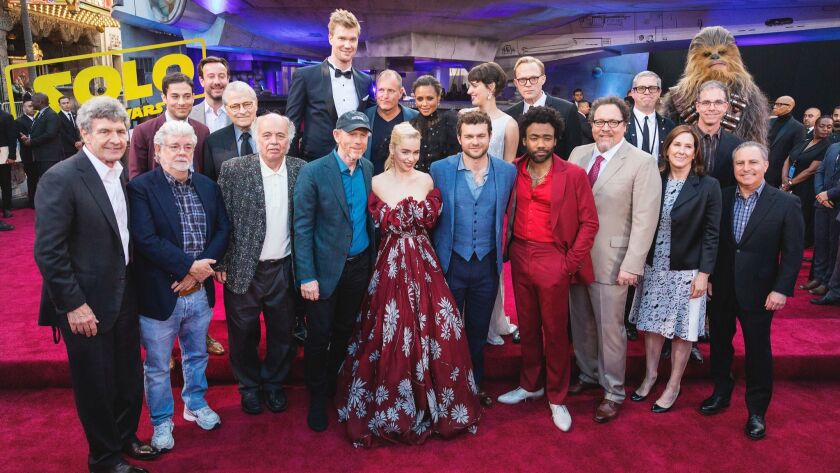 The Force was with Hollywood on Thursday night at the world premiere of "Solo: A Star Wars Story."
The event took over Hollywood and Highland, spilling into three theaters (the TCL Chinese, the Dolby and the El Capitan) and even shut down Hollywood Boulevard to make room for a display of the Millennium Falcon, which plays a central role in the film.
"Solo," opening nationwide May 25, serves as a prequel, depicting how the space cowboy Han Solo (played by Alden Ehrenreich) and his furry friend Chewbacca became co-pilots on the signature spacecraft.
Among those in attendance was Ron Howard, who stepped in to direct the standalone film after Phil Lord and Christopher Miller were fired over "creative differences" during production. (The duo remain executive producers on the finished film.) Star Emilia Clarke, who plays the new character Qi'ra, explained how Howard calmed the cast's nerves during the turmoil.
"He's amazing. I mean — it's Ron Howard! He came on and just saved any fears that anyone might have had," Clarke told the Los Angeles Times on the red carpet. "He just made us all feel taken care of and he did it with grace and poise and skill."
Joonas Suotamo, who fills Peter Mayhew's shoes as the new Chewbacca actor, echoed Clarke's sentiments. "I loved how welcoming he was with everyone and how humble he was, because he was so happy to be working on a 'Star Wars' film," the 7-foot-tall actor explained to The Times. "He's known George [Lucas] all his life and he just knew what he wanted. He served the script to us in the best way. He was the best guy to bring us the story."
Howard, in turn, credited the cast, who were already deep into production when he joined. "Alden Ehrenreich was carrying the burden of this movie and what a responsibility to take on an iconic character like that," the director said. He also applauded the work of Donald Glover, who plays a young Lando Calrissian. "Donald is so inventive, but he's also an intellectual," he said. "He thinks like a writer and then he happens to also be a great performer. And tremendous work ethic."
I had the most fun. I had the best capes. I had the best outfits.
Donald Glover on his role in "Solo: A Star Wars Story"
Billy Dee Williams, who originated the role of Lando in "The Empire Strikes Back," was also at the event. Glover described what it was like to meet with him ahead of filming. "We sat down and I had a bunch of ideas of what it was going to be, and he threw it all out the window. He was just kind of like, 'I don't know. Be charming.' That was sage advice. He was like, 'Keep it simple, stupid.'"
Glover's role was especially personal to him, because a Lando action figure was the first toy he received as a kid from his dad. "He really changed my life, because 'Star Wars' was like the first story I ever knew. We had it on like VHS like ripped from a laser disc. I just wanted to be that guy."
Ehrenreich confirmed he had a similar meeting with the original Han Solo actor, Harrison Ford. Ehrenreich said his goal was to receive Ford's blessing and show his respect, something he had greater appreciation for after realizing how demanding a "Star Wars" film can be. "It's a lot more physical doing an action movie," he said. "You watch it and you think, 'Oh, they have a mat and someone falls on it for you,' but you end up doing a lot. So, I learned a lot from an athletics standpoint."
While "Solo" offers new takes on the iconic characters of Han and Lando, moviegoers will also be introduced to a new heroine. Qi'ra, played by Clarke, is "a different kind of female character" than previous "Star Wars" roles, according to writers Jonathan and Lawrence Kasdan.
"There's a very strong warrior, sort of idealist mentality to most 'Star Wars' heroines. [Qi'ra's] brain encompasses all the other characters in the movies. She's the sharpest, and she sees the game on the whole board. Someone with that kind of skill was very fun and a little scary to write," Jonathan Kasdan said. Lawrence added, "It's one of the reasons I think that the movie is unlike any other 'Star Wars' movie."
The actress remained tight-lipped at the premiere on her "mysterious" character's relationship with Han, but said she can safely say they've known each other "for a minute." Clarke added that the energy on set was contagious. "I was very lucky. One of the first things we shot was a big set piece, and so I got to be in the world straight away."
Glover said there were upsides and downsides to working on such a famous franchise. "It's a lot of pressure, as a fan, to put on yourself, but I had the most fun. I had the best capes. I had the best outfits. There's an outfit at the end of this film that I truly want to wear."
Even a Hollywood veteran like Howard recalled becoming a little star-struck during filming. "I got a big Chewbacca hug on Day 1 and a fist bump," he remembered. "Now that was really an experience every movie maker ought to have. It was a rare one, but very affirming."
---
The complete guide to home viewing
Get Screen Gab for weekly recommendations, analysis, interviews and irreverent discussion of the TV and streaming movies everyone's talking about.
You may occasionally receive promotional content from the Los Angeles Times.