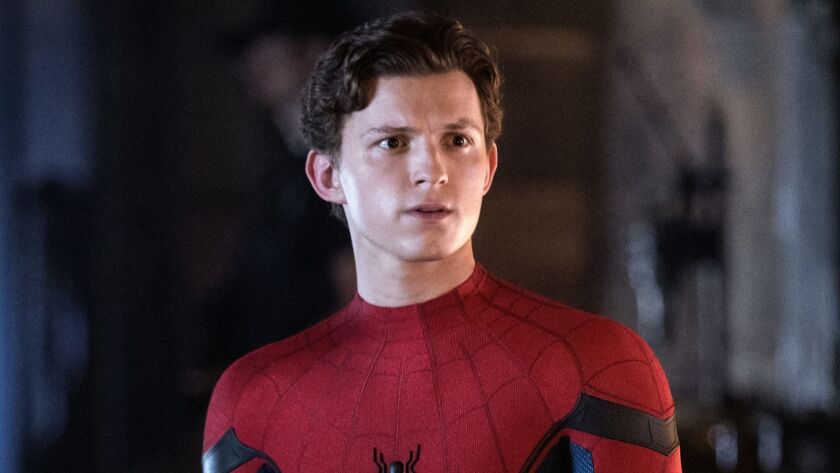 While sequels from "Men in Black: international" to "Dark Phoenix" have disappointed both critically and commercially this year, the Marvel Cinematic Universe keeps setting records.
Its 23rd entry, "Spider-Man: Far from Home," continues the trend: The second solo Spider-Man movie in the MCU scored the highest Tuesday bow ever with $39.3 million, topping "The Amazing Spider-Man" ($35 million). After second place, the competition drops way back, with 2007's "Transformers" No. 3 at $27.8 million. "Far From Home's" reported Wednesday figure, $27 million, is also the best-ever for an MCU film — topping "Avengers: Endgame"s $25.2 million.
RELATED: 'Spider-Man: Far From Home' is poised to become the latest Marvel hit »
"Amazing," Sony's 2012 franchise reboot starring Andrew Garfield, predated the studio joining forces with Marvel/Disney to bring Spider-Man into the MCU fold with 2016's "Captain America: Civil War."
Only one of the four MCU Spider-Man outings before now has been a solo adventure: "Spider-Man: Homecoming" (2017). The others, "Civil War," "Avengers: Infinity War" and "Endgame," featured star-studded ensemble casts. Each scored more than $1 billion at the box office worldwide and averaged around 90% positive ratings from critics on Rotten Tomatoes.
More than director Sam Raimi's trilogy, starring Tobey Maguire, or Marc Webb's two-film reboot, "Homecoming" and "Far from Home" focus on the hero's awkward adolescence familiar to readers of the Spider-Man comics. Each scored 92% on Rotten Tomatoes: That's higher than any of Sony's five previous live-action entries except "Spider-Man 2" (93%) and well above the pair of Garfield vehicles, which rated 72% and 52%, respectively.
ALSO: What 'Spider-Man: Far From Home's' post-credits scenes mean for the MCU's future »
"Homecoming" came in just $11 million behind "Spider-Man 3" ($891 million) for the highest-grossing solo web-slinger outing, and against that bar, "Far from Home" is off to a blazing start. The film is expected to finish Independence Day with $65.3 million stateside and $215.3 million worldwide. Sony projects a $125-million six-day total.
Marvel's last five movies, since 2018, have grossed: $1.3 billion ("Black Panther," which also nabbed six Oscar nominations, including best picture), $2.05 billion ("Avengers: Infinity War"), $622.7 million ("Ant-Man and the Wasp"), $1.13 billion ("Captain Marvel") and $2.77 billion ("Avengers: Endgame"). That continued success stands in contrast to the struggles of other franchises and sequels this year, which include "Godzilla: King of the Monsters," "The Secret Life of Pets 2" and "Shaft."
"Men in Black: International," despite featuring MCU stars Chris Hemsworth and Tessa Thompson, is fading fast at $220.8 million worldwide, on pace to be the lowest-grossing entry in the series by far. (The next-lowest, 2002's "Men in Black II," earned $441.8 million.) "Godzilla: King of the Monsters" (41%) is heading back to its underwater lair with only $378.1 million — about $150 million less than its predecessor (2014's "Godzilla") and $190 million less than the top grosser in Warner Bros.' "Monsterverse," 2017's "Kong: Skull Island." "King of the Monsters'" weak performance has prompted studio executives to discuss pushing the next installment, the already wrapped "Godzilla vs. Kong," from its slated March 2020 release date.
"The Secret Life of Pets 2," "Dark Phoenix" and "Shaft" met similar fates – critical disdain and disappointing box office. "John Wick: Chapter 3 – Parabellum" (90%) however, is by far the biggest hit of its series, and "Toy Story 4," despite some hand-wringing, notched the series' highest debut ($238 million worldwide) and a sterling 98% on Rotten Tomatoes, signaling that word of mouth may carry it through.
Perhaps the in-vogue phrase "franchise fatigue" is a misnomer for "unwanted sequel fatigue." Two days into the long holiday weekend, "Far from Home" seems to represent the opposite.
---