'Spidey' sense: Experimental innovation is a superpower for Sony hit 'Into the Spider-Verse'
"Spider-Man: Into the Spider-Verse" was something of a creative dare when filmmakers Phil Lord and Chris Miller first pitched their idea to Sony executives in 2014, the same year their animated smash "The Lego Movie" put an unexpected CG animated twist on the classic toy bricks.
Coming off of two "Cloudy With a Chance of Meatballs" hits with Sony Pictures Animation, the rising duo proposed a fresh take on one of Hollywood's most oft-rebooted superheroes: Tell the story of Miles Morales, the post-millennial African American-Latino Brooklyn teen who takes up the Spider mantle after Peter Parker's demise in his corner of the Marvel multiverse.
They wanted to present the Spidey tale in an all-new visual language, conjuring the feeling of being inside the pages of a living, breathing comic book with a dynamism befitting the character introduced in 2011 by Brian Michael Bendis and artist Sara Pichelli.
"But," laughed Miller, looking back on that initial pitch as "Spider-Verse" was swinging into the second week of a successful holiday frame, "only if we can do it about Miles Morales and make it look crazy. And they said, 'OK.' Four years and 800 people working on it later, here we are."
REVIEW: The terrific animated film 'Spider-Man: Into the Spider-Verse' opens a whole new web of intrigue »
Critics have sprung for "Spider-Verse" to the tune of a 97% rating on Rotten Tomatoes, while audiences have given a rare A-plus CinemaScore to the groundbreaking animated film, which opened Dec. 14 and stars Shameik Moore ("Dope") as Miles, Jake Johnson as Peter B. Parker, and a supporting cast that includes Mahershala Ali, Hailee Steinfeld, Brian Tyree Henry, Lily Tomlin, Nicolas Cage, Kimiko Glenn and John Mulaney.
The film crossed $138 million worldwide in 12 days, and now, Miller and Lord (who produced along with Amy Pascal, Avi Arad and Christina Steinberg), directors Bob Persichetti, Peter Ramsey and Rodney Rothman and their team of innovative animators are celebrating awards from critics groups, a Golden Globe nomination and Oscar buzz for their film, which is also the first to feature an inclusive, nonwhite Spider-Man.
That outsize response is all the more moving to Lord and Miller, who were replaced in 2017 as directors of the "Star Wars" film "Solo" over their improvisational process, given that the technical execution of what they were proposing back then wasn't yet possible.
"We wanted it to look like when you open a comic book or a graphic novel for the first time," said Lord, who also cowrote the screenplay with Rothman. But CG animation methods now common in the animation world didn't have the right feel. A new aesthetic blending traditional and forward-thinking techniques would have to be birthed into existence. On "Spider-Verse," experimental innovation was a superpower.
"No one knew exactly how to accomplish that," said Miller, "but everyone was excited to figure out a way."
There's a friendly neighborhood Spider-Man — or Spider-Woman or Spider-Ham — for everyone »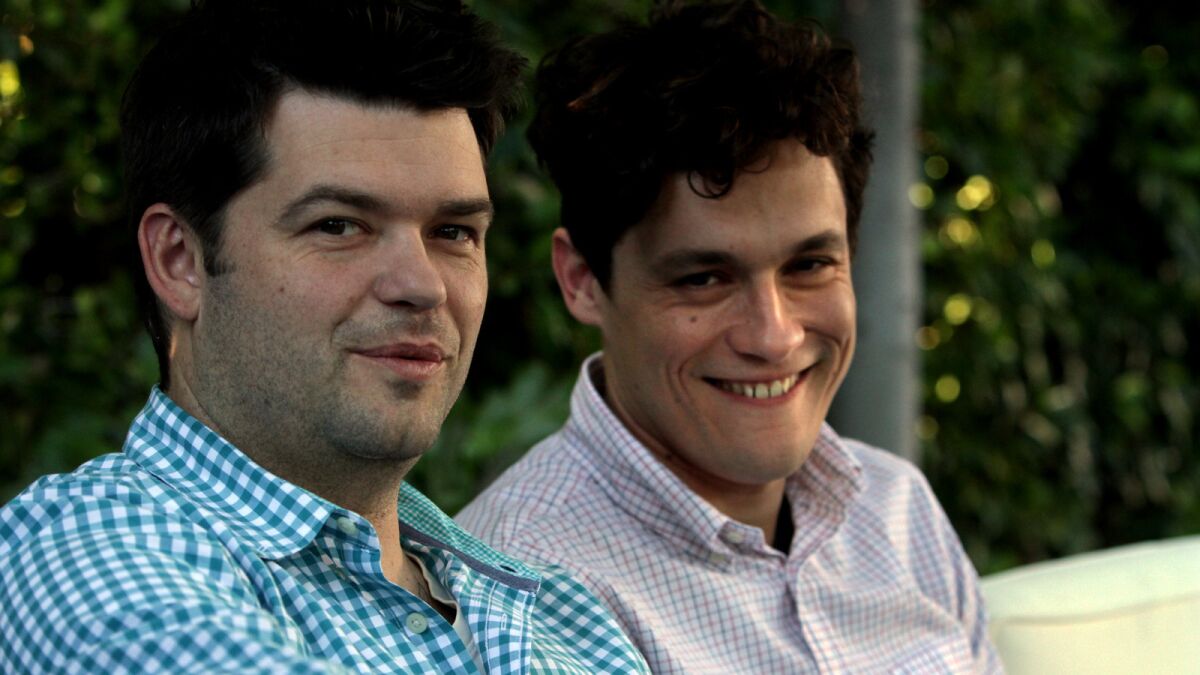 First, Lord and Miller assembled a team of like-minded creatives, leading with a philosophy counter to most studio mind-sets: Think outside the animated box, and don't be afraid to fail.
"Anytime we've done something with a [pre-existing] IP, we've tried to use it as a Trojan horse to bring in something new, because having a known property makes studios feel comfortable," said Miller. "So that is the best way to try and make something that is the most radical."
Their first call was to production designer Justin K. Thompson, one of several collaborators Lord and Miller brought along from the "Cloudy With a Chance" films. "Justin has a really good eye for people that are really skilled artists who will chase something down in order to discover something new," said Lord.
Blending hand-drawn animation over CG, "Spider-Verse's" team of versatile animators and programmers working under three directors also had to orchestrate disparate visual styles for the Spider-heroes and villains who converge on Miles' universe from their own dimensions, including the futuristic Spider-Gwen, anime-influenced Peni Parker, black and white 1930s-era Spider-Man Noir, and the Looney Tunes-esque Peter Porker, a.k.a. the Spectacular Spider-Ham.
"The fundamental starting point was, 'How do we make a collage film for a general audience and have these things live together, and enjoy the differences between them and relish in the themes in between these styles instead of being thrown off by them?'" said Lord. "The fact that those things don't belong together is the whole thing.
"Every opportunity we had to put a Rubik's cube in a black-and-white character's hands, or stick Spider-Ham in an environment where he didn't look right — to put him against Scorpion, who looks rusty and really realistic — that was the joy for us." He paused. "In a funny way, it doesn't feel crazy. That's just how we see the world."
The resulting collision of characters, universes and aesthetics in Miles' graffiti-painted Brooklyn is its own impressively integrated blend of on-screen chaos, using comic-book language like panelization, action lines and dot shading to convey action, story and interior character dramatics.
Grounding that psychedelic visual experience in the emotions and humanity of these characters are "Spider-Verse's" talented ensemble of actors, who worked with the directors in an improvisational environment. Performances were filmed as a reference for the animators, who worked unscripted human moments captured in the recording studio back onto the screen.
"Everything that they did with this movie felt different," said Johnson, who jumped at the chance to work with Lord and Miller after starring in their 2012 live-action directing debut, "21 Jump Street."
"I've done animation before, and mostly you say the lines and it's got to be perfect because it's all timed out. With this, any imperfection or anything you could bring to it, if you would take a big, deep breath in between lines, thinking they'll cut it, they'd animate around that breath so that it feels more human."
Given space to improvise in the booth with co-stars Moore and Kathryn Hahn, who plays Olivia "Liv" Octavius, a.k.a. Doctor Octopus, "we would just keep doing it until it felt honest," Johnson said.
He appraised his character, Peter B. Parker — a sad sack alternate universe version of Spider-Man who reluctantly mentors Miles in the ways of web-slinging — as a daring departure from the canonical norm and more likely to be moping his way through an existential indie drama than an animated superhero blockbuster.
"If I was pitched this role … and they wanted to make a movie called 'Peter,' about a guy who works hard at his job and his job is to save people, and his life falls apart and now he's trying to put it back together and he teaches this young kid how to do it … as an actor, I like that character," said Johnson. "I would never have imagined that to be Spider-Man. We'd hopefully go to Sundance with it …"
To tell this out-of-the-ordinary take on "Spider-Man," the "Spider-Verse" team also embraced new techniques, including the use of chromatic aberration to denote depth of field and variable frame rates, using 12 frames per second instead of the cinematic standard 24 to modulate action and emotion and give scenes a crisp, hyper-real pop.
Each second of the 117-minute film took an artist a week to complete, with ideas coming from all directions. It was a year and a half, say Lord and Miller, before they had the first shot that felt like it struck the right balance. Because of that process of discovery, it was essential for the filmmakers to have space to innovate, create, fail — fail some more — and then adapt.
It helps that tinkering with creative exploration comes naturally to Lord and Miller. The duo trace their methods to a shared background studying under experimental animator David Ehrlich at Dartmouth College, where the pair met before making their directorial debut in 2002 with the acclaimed animated series "Clone High."
"Like most scientific experiments in a lab, the first 27 times it doesn't work," said Miller. "And then, finally, everybody working together came upon a method that we all knew worked. So the secret to experimental success is science."
What's funny is the movie looks conservative to me now, we've been looking at it for so long. So I know on the next one what we're going to do.
— Phil Lord
"I'm not a programmer or a world-class artist," added Lord. "Our job was just to say, 'More,' and 'Crazier,' and to say 'Yes' to the wildest idea in the room, because we knew we had a chance to do something that hadn't been done before. What's funny is the movie looks conservative to me now, we've been looking at it for so long. So I know on the next one what we're going to do."
That "next one" is the "Spider-Verse" sequel reported to be in development on the strength of the first film's buzz, while a Spider-Gwen spinoff is rumored to also be in consideration as Sony looks at expanding the franchise. (No word yet on a Spider-Ham standalone, although Lord and Miller are big fans of the wisecracking anthropomorphic superpig.)
"One thing about graphic novels, comics and sequential art that's done by different artists, is that they have different styles to them, and the idea of the multiverse opens the door to a bunch of artistic styles in the same movie," Miller said of the potential ripple effect he hopes "Spider-Verse" has. "So the possibilities are really infinite."
The risks he and Lord took with "Spider-Verse" were challenging, but paid off — and he hopes they'll inspire fellow filmmakers and animators to think outside the lines, bringing a fresh spirit of experimentation to the medium.
"The idea that any style of art that a person can make can be represented in animation in motion, not just in this world but in the world of animation, will hopefully lead other people to feel that it's not risky to try something that has different looks to it, and push for a wider diversity of styles in studio filmmaking."
Get our L.A. Goes Out newsletter, with the week's best events, to help you explore and experience our city.
You may occasionally receive promotional content from the Los Angeles Times.