Steven Spielberg developing Walter Cronkite film; can it defy war-correspondent movie odds?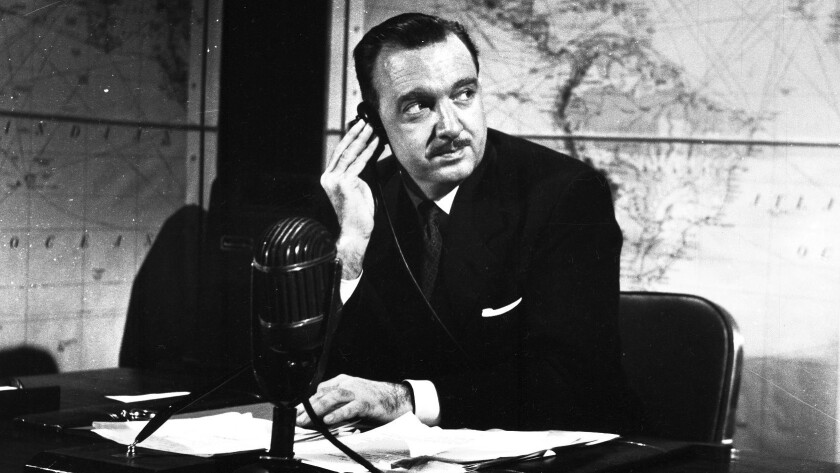 Covering war can be a tragically dangerous business, as the death in Afghanistan of NPR correspondent David Gilkey recently reminded.
It also can be heroic and vital, as the death of Gilkey, along with the likes of Morley Safer, Jackie Shymanski and The Times' David Lamb reinforced as well. All these figures brought home the vagaries and horrors of conflict to Americans who needed to know about them, and altered perception and policy besides. (As, it should be said, did correspondent James Wright Foley, documented in the excellent "Jim" earlier this year).
Now a new project from Steven Spielberg and the "Bridge of Spies" team aims to tell a front-lines narrative on the big screen. A pitch centering on Walter Cronkite has been sold by "Spies" writer Matt Charman and producer Marc Platt. Per this report, the pitch has been bought by Spielberg's Amblin Entertainment, which will produce the film.
The piece doesn't contain many details about what precisely of Cronkite's war experience the movie might focus on. Filmmakers certainly would have a rich vein to tap, though. Cronkite spent a long spell in Southeast Asia, unearthing the way the Vietnam War was fought, translating it for Americans and setting the stage for many a conflict journalist to come.
The CBS anchor even famously swung sentiment about the war with his 1968 assessment, upon his return stateside, saying, "It is increasingly clear to this reporter that the only rational way out then will be to negotiate, not as victors, but as an honorable people who lived up to their pledge to defend democracy, and did the best they could."
If a movie comes off (whether Spielberg would direct remains a question), it would follow a series of other noble, if long-gestating, war-journalist projects. Those include a number of Robert Capa films in development (this and these) as well as a different Spielberg project, with Jennifer Lawrence as the modern war photographer Lynsey Addario.
Even in a post-Brian Williams world in which journalists have faced a series of public-image challenges — it's hard to imagine Cronkite's "most trusted man in America" flying today — the idea of witnessing war through the eyes of a reporter remains an appealing idea and storytelling device.
Of course, war is such that it's also hard to tell these tales in a way that fits neatly into several hours of screen time and is accessible to audiences. There are structural challenges and commercial obstacles, as the Tina Fey-starring Kim Barker tale "Whiskey Tango Foxtrot" underscored earlier this year.
It's also, on the Williams point, hard to tell a modern story that engenders a high level of trust in a character, which is why so many of these movies seem to be set in deep period.
Cronkite was an icon, and "Bridge of Spies" was a big hit. There's reason to think this movie could work. There's certainly hope it will.
ALSO:
VR pioneers Felix & Paul raise nearly $7 million as Comcast jumps into virtual-reality game
In Hollywood, diversity tends to ignore the disabled
'The Witches,' with Anjelica Huston, still casts a delicious spell
---
Inside the business of entertainment
The Wide Shot brings you news, analysis and insights on everything from streaming wars to production — and what it all means for the future.
You may occasionally receive promotional content from the Los Angeles Times.