Review: 'Summer 1993' explores the wonder of childhood in the wake of tragedy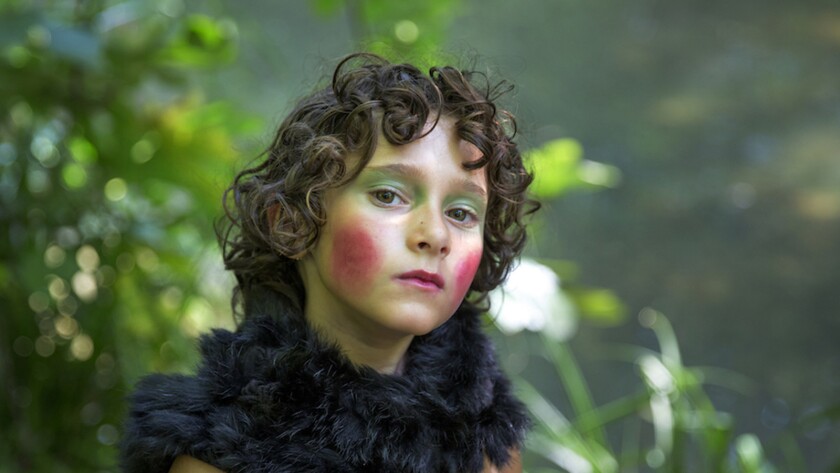 Writer-director Carla Simón, whose gentle, poetic drama "Summer 1993" reflects on the time she went to live with her uncle's family after the death of her mother, offers a relatable array of candid emotions and observations that feel distinctly culled from real life.
This verisimilitude, amplified by the film's unhurried pace and naturalistic shooting and acting styles, slowly draws us into the journey of Simón's proxy, 6-year-old Frida (Laia Artigas), as she leaves her Barcelona home — and loving circle of aunts and grandparents — for the scenic Catalonia farm where her mother's brother, Esteve (David Verdaguer), lives with wife Marga (Bruna Cusí) and their 4-year-old daughter, Anna (Paula Robles). (The movie was shot in the actual place where Simón was sent when she was 6.)
The wary and aching Frida, mystified by her rural surroundings and replacement family — as well as by the hushed circumstances of her mother's AIDS-related demise — at first feels like the "odd girl out" despite Esteve and the more circumspect Marga's efforts to treat her like their own child.
Marga, sympathetic to Frida and Esteve's loss but primarily protective of Anna, can't help keeping her niece somewhat at arm's length, not entirely convinced that Frida isn't a budding bad seed — that is, her mother's daughter.
Meanwhile, Frida, in her own low-key way, can be something of a brat, acting out and creating bits of perhaps unintended havoc, particularly around Anna, who's become a sister and new best friend. A dubious accident that lands Anna's arm in a cast does little to burnish Frida's reputation, though Anna still seems happier than not for her playful company.
The 1993-set film, whose sentiments, if not cultural specifics, are relatively timeless, unfolds as if in a series of mind's-eye snapshots as Simón moves us through Frida's pivotal summer.
Whether beholding chickens and livestock, learning to distinguish her leafy greens, listening in on adult conversation, or viewing the vibrant costume festival of Gegants i Capgrossos (giants and big heads) in the village square, Frida maintains both a cool reserve and a wide-eyed interest as she searches for her place amid all she sees and hears.
It all makes for a uniquely vivid and evocative kind of storytelling reminiscent of such other child-centric European portraits as the highly praised 1973 drama "The Spirit of the Beehive" and 1996's award-winning "Ponette." As in those inward films, "Summer" lives, breathes and succeeds on the expressive, instinctive work of its young lead actress. Artiga, reportedly chosen out of nearly 1,000 auditioning children, is indeed a find.
Ultimately, this is a memorable look at our desire to love and feel safe, to connect and belong — and the unexpected ways in which families can reshape and grow.
-------------
'Summer 1993'
In Catalan with English subtitles
Not rated
Running time: 1 hour, 38 minutes
Playing: Laemmle Royal Theatre, West Los Angeles; Laemmle Playhouse 7, Pasadena
See the most-read stories in Entertainment this hour »
---
Inside the business of entertainment
The Wide Shot brings you news, analysis and insights on everything from streaming wars to production — and what it all means for the future.
You may occasionally receive promotional content from the Los Angeles Times.