South By Southwest's 2018 film festival opens with John Krasinski and Emily Blunt in 'A Quiet Place'
The South By Southwest Film Festival released the features lineup for their 25th edition on Wednesday. The event will open with the world premiere of "A Quiet Place," a horror suspense story directed by John Krasinski and starring Krasinski, Emily Blunt and Millicent Simmonds. The event will run March 9-18 in Austin, Texas.
South By Southwest has long walked a tricky line between being a festival of discovery for new filmmakers and fresh voices and a home for left-of-center studio films. Last year's lineup was a particular success on the studio side, featuring premieres of "Baby Driver," "Atomic Blonde" and "The Disaster Artist" alongside smaller-scaled festival hits such as "Gemini," "Lucky," "Most Beautiful Island," "Mr. Roosevelt" and "The Work."

For the record:
2:55 p.m. Jan. 31, 2018An earlier version of this story stated that the pilot of the upcoming TBS series "The Last O.G." was directed by Jordan Peele. It was directed by Jorma Taccone. Peele created and executive produced the series with Tracy Morgan. Also, the film originally posted as "The Legacy of the Whitetail Deerhunter" is "The Legacy of a Whitetail Deerhunter."
And while those films went on to varying levels of success after the festival, Janet Pierson, SXSW's director of film, said her primary concern is getting them launched into the world.
"You wonder, 'What is going to happen with this?' But that's just a passing question. It's not my business, I'm not an industry pundit," Pierson said. "We're looking for talent, and we're looking for compelling work along every budget line. We want something made for a penny and big-budget stuff and everything in between. So we're just looking at what works for us."
Besides being the festival's 25th edition, this marks the 10th year that Pierson has been head of the the festival. For filmmakers such as Julia Hart, the attitude that Pierson brings to the festival is a big part of the event's appeal. Hart screened her feature directing debut, "Miss Stevens," starring Lily Rabe and then-unknowns Timothée Chalamet and Lili Reinhart at the festival in 2016. Her new, more ambitiously scaled "Fast Color," which she directed and co-wrote with her husband, "La La Land" producer Jordan Horowitz, stars Gugu Mbatha-Raw, Lorraine Toussaint and Saniyya Sidney.
"I'm excited to go there with this one because we had such a good time with 'Miss Stevens,'" Hart said of the festival. "Janet is just the most supportive, thinks about representation, takes care of filmmakers, has such a diverse slate. I will go back to South-By whenever she will have me."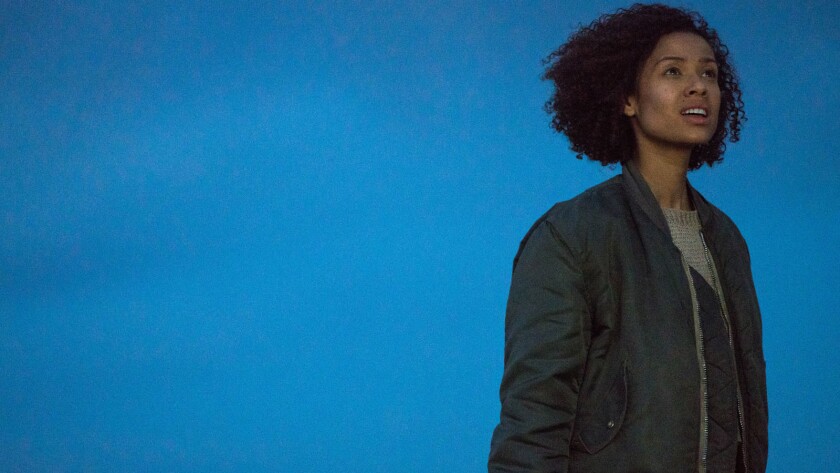 Many conversations at the recently completed Sundance Film Festival revolved around gender equality and representation in front of and behind the camera, and five of the 16 films in that festival's U.S. Dramatic competition were directed by women. SXSW's Narrative competition will feature eight out of 10 films directed by women.
"We were shooting for parity, more 50-50, and it just kind of worked out that way," said Pierson.
The Narrative Feature competition will include "Family," directed by Laura Steinel; "First Match," directed by Olivia Newman; "Jinn," directed by Nijla Mu'min; "The New Romantic," directed by Carly Stone; "Sadie," directed by Megan Griffiths; "Shotgun," directed by Hannah Marks and Joey Power; "Summer '03," directed by Becca Gleason; "Thunder Road," directed by Jim Cummings; "The Unicorn," directed by Robert Schwartzman; and "Write When You Get Work," directed by Stacy Cochran.
The Documentary Feature competition includes "Chi-Town," directed by Nick Budabin; "Garry Winogrand: All Things are Photographable," directed by Sasha Waters; "The Gospel of Eureka," directed by Michael Palmieri and Donal Mosher; "¡Las Sandinistas!" directed by Jenny Murray; "People's Republic of Desire," directed by Hao Wu; "Social Animals," directed by Jonathan Green; "This One's for the Ladies," directed by Gene Graham; "TransMilitary," directed by Gabriel Silverman and Fiona Dawson; "Weed The People," directed by Abby Epstein; and "The World Before Your Feet," directed by Jeremy Workman.
The Headliners section features some of the more notable names at the festival. Alongside "A Quiet Place," which will be released by Paramount, titles will also include Universal's "Blockers," directed by Kay Cannon; Sony/Stage 6 Films' "Boundaries," directed by Shana Feste; "Paradox," directed by Daryl Hannah; and Sony Classics' "Final Portrait," directed by Stanley Tucci, which bowed at last year's Berlin Film Festival.
Hart's "Fast Color" will play as part of the Narrative Spotlight section, which includes 13 world premieres. The other titles include "6 Balloons," directed by Marja Lewis Ryan; "All Square," directed by John Hyams; "Anchor and Hope," directed by Carlos Marques-Marcet; "A Bluebird In My Heart," directed by Jérémie Guez; "The Breaker Uppers," directed by Jackie van Beek and Madeleine Sami; "First Light," directed by Jason Stone; and "The Legacy of a Whitetail Deer Hunter," directed by Jody Hill.
Also in the section are "Neurotic Quest for Serenity," directed by Paulinho Caruso and Teodoro Poppovic; "Outside In," directed by Lynn Shelton; "Support the Girls," directed by Andrew Bujalski; "Unlovable," directed by Suzi Yoonessi; "A Vigilante," directed by Sarah Daggar Nickson; "Who We Are Now," directed by Matthew Newton; "Wild Nights With Emily," directed by Madeline Olnek; "Wilding," directed by Fritz Bohm; and "You Can Choose Your Family," directed by Miranda Bailey.
In the Documentary Spotlight section are "Agave: The Spirit of the Nation," directed by Nicholas Kovacic and Matthew Riggieri; "Ali & Cavett: The Tale of the Tapes," directed by Robert Bader; "Alt-Right: Age of Rage," directed by Adam Bhala Lough; "The Bill Murray Stories: Life Lessons Learned from a Mythical Man," directed by Tommy Avallone; "Brewmaster," directed by Douglas Tirola; and "Daughters of the Sexual Revolution: The Untold Story of the Dallas Cowboys Cheerleaders," directed by Dana Adam Shapiro.
Also in the same section are "The Dawn Wall," directed by Josh Lowell and Peter Mortimer; "From All Corners," directed by Ryusuke Okajima; "Getting Over," directed by Jason Charnick; "Nossa Chape," directed by Jeff Zimbalist and Michael Zimbalist; "Operation Odessa," directed by Tiler Russell; "Take Your Pills," directed by Alison Klayman; and "Time Trial," directed by Finlay Pretsell.
The 15 films in the Visions program, which often features some of the festival's most adventurous films, this year includes Yen Tan's "1985," Michael Tully's "Don't Leave Home," Sebastian Guttierrez's "Elizabeth Harvest," A.J. Edwards' "Friday's Child," Joel Potrykus' "Relaxer," Brett Hanover's "Rukus," Eugene Richards' "Thy Kingdom Come," Jamie Adams' "Wild Honey Pie!" and Eugene Kotlyarenko's "Wobble Palace."
SXSW was among the earliest film festivals to make television a regular part of its programming, inaugurating its Episodic section in 2014, and has featured the premieres of "Girls," "Silicon Valley," "Halt and Catch Fire," "Mr. Robot" and last year "Dear White People" and "American Gods." This year for the first time the festival will also feature independently made pilots looking for distribution in a separate section.
As part of the Episodic section, the festival will have the world premiere of TBS' "The Last O.G.," directed by Jorma Taccone, created and executive produced by Jordan Peele with Tracy Morgan, who stars with Tiffany Haddish, as well as HBO's "Barry," directed by and starring Bill Hader.
Also screening in the section are Audience Network's "Condor," based on "Three Days of the Condor" and directed by Lawrence Trilling and Andrew McCarthy; Syfy's "Krypton," set on Superman's home planet and directed by Colm McCarty and Ciaran Donnelly; and a pair of series from Starz: the Latino drama "Vida," directed by Alonso Ruizpalacios and So Yong Kim, and docu-series "Warriors of Liberty City," produced by LeBron James and directed by Evan Rosenfeld and Andrew Cohn.
The festival will also put on a special event around the season finale of NBC's "This Is Us."
The music-focused 24 Beats Per Second category will include a mix of fiction features and documentaries including Ethan Hawke's Sundance prize winner "Blaze," the two-part HBO documentary "Elvis Presley: The Searcher" and Stephan Plank and Reto Caduff's "The Potential of Noise – Conny Plank."
The festival will also feature seven international features in its Global program and 15 features in its Festival Favorites selection, including films by David and Nathan Zellner, Paul Schrader, Lauren Greenfield, Spike Lee and Chloé Zhao.
More selections, including the Midnighter program and other feature films, are still to come.
"I see our position as being an incredibly unique environment," said Pierson. "We have been successful at showing really interesting work and that's what we're concentrating on. I'm just putting one foot in front of the other trying to really do a good job and serve the filmmakers whose work we're privileged to show."
SIGN UP for the free Indie Focus movies newsletter »
Follow on Twitter: @IndieFocus
---
Get the Indie Focus newsletter, Mark Olsen's weekly guide to the world of cinema.
You may occasionally receive promotional content from the Los Angeles Times.