At SXSW, 'Blockers' brings together an unlikely mix of sweet, smart and raunchy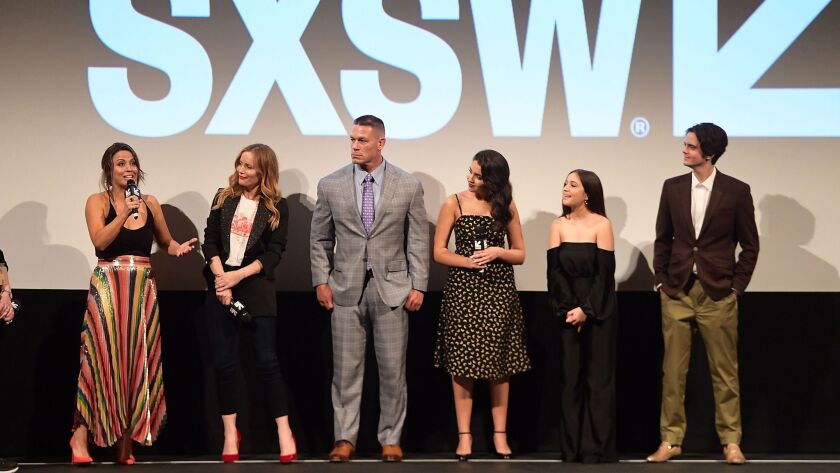 Before introducing director Kay Cannon ahead of the Saturday night premiere of "Blockers," SXSW director of film Janet Pierson noted that it was the fourth film that day directed by a woman to play at the festival's marquee venue, the Paramount Theatre in Austin, Texas.
As she took the stage, Cannon said: "I am a woman. And I directed something. And it's rated R. And a comedy. And studio-released. I feel pretty good about that."
Cannon continued by saying she wanted to make this movie "because I wanted to tell a no-holds-barred coming-of-age sex comedy from a female perspective."
She then proceeded to explain that she also wanted the movie to explore an extreme form of ingesting alcohol that does not involve the mouth but rather the opposite end of the digestive system.
"And you guys seem like a really fun crowd, I'm real excited that you're here. You're gonna have some drinks tonight, you're gonna go out and party," she continued, while exhorting the crowd not to attempt what they were about to see. "Don't do it. I mean that. I'm a mom, if I see it I will ... block you so fast. I will pull that tube right out."
Cannon's comments more than set the stage for the screening that followed. If there were ever any doubt that there is a special kind of magic during a SXSW premiere in the Paramount and why a certain kind of studio comedy has become a specialty of the fest, the roaring laughter that at times drowned out subsequent lines of dialogue would well dispel it.
The film cannily works on two tracks, as its story follows three teenage girls with a plan to lose their virginity on their prom night. When three of their parents discover the plan — #sexpact2018 — they set out to stop it. What follows includes all manner of sex jokes, vomit, wild physical comedy and indeed John Cena attempting to chug beer via a tube inserted in his rear end. It is every bit the wild comedy set piece it sounds to be.
As the parents, Cena, Leslie Mann and Ike Barinholtz capture a sense of manic uncertainty, as they are not entirely sure what they are so upset about or attempting to stop or save by thwarting their daughters' plans. As the daughters, Kathryn Newton, Geraldine Viswanathan and Gideon Adlon convey a feeling of emotional hesitation alongside a riotous sense of adventure. Viswanathan feels like the film's big discovery with an unpredictable energy, at once manic and low-key.
For the Q&A after the film, Cannon returned to the stage with Mann, Cena, Viswanathan, Adlon and Miles Robbins, who plays one of the girls' prom dates.
Mann was asked how she connected to the role.
"My daughter was going away to college right around the time that we met and talked about this movie," Mann said. "She's here now, she wants to drop out. But she's not going to."
In the audience, Mann's daughter Maude Apatow slunk into her seat next to her younger sister, Iris Apatow, as their father, comedian and filmmaker Judd Apatow captured it all on his phone's camera.
Cannon was asked about the point of view of the storytelling.
"Part of what attracted me to the script was that it was from the female perspective," she said. "There's plenty of movies that take it from the male perspective of losing your virginity.
"What was really important in the work of making this is that we made them as real as possible, as current as possible, as modern as possible, what they're really saying, what they're really doing, what they're really feeling and approaching it not so much like, 'This time it's ladies,' but like this is their experience and this is an underserved story. And it was exciting to serve that underserved story."
Cannon noted that she is mother to a 4-year-old daughter and that "no matter how progressive I am as a parent, I still am worried about the day that she decides to have sex. We're in a movement right now, Time's Up and Me Too, and there's a reason for this fear, there's kind of a reason for the double standard in some ways. So my hope for her is that she loves herself and I want her to be able to tell me everything. Which, I don't know, is that a good thing?"
Mann chimed in. "My kids are good, because they've agreed to never have sex. Right?" she said, as the entire theater seemed to turn toward her daughters, both of whom sunk lower into their seats.
Cena displayed the same charm he does onscreen when asked how he connected to his role. Cannon asked him, "What were your sex experiences as a kid?"
Cena responded rhetorically, "Was it easy for me to play a matter-of-fact big dude who was put in awkward situations? Yes."
Pierson noted that as the programming team was putting together this year's festival, there were a lot of conversations about what is funny in the current cultural climate, and how things that might have seemed acceptable and funny five years ago no longer seem so.
"I don't know if this movie would have been made five years ago," Cannon said. "I definitely don't feel like I would have been the director five years ago.
"I hope that it opens up a conversation and bridges this gap that we can start to treat women as humans as opposed to sexual objects or no thoughts, no feelings, just objects of desire, that there's an agency over their decisions and their choices and they're in control of their own bodies."
SIGN UP for the free Indie Focus movies newsletter »
Follow on Twitter: @IndieFocus
---
The complete guide to home viewing
Get Screen Gab for weekly recommendations, analysis, interviews and irreverent discussion of the TV and streaming movies everyone's talking about.
You may occasionally receive promotional content from the Los Angeles Times.