Frank Oz and the gang of 'Muppet Guys Talking' still pulling on their silly strings
Reporting from Austin, Texas —
There were two lines, many people deep. Following the world premiere of the documentary "Muppet Guys Talking — Secrets Behind the Show the Whole World Watched," an intimate look at working with Jim Henson on "Sesame Street" and "The Muppet Show," nearly every person who stepped up to a microphone during a question-and-answer session prefaced his or her remarks with words of thanks, some intensely personal, some with nothing else to say.
In the movie, Bill Barretta, Fran Brill, Dave Goelz, Jerry Nelson and Frank Oz, who were behind — or in most cases underneath — some of the shows' best-known characters, talk publicly together for the first time about their experience as part of the troupe of Muppet performers. Their arms, hands, voices and spirits brought Miss Piggy, Fozzie Bear, Gonzo, Count von Count, Snuffleupagus, Prairie Dawn, Pepe the King Prawn and many others to vibrant, vivid life for movies and TV.
Just do not call them children's shows.
"I'm going to ask you a question, what is a children's film versus an adult's film?" Oz says in a subsequent interview. "I maintain that kids can handle more than people think.
"I don't know how to perform for kids. In my opinion what happens when one performs for kids is one talks down to kids. And kids, anybody, they want to reach up," Oz says. "So we just do what we as adults think is fun and it'll come through."
"We worked for adults and made it appropriate for kids," Goelz adds.
He wanted to use television for good...to put forth his philosophy about what's a good person, what's a good life, respecting nature, respecting other people
— Fran Brill on Jim Henson
The movie is the first documentary directed by Oz, who also made such comedies as "Little Shop of Horrors," "Dirty Rotten Scoundrels" and "Bowfinger." And of course he was the voice of Yoda in the "Star Wars" films.
It is just a few hours after their premiere and four of the Muppet originators — Oz, Brill, Barretta and Goelz — are sitting around a hotel conference table in Austin. (Nelson died in 2012, the same year the movie's conversation was filmed.) The four of them have a rapport one might associate with a sketch comedy group, responding quickly to one another with a near-telepathic sense of connection.
With impish delight, Goelz noisily unwraps a candy over the microphone of an interviewer's recording device a few beats longer than is necessary. Brill playfully spurts a sweet from between her fingers, sending it gracefully arcing through the air to the other side of the room.
It was that largely unseen affinity among them that was the initial impetus for the film. While they have all spoken separately about their characters and time working with Muppets creator Jim Henson, who died in 1990, it was not until filming "Muppet Guys Talking" that they had ever done an interview together.
"It was Victoria, who is a fellow producer, she is the one who conceived the idea, and it took me about a year-and-a-half to agree to it. You can explain, honey," Oz says deferentially. "And I don't usually call producers 'honey,' but she's my wife. Right, honey?"
"I started dating Frank in 2008," Victoria Labalme, who married Oz in 2011, says. "I started hanging out with these characters around about that time, and watching the dynamic among them, and I just thought, 'This is pretty rare.' They would drop these little anecdotes about Jim and I just thought, 'I can't be the only one hearing this, this can't be lost just on me.'"
Oz, Goelz and Brill all worked closely for many years with Henson — "He did absolutely everything we did and worked harder than we did," Oz says — making Barretta still a relative newcomer even though he began working with the group in 1991.
"I grew up watching 'Sesame Street' and 'The Muppet Show' and I never thought I would be a part of this work," Barretta says. "It wasn't easy, but it felt like a very safe place to come into and to feel that you're a part of this group."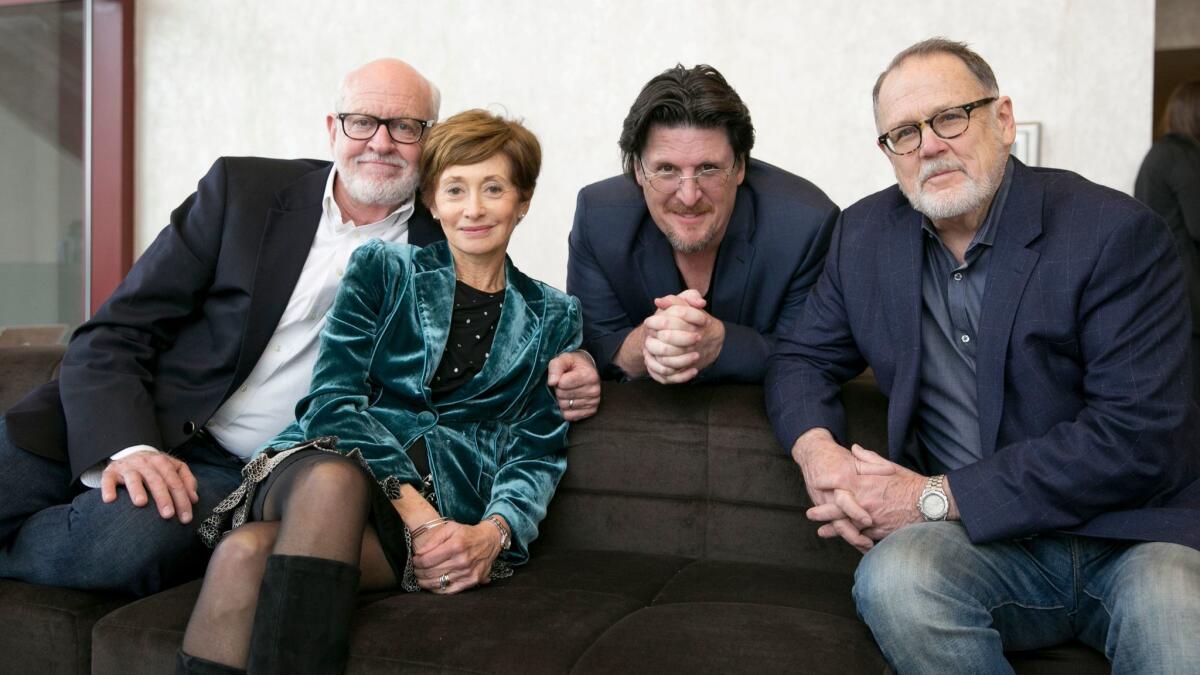 The movie reveals a few behind-the-scenes tricks of how certain moments were achieved, such as when Oz recalls the complicated contraption required to create the illusion of a group of Muppets climbing a drainpipe in the movie "The Great Muppet Caper." All in the assembled group remarked upon how the accepting group dynamic was important for their individual performances, which requires something beyond voice work but still isn't quite the same as conventional acting.
"I just thought, 'OK, I'll just try to do with my hand and arm what I would do if I was acting onstage,'" Brill says. "That's the way I approached puppeteering, just trying to make it look like what I would do.
"And it's easier in a way to become a completely different character when you have a puppet on your arm," Brill adds. "I would never get cast in a lot of things, as a 3-year-old or a princess or a lot of the characters we came up with. Which was the fun of it. You're more flexible as a puppeteer, but I still think a lot of the best puppeteers are good actors."
These acting and puppetry skills feed the fantasy, believed by children and adults alike.
"In the very beginning of 'The Muppet Show,' one of the British papers did an article and said they interviewed Piggy and she batted her eyelashes and described all these things that she can't do," Goelz says. "But the illusion is there. You create illusion by poses and it's almost like a mind technique. It's a powerful medium."
The interview in Austin was just a few days before the announcement of a proposed federal budget that would slash funding to the arts and public broadcasting, which has a long affiliation with "Sesame Street." In creating a documentary that celebrates the legacy of Jim Henson, "Muppet Guys Talking" tacitly affirms the core values of kindness, empathy and understanding that "Sesame Street" and "The Muppet Show" both explicitly continue to stand for.
I maintain that kids can handle more than people think. ... So we just do what we as adults think is fun and it'll come through.
— Frank Oz
"He wanted to use television for good," Brill says of Henson. "This was his tool to put forth his philosophy about what's a good person, what's a good life, respecting nature, respecting other people. That was all who he was."
At the opening of the documentary, which is still looking for U.S. distribution, there is a statistic that in 1978 "The Muppet Show" was seen every week by more than 235 million people in more than 102 countries. Despite situations like the post-screening Q&A in which a stream of people say what it has all meant to them through the years, for the Muppet performers it is difficult to reconcile their experiences with the legacy of their work.
What they feel isn't so much an ambivalence as a distance, a feeling that the real meaning of what they put out into the world is for others to decide.
"You can't grasp that, I can't grasp that," Oz says. "All I can grasp is doing the very best work I can and listening to people say thank you. But that's a small world. The big world, I can't grasp that."
"It's abstract," Goelz says. "Doing our work, nobody's here but us. We're just doing our work."
"It's just that I don't think I'm the one to talk about legacy," Oz adds, "that's for other people to talk about."
SIGN UP for the free Indie Focus movies newsletter »
Follow on Twitter: @IndieFocus
ALSO:
'Sesame Street' to introduce Julia, a muppet with autism, in April
Despite a move to HBO, 'Sesame Street's' mission remains the same
Why screenwriters Rhett Reese and Paul Wernick chose 'Life' after 'Deadpool'
Get the Indie Focus newsletter, Mark Olsen's weekly guide to the world of cinema.
You may occasionally receive promotional content from the Los Angeles Times.