From DM to SXSW: The collaboration that led to Mark Duplass and Charlene deGuzman's 'Unlovable'
It began with a Twitter DM. In October 2014, comedian and performer Charlene deGuzman reached out to filmmaker and actor Mark Duplass.
He scrolled through his phone to find her initial contact — "Hello Mark. Please let me know if I can show you a pilot I just wrote. I'm not looking for anything, just something I want to show you. I've never written a pilot before."
When DeGuzman wrote that initial script, she was only 30 days into a 12-step program for sex and love addiction, and the story is rooted in her experiences and move toward recovery.
The resulting film, "Unlovable" — directed by Suzi Yoonessi and starring DeGuzman, who co-wrote the script with Duplass and Sarah Adina Smith — has its world premiere Saturday as part of the South by Southwest Film Festival. (Duplass, a veteran of the festival, saw his own breakthrough effort "The Puffy Chair" win the audience award back in 2005.)
In the film, DeGuzman plays Joy, a young woman who lost her job, her boyfriend and her place to live, and finds herself staying in the guesthouse of her new recovery sponsor Maddie (Melissa Leo). Joy meets Maddie's brother Jim (John Hawkes), something of a shut-in, and the two eventually form a garage band together.
On a recent morning in Los Angeles, DeGuzman and Duplass were together in a converted house that serves as the offices where work on a variety of Duplass Bros. Productions projects happens.
Mark, what do you think you responded to when Charlene reached out to you?
Mark Duplass: I remember instinctively feeling when I read the pilot that the raw emotion and the humor and the energy was explosive. I didn't know Charlene at all — I don't know if she has the craft or skill to be a showrunner and run this for seven seasons. But I think, "If I'm just her friend, and guide her to vomit this out, I think the 80-minute version of this has a really good chance of being something." I distinctly remember thinking, "If I meet with her like three times, worst-case scenario is she makes a really inspired, flawed indie movie."
[To Charlene deGuzman] Quite honestly I get contacted a ton about this kind of thing and I don't know why I reached out to you so quickly and was like, "We should do this." I think I was following you on Twitter and liked your sense of humor. I didn't have any idea you were going through any of this personally. Which is why I'm looking through these messages and I'm realizing I actually pushed you pretty hard — "If this is some sort of weird joke this is not going to be great." And I remember you said, "I'm in too much pain to joke."
Charlene deGuzman: That really sounds like where I was at at that point.
Duplass: And I thought, "That's a movie."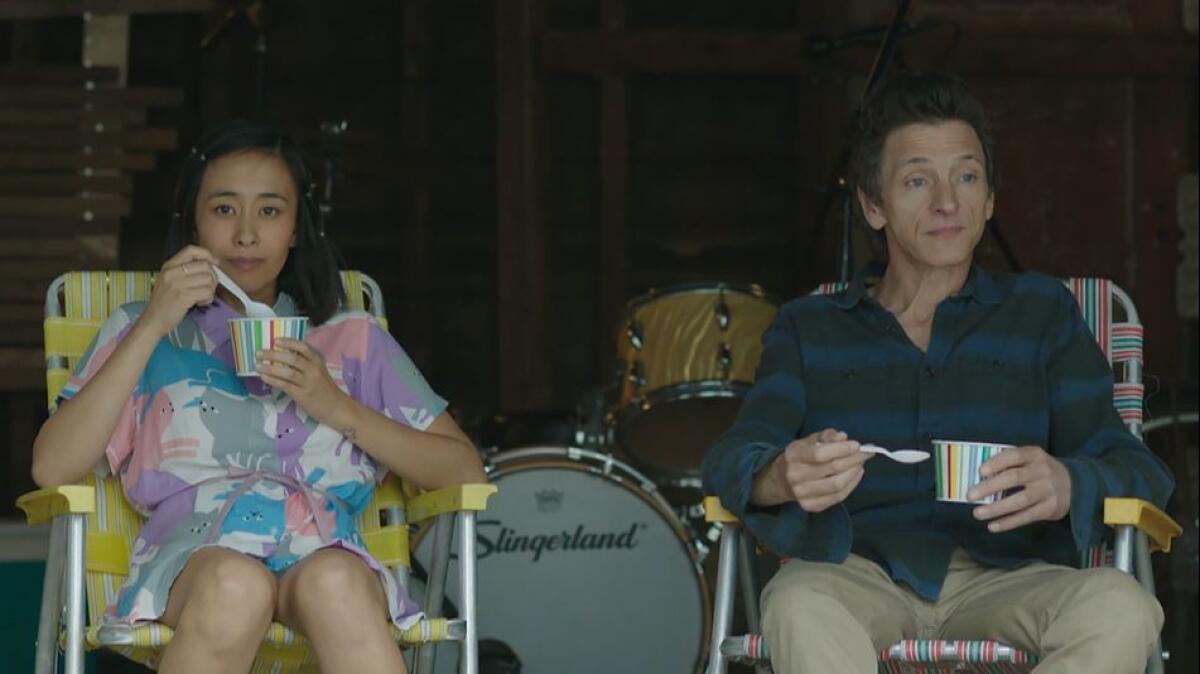 Charlene, what do you hope to accomplish with making the movie?
DeGuzman: I don't think I've ever even seen a movie that portrayed sex and love addiction. A lot of the sex addiction movies you see, first of all, are about a male, and he's having sex in a bar in a bathroom and going to sex clubs. But with sex and love addiction, I wasn't having sex with multiple people to get off. I was having sex with the same unavailable guy who didn't want me because it was the only way I could get his attention. It was always for that want of love and not being able to distinguish the difference between sex and love.
I really wanted to bring awareness to this. Even starting recovery and meeting so many people — it was crazy how many people experience this and relate to this. I always thought I was just crazy and broken and I'd never be able to be in a relationship ever again. And I wanted to let people know they aren't crazy; this is a thing that a lot of people experience, and there is hope.
What was the writing process like?
Duplass: Charlene had all the material, she had done all the research, as it were, to know what the story was, and I was really just a formalist for her. I'm an experienced filmmaker who knows how to make a movie cheaply and with available materials. I was much more of a guide up front: "Here's a way to keep the costs down on making this movie." It was a really great collaboration in cobbling together all of these elements that Charlene was kind of an authority on.
DeGuzman: It was awesome. The script went through so many different changes, and I think it's cool that it aligned with my recovery at the time. I was getting more information for myself while I was in recovery, and the script would change as well.
Duplass: You had zero objectivity in the writing of this. A lot of times people are like, "I lost a parent, and it's been five years, and now I'm going to write the story about losing a parent." This was writing at the funeral, basically. It was all alive, and it was a learning process.
What would you hope people take away from the movie?
DeGuzman: I went sober from everything for like a year and a half, until I went on a dating plan to learn how to healthily date. Now I've had a boyfriend for almost two years, my first healthy relationship. I think I mostly want to present the importance of choosing yourself, making yourself first and loving and taking care of yourself. The stuff you're looking for isn't out there in another person.
SIGN UP for the free Indie Focus movies newsletter »
Follow on Twitter: @IndieFocus
ALSO
'Fast Color' turns the superhero genre upside down, with a woman of color — and a mother — in the lead
Female filmmakers take the spotlight at this year's South by Southwest Film Festival
Get the Indie Focus newsletter, Mark Olsen's weekly guide to the world of cinema.
You may occasionally receive promotional content from the Los Angeles Times.