Taylor Kitsch balances heavy 'Heart' with 'Grand Seduction' laughs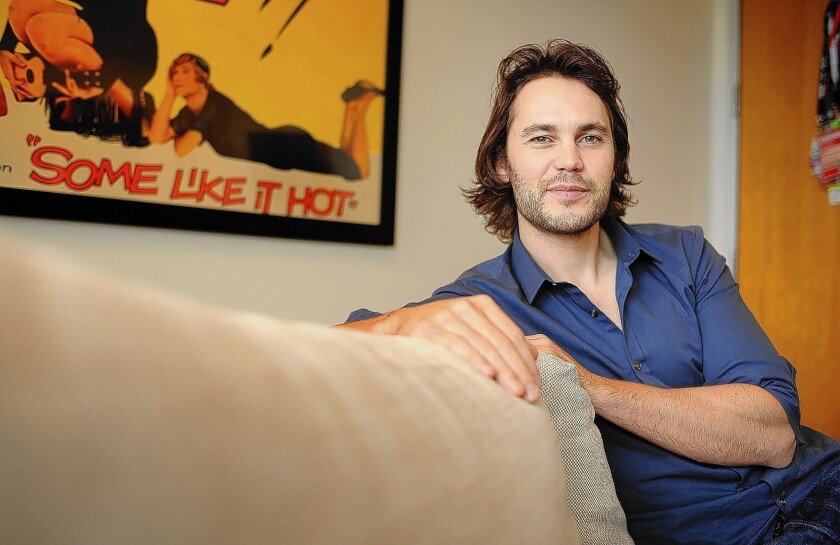 Director Don McKellar had admired Taylor Kitsch's work as a high school football player in the TV series "Friday Night Lights" and as a South African photographer in the 2010 indie "The Bang Bang Club."
Later, Kitsch flexed his well-toned muscles in "John Carter" and "Battleship," two 2012 films that famously flopped, but McKellar never lost faith in Kitsch as an actor.
"I remember when I first saw him I thought he was really charismatic," said McKellar, who directed Kitsch in the new comedy "The Grand Seduction." "He's not just a pretty boy. It's not to criticize those action films that he did; I think he's perfectly suited for them. But on the other hand, I don't think they fully exercise his skills.
"I think he's an old-fashioned movie star: He has a really winning sort of natural charm I felt had been underexploited."
The movie opens Friday, the same week the actor won acclaim for his performance in the HBO production of Larry Kramer's AIDS drama, "The Normal Heart." Kitsch lost weight and dyed his hair blond for the part and is almost unrecognizable as Bruce Niles, a Vietnam War veteran and closeted Wall Street investor who becomes president of the Gay Men's Health Crisis organization in the early days of the HIV crisis in New York.
"I was definitely one of the last cast," Kitsch said of the Ryan Murphy-directed production, which stars Mark Ruffalo, Matt Bomer, Jim Parsons and Julia Roberts. "My manager called me and said, 'You have to read this right now. If you want to fight for this, you have to be in L.A. tomorrow."
He was.
And now that role, along with a strong performance as a heroic Navy SEAL in the recent film "Lone Survivor," has led to another surprise from Kitsch: a sweet comedic turn in "The Grand Seduction."
During a recent interview in Beverly Hills, the charmingly laid-back actor said he and his manager have long been offered comedies. "We were just offered a huge commercial comedy we didn't want to do," he said, "because it didn't feel right."
But "The Grand Seduction" did.
"My humor is incredibly dry and sarcastic," the 33-year-old Kitsch said. "This one felt like it was down my alley."
The character-driven comedy is based on the award-winning 2003 French-Canadian comedy "Seducing Dr. Lewis," set in the picturesque but economically strapped Newfoundland fishing village of Tickle Cove. The residents have one chance to revive their small town: Persuade an oil company to build a factory there. But one of the caveats is that the town needs a full-time doctor.
They find him in Dr. Paul Lewis (Kitsch), who is caught by customs at the airport with cocaine hidden in his luggage. To avoid charges, Lewis agrees to work one month in Tickle Cove. And during those 30 days, the townspeople must persuade him by any means necessary to stay permanently.
Irish actor Brendan Gleeson ("The General," "In Bruges") plays Murray, one of the fishermen who hatches the plan to bring in the doctor. Gordon Pinsent won the Genie Award — Canada's Academy Award —for his supporting performance as a Tickle Cove resident.
"The biggest draw for me was Brendan and the material," said Kitsch, who was born and raised in Kelowna, Canada.
Besides, Kitsch noted, he got to spend six weeks living at cliff's edge in Newfoundland ("insanely gorgeous") and learning how to fly fish.
It was important for Kitsch to ground Lewis. "I think he's just kind of taken everything from granted from his girlfriend to his residency," Kitsch said. "He was just kind of living on the surface of it all."
McKellar said his actor could have played the role "more callous and more slick," but instead, "he played the truth in it."
That ability to find emotional truth in a character also surfaces in his portrayal of Bruce Niles in "The Normal Heart."
"I was fascinated by the duality of how this guy can be on Wall Street, balance that life and also be president of the Gay Men's Health Crisis," Kitsch said, adding that the stakes for this part were higher, acting against an Oscar nominee (Ruffalo), an Oscar winner (Roberts) and a three-time Emmy winner (Parsons).
"'Normal Heart' is the biggest risk of my career," he said. "If you can't hold water in this, I'm not getting another gig. It's that simple. I love taking these risks, and I will continue to do so."
Kitsch would love to do a play, and he also has written, financed, directed and starred in "Pieces," a short film based on a true story about a drug drop gone wrong. The film will screen in June at the Palm Springs International ShortFest. He's already gotten $5 million to turn it into a feature. With the money in place, he's taking his time with his feature directorial debut. "I'm in no rush," Kitsch said with a smile.
---
Inside the business of entertainment
The Wide Shot brings you news, analysis and insights on everything from streaming wars to production — and what it all means for the future.
You may occasionally receive promotional content from the Los Angeles Times.