Oscar buzz and movie love mingle at the Telluride film festival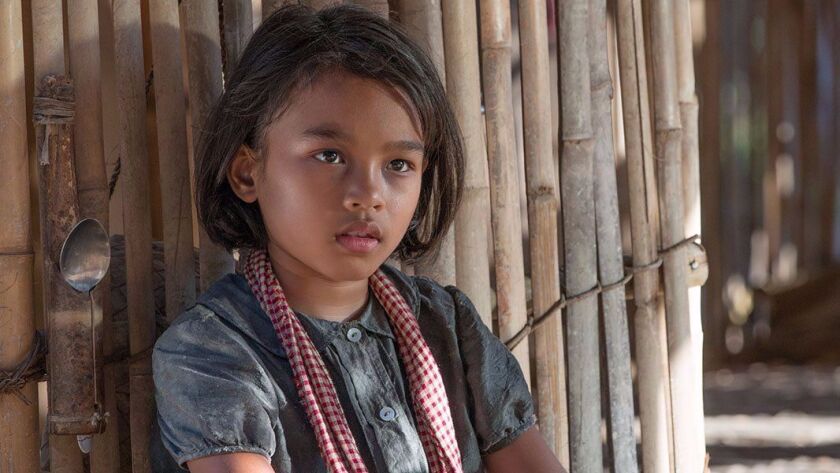 Reporting from Telluride, Colo. —
The Telluride Film Festival prides itself on being unlike bigger, glitzier festivals. The atmosphere is decidedly low-key and intimate, with neither the deal-making frenzy of Sundance nor the black-tie glamour of Cannes. There are no red carpets, no juries doling out awards. Most of the venues aren't even actual movie theaters — one is a middle school gym, another is an ice-skating rink and yet another is the town's Masonic Hall.
"You think it's a festival and it's going to just feel like a festival but it doesn't," said Angelina Jolie, who attended the Rocky Mountain festival over Labor Day weekend for the first time to screen her latest directorial effort, the wrenching Cambodian genocide drama "First They Killed My Father." "It's a lot of nice people, and you get the chance to really talk and have some amazing conversations. I geeked out on Ken Burns."
That said, Telluride isn't only about filmmakers and stars convivially communing in jeans and untucked shirts — though there is plenty of that. In recent years, the festival has taken on an increasingly important role in the awards-season ecosystem, having hosted seven of the last eight best picture winners. So as the 44th edition of the fest unfolded, Oscar prognosticators had their antenna finely tuned to pick up reverberations of buzz — and in what was widely seen as a strong crop of films, several got an early leg up on the long climb ahead to potential Oscar glory.
Screening in the same opening-night slot in which "Moonlight" played last year, actress Greta Gerwig's directorial debut, the coming-of-age dramedy "Lady Bird," made a major splash, with the audience warmly cheering the coming-of-age dramedy about a rebellious high school senior (Saoirse Ronan) who yearns to escape her hometown of Sacramento and her stormy relationship with her mother (Laurie Metcalf).
"It was intimidating to be in the same slot that 'Moonlight' was in, but it's not a thing I feel like I could ever live up to," a very relieved Gerwig told The Times the next morning. "I didn't feel as if I had to pass the 'Moonlight' bar. So in a way it was just an honor. I just felt like it was very warm and kind."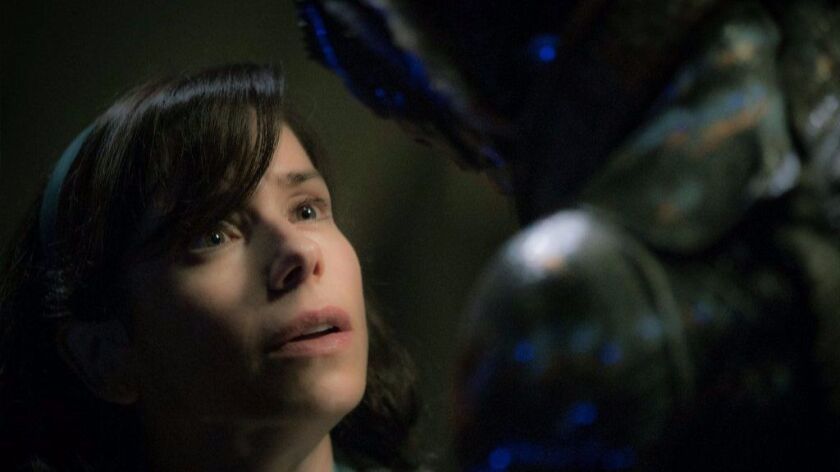 Director Guillermo del Toro's typically off-kilter and surreal adult fairy tale "The Shape of Water" — the story of a mute janitor (Sally Hawkins) who falls in love with an aquatic humanoid creature in a secret government laboratory — built upon the wave of rave reviews it earned after premiering at the Venice Film Festival.
While films with fantasy elements sometimes have a difficult time being taken seriously by critics and Oscar voters, Del Toro brushed aside any concern about being placed in a box. "That would be important if I cared — but I don't," the director said bluntly. "Look, I've been doing this for 25 years. If I thought it was not the route to go, I would have changed."
Perhaps not surprisingly given these turbulent geopolitical times, films dealing head-on with real-life conflict also resonated with festivalgoers. Jolie's film about a young girl whose family is swept up in the horrors of the Khmer Rouge's savage revolution in 1975, which will be released on Netflix and in select theaters on Sept. 15, drew a standing ovation in its first major screening outside of Cambodia.
Director Joe Wright's World War II drama "Darkest Hour," which chronicles Winston Churchill's attempt to unite Britain in the fight against Nazi Germany as Hitler's army rampages across Europe in 1940, also earned its share of acclaim. Nearly unrecognizable underneath makeup and prosthetics that took over three hours to apply each day, Gary Oldman humanizes Churchill as a sometimes erratic and overly emotional but brilliant leader in a performance that is sure to put him in the heart of the lead actor conversation.
In a Q&A following the film's last screening, Oldman said immersing himself deeply in the role of Churchill had rekindled his love of acting after doing too many films that felt rushed and creatively undernourished. "It was a real joy," he said. "Until this film, I had really started to lose my love of the work, of why I wanted to do it in the first place."
Among the festival's documentaries as well, a number of films confronted weighty and contentious issues, including "Eating Animals," an investigation into the ills of factory farming produced by Natalie Portman, and Chinese artist-activist Ai Weiwei's "Human Flow," an epic look at the global refugee crisis.
On a somewhat lighter note, "Battle of the Sexes" — about the 1973 tennis match between Billie Jean King (Emma Stone) and Bobby Riggs (Steve Carell) that turned King into a feminist icon — received a warm reception at its first-ever screening, with the audience rising to its feet when husband-and-wife directors Valerie Faris and Jonathan Dayton introduced King herself.
Director Alexander Payne's bizarro satire "Downsizing," which had been met with raves out of Venice, drew a somewhat more divided response from the Telluride crowd. To be fair, though, a film that takes so many big creative swings — set in a near-future in which scientists have figured out how to shrink people down to 6 inches in size — was likely never going to be for all tastes, and "Downsizing," which won't hit theaters until December, will certainly have its passionate supporters as awards season unfolds.
Director Scott Cooper's brutal western "Hostiles," which is seeking distribution, drew a number of glowing reviews, with many singling out the performance of Christian Bale as an Army captain who reluctantly agrees to escort an ailing, elderly Native American (played by Wes Studi) to his tribal home. Bale himself was honored, along with cinematographer Ed Lachman (represented in the lineup by Todd Haynes' period drama "Wonderstruck"), with a special tribute by the festival. As he moved around Telluride over the weekend, though, the actor often passed festivalgoers unnoticed, having packed on some pounds to play Dick Cheney in an upcoming film from director Adam McKay.
Notably, at a time when many have criticized Hollywood's lack of gender parity in the hiring of directors, roughly a third of the films at this year's festival were either directed or co-directed by women. Meanwhile, a free, open-air panel called "Real-Life Wonder Women" — featuring Jolie, Portman, King and legendary chef Alice Waters — drew what appeared to be the largest crowd to any such panel in the festival's history.
"I'd like to get to the point where [the number of female directors] is not a conversation," Jolie told The Times. "We're going to have to work a little bit harder, but I think if we support each other, then women in this business will move forward. But we have far to go."
Speaking of having far to go, awards season is a marathon, not a sprint. With the Toronto Film Festival set to kick off later this week and a slew of potential heavy-hitters yet to be unveiled, would-be contenders need to pace themselves.
For her part, Gerwig was simply gratified to have made her first step along that journey in the nurturing environment of Telluride. "One of my favorite things about Telluride — and it's been very vivid this year — is because it's so small the directors are really there for each other," she said. "That has been the most meaningful thing — you look at another director and they feel the very same thing you feel, this combination of relief and fear."
Twitter: @joshrottenberg
ALSO
Greta Gerwig talks about her directorial debut and casting Saoirse Ronan in 'Lady Bird'
Q&A: Billie Jean King and Emma Stone on 'Battle of the Sexes' and the enduring fight for equality
Here are the fall festival movie premieres that Oscar voters will be watching
---
From the Emmys to the Oscars.
Get our revamped Envelope newsletter, sent twice a week, for exclusive awards season coverage, behind-the-scenes insights and columnist Glenn Whipp's commentary.
You may occasionally receive promotional content from the Los Angeles Times.