Telluride Film Festival set to kick off Oscar season in its own uniquely casual way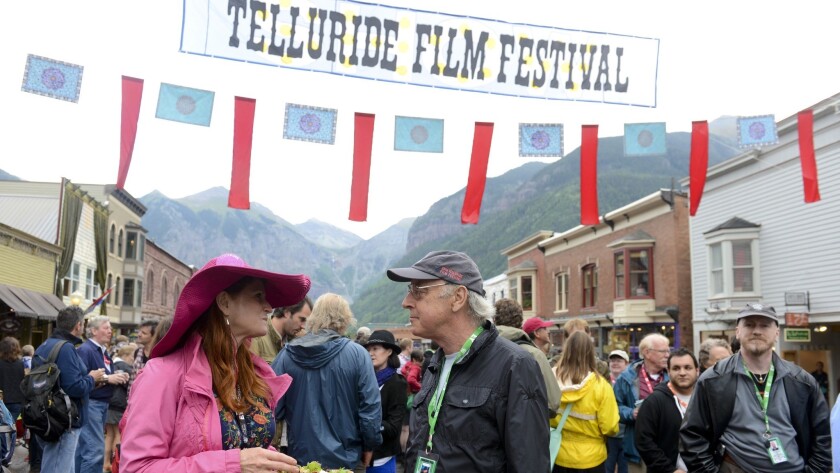 While the oxygen may be thin in Telluride, nestled high in the mountains of Colorado (elevation 8,750 feet), when the 45th edition of the scenic town's annual film festival kicks off Friday, the air will be thick with Oscar buzz.
Smaller and less flashy than the fall's other major festivals in Venice, Toronto and New York, Telluride — which pointedly eschews paparazzi and red carpets — has nevertheless found itself thrust into the spotlight in recent years as a launching pad for Oscar glory. The festival has played host to eight of the last nine best picture winners, including "12 Years a Slave," "Birdman," "Moonlight" and "The Shape of Water," which screened there last year alongside fellow eventual best picture nominees "Lady Bird" and "Darkest Hour."
As this year's lineup rolls out over Labor Day weekend — with such highly anticipated features as Alfonso Cuarón's Mexico City-set period film "Roma," Damien Chazelle's Neil Armstrong biopic "First Man" and Joel Edgerton's gay-conversion drama "Boy Erased" — filmmakers, stars, movie executives and Oscar prognosticators alike will be taking audiences' temperatures for early indications of which films could follow that gilded path.
Despite the increased attention on the festival, Executive Director Julie Huntsinger, who curates the program with Tom Luddy, says she is determined to preserve its ethos of spurning hype and commerce in favor of the pure love of movies.
"The most important thing is just keeping our heads down and being dedicated to intimacy and mystique," Huntsinger said. "Let's say we had no films that won awards — we have a core audience that really doesn't care and that comes back because they know they're going to see things presented that they're not going to see anywhere else."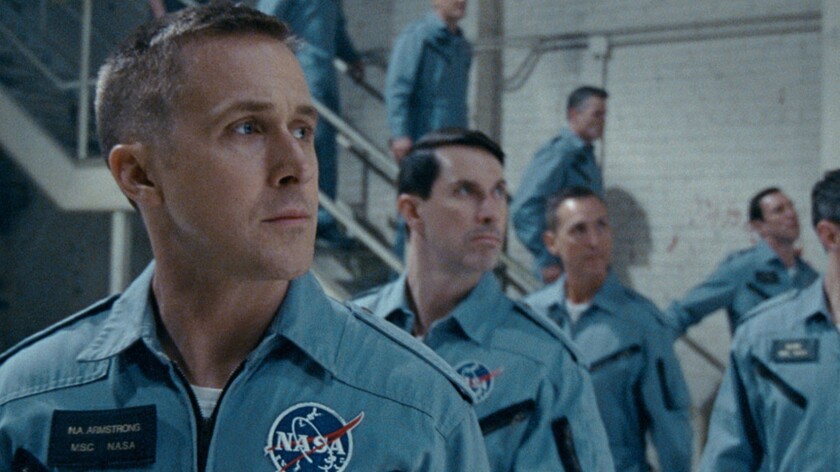 The 33 films in Telluride's main program — roughly half of which will make their world premieres — span a wide range of genres, styles and subjects. That eclecticism is an essential element of the festival's DNA, said Huntsinger.
"What makes me kind of proud of what we do is that we're very specifically curated," she said. "It seems like we avoid the obviously topical. We prefer the transcendent."
That said, given these unsettled times, it's not surprising that a number of the films on the list have timely political overtones, including the documentaries "Reversing Roe" and "Watergate" and Jason Reitman's "The Front Runner," which chronicles the tabloid sex scandal that toppled 1988 Democratic presidential candidate Gary Hart (played by Hugh Jackman).
On the other end of the spectrum are films that offer an escape from the blaring headlines, including the rock-climbing documentary "Free Solo"; Orson Welles' never-before-released final film, "The Other Side of the Wind" and Morgan Neville's companion Welles doc, "They'll Love Me When I'm Dead"; and director Yorgos Lanthimos' gonzo period dramedy "The Favourite," which stars Olivia Colman, Rachel Weisz and Emma Stone in a tale set in the 18th century court of Queen Anne.
" 'The Favourite' is so fun and crazy and dark and vulgar," said Huntsinger. "Even though Emma Stone has been in 'Superbad' and some other films where some not-so-clean words come out of her mouth, I think of her as more girl next door. And after this, you're not going to ever make that distinction again. She's so sassy and salty."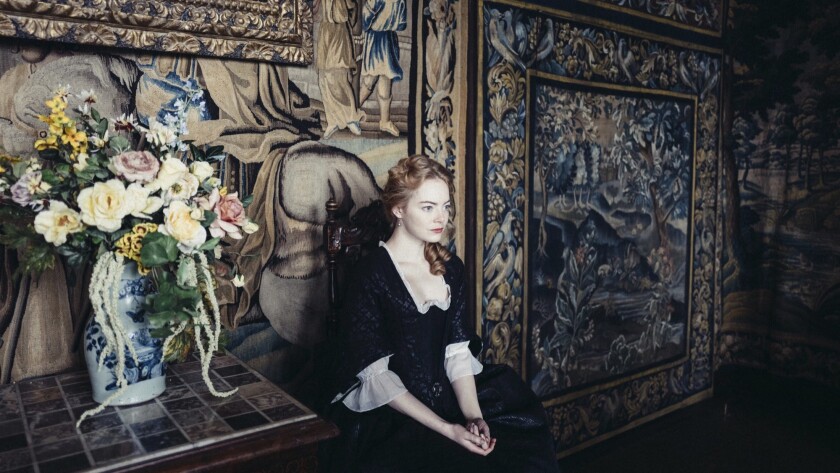 Stone's performance is just one of many in this year's Telluride Film Festival that could end up in the mix as awards season unfolds. In director Marielle Heller's "Can You Ever Forgive Me?" Melissa McCarthy, starring opposite Richard E. Grant, takes a turn toward the dramatic as writer Lee Israel, who became a literary forger out of desperation when her career foundered. Nicole Kidman stars in Karyn Kusama's crime thriller "Destroyer" as an LAPD detective who, in her younger years, went undercover to infiltrate a criminal gang.
Kidman also stars opposite Russell Crowe and Lucas Hedges in the drama "Boy Erased," based on Garrard Conley's memoir about growing up in a fundamentalist Christian family and undergoing gay conversion therapy, while the crime comedy "The Old Man & the Gun" marks the swan song for Robert Redford in his storied acting career.
Telluride will offer the first crack in North America at the latest films from Academy Award-winning directors Cuarón and Chazelle, after they debut this week at the Venice Film Festival. Cuarón's black-and-white "Roma" — which some Oscar-watchers predict could earn Netflix its first slot in the best picture race — centers on a working-class Mexican family in the 1970s, while "First Man" reunites Chazelle with his "La La Land" star Ryan Gosling in the tale of Armstrong's historic journey to the moon.
" 'First Man' is a glorious, well-made arthouse film that happens to be a very big commercial film as well," said Huntsinger, further boosting the already sky-high expectations for a film that debuted to rave reviews in Venice. "Damien achieved the impossible in the telling of this."
(One other possible Oscar contender some thought might appear on the schedule won't be at Telluride. Though "Moonlight" director Barry Jenkins has a long history with the festival, stretching back to his participation in its student program, his latest film, an adaptation of the James Baldwin novel "If Beale Street Could Talk," is bypassing Telluride to make its world premiere next month at the Toronto International Film Festival.)
This summer, in an effort to address the lack of diversity in film criticism, which was highlighted in a recent study by USC's Annenberg Inclusion Initiative, both the Sundance and Toronto film festivals pledged to increase their share of accredited media from underrepresented communities. With Telluride drawing a far smaller coterie of press than those festivals, Huntsinger says the festival is working to bring new voices into film coverage through its FilmSCHOLAR program, which was created in conjunction with the University of Wisconsin to help foster young aspiring movie critics.
"This year, I made sure that we had 50-50 [male to female] representation within that class of film scholars and we'll continue to do the same," said Huntsinger. "I think if we can start at that level of giving people a break where it really counts, in their formation of who they are as a critic and a theorist — that's where I want to be helpful and that's what we're trying to do."
Alongside the main program at Telluride, this year's guest director, author Jonathan Lethem, has curated a revival series that reflects his own deep love of cinema, including two films from director Ernst Lubitsch, 1937's "Angel" and 1942's "To Be Or Not To Be," as well as Nicolas Ray's 1956's "Bigger Than Life" and the 2009 Iranian film "The White Meadows."
"It was overwhelming," Lethem said of the challenge of narrowing his selection down to just six films. "Some of my most defining favorites are too on the nose: Stanley Kubrick's '2001: A Space Odyssey' or John Ford's 'The Searchers.' They wouldn't make a sly choice. I wanted this to be surprising, and some of it should come out of left field."
In addition, special festival tributes are planned for Cuarón, Stone and Cambodian filmmaker Rithy Panh, who will be honored with Silver Medallion Awards in recognition of their "contribution to the world of cinema."
Even as the awards-season attention on Telluride grows more intense, Huntsinger vows that the festival will remain true to its history as a kind of Rocky Mountain cinematic Brigadoon.
"The people who are here really are like rabid cult members," she said. "Everybody's just blissed out and having a good time. It's the coolest thing."
The 2018 Telluride Film Festival main program lineup:
"Angels Are Made of Light" (d. James Longley, U.S.-Denmark-Norway)
"Be Natural: The Untold Story of Alice Guy-Blaché" (d. Pamela E. Green, U.S.)
"Birds of Passage" (d. Ciro Guerra and Cristina Gallego, Colombia-Denmark-Mexico)
"Border" (d. Ali Abbasi, Sweden)
"Boy Erased" (d. Joel Edgerton, U.S.)
"Can You Ever Forgive Me?" (d. Marielle Heller, U.S.)
"Cold War" (d. Pawel Pawlikowski, Poland-France-U.K.)
"Destroyer" (d. Karyn Kusama, U.S.)
"Dogman" (d. Matteo Garrone, Italy-France)
"Dovlatov" (d. Aleksei German, Russia-Poland-Serbia)
"First Man" (d. Damien Chazelle, U.S.)
"Fistful of Dirt" (d. Sebastián Silva, U.S.)
"Free Solo" (d. Elizabeth Chai Vasarhelyi and Jimmy Chin, U.S.)
"Ghost Fleet" (d. Shannon Service and Jeffrey Waldron, U.S.)
"Girl" (d. Lukas Dhont, Belgium-Netherlands)
"Graves Without a Name" (d. Rithy Panh, France-Cambodia)
"Meeting Gorbachev" (d. Werner Herzog and André Singer, U.K.-U.S.Germany)
"Non Fiction" (d. Olivier Assayas, France)
"Peterloo" (d. Mike Leigh, U.K.)
"Reversing Roe" (d. Ricki Stern and Annie Sundberg, U.S.)
"Roma" (d. Alfonso Cuarón, Mexico)
"Shoplifters" (d. Hirokazu Kore-eda, Japan)
"The Biggest Little Farm" (d. John and Molly Chester, U.S.)
"The Favourite" (d. Yorgos Lanthimos, Ireland-U.K.-U.S.)
"The Front Runner" (d. Jason Reitman, U.S.)
"The Great Buster" (d. Peter Bogdanovich, U.S.)
"The Old Man & The Gun" (d. David Lowery, U.S.)
"The Other Side of the Wind" (d. Orson Welles, U.S.)
"The White Crow" (d. Ralph Fiennes, U.K.)
"They'll Love Me When I'm Dead" (d. Morgan Neville, U.S.)
"Trial By Fire" (d. Ed Zwick, U.S.)
"Watergate – Or, How We Learned to Stop an Out-of-Control President" (d. Charles Ferguson, U.S.)
"White Boy Rick" (d. Yann Demange, U.S.)
Twitter: @joshrottenberg
---
From the Emmys to the Oscars.
Get our revamped Envelope newsletter, sent twice a week, for exclusive awards season coverage, behind-the-scenes insights and columnist Glenn Whipp's commentary.
You may occasionally receive promotional content from the Los Angeles Times.