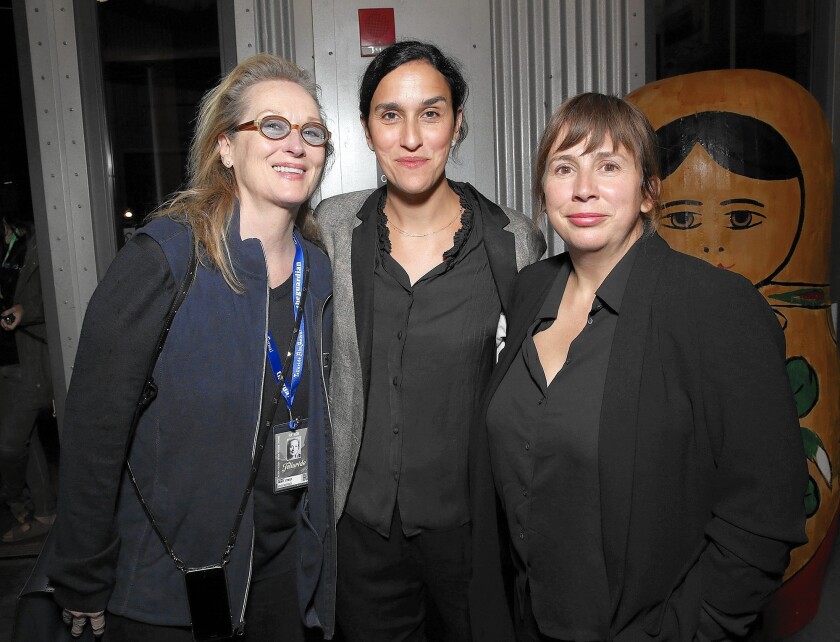 TELLURIDE, Colo. —
Meryl Streep has only one four-minute speaking scene in the movie "Suffragette," but it is as a woman who was a catalyst for a movement, turn-of-the-century British suffrage leader Emmeline Pankhurst.
The role fits this moment in Streep's life utterly: At 66, having played remarkable women from all walks of life for more than 40 years and earned three Academy Awards for it, Streep has become an increasingly bold public advocate for women's rights.
Over Labor Day weekend at the Telluride Film Festival, where "Suffragette" premiered ahead of its release by Focus Features on Oct. 23, Streep spoke with The Times about the parallels between the history she's depicting, of politically voiceless women in London in 1903, and the issues that face contemporary women.
SIGN UP for the free Indie Focus movies newsletter >>
"Until men look around the table and say, 'You know what's weird? There's only two women here and there's eight men.' When that feels weird to a man, we will have achieved something," Streep said with her "Suffragette" director, Sarah Gavron, and screenwriter, Abi Morgan. "We need half. That's all we ask. Half. In the House. In the Senate. At Universal. At Sony. If it were half, I can't say the world would be better, but it would be representative."
"Suffragette," which stars Carey Mulligan and Helena Bonham Carter as foot soldiers in England's women's suffrage movement, is an outlier in the film business for the large number of women who worked on it, behind and in front of the camera. That includes two of the films' main producers, Alison Owen and Faye Ward.
"To have a film set where you have four or five actresses in a very strong scene together, you don't get that," Morgan said. "The very act of making the movie becomes quietly political."
It was Mulligan, who is pregnant and couldn't attend the festival, who suggested Streep for the small but vital Pankhurst role, implying in effect that an icon should play an icon. ("I owe her 5%," Streep quipped.) Though Streep speaks in only the short scene, the myth of Pankhurst is peppered throughout the movie, in newspaper photographs and on the lips of admiring young suffragettes.
Pankhurst had an amazing, a strategic mind, Streep said. "She was the perfect person who met her time. She wanted to change things. This was a time when it was hard for women to stand up."
Streep was on the "Suffragette" set for just three days to film a speech that is violently disrupted by riot police. Her effect on extras in the crowd scene was not unlike the one Pankhurst had on the suffragettes, Gavron said.
"The fact that Meryl hadn't been part of the cast to that point was useful," Gavron said. "She had this status of Emmeline Pankhurst. She didn't rehearse the speech in front of the crowd. She came out, and people had this visceral and wonderful response."
The impact on Streep was equally stirring.
"To stand on the balcony and look at these uplifted, hopeful young faces, it made me cry," Streep said. "I couldn't get over it. You take your hope from the next generation."
Streep's willingness to speak to and for women has been a signature of her career, in roles as varied as a young divorcing mother in "Kramer vs. Kramer," a powerful magazine editor in "The Devil Wears Prada" and a head of state in "The Iron Lady." In recent years, she has stepped up her off-screen advocacy, pushing for a women's history museum in Washington starting in 2011, funding a lab for female screenwriters 40 and older in April, urging Congress to resurrect the Equal Rights Amendment in June and — during a question-and-answer session at Telluride — calling on the pope to address women's issues more.
Her public advocacy preceded the making of "Suffragette," but it isn't a role that comes entirely comfortably to Streep. In Q&As for the film, she has brought up her grandmother, who would have been 18 at the time the movie is set. "Her feeling was a woman was seen twice in the newspaper — once at her marriage and once at her death," Streep said. In recalling a speech she gave years ago at an industry event, Streep confessed, with a self-mocking sigh, "I just wanted to stay home, but I'm Meryl Streep. Somehow I've become this."
In Hollywood, Streep is being joined by an increasing number of women willing to talk publicly about once-off-limits subjects, such as Patricia Arquette bringing up wage inequality in her Oscar acceptance speech this year and Maggie Gyllenhaal pointing out that she was considered too old, at 37, to play opposite a 55-year-old actor.
"Women are speaking to each other," Streep said. "We're all talking to each other, and that was the thing that was the most dangerous to the British government. ... We're not to discuss amongst ourselves and certainly not to ask our male costar, 'What are you making?'"
When a woman of Streep's stature is willing to engage on these topics, Morgan said, it makes it easier for other women to do so.
"When we start to raise those questions about our industry, it's amazing how the industry clamps down and doesn't want us to have that discourse," Morgan said. "It's taboo to say how much you get paid. And so when someone like Meryl raises that, you realize the mechanism has been to silence us."
At Telluride, "Suffragette," was one of a number of movies featuring women in strong and thematically provocative ways, including the documentary "He Named Me Malala," about girls' education advocate Malala Yousafzai; "Carol," about a love affair between two women in the 1950s; and "Room," about a young mother living in captivity. But as a female-directed film, "Suffragette" is in a small group.
"We need the door to be opened in our industry," Streep said. "In the director's branch of the academy, there is something wrong that there are so few women. In the directors guild, there is something profoundly wrong. It's not like the film schools aren't graduating thousands of young women. They're going to festivals, they're winning prizes, their films are seen and they disappear. So then do our stories. My story is disappearing, and I can't allow it, on behalf of my daughters and also my son."
Among "Suffragette's" rousing storytelling devices is a coda, listing the date at which women attained suffrage in various countries, leading up to Saudi Arabia in 2015.
"It would be an important thing for the film to raise the question of why, why this was so difficult and long a process," Streep said. "What is the nature of this resistance? What is it in the human psyche that wants to reinforce a dominance?"
MORE TELLURIDE:
Telluride: Aretha Franklin wins injunction against film festival screening
Telluride: Rooney Mara explains her 'moody' road to 'Carol' at tribute
Telluride: In 'Only the Dead,' Michael Ware descends into the heart of Iraq darkness
---