Review: Thomas Vinterberg's '70s-era Danish drama, 'The Commune,' explores broader sense of family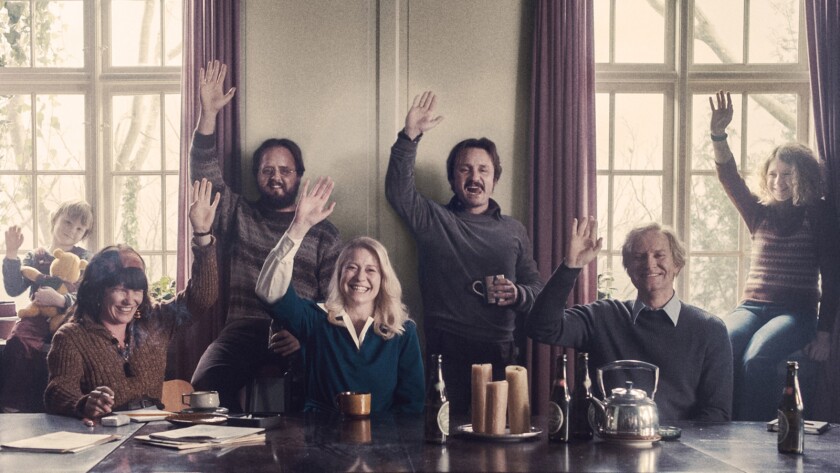 You could be forgiven for ascribing an abiding, cheerful normality to the domestic situation on display in "The Commune," Thomas Vinterberg's bittersweet drama about a gang of chummy middle-aged adults (and two kids) experimenting with under-one-roof living in mid-'70s Copenhagen.
For one thing, communes were faddishly popular then in Scandinavia, and Danish filmmaker Vinterberg — who grew up in one — clearly has a fondness for the spice mix of personalities that can lead to spirited dinners, spontaneous nudity and a dedicated tolerance for human eccentricities. (One character in the film likes to burn personal possessions left in the main living area overnight as a stand against bourgeois ownership, to no apparent condemnation from the others.)
But Vinterberg, the onetime Dogme 95 adherent, has also been a critic of social insularity, as shown in his most well-known features, "The Celebration" and "The Hunt," each of which turn on accusations of sexual misconduct and how they fracture close-knit circles. Here, he bursts the bubble of idealism with a more commonly destructive (and not criminal) family crisis — infidelity — and if the results aren't as tonally engrossing as those other two films, the pinging psychological electrons give it a certain adult spark.
The hopeful origin of the suburban collective in Vinterberg's and co-writer Tobias Lindholm's screenplay arises from a problem-solving woman's sanguine approach to an empty physical space: fill it with people. Bequeathed a handsome but impossibly large house by his dead father, brooding architecture professor Erik (Ulrich Thomsen) sees a crushing financial upkeep. His loving-if-restless news anchor wife Anna (Trine Dyrholm), however, sees an opportunity to offset her husband's midlife-crisis sullenness by inviting friends and select applicants to move in and share the expenses.
With their watchful, impressionable teenage daughter (Martha Sofie Wallstrøm Hansen) on board, Erik and Anna welcome in tart-tongued radical pal Ole (Lars Ranthe) — the aforementioned leftist pyro — a cash-strapped immigrant odd-jobber (Fares Fares), a free-spirited single woman (Julie Agnete Vang) and a couple (Magnus Millang, Anne Gry Henningsen) with a 6-year-old son who has a heart condition and who precociously disarms all strangers by announcing he'll be dead in two years.
Between bickering over beer consumption, boisterous holiday togetherness and a fraught night pertaining to the boy's health, it's a bumpy but warming cast of roomies, even if outside of the core Erik/Anna family they're mostly drawn in the broadest of strokes. But then Erik, newly loosened up, starts an affair with a student, wide-eyed blond Emma (Helene Reingaard Neumann), and in the spirit of openness casually informs Anna in bed one night as if rehashing a long day at work. With that initial crack in the base, the health of the commune, the desires of a patriarchally minded man and the emotional needs of a slowly crumbling wife come into stark relief.
For all the ways "The Commune" is built like your typical dissolution-of-a-marriage story, just with wide collars and flared pants, it's got some weird rhythms, as if sitcom-y humor, maudlin sentimentality and domestic drama were themselves testy cohabitants vying to be equal partners. (The subplot involving the afflicted boy is especially problematic as a convenient life-or-death contrast to an imploding relationship.)
Vinterberg's surest thematic thread, on the other hand, is in outlining the many ways humans relate their physical spaces to their inner selves. For Erik, sturdily played by Thomsen, it's a tendency toward king-of-the-castle outbursts when things don't go his way, and turning the university into a love nest away from home. In Anna's case, as heartbreakingly rendered by Dyrholm, her increasing discomfort everywhere is compounded by the fear that even her own body is suddenly an undesirable location. As an ensemble movie, "The Commune" isn't the most gripping, but when it zeroes in on Dyrholm's affecting portrayal, it's like Tolstoy's famous line about the uniqueness of unhappy families, poignantly adapted for group living.
-------------
'The Commune'
In Danish with English subtitles
Not rated
Running time: 1 hour, 51 minutes
Playing: Laemmle Royal, West L.A.; Laemmle NoHo, 7, North Hollywood; Laemmle Playhouse 7, Pasadena
See the most-read stories in Entertainment this hour »
---
From the Emmys to the Oscars.
Get our revamped Envelope newsletter, sent twice a week, for exclusive awards season coverage, behind-the-scenes insights and columnist Glenn Whipp's commentary.
You may occasionally receive promotional content from the Los Angeles Times.