'The Favourite' is one of the year's most original screenplays, here's how it came about
Reporting from London —
In 2009, filmmaker Yorgos Lanthimos was given the original script for "The Favourite." The historical tale of a triangle among an ailing Queen Anne and two of her closest associates in 18th century Britain struck him as an ideal narrative for the screen. But his vision was to tell the story in a more contemporary way than the typical costume drama.
"I was surprised to find out that there were these three women at some point in time who had such power that could affect the lives of so many other people," the director says, calling from Los Angeles. "I saw this opportunity of creating these very complex female characters that you rarely see onscreen. It was a period piece, but at the same time it also felt so relevant to today."
When Deborah Davis first wrote the script 20 years ago — under the working title "Balance of Power" — she was fascinated by the dynamics among Queen Anne (Olivia Colman), Lady Sarah Churchill (Rachel Weisz) and Abigail Masham (Emma Stone), a young maid who scrambled for power after her arrival at court.
"It was the first example in English history where we see not only women in power but wielding power," Davis says, sitting down in her hometown of London. "Sarah brought her young cousin into the court and she became a bedchamber woman for Anne. Anne's affections shifted from Sarah, who she had known since she was a little girl and who had been her protector since she was a younger princess, to Abigail.
"It wasn't just an emotional story of three women who fell out — this impacted the country politically. The shifts in the bedchamber impact the whole of politics in England."
Davis felt the story should become a screenplay, which meant that she needed to learn how to write one. As she researched the events of the period, eventually finding her way into the British Museum, where Sarah's diaries are kept, Davis took courses on script writing and worked with script consultant Val Taylor.
"I could just see these three women on the screen," Davis says. "I never thought of it as anything else."
REVIEW: Wickedly entertaining 'The Favourite' forms a perfect triangle in Olivia Colman, Rachel Weisz and Emma Stone »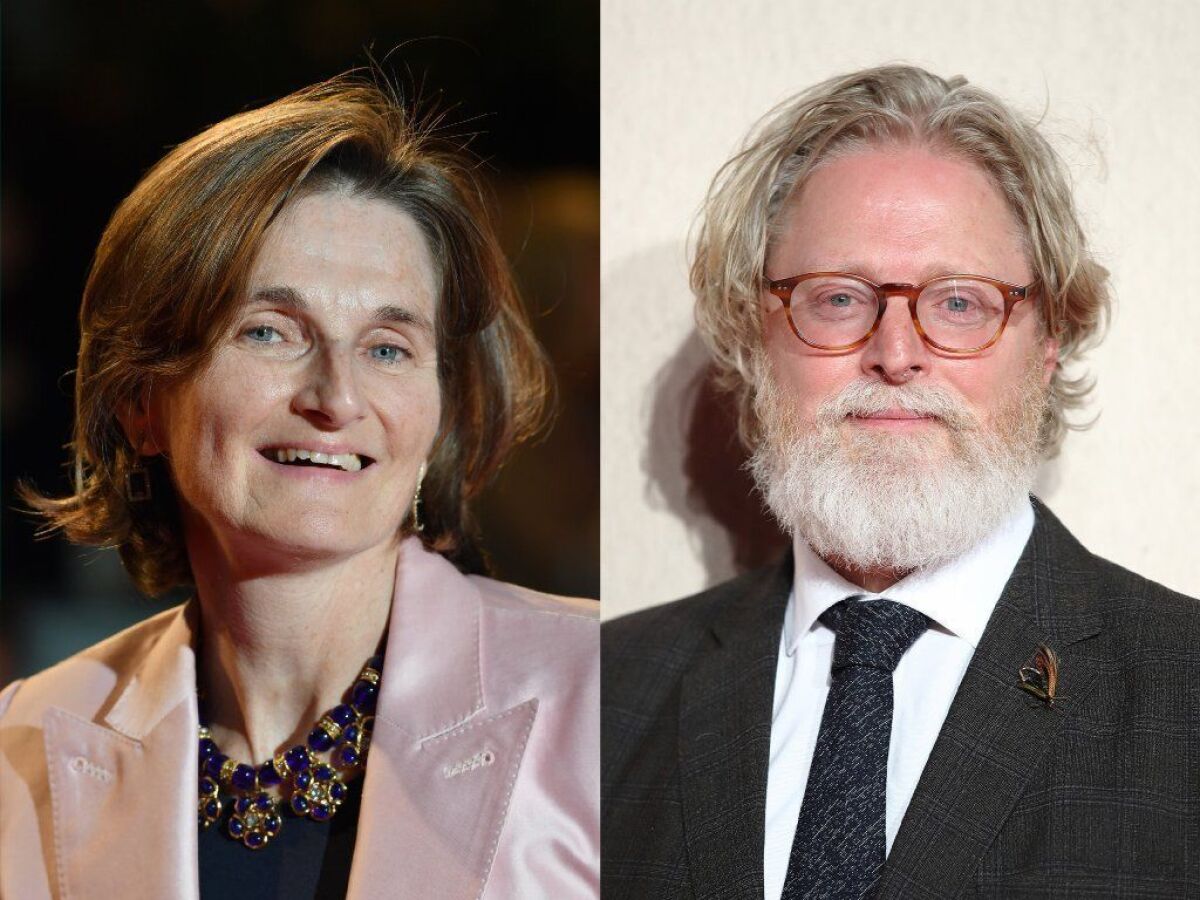 The finished script found its way to producer Ceci Dempsey, who championed its development since those early days. She brought Element Pictures onboard in 2008 via producer Lee Magiday, and Lanthimos was recruited as director shortly thereafter. Initially, it was challenging to find financing for the idea.
"It was very difficult," Davis says. "Because not only was it a story where there were three female leads, but there was also a gay angle. There was always interest, but it wasn't an easy pitch. The first time I realized it was an absolutely doable film was when I watched 'The Hours,' which stars three women leads and they are interconnected in a really interesting way. I thought, 'OK, this isn't off the wall. This is within in a spectrum of filmmaking that could happen.'"
Lanthimos worked with Davis on her screenplay for a few years, and following the international acclaim he received for "Dogtooth," which earned a foreign-language film Oscar nomination for his native Greece in 2011, he brought on Australian playwright and TV screenwriter Tony McNamara to further re-sculpt the script. The pair worked together over the course of several years, sending passes and notes back and forth and meeting in London and Rome.
"We started looking for a writer in order to get that voice and that tone I had in my mind," Lanthimos says. "We [kept] the information and the structure that we had from before [but] started from scratch to create the tone. We took a lot of liberties with the characters and invented things when we felt we needed to invent things to make this feel complete and multilayered."
Several key historical elements have been changed for the purpose of bringing "The Favourite" to the screen. Queen Anne's husband, George, has been removed and a few of the more dramatic incidents in the film didn't actually happen. And while there is strong evidence that Anne was interested in women and potentially had a lesbian relationship with Sarah, as established early on in the film, creative liberties were taken with the sexual dynamics that develop among Anne, Sarah and Abigail.
FULL COVERAGE: Get the latest on awards season from The Envelope »
"I remember Yorgos saying in a meeting, 'Anyone who comes to this movie looking for a history lesson is in the wrong movie,'" McNamara says from his office in London. "Often in period things the details drag the story down. The slavishness to the detail, the slavish to the truth of it. Whereas we're more interested in the relationships.
"We wanted to strip the history and just serve the story of three complicated women in a world where the men were struggling for traction. If we had a problem we would go, 'What actually happened?' If history helped us it was good, and if it didn't it wasn't that good."
Lanthimos describes the approach as "inspired by that story and those people [to] create something that had a reason to exist besides just telling what happened back then."
"It was about making relevant to all of us today and things that concern us," he adds. "Identifying things from back then that are similar to right now. Creating something that feels intimate, moving, entertaining, ridiculous and combining those elements with humanity to make this film what it needed to be to resonate with modern times."
The speech patterns and dialogue have a modern feel throughout, especially in the quick-fire, witty delivery of the actors. There's a sense of perpetual motion and back and forth in the lines, and while there's a historical tinge to some of the phrasing or word choice, much of the dialogue feels current and playful.
"No one knows how anyone spoke back then," McNamara explains. "That was the thing about the dialogue — I don't know how they spoke, so it doesn't matter to me how they spoke. I wasn't trying to mimic something. It's how I imagined they would speak. And most of all, we wanted it to be funny."
The film is divided into eight chapters, a choice that was not scripted but rather came about during the editing process, when Lanthimos felt there needed to be pauses in the rapidly moving story. The chapter titles — such as "I Dreamt I Stabbed You in the Eye" — come directly from the dialogue.
"I felt I needed some punctuation in various parts of the story," Lanthimos notes. "And to give a sense of things shifting. Instead of making it something bland or serious I used some of the lines in the film."
RELATED: Emma Stone and director Yorgos Lanthimos reinvent the costume drama with 'The Favourite' »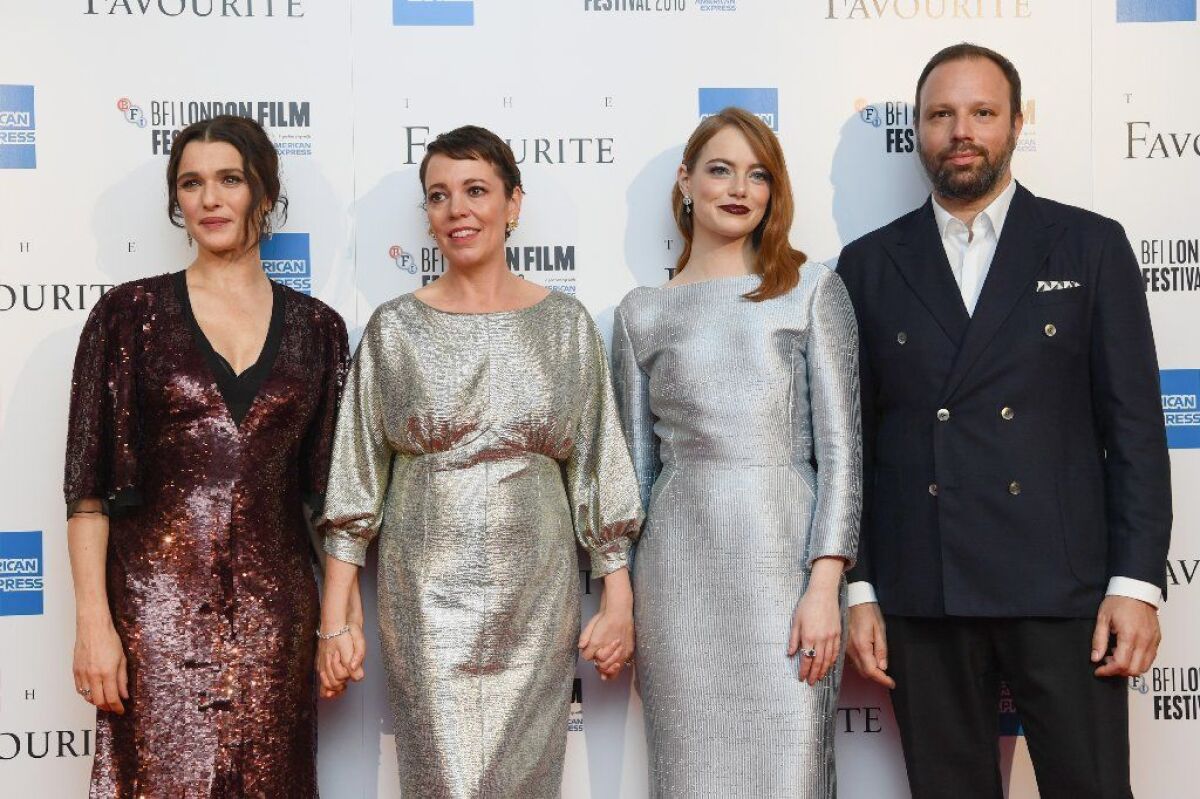 One thing that remained consistent from start to finish was the goal of making the three central women feel complicated, realistic and imperfect. Queen Anne, who is dealing with the grief of her inability to bear a child, is somewhat vulgar, while both Sarah and Abigail resort to unbecoming and aggressive methods during their fight for the position of queen's favorite.
"There wasn't a good one or a bad one," McNamara explains of the characters. "Sometimes they behave well and sometimes they behave poorly — sometimes they're funny and sometimes they're tragic. We wanted it to be the way people are — they're not one thing.
"The theory was 'They can do anything as long as we understand their drive and why.' Abigail, as a character, does some really horrible things, but hopefully you understand where they're coming from and why she does them and how that desire for safety exists in this world where there is very little social mobility. … I don't think we ever had a conversation where we went, 'That's too much.'"
"We wanted it so you might change your mind about these women as you're watching the film," Lanthimos adds. "They all develop and change throughout the film, and maybe you'd change your mind about their motives and their righteousness. They're human beings who have weaknesses. … You can't reduce them in one characterization."
Much has evolved since Davis first happened upon this story, but while her original script was more grounded in real-world history Davis has given her full blessing to Lanthimos' vision. For her, "The Favourite" ultimately captures the original concept she had for the script.
"This is not a biography of these women," she says. "It was written to deliver Yorgos' vision, and that vision was absolutely unique and quite different from any other take on that type of period drama. He just subverts everything. He turned everything upside down, so there was a great freedom in writing the script. He was the first director who came onboard and championed my vision of a female triangle and focus on that [to ensure] that this was a film about women in power."
Get our L.A. Goes Out newsletter, with the week's best events, to help you explore and experience our city.
You may occasionally receive promotional content from the Los Angeles Times.