A friendship and a cowboy story: Why director Brett Haley wrote 'The Hero' for Sam Elliott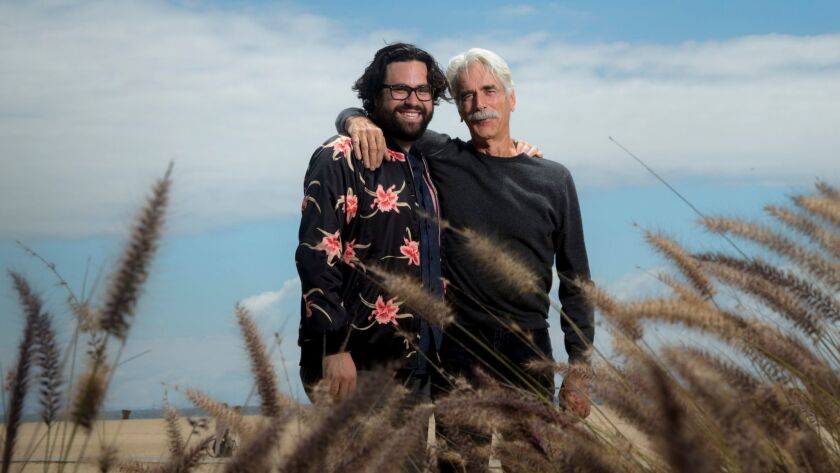 "What are those, Brooklyn orchids?" Sam Elliott asks.
The 72-year-old points at Brett Haley's bomber jacket, a shiny black number patterned with hot pink flowers. Haley, 33, looks down at his bold print and erupts into laughter.
"Anything Sam doesn't understand," he explains, "he'll just go, 'Brooklyn.'"
The actor and director make for quite the study in contrasts. Elliott, known for his reliable white mustache, gives off the air of an urbane cowboy. He tends toward solid colors and appreciates a good pair of boots, even though he lives in Malibu. His speech — uttered in a slow drawl so low it's sometimes difficult to hear — is sparse, but deliberate.
Haley, meanwhile — who does in fact take up in Brooklyn's Cobble Hill — looks like he could be Elliott's hipster grandson. He wears chunky glasses and has a full beard. He has so much energy that it seems possible he's secretly hooked up to a caffeine drip.
And yet over the past couple of years, the two have grown so close that Elliott begrudgingly admits he now sends Haley text messages that end with heart emojis.
It's a friendship that began in 2014, when the filmmaker cast Elliott as Blythe Danner's character's love interest in his film "I'll See You in My Dreams." They forged such a bond during the experience that Haley decided to create a star vehicle for Elliott: "The Hero," out Friday, which is already earning the veteran performer some of the best reviews of his career.
In many ways, it's obvious that "The Hero" was written for Elliott, because the film contains a number of parallels to the actor's own life. The movie is about an aging western star named Lee Hayden whose glory days are behind him. While he's still beloved by fans of westerns, he's no longer able to land big roles and makes ends meet by doing voice-over work for barbecue sauce commercials.
Elliott, of course, is in a far better place career-wise — in part, thanks to Haley. But the Sacramento native did make a name for himself as a western star — playing a grizzled cowboy in films like "Tombstone," "The Big Lebowski" and countless made-for-television movies. Ever since "I'll See You in My Dreams," however, there's been an Elliott renaissance of sorts. He was cast as a lead on Ashton Kutcher's Netflix series "The Ranch" and also landed a recurring role on the streaming service's "Grace and Frankie." This summer, he's been busy filming a part in Bradley Cooper's "A Star Is Born" remake with Lady Gaga.
But "The Hero" is different: A story tailored to him in which he appears in nearly every scene.
"I think it's gotta be every actor's fantasy that somebody, someday is gonna write them a script — and when you're on every page? It's pretty exciting," says Elliott, sharing a booth with Haley at a Santa Monica fish joint.
"To me, it was a love letter not only to Sam, but to a dying breed of actor and film in Hollywood," Haley says. "It's about how we as society tend to chew up people and then spit them out when we're tired of them. To keep that Meryl Streep or Tom Hanks thing? It's rare. Or we typecast — 'You're one thing. Keep doing that.' We like to keep people in the box."
"There's been periods in my life where I've thought, 'Man, am I ever going to get out of this western box?' " Elliott admits. He went on to tell a story about how excited he was when he learned that Joel and Ethan Coen wanted to cast him in "The Big Lebowski." Because the brothers were known for their "wacky characters," Elliott felt certain the movie would prove to be his "ticket out of the box." But when he read the script for the 1998 film, he was initially dismayed to see he'd again been cast as a cowboy.
"That part made me think, 'Well, I've had a blessed career, and if the bulk of it landed on that western side? Then I'm good with it," he says. "I mean, what am I gonna do? Nobody's ever gonna compare me with a chameleon. I'm not one of those actors that's gonna come in with a totally different sound. I do what has worked for me for a long time. You can call it not acting, or you can call it whatever you want."
"I call it acting," says Haley.
Initially, Haley — who works with writing partner Marc Basch on his screenplays — actually considered writing a straight western for Elliott. (Without spoiling too much, "The Hero" does contain western elements when Lee's fantasies about starring in a new film take shape.) The two batted around the idea of the actor playing Judge Roy Bean, a saloon owner and Texan justice of the peace who was known as "The Law West of the Pecos." But the filmmaker was told westerns are particularly difficult to finance because they don't make money overseas.
That's bull, Elliott says, using a tad more colorful language. "Right about the end of John Wayne's period, Hollywood started looking down their noses at westerns. The key cities have always looked down their noses, and all that middle ground have always embraced them. And those people elected the president. They're still there. It's L.A. that doesn't get it. They want to do 'The Lone Ranger' with Johnny Depp playing Tonto. That's their idea of a western. With all this computerized … There's no place for a computer-generated image in a western, to my way of thinking."
"Wow," Haley says following Elliott's tirade. "I love that."
Elliott, whose ancestors hail from the southwest, feels a loyalty to the classic genre. He loves the simplicity of westerns — how nature is a prime character, the clear set of black-and-white values. He's just a purist, he says.
But he's grateful for the opportunity to showcase a different side of himself in "The Hero." Haley purposefully tried to portray the older star as a romantic, sexual being, and in the film Lee enters into a relationship with a comedian in her 30s played by Laura Prepon. Was it different filming love scenes with a younger woman?
"Are you serious?" he asks, stone-faced. "I remember the first time I kissed Blythe [Danner] in Brett's other movie. She was very nervous. One of the things she said to me was, 'I've never kissed a man with a mustache before.' I thought, 'How is that possible?'"
Prepon, however, was less anxious. "She came in there and just took total … control of the scene" and Elliott's mind too, he recalls.
Haley has seen first-hand the effect Elliott has on women on and off screen. During the "Dreams" press tour, the colleagues attended an AARP screening of the film in Miami that the filmmaker likens to a "Justin Bieber concert."
"It was packed — like 700 people — and when Sam walked out it was like everyone turned into a teenage girl," he remembers. "People go nuts for him."
"I had an experience like it not long ago at the airport," says Elliott, who has been married to actress Katharine Ross since 1984. "This woman came up behind me and said, 'Are you Sam?' I said, 'Yeah,' and she just started jumping up and down. She was a nice-looking woman, there with her husband. And she was just going nuts. And five minutes later it was a woman who worked at the airport — she just started fanning on me. Incredible."
"What can you do?" he says. "You either shine it on and figure you're above it all or embrace it for what it is. It's honest. But what they're in love with is not me personally, it's the guy that I take to work. This is what I do. It's not who I am. I think it's all about live streaming and the fact that you can't get away from 'Roadhouse' or 'Tombstone' or 'The Big Lebowski.' I think that's why I'm still working on some level."
While Elliott finishes work on "A Star Is Born," Haley just wrapped a music video for rock band the War on Drugs and is about to start his next film this summer. They're busy, and because they live across the country from one another, these days they mostly keep in touch via text message. Still, they encounter those who are perplexed by a friendship between two people with an age difference of nearly four decades between them.
"You don't often see friendships between younger people and older people," says Haley. "But I think it's so fulfilling both ways. Because I learn from Sam. He has experience not only within this industry, but just as a father and a husband and a human being that I can learn from. And I think hopefully to some degree, being around a young person who has a certain energy -- it goes both ways."
"We're like family," he continues. "When I hang up the phone with Sam, I tell him I love him, usually. Because, I mean, we love each other. Well, I love him -- I don't know if he loves me."
"Yeah, right," Elliott says, scoffing. "A real mystery for you still? Let's keep it that way. Always keep them wanting more."
Special report: The past, present and uncertain future of the multiplex »
Follow me on Twitter @AmyKinLA
ALSO
Zoe Lister-Jones made 'Band-Aid' with an all-female crew. Your move, Hollywood
It took Robin Swicord 10 years to get a directing job after 'The Jane Austen Book Club.' Why?
Teens at the multiplex: Why some of the young are returning to theaters
'It wasn't some crazy thing': Alicia Silverstone on acting and what the world thinks of her parenting
Meet the 'grandma Nancy Drews' behind 'The Keepers,' Netflix's newest true-crime series
---
The complete guide to home viewing
Get Screen Gab for weekly recommendations, analysis, interviews and irreverent discussion of the TV and streaming movies everyone's talking about.
You may occasionally receive promotional content from the Los Angeles Times.