Q&A: Christopher Guest on 'Mascots,' shoelaces and the high stakes of the lower echelons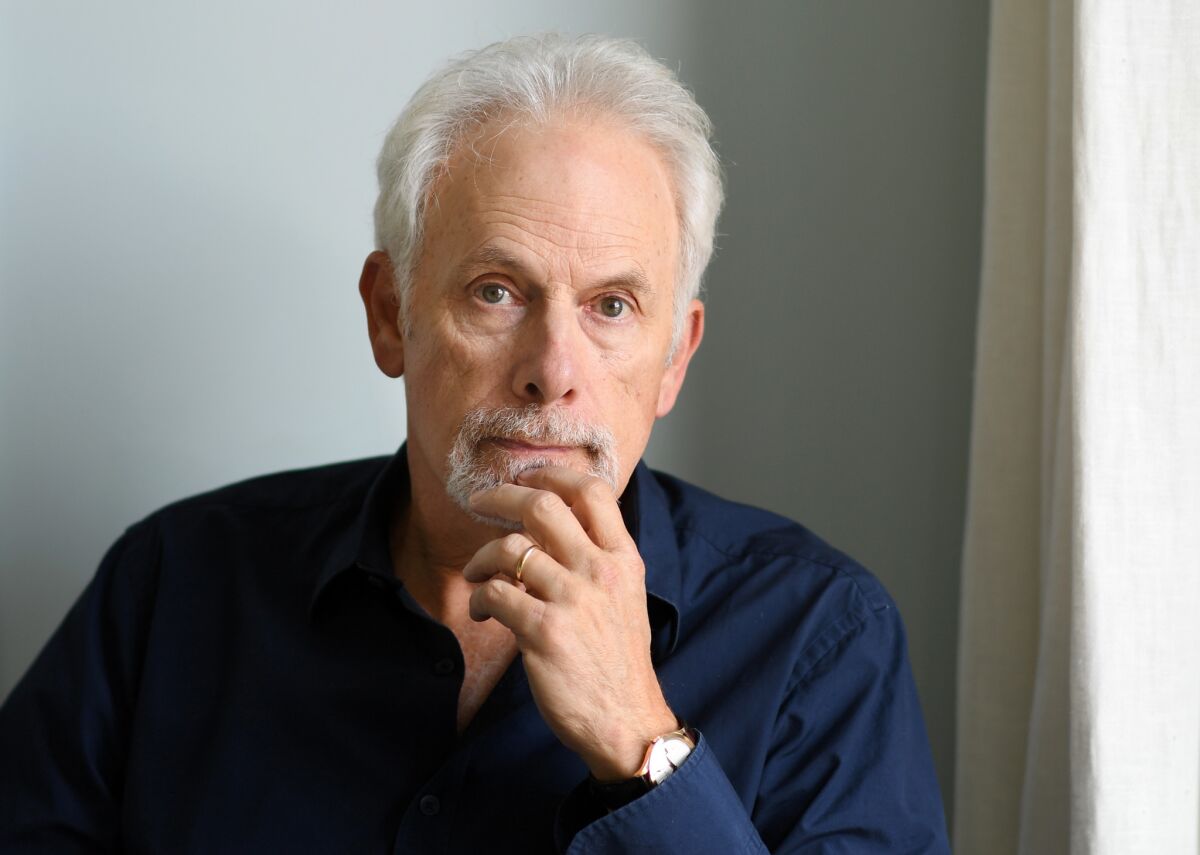 No one makes movies quite like Christopher Guest. His deadpan explorations of unusual cultural corners take the form of documentaries and feature improvised dialogue to give them a hybrid, high-wire energy. From his work in "This Is Spinal Tap," directed by Rob Reiner, to the films Guest has made on his own, including "Waiting for Guffman" and "A Mighty Wind," he has crafted an ongoing, warmhearted celebration of human enthusiasms and failures.
His new film "Mascots," his first since 2006's look at ego and awards season with "For Your Consideration," has its world premiere on Saturday as part of the Toronto International Film Festival. Co-written by Guest and Jim Piddock, the new film, as the name implies, is a look at the world of sports mascots centered around a worldwide competition.
The film's examinations of the characters' lives out of costume have Guest's signature mix of sweetness and melancholy, while the actual competition performances are inventively hilarious. The cast features many returning performers from Guest's earlier films, including Parker Posey, Fred Willard, John Michael Higgins, Jane Lynch, Jennifer Coolidge, Ed Begley Jr. and Bob Balaban. Chris O'Dowd, Sarah Baker, Zach Woods and Susan Yeagley make spirited contributions as relative newcomers to the fold. "Mascots" will be in theaters and on Netflix beginning Oct. 13.
Guest recently took some time to sit down in Santa Monica for a conversation just ahead of the film's premiere in Toronto to talk about filmmaking, what draws him to his subjects and, surprisingly, shoelaces. (Just don't use the term "mockumentary." See Guest's reference to "the word that shall not be spoken" below.)
FULL COVERAGE: Toronto International Film Festival »
So why mascots? What draws you to explore a specific world?
It's different every movie, what I do. I am attracted to subcultures, apparently. I find arcane things very interesting. In this case, I was doing a TV show for HBO with Jim Piddock called "Family Tree." And Jim was interested in doing a real documentary about mascots. And I said, "Well, that's kind of not what I do … what if we do it the way I do it?" And so we started to research it.
I'm drawn as well to the lower echelons of things, because it struck me a long time ago that it didn't really matter on what level people were working on anything, it was just as important to them as the people working on what's perceived as a higher level. The major leagues as opposed to the minor leagues or off-off-off Broadway as opposed to Broadway. It really is all the same, it's all just relative. The people are just as nervous, just as excited. The stakes are just as high.
Do you have a list of subcultures or worlds for possible further exploration?
Oh no, no. My process, if it could be called a process, is I literally might be walking down the street or I may see someone doing something and it just leads to something. No, no, that would be sad, I think. I could make that list in the time that we're sitting here, I could make a list of things that are fairly obscure to most people.
I found a website just about shoelaces. And I thought, "OK, let me [look] into this." That was very enjoyable to me. That someone was so deeply into this, and it wasn't a joke, the kinds of shoelaces, the colors of shoelaces, the ends of shoelaces, which I've forgotten the name of — it was deep. And I thought, thank you. Now I'm not saying I'm going to do something about that. But I can't say why I'm drawn to these things.
Maybe that's why your films always approach these worlds with such generosity and curiosity. They're never mean.
Mean doesn't last. Mean is over fast. Maybe this is the essence of everything, which is to me if there is no emotional center for what I'm doing, I have no interest in it at all. Then it's a sketch. To me, what I realized when we were doing "Spinal Tap," and the four of us wrote that, is really the core of that is the relationship with the two guys who grew up together and that strain when the girlfriend comes in. If that wasn't there, it's a very different movie. Then it's just bumbling guys stumbling along.
Now for me what makes it interesting is the other dimension. In "Waiting for Guffman," the character I played, the Corky character, he's very serious about what he does and it's not meant to be mean that this is a small town and these people aren't the most talented people. They're trying the best they can. So to be mean, that would be kind of horrifying in its superficiality.
People often struggle with what to call your films.
The problem is someone had this horrible term, I don't remember, I guess it was probably on "Spinal Tap" that someone tagged this awful thing out of laziness rather than say, "This is a movie done in a documentary style." God forbid that takes three other words. It just is infuriating because the other thing does imply something else, the word that shall not be spoken. But I can't control this.
What's the casting process like? Is it difficult to find new people? Zach Woods and Sarah Baker seem to both really take well to your way of working.
I had worked with Sarah Baker, who plays Zach's wife, once before. I meet people. There's nothing to audition because there are no lines to read, so I sit and talk to people for about half an hour, and in that process, which hasn't changed, I have to somehow intuitively make a decision.
I don't know any other way to do it, and I make a judgment based on that. And I've been fortunate that has worked out. Zach is unbelievable, Susan Yeagley I'd never worked with and she's fantastic. Chris O'Dowd I met in London and put him in "Family Tree," which we did in the same way, and he's a brilliant improviser. The ones I know it's a given they can do this, but the new ones it's scary. It backfired only once.
Corky St. Clair makes an appearance in "Mascots." Was it fun for you to revisit the character?
Well, that was done for tax purposes. It's a very obscure tax code which says, weirdly, in the U.S. tax code that Corky has to be in a movie every 15 or 20 years, I think it is, to justify — well, it's a thing. So that was that.
SIGN UP for the free Indie Focus movies newsletter »
Follow on Twitter: @IndieFocus
ALSO
Toronto 2016: Ben Wheatley's 'Free Fire' has a fittingly raucous premiere
Toronto 2016: The hypnotic urgency of Betrand Bonello's 'Nocturama'
Three death stares, one wink and a movie you will never see: An interview with Jerry Lewis at 90
Get our L.A. Goes Out newsletter, with the week's best events, to help you explore and experience our city.
You may occasionally receive promotional content from the Los Angeles Times.