Review: 'Trumbo' a timely tale of political paranoia and personal pain
Bryan Cranston, in the role of blacklisted Hollywood screenwriter Dalton Trumbo, hunches over a makeshift desk in the bathtub, a tumbler of scotch beside him, a cigarette holder clamped between his teeth, the demented squint of a man on deadline on his face.
It's one of a number of wonderfully human moments in the film "Trumbo" that paint an engaging portrait of a left-wing crusader toiling in one of Hollywood's most shameful eras, managing to re-create both the glamour and the oppressive mood of post-World War II America. Directed by Jay Roach, "Trumbo" is timely in its portrayal of a moment when political speech is dangerously charged, yet unabashedly old-fashioned in the sincerity of its storytelling.
SIGN UP for the free Indie Focus movies newsletter >>
Occasionally, the script, which John McNamara adapted from the book "Dalton Trumbo" by Bruce Cook, drifts into stuffy, period movie conventions. When comedian Louis C.K., a welcome dose of skepticism as a composite blacklisted character named Arlen Hird, asks Trumbo, "Do you have to say everything like it's going to be chiseled into a rock?" he seems to be delivering a script note to "Trumbo's" filmmakers. But the movie's large, talented cast — led by Cranston, with his intelligent and confident performance — and Roach's eye for detail shake the story back to life.
Trumbo was one of Hollywood's highest-paid screenwriters when a congressional investigation into his Communist Party affiliation destroyed his career and that of dozens of other artists and entertainers barred from work on the basis of their personal politics, real or alleged.
Held in contempt of Congress and forced to serve jail time for refusing to testify before the House Un-American Activities Committee in 1947, Trumbo began writing under pseudonyms, selling scripts for "Roman Holiday" and "The Brave One" and churning out B-movies for King Brothers Productions.
The early part of the film is a boisterous setup for its hero's fall, as Trumbo leads a charmed life with his beautiful wife, Cleo, played with elegance and restraint by Diane Lane. Entertaining friends at his sprawling, rural California homestead, taking meetings with appreciative studio chiefs and speaking out freely on labor issues that concern his progressive conscience, Trumbo is blithely unaware of the freight train of paranoia about to hit him.
Watch Q&As with the 'Trumbo' cast and crew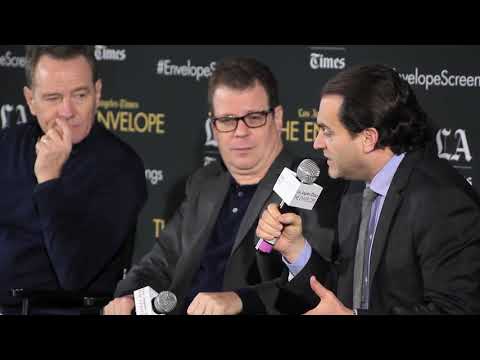 On Now
'Trumbo:' Dissecting Edward G. Robinson
On Now
'Trumbo': Looking back at Dalton Trumbo's life and work
On Now
'Trumbo:' Measuring patriotism and talking civil rights
On Now
'Trumbo:' The blacklist and Hollywood
On Now
'Trumbo:' Navigating the media landscape, past and present
When a deliciously malevolent Helen Mirren, as Los Angeles Times columnist Hedda Hopper, pushes forward the anti-Communist agenda in Hollywood, life gets tricky. Roach deftly unspools the story by interweaving archival footage of the congressional hearings with his own re-creations of testimony by Trumbo and by Edward G. Robinson, played here in a beautifully subtle performance by Michael Stuhlbarg.
Roach, who began his career directing broad comedies in the "Austin Powers" and "Meet the Parents" franchises and transitioned to political subjects with the HBO films "Recount" and "Game Change," brings a wit and populist touch to a potentially pedantic subject matter. He unleashes the comic instincts of his cast — Cranston's self-aware twinkle, Mirren's Disney-villainess scorn — and stays out of the way.
Some scenes feel frustratingly black-and-white in their moral simplicity, such as a confrontation between Trumbo and staunch anti-Communist John Wayne, whom Canadian actor David James Elliott has the impossible task of playing. Wayne comes across like a bullying Biff from "Back to the Future" rather than a man whose deeply felt views were shared by most Americans at the time. Another scene, of Trumbo in jail befriending an African American inmate, feels oddly forced, as if it's ticking off a liberal movie "to do" box.
"Trumbo's" best, most propulsive section arrives as the screenwriter begins defiantly making a living, enlisting his family in a secret home business. The portrait of the Trumbo family's suffering as the patriarch grows increasingly remote and unhinged is affecting and natural, thanks in great part to a sensitive Elle Fanning as Trumbo's daughter Nikola.
John Goodman, as an unlikely ally, hilariously foul-mouthed B-movie producer Frank King, knocks down the powerful forces arrayed against the screenwriter with the swat of his cane and gives Trumbo a humbling assignment to write a script for a gorilla suit he's just bought. By the time a swaggering young Kirk Douglas (Dean O'Gorman) knocks on Trumbo's door looking for help on his "Spartacus" script, the job of screenwriting has taken on all the drama of a bank heist.
Well-chosen period details enhance the film throughout, in particular the exquisite costuming by Daniel Orlandi that bridges the era from 1947 to 1970. Mirren, in Hopper's extravagant wardrobe, proves once and for all that she is the best at a truly underappreciated, classic Hollywood skill: wearing a hat.
------------
'Trumbo'
MPAA rating: Rated R, for language, including some sexual references
Running time: 2 hours, 4 minutes
Playing: Landmark, West L.A.; ArcLight, Hollywood; AMC, Century City
Get the Indie Focus newsletter, Mark Olsen's weekly guide to the world of cinema.
You may occasionally receive promotional content from the Los Angeles Times.