Michael B. Jordan teams with Warner Bros. to launch policy on studio diversity and inclusion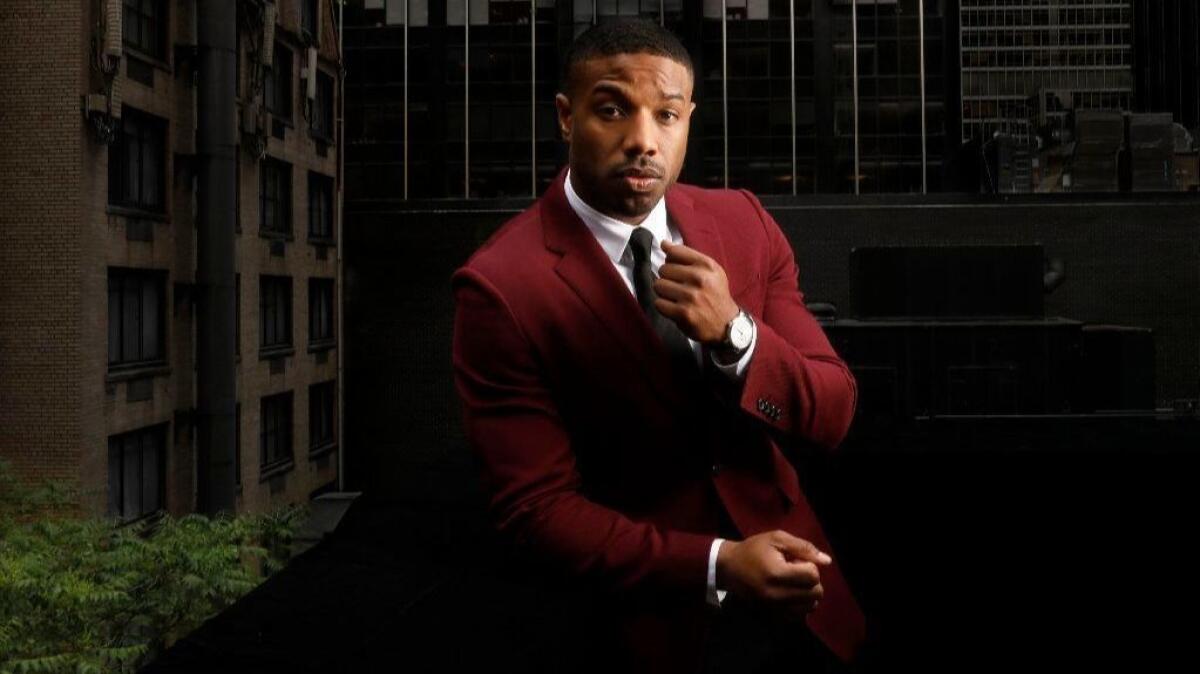 WarnerMedia, the parent company of Hollywood studio Warner Bros., announced Wednesday a company-wide policy aimed at increasing diversity and inclusion in front of and behind the camera. The initiative, established in partnership with actor Michael B. Jordan, is to apply to all productions going forward, beginning with Jordan's "Just Mercy."
"The WarnerMedia family has introduced an approach that accomplishes our shared objectives, and I applaud them for taking this enormous step forward," Jordan said in a statement. "I'm proud that our film, 'Just Mercy,' will be the first to formally represent the future we have been working toward, together. This is a legacy-bearing moment."
Inclusivity has always been a no-brainer for me, especially as a black man in this business.
— Michael B. Jordan
Since April Reign and #OscarsSoWhite took over headlines beginning in 2014, the entertainment industry has openly grappled with calls for more accurate and representative portrayals of more communities.
But it was, for many, Frances McDormand's fiery speech at the 2018 Academy Awards ceremony (she won an Oscar for her lead role in "Three Billboards Outside Ebbing, Missouri") highlighting the concept of inclusion riders that drove some people to action.
(First coined by Stacy Smith, director of USC's Annenberg Inclusion Initiative, an inclusion rider is a provision that can be placed in stars' contracts to mandate equity in casting and beyond.)
"Inclusivity has always been a no-brainer for me, especially as a black man in this business," Jordan said. "[But] it wasn't until Frances McDormand spoke the two words that set the industry on fire — inclusion rider — that I realized we could standardize this practice. It allowed me to formally pledge my production company, Outlier Society, to a way of doing business."
WarnerMedia's policy, which will also apply to HBO and Turner, focuses on having women, people of color, members of LGBTQ communities, folks with disabilities and other underrepresented groups in greater numbers in front of and behind the camera.
Along with the help of his agent, Phillip Sun at WME, Jordan worked with WarnerMedia to launch the policy with "Just Mercy." Jordan is also an executive producer on the film, which is set to begin production in Atlanta this week.
"I'm proud that Warner Bros., and our sister companies HBO and Turner, are willing to state unequivocally that this is where we stand on diversity and inclusion," Kevin Tsujihara, Warner Bros.' chairman and CEO, said in a statement.
"Our policy commits us to taking concrete action to further our goals, to measure the outcomes and to share the results publicly," he added. "I'm also thrilled that we were able to work with Michael B. Jordan to craft a meaningful policy and framework that will apply to all of our productions, across all of our divisions, going forward."
Though the policy as written does not include specifics, the company does commit to "in the early stages of the production process, [engaging] with our writers, producers and directors to create a plan for implementing this commitment to diversity and inclusion on our projects, with the goal of providing opportunities for individuals from under-represented groups at all levels."
"And, we will issue an annual report on our progress," it said.
"Just Mercy" is a legal drama about a gifted young lawyer's defense of the most vulnerable in this country and his fight for equal justice in a flawed legal system. It's based on the book "Just Mercy: A Story of Justice and Redemption" by Bryan Stevenson.
Twitter: @TrevellAnderson
Get our L.A. Goes Out newsletter, with the week's best events, to help you explore and experience our city.
You may occasionally receive promotional content from the Los Angeles Times.