Box office: 'Office Christmas Party' can't top 'Moana,' but 'La La Land' is one to watch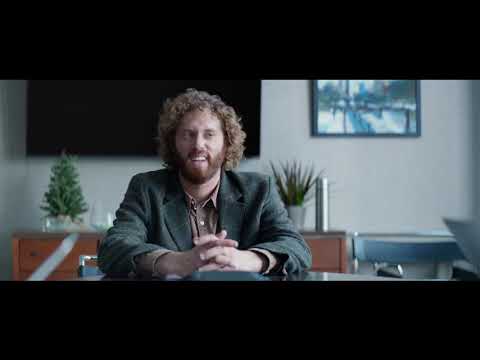 Jason Bateman, Olivia Munn, Jennifer Aniston, Jamie Chung, Kate McKinnon and Courtney B. Vance star in "Office Christmas Party."
Holding on to its spot for the third week, Disney's "Moana" reigns supreme over the weekend box office. Paramount's new release, "Office Christmas Party," couldn't attract a large enough adults-only audience to unseat the animated picture.
"Moana" garnered an estimated $18.8 million in the U.S. and Canada, beating analyst projections of $16 million. The Dwayne Johnson-voiced picture has grossed more than $145 million to date.
Pulling in $17.5 million, "Office Christmas Party" failed to meet analyst expectations of $20 million. It did, however, come in well above the studio's projections of $13 million to $15 million. The $45-million movie made $8.9 million internationally.
The raunchy R-rated comedy follows a company holiday bash that gets way out of hand. It features an ensemble cast of notable stars Jason Bateman, T.J. Miller, Jennifer Aniston and Kate McKinnon.
Audiences (56% male; 83% 25 and older ) gave it a B CinemaScore. Critics were not as entertained: It has a 44% rating on Rotten Tomatoes.
Nonetheless, the performance counts as a win for Paramount, which has struggled this year with major disappointments "Ben-Hur" and "Zoolander 2." The studio is enjoying robust receipts from the recent Amy Adams alien-invasion drama "Arrival." And it will surely do well with the Christmas Day release of the much-anticipated Oscar contender "Fences," starring Denzel Washington and Viola Davis.
Warner Bros.' "Fantastic Beasts and Where to Find Them" landed in third in its fourth week with $10.8 million. It's grossed $199.3 million to date.
In fourth was "Arrival" with $5.6 million in its fifth week. Its gross to date is $81.5 million.
Rounding out the top five was Marvel's "Doctor Strange" with $4.6 million. In six weeks, it's grossed $222.4 million to date.
Other notable films included "Miss Sloane," which opened in limited release over Thanksgiving and went wide this week. The political drama from Luc Besson's EuropaCorp brought in $1.9 million, failing to meet analyst projections of an already lackluster $5 million.
The film is about a top lobbyist, played by Jessica Chastain, who goes to war against the gun industry. Although it holds a 68% Rotten Tomatoes rating, moviegoers gave the picture, which also stars Gugu Mbatha-Raw, an A-minus CinemaScore.
Also expanding this week was Tom Ford's "Nocturnal Animals." Starring Amy Adams and Jake Gyllenhaal, the dramatic thriller from Focus Features grossed $3.2 million this weekend. It's pulled in $6.2 million after four weeks.
On the limited release front, Lionsgate unveiled "La La Land" in five Los Angeles and New York theaters. The film, written and directed by Damien Chazelle, pulled in $855,000 for a per screen average of $171,000. For comparison, when Barry Jenkins' "Moonlight" opened in late October in four theaters, that similarly well-reviewed picture with Oscars buzz took in $400,075. In just one week, "La La Land" has the highest per-location average of all time for a five-theater release and the second-highest per location average ever, according to the studio.
The film, an ode to classic Hollywood song-and-dance pictures, stars Emma Stone and Ryan Gosling as an aspiring actress and jazz pianist who fall in love. It's benefited from overwhelmingly positive reviews — it has a 96% rating on Rotten Tomatoes — and honors from critics' organizations nationwide. But whether it has mass commercial appeal (its audience opening weekend was 52% female and 53% 30 and older) won't be discovered until its wide expansion later in the month, to 200 locations Dec. 16 and wider on Christmas Day.
"Jackie," in its second week, expanded to 26 locations and brought in nearly $500,000, a per-screen average of about $19,200. The picture starring Natalie Portman as former First Lady Jacqueline Kennedy has a cumulative total of $860,000. It's continual release will be slow, to nearly 70 theaters Dec. 16 and in the 300 range by Christmas.
Next weekend, the box office is expected to pick up with the release of Disney's "Rogue One: A Star Wars Story" and Warner Bros.' "Collateral Beauty," starring Will Smith.
Get your life! Follow me on Twitter: @TrevellAnderson.
Get the Indie Focus newsletter, Mark Olsen's weekly guide to the world of cinema.
You may occasionally receive promotional content from the Los Angeles Times.