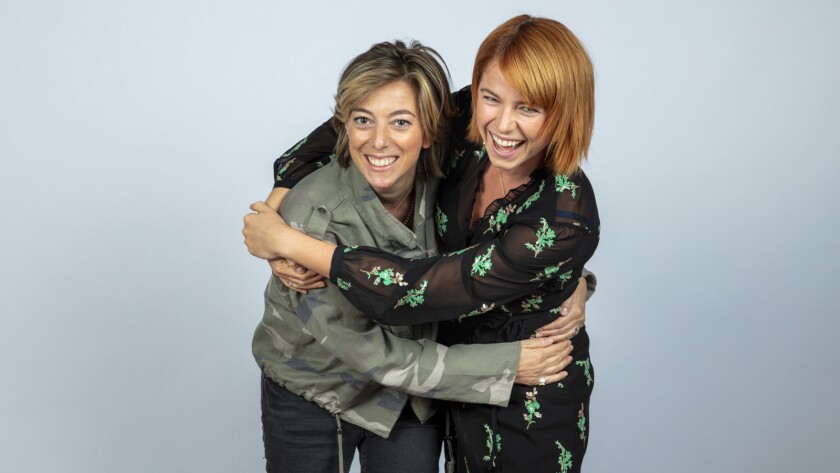 Reporting from London —
Nicole Taylor grew up in Glasgow loving country music, an obsession that transformed itself into her first feature screenplay. Now playing in limited release, "Wild Rose," directed by Tom Harper from Taylor's script, is about finding expression through song — and finding yourself in your hometown.
The first country song Taylor remembers hearing was Mary Chapin Carpenter's "He Thinks He'll Keep Her," and after that she bought tickets for every country show that came through Glasgow.
"This movie wasn't some research project I undertook — this is my life," Taylor says, sitting in a London café with Jessie Buckley, who plays the film's protagonist Rose-Lynn Harlan. "I think I would have gotten into something hardcore if I didn't have country music as an outlet. When I discovered it as an early teenager, that was it. It just released something in me, and I never stopped."
"Country music is quite popular [in Glasgow]," she adds. "And it's quite popular in Ireland as well. I think there are two reasons. One is the mass immigration of people from those places to America and the people who stay behind are left with this longing and this sense of ownership over American culture. The music traveled. And the other thing is that in places that are quite [bad] at expressing their emotions, like Glasgow, they need country music."
The film, which world premiered at the Toronto International Film Festival last fall, follows Rose-Lynn, a wannabe country singer living in Glasgow. She's just been released from prison and allowed back into the lives of her two young children, who have been under the care of a loving grandmother (Julie Walters).
Despite her ties to home, Rose-Lynn is anxious to leave Glasgow and become a country star in Nashville. Life is "three chords and the truth," responsibilities be damned.
Review: Jessie Buckley soars as a Scots country singer in the crowd-pleaser 'Wild Rose' »
"The character of Rose-Lynn just popped into my head about ten years ago, chatting, chatting, chatting," Taylor recounts. "She was so real to me that it felt like I was just transcribing her. I just had this vision — the first line I ever wrote about her was that she is 'thrillingly, glitteringly alive, more alive than you.' That energy of that character compelled me. I wrangled with her for years."
Taylor wrote several specific songs into the script, marking pivotal moments or indicating what music Rose-Lynn would like. It wasn't about Taylor's personal taste in country music, but rather which artists would excite Rose-Lynn as a character.
There's an emphasis on '90s female singers — Trisha Yearwood, Wynonna Judd, Lee Ann Womack and Bonnie Raitt all appear on the soundtrack — and Taylor was interested songs that evoked an emotional catharsis for Rose-Lynn. Recent Grammy winner Kacey Musgraves has a cameo in the film (as well as a song, "High Times," on the soundtrack) and Taylor personally reached out to both her and Raitt for their participation.
"I spent my whole adolescence writing fan mail," she laughs. "So I was deployed by our producer to just do that again. I wrote to Kacey — I had genuinely followed her career. And I wrote to Bonnie Raitt to get her to clear a song. It was a skillset I never thought I'd use again."
It's not really a spoiler to say that Rose-Lynn eventually does find herself in Nashville (although the city impacts her in unexpected ways). There, she takes a tour of the famed Ryman Auditorium and sneaks onto the stage to sing an emotionally wrought version of Judd's "When I Reach the Place I'm Goin'."
It's a key moment for Rose-Lynn, but Buckley was experiencing some of the same emotions as the character while she performed take after take on the Ryman's stage.
"Singing in the Ryman is something I can't even describe, but I know I'll never forget," Buckley says. "I was thinking, 'Gosh, I'm standing in a place where Johnny Cash and Emmylou and everybody, legends, have left moments that an audience member has kept in their heart forever.' I was standing in that place without anybody there. That was really lucky."
Taylor adds, "That's my favorite scene in the whole film because it feels like there's something actually holy happening there. That song's been there from the beginning, and when I wrote it I felt it. I was crying when I wrote it."
One song that wasn't in the script: The final musical number, "Glasgow (No Place Like Home)," which was performed live by Buckley in real Glasgow music venue the Old Fruitmarket.
Taylor knew the finale needed a grandiose song and it needed to be an original, something that Rose-Lynn herself would write. Taylor sent a brief out to songwriters in Nashville looking for pitches. The best one to come back was courtesy of Mary Steenburgen, Caitlyn Smith and Kate York.
"Because I'm an actor, I can sometimes — not always — can finagle a script," says Steenburgen, who has been pursuing songwriting since 2007 alongside her acting career. "It helps to read the script. The tone of this is about love in this family, but also this passing of love between two very different places, Scotland and Nashville. I don't think I would've gotten that from a little blurb.
"Reading the script helped me be able to tell the other two writers the story of what we should write and what was important. We knew that moment needed a love song to her mother ... and also to this city that had put up with her and made her who she was."
She might be fictional, but Rose-Lynn's musical career has continued since production wrapped in 2017. In early 2018, Buckley and Taylor collaborated on writing several songs that examine Rose-Lynn's state of mind beyond the script. The duo got together in Taylor's living room over several month with a few guitarists to experiment, and the songs turned out so well that several were added in to the film, including "That's the View From Here."
"She'd been in our bones for a few years so it was kind of cathartic because it got everything we hadn't finished saying said," Buckley notes. "That's the great thing about country. It's all about the lyrics and it's all about the characters who live in these lyrics."
"I felt a bit of fraud in the room at first," Taylor admits. "But it was great fun. And it was great to go back into Rose-Lynn's head and imagine what she would write. It didn't feel that different to screenwriting in the end. The story is structured much the same way, you just have to be a hell of a lot more succinct."
Buckley recorded the songs for the soundtrack in London, Glasgow and Nashville, and worked with an eight-piece band, who appear in the film as Rose-Lynn's backing band The Jaggy Nettles. She rehearsed with the musicians for months ahead of production and some of the music was recorded ahead of time, with the rest of the songs finished after the film wrapped. Buckley has even continued to perform live with the band in the past year, performing full-on (and often sold-out) concerts around the U.K.
"I had kind of lost my voice," says the actress, who launched her career as a contestant on BBC's talent show "I'd Do Anything" and went on to do West End musicals. More recently she earned a nomination for BAFTA's rising star award on the strength of her breakout role in British indie "Beast" and starred in HBO's acclaimed limited series "Chernobyl" as firefighter's wife Lyudmilla Ignatenko.
"I didn't want to do musicals, and I didn't really know what it was," Buckley says. "So this was a gift. Now that music has come back into my life, I don't know what to do. I've got this thing that's opened in my belly, and I loved singing with the musicians so much. Every character changes you, but some are stronger than others."
---