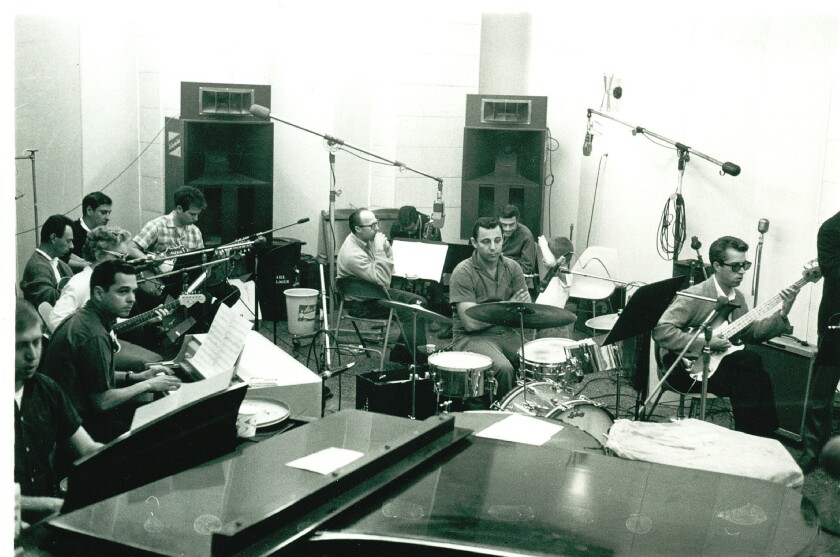 Los Angeles Times Film Critic
To Beach Boys guru Brian Wilson, "they were the ones with all the spirit and all the know-how." To Nancy Sinatra, they were "unsung heroes," to Herb Alpert, "an established groove machine." And to celebrated songwriter Jimmy Webb, they were simply "stone cold rock and roll professionals."
If the history of rock music means anything to you, you know the individuals in question could only be the Wrecking Crew, a legendary group of Los Angeles-based studio musicians, and though their story has taken decades to reach the screen, it has been worth the wait.
Providing backup on hundreds if not thousands of songs, the Wrecking Crew was responsible for the musical DNA for so many of the anthems that ruled the airwaves from the 1960s through the early 1970s that it makes your head spin.
That list includes the Phil Spector-produced "Be My Baby," the Beach Boys' "Wouldn't It Be Nice," the Righteous Brothers' "You've Lost That Lovin' Feelin'," the Byrds' "Mr. Tambourine Man" and Sinatra's "These Boots Are Made for Walkin'." If you listened to the radio during that period, these musicians created your world.
Which is one reason why "The Wrecking Crew" has taken so long to appear. A version of it played extensively at film festivals in 2008, but for it to be shown in commercial movie theaters, hundreds of thousands of dollars' worth of licensing fees had to be paid for the use of those hit songs, and until that money could be raised (via donations and a Kickstarter campaign, as it turned out) this movie could not be seen.
The Wrecking Crew was a fluid group — no one seems to know exactly how many people were considered members (20 is a rough guess), but key among them was Tommy Tedesco, a.k.a. "The King of L.A. Session Guitarists."
Tedesco's son, director Denny Tedesco, made putting this film together a years-long labor of love. Though a few of the resulting personal moments feel extraneous, Tedesco's heritage gave him special access to producers and musicians, and he has used it well.
Tedesco began filming in 1996, when his father was diagnosed with cancer; seven of the people whose memories he recorded, including his father's, have since died, making this genial, unpretentious film an invaluable record of a kind of rock golden age.
Something like a "Twenty Feet From Stardom" for session musicians, "The Wrecking Crew" contains its share of surprises, including that many of these individuals came from a jazz background and didn't necessarily care for rock, at least at first.
The Wrecking Crew started to get a reputation inside the music business after Spector used the musicians as the key component of his celebrated Wall of Sound.
That success so impressed Wilson (he recalls pulling off the road and stopping his car the first time he heard the Ronettes' "Be My Baby") that, once his Beach Boys compositions got more musically complex and the group's touring commitments grew, he used the Wrecking Crew to anonymously record the tracks for the Beach Boys albums.
That kind of clandestine work became the Wrecking Crew's bread and butter. The musicians recorded for the Association, Gary Lewis and the Playboys, and with the exception of former studio musician Roger McGuinn, they recorded for the Byrds on their breakthrough cut "Mr. Tambourine Man," which, McGuinn recalls, made everyone else "livid."
Though Wrecking Crew alumni Glen Campbell and Leon Russell went on to major solo careers, most were more than content with musical lives outside the spotlight, and some of the film's best moments are brief biographical segments on key members.
We meet ace drummer Hal Blaine, one of the busiest in rock history, and we learn that Tommy Tedesco played the opening notes on the theme for TV's "Bonanza" and that saxophonist Plas Johnson did the same for "The Pink Panther."
Perhaps the most intriguing member of the Wrecking Crew was its only female, nonpareil bassist Carol Kaye, who made more money than the president in her best years and demonstrates how she souped up the bass line for Sonny and Cher's "The Beat Goes On."
Once the singer-songwriter model became the norm for the rock business, the Wrecking Crew's star began to wane, but seeing this film makes it clear what its members accomplished in their prime. As Tommy Tedesco said to his colleagues when the topic of writers came up, "They put notes on paper. That's not music. You make the music."
Twitter: @KennethTuran
--------------------------------
'The Wrecking Crew'
MPAA rating: Unrated
Running time: 1 hour, 41 minutes
Playing: Nuart, West Los Angeles
---