Wyatt Russell's new goal: an acting career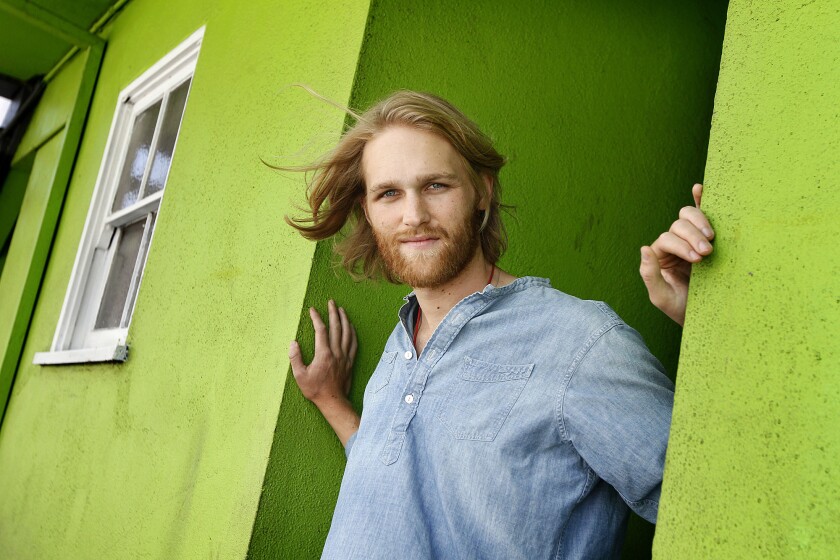 From the moment Wyatt Russell stepped onto the ice, he felt like he had a target on his back. His hair was long and blond, and his parents were Goldie Hawn and Kurt Russell.
When Wyatt was 16, he and his family left the Pacific Palisades to travel to Canada, where he trained to play professional hockey. The young athlete's teammates spread rumors that his parents had bought his spot on the roster. Others claimed that Russell's coach lived with him.
During his first game, a player came up to him and threatened to rip his head off and knock his teeth down his throat so that it would be written up in People magazine. It quickly toughened him up.
"It gave me a backbone," Russell said. "I spent so much time trying to prove to people that that was the exact opposite of what I was trying to be."
So he did his best to ignore the taunting. He put his head down and worked, eventually earning the respect of his teammates. And yet now, at 27 — after so many years of trying to distance himself from his parents' celebrity and careers — he finds himself in the Hollywood game.
This month, he has his first major role in a studio film, "22 Jump Street," which is on track to becoming the summer's biggest hit comedy (through the weekend, it has earned an estimated $111.5 million in the U.S. and Canada). The sequel stars Jonah Hill and Channing Tatum as undercover cops sent to college to bust a drug ring; Russell plays Zook, a football player and frat bro who forms a quick bond with Tatum's character.
The pair spend an obscene amount of time together bench-pressing and comparing their puka shell necklaces. Russell's comic take on the dumb jock has some critics comparing him to a young Owen Wilson.
Growing up in the industry, acting seemed like a natural choice for Russell. Not only were his parents actors but so were two of his half-siblings, Kate and Oliver Hudson. But he loved hockey — had ever since he was 4. Before he moved to Canada, he'd commute 90 minutes to Lakewood every day after school to practice at a rink.
"The last thing I wanted to do was act, because it was the path of least resistance," he recalled, sipping coffee at Patrick's Roadhouse, one of his favorite diners on Pacific Coast Highway. "And it was rebelliousness. Acting was what everybody thought I should do, and at 15, when you love something so much, it's like — 'That's not what I do. That's what they do.'"
After his stint in Canada, he went on to junior leagues as a goalie, which he liked in part because his mask allowed him to hide his face. But by 19, he'd already suffered five concussions. During one incident, his head was rammed into the post and then hit the back of the ice. He thought he'd broken his neck, and as he was rushed through a low-end hospital on a gurney, he stared at the stained ceiling tiles, wondering, "What am I going to do?"
It was only then that he began to consider working in the movie business, and he signed up for a six-week summer directing course at USC.
"That class opened the door for me — I realized I was allowed to like this," he said, reaching for a napkin to wipe makeup off his face that a groomer had applied for an earlier photo shoot.
And yet even after that revelation — even after doctors had found a black spot in his brain during a CT scan — he wasn't ready to give up hockey. He decided to move to Holland, where he played for two more years. Hawn was too nervous to watch his games anymore.
"It was dumb," Russell admitted. "But the risk was worth taking for me to finish that part of my life. I didn't want to look back — or be sitting in some bar watching a game — and think, 'Ugh, I could have been there.'"
He finally quit and moved to Marina Del Rey, living with a couple of buddies. He began auditioning and landed a small role in "Cowboys & Aliens" as well as some indie films, including the recently opened thriller "Cold in July."
But his tryout for "22 Jump Street" was a huge leap.
"We were aware of his acting lineage — and it was hard not to notice the resemblance when he walked into the room," said Phil Lord, one of the film's directors. "But he was so natural and had this very casual charm to him that didn't feel actor-y or canned. We had a lot of people audition for that part, and Wyatt had the most ease about him — he was the most lovable."
Later, the production flew Russell out to Chicago to hang with Tatum — then on the set of "Jupiter Ascending" — to test their chemistry. The actors got along, and Tatum observed how his costar was using his athletic background to inform the role.
"Even though he never played football, he just carries himself like an athlete," Tatum wrote in an e-mail. "He was totally committed to looking like a high level college football player and he did a great job. He really crushed it. That's the competitive streak he still has from his days as a hockey player."
For his part, Russell is slowly discovering just how fun acting can be, and he's hopeful "22 Jump Street" will "let people know that this is what I want to do for a career."
He was supposed to appear in the Allman Brothers biopic "Midnight Rider," but that production has been put on hold after the death of a camera assistant. Meanwhile, he and his brother Oliver are developing a show for HBO. He and his wife — stylist Sanne Hamers, whom he met four years ago at a salsa bar in Holland — live in an upscale mobile home in a Malibu trailer park that they share with Russell's other half-brother, Boston, and two dogs.
Now he and his dad — an athlete as well who once played minor league baseball — have even more in common. A star for decades, Kurt Russell has long had a reputation for keeping Hollywood at arm's length, preferring to stay at the family's home in Colorado and flying planes to walking red carpets.
"Recently, my dad has been teaching me a lot — like how to read a script," he said. "It used to just be about hockey or baseball or sports of whatever. We don't have glitzy or glamour-y Hollywood-type talk, like, 'Isn't that person great?' It's more about the process of how it works. Because he's dedicated a lot of his life, obviously, to doing those type of things, and I'd be stupid not to take advantage of it."
---
Inside the business of entertainment
The Wide Shot brings you news, analysis and insights on everything from streaming wars to production — and what it all means for the future.
You may occasionally receive promotional content from the Los Angeles Times.