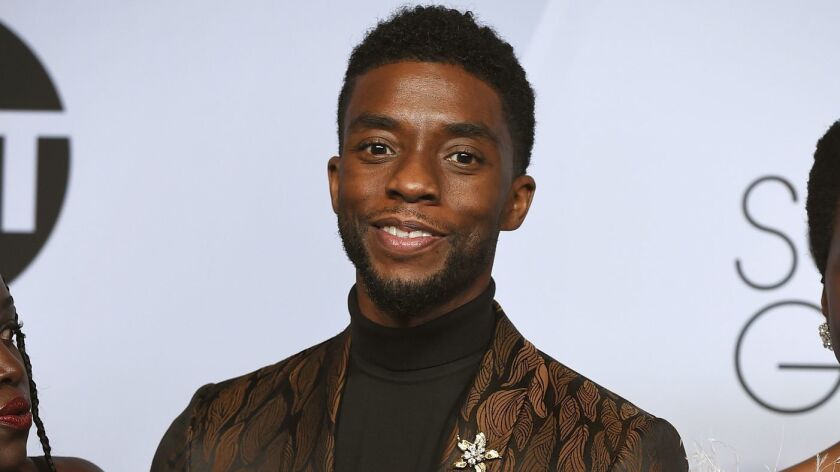 "Black Panther" star Chadwick Boseman further solidified the power of Nina Simone's song "To Be Young, Gifted and Black" at the Screen Actors Guild Awards on Sunday night after the Marvel film, which boasts a predominantly black cast, earned the evening's top honor.
The 41-year-old actor directly referenced the lyrics, describing them as one of his "favorite sayings of poetry," in the ensemble cast's acceptance speech. The song, of course, is an anthem of the civil rights movement and is becoming a tribute to the black excellence rippling throughout this awards season.
The lyrics of "To Be Young, Gifted and Black" were written by Simone's band leader Irvine Weldon as an homage to her friend Lorraine Hansberry, the "A Raisin in the Sun" playwright who died in 1965. Simone recorded the first version of the song, which has since been covered by many others. (Simone talks about it and performs it in the clip below.)
The late Simone, whose music often chronicled the African American struggle, said the song's title was inspired by a photo of Hansberry that promoted the play of the same name, posthumously built of the author's writing, when it ran off-Broadway.
"In her eyes, she kept trying to tell me something. I was sitting on the bed and … the memory of her kept flooding back in my memory," Simone said. "Inspiration is a very strange thing, sometimes just happens like a light. I remember getting a feeling in my body, and I said, that's it, 'to be young gifted and black,' that's all. And sat down at the piano at that moment and made up a tune. And it just flowed out of me."
Simone, who died in 2003, recorded and released the anguished song on her Grammy-nominated 1970 album, "Black Gold," and the anthem later gained new life through covers by Donny Hathaway and Aretha Franklin. Franklin, the late Queen of Soul, titled her Grammy-winning 1973 album "Young, Gifted and Black."
Boseman, who played the titular hero of Ryan Coogler's "Black Panther," said onstage Sunday that the lyrics were his response to those wondering about the film's reception and its endurance through awards season.
He further elaborated backstage at the SAG Awards, saying that the line "speaks to the fact that you have the same dreams as other people."
"You have equal if not more talent at times, but you don't have the same opportunities. You don't necessarily have the same doors open to you, the same nepotism, the same money or resources that could be put toward your dreams," Boseman said.
"And you, a lot of times, don't have family members that have ever achieved the things that you want to do. And so when you aspire to do something that is outside the realm of what the world would see you doing and also what your family has ever achieved … to be young, gifted and black is all of that," Boseman added. "It's to have everything but then not be quite able to grasp it and to be the able to persevere through that."
Follow me: @NardineSaad
---