Paul Schrader wrestles with the sacred and profane in his new 'First Reformed'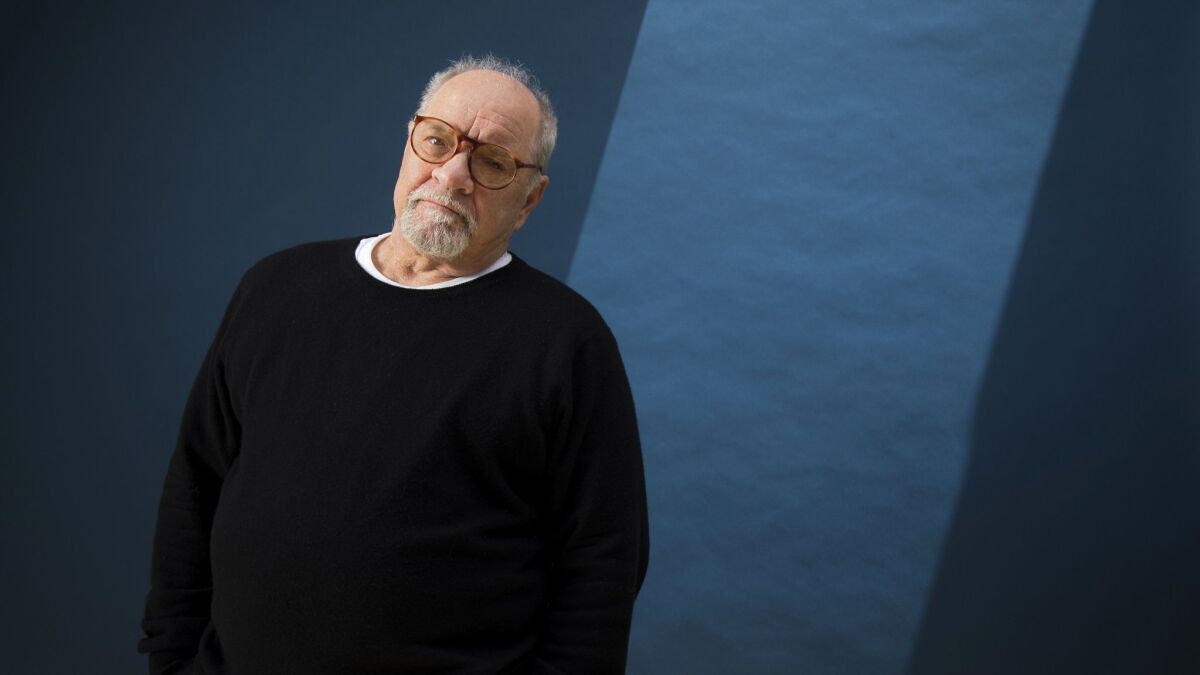 Paul Schrader glanced across the table: scrappy, lined, blinking, pressed nose, razor mind, a man of appetites, a Calvinist reborn in the 1970s as a gun-toting wild man whose dislocation and spiritual pain became the seeds of a cinema that set loose angels and demons across ever encroaching darkness.
He ordered a dirty martini and a steak and, on a cool Santa Monica night, with a gruff charm and a bookie's laugh, mentioned that he once had to hire a Victoria's Secret model – she couldn't act – after her boyfriend invested $250,000 in Schrader's movie. That was not as disquieting as when two Homeland Security agents showed up at his apartment after he posted an insurrectionist's appraisal of newly elected President Trump. (The agents looked around but nothing came of it).
A conversation can go in many directions with Schrader, barbed and smooth, with phrases like, "here's a funny story" or "the ability to make the soul leap" or "I fell into a kind of alcohol depression." But the screenwriter of "Taxi Driver" and "Raging Bull," a man who has explored the wretched and the sublime and was at the heart of the 1970s independent film revolution, flew in from New York to talk about his new movie, "First Reformed," his most searing and profound work in years.
The film, opening Friday in Los Angeles, tracks the unrequited Rev. Ernst Toller (Ethan Hawke), a hard-drinking, soul-scarred preacher with suicidal tendencies who has lost life's meaning until he meets an ecoterrorist whose aim to save the world inspires him. Suddenly, Toller, whose congregation could fill a single pew, has found purpose and fury. He plots martyrdom, as if a misguided saint calling attention to and atoning for a polluted and degraded planet.
"You have a character who is ill," said Schrader. "He has despair, angst. And he rightly recognizes in the young boy Michael [ecoterrorist] that we're all woken up in the middle of the night with a sickness unto death. The ecology situation is new, but the blackness is not. He sees a kindred spirit in this boy who has a similar disease of the soul, and it reminds him of his own suffering. Is he really an ecological activist or has he just caught this virus? The virus that makes his suffering more important. What he's going through is essentially quite selfish."
Echoes of Travis Bickle – the wiry, deranged cab driver played by Robert De Niro in Martin Scorsese's "Taxi Driver" – run through Toller. So does the pain of Wade Whitehouse (Nick Nolte) in "Affliction," written and directed by Schrader, who says: "I get to feeling like a whipped dog some days. Some night I'm going to bite back." Like many of Schrader's characters, they personify flawed canvasses of American masculinity, beaten loners desperate for understanding and redemption.
You can feel them, gnawing, bristling, seething, scary storms approaching. They are especially compelling when the world beyond them, its politics and accumulating troubles (Toller is a former military chaplain), render them powerless and force them to action. Toller -- like Schrader -- is a man on the fringes, a brooding intellect and spiritual thinker navigating a time of denial, when euphemisms are exalted, Instagrams are the new cinema, political correctness is in vogue and the consequences of sins are negotiable.
"First Reformed" unfolds in long scenes and lingering camera shots reminiscent of classic European auteurs such as Robert Bresson and Carl Theodor Dreyer. The mood is uncompromising and contemplative, nudging the viewer to lean into the film rather than be overrun by special effects, quick-cut editing and manipulative music. Schrader fell under the spell of transcendental cinema when he was a film student at UCLA in the 1960s. He wrote a book, which he recently updated, about the transcendental method but it has taken him half a century to direct a movie in that style.
"It's beautiful to see that he's been struggling for 50 years to arrive right back where he started but now he knows himself and his form and what he wants to say," said Hawke, who as Toller has the scoured, haunted look of a man whose prayers are seldom answered. "It was exciting to be invited into a mature process. The movie is kind of like an Ingmar Bergman film if Bergman were cranking the Ramones the whole time. When I came to set, I felt like I had arrived someplace where somebody was at work. He's very aware of his mortality."
Dressed in a blue sweater, his face occasionally aglow in a smartphone light, Schrader sat in the corner of a dark restaurant the other night. He was agitated by an eye injury, but gregarious, sliding an olive out of a martini and making quick work of a rare steak. He spoke of still writing scripts on spec ("a scavenger-dog mentality"), and how today's audiences don't take movies as seriously as they did in the turbulent '60s. His best works rank among the finest in American cinema, but he has had a number of misfires, notably "The Canyons," a crowdfunded venture starring Lindsay Lohan. Don't ask.
He folded his hands after the plates were cleared and, with a white goatee and an etched face, had the air of a prophet just returned from the desert with scraps of grace. Raised in a strict Calvinist family in Michigan – he saw his first movie in his late teens – Schrader's religious underpinnings and his obsession with film entwined when he critiqued Bresson's "Pickpocket," about the misfortunes of a thief.
"It was a decisive moment," said Schrader, whose new movie is co-produced by Christine Vachon, a leading voice in independent film. "I sensed two things: There was a connection between the world of religious belief I was raised in, the sacred world, and the profane world I was now living in as a UCLA film school student and writer with the L.A. Free Press. The link between those worlds was a link of style not of content. There was a realization that maybe there's a place for me in cinema."
But a burgeoning independent film movement and a sex, drugs and rock 'n' roll insouciance made Los Angeles inviting, dangerous and isolating for someone with a rigid theological upbringing. Schrader became a fallen soul in a strange paradise.
"Things had turned wrong for me and I was starting to become this thing I was very frightened of. The thing was Travis Bickle," he said. "I was living in my car. I had a gun under the seat. Drinking, morbid. At that time theaters like the Pussycat you could sleep in. I had a pain in my stomach, a bleeding ulcer. And I went to the hospital and realized I hadn't spoken to anyone in weeks. Then a metaphor came to me of this yellow steel coffin moving through the sewers of the city with a kid trapped inside, desperately alone. I wrote 'Taxi Driver' as self-therapy."
He would wrestle with cocaine addiction for years, but "Taxi Driver" spoke to the gritty side of an America in search of itself. "I was so grateful Marty directed it," said Schrader, who teamed up with Scorsese again on "Raging Bull" (Schrader co-wrote the script) and "The Last Temptation of Christ." "I certainly couldn't have done it at that level at that time. He got it. So did Bob (De Niro). We didn't talk much about that script. We knew exactly who this kid was. We didn't have to say who is it. It was a magical meeting of the minds. When you're in that groove everything you do is right, and when you're not, nothing is."
He added: "I've always felt that the final scene of a movie should occur on the sidewalk outside the theater. The movie's finished and a couple walks out and one says to the other, 'Well, I thought so and so.' And the other says, 'No, that's not the case.' But today they walk out of the theater while the movie's still playing and say, 'Where do you want to eat?' "
Schrader can be ferocious and "quite often forgets to say hello or goodbye. He's immediate. You know exactly how he feels," said Hawke. "When we were filming one scene Paul was in another room watching the monitor. He's getting so worked up. He's got headphones on so he's not aware that his breathing is becoming so loud and labored that we had to stop the scene. He was wringing himself out, like an aging lion."
That tenacity was evident in the anger over his troubled "Dying of the Light," a 2014 thriller starring Nicolas Cage, which received a rating of 9% on Rotten Tomatoes. The studio did not give him final cut and re-edited the film. Schrader said, "I thought my career would end in debacle. I will be alone with my resentment and regret and that is my legacy to myself." As he would on "First Reformed," Schrader demanded final cut in 2016 on "Dog Eat Dog," a black comedy crime caper with Cage.
There was, however, another problem.
"Here's a funny story," he said.
He pressed in, then pulled back, coaxing, as if in a scene from a transcendental skit, his dinner companion to lean toward him.
"I had to hire a Victoria's Secret model because her boyfriend had given us $250,000. We needed the money," he said. "Boyfriends used to buy jewels and cars, now they buy their girlfriend movie roles. This girl comes to Cleveland and she's terrible."
The actress had been promised three scenes, but Schrader and Cage decided to kill her off after the first one. It took a bit of finessing. "We had to sell her on this," he said. "I say to her, 'Look, your girlfriends are all going to see this movie. What would you rather be, the little mousy wife or the girl who gets shot on the staircase?' She agreed."
He leaned farther back and smiled.
"Besides," he said. "I had final cut."
See the most-read stories this hour »
Twitter: @JeffreyLAT
Get our L.A. Goes Out newsletter, with the week's best events, to help you explore and experience our city.
You may occasionally receive promotional content from the Los Angeles Times.