Chita Rivera, Carol Burnett and others talk about working with Bob Fosse and Gwen Verdon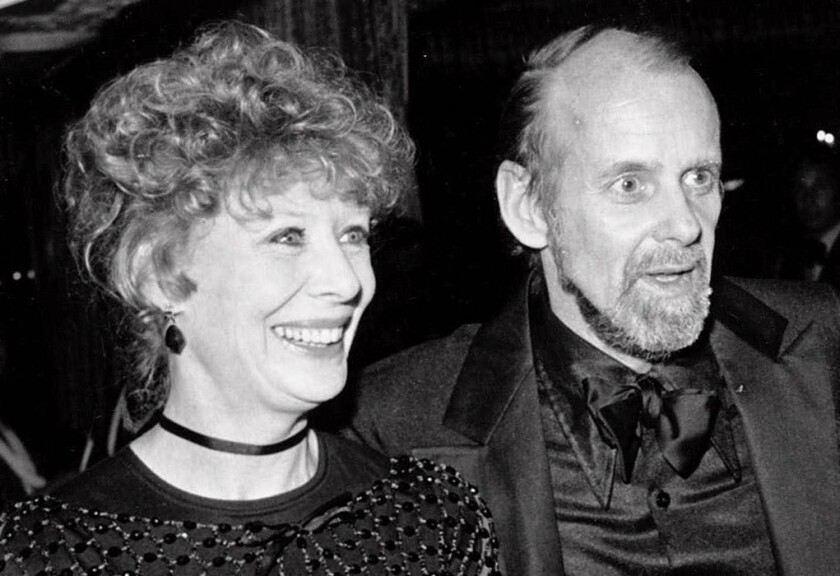 Anticipation is high for FX's new limited series "Fosse/Verdon," exploring the extraordinarily creative but troubled personal and professional relationship between the influential choreographer and stage and film director Bob Fosse (Sam Rockwell) and the brilliant dancer and musical comedy star Gwen Verdon (Michelle Willliams).
The eight-part series, which begins April 9, is co-executive produced by the couple's daughter, Nicole Fosse; Lin-Manuel Miranda of "Hamilton" is an executive producer.

For the record:
12:00 a.m. April 14, 2019An earlier version of this article said that Bob Fosse's 1979 film "All That Jazz" was from 1989. It also called a musical number from that film "Come Fly With Us." The correct title is "Take Off With Us."
Fosse, who died in 1987 at 60, and Verdon, who died at 75 in 2000, first collaborated in the popular 1955 musical "Damn Yankees." She won the Tony for lead actress; he took home the Tony for choreographer. And for the next three decades, they had a legendary theater collaboration.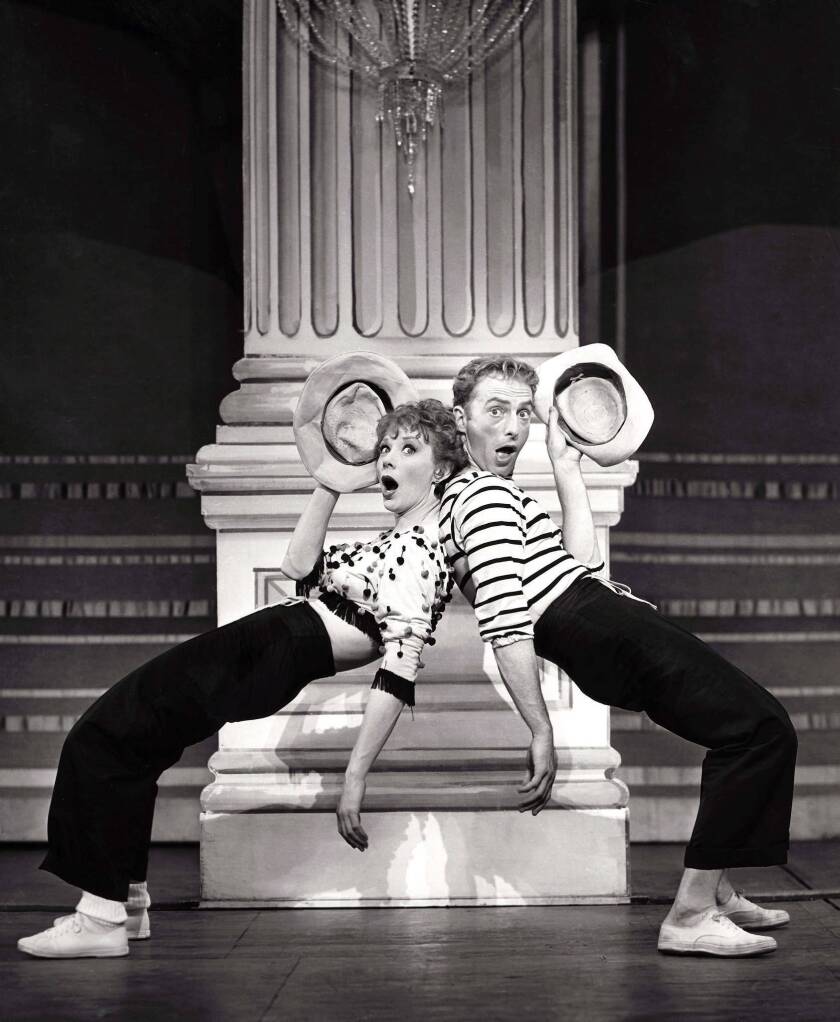 And they continued to collaborate when he moved to movies with 1969's "Sweet Charity," based on their hit 1966 musical. Fosse went on to direct five movies, winning the Oscar for the 1972 musical "Cabaret." The last time he directed Verdon in a musical was the Broadway production of "Chicago" in 1975. Though they separated in 1971, the couple never divorced.
Performers and others who knew and worked with Fosse and Verdon recently talked to the L.A. Times about the couple who continue to razzle and dazzle us.
CHITA RIVERA
The multi-Tony Award-winner was in the chorus of the 1953 Cole Porter musical "Can-Can," when she first worked with Verdon, who earned her first Tony for the show. Rivera worked with Fosse in his first film, "Sweet Charity," and then worked with both of them in the original production of "Chicago."
"Gwen is definitely one of the many phenomenal blessings that I've had in my life. I learned a lot from just standing in the wings and watching. I used to do that with her in 'Can-Can.'
"Gwen was a gypsy at heart but she was still on one of those 'star' [dressing] rooms, so we thought of her as that. They were auditioning for her understudy and she came in that day and called me into her dressing room and said, 'You know, you have your own identity. I really think you should look for and explore your own gifts, your own talents.' She is the first one who gave me a little bit of courage to go out and find out who Chita was and what I could do.
"Bobby was warm. That cigarette dangling [from his mouth] was sort of keeping him focused. He would change [the routine] when he wanted to. He wasn't like Jerry Robbins, who would give you seven versions and then switch the versions. You always want to please your choreographer, director. Dancers are just that way.
"It was hard, but there was a reason for it. When you get it and [Fosse] said 'Yes,' you could go without dinner, you'd be so happy. That's what we worked for, that's what dancers do. He was a dancer. He had great technique. He did jazz dancing. He was a hoofer.
"Gwen stood up for herself. She was by no means rude or belligerent. In all that time, Bobby was having his affair with Annie [Reinking]. You would never have known it. She was very private that way."
JOHN RUBINSTEIN
The actor played the lead role in Fosse's 1972 landmark production of the musical "Pippin." He remembers going to Fosse's apartment to discuss the musical before rehearsals.
"To be very, very honest, I had read the script and felt it was sort of fussy. It was not sharp. It was very whimsical but didn't have a lot of punch to it.
"He sits me down and says, 'OK, now it's up to you and me to save this piece of garbage.' Now, he was joking. He didn't think it was a piece of garbage because he wouldn't have done it. He was too big and famous and important and knowledgeable. He saw in it what it had as a possibility.
"He was brilliant. He wasn't brilliant in the way that Peter Brook was brilliant, as sort of a groundbreaking visionary of the theater. He wasn't like that. He was just as smart and perceptive and intelligent as a showbiz person can be. He knew audiences. He knew critics. He knew what a show had to be. He saw in the music and the book, the possibilities. Now people love 'Pippin' and love that show. I didn't see it. He knew that it wasn't there on the page. He knew that it had to be 'saved,' which was the word he used.
"Gwen and Bob had a thing. I don't know what word to use. They had a thing that you would call love or a trust or a connection that went beyond the traditional."
CAROL BURNETT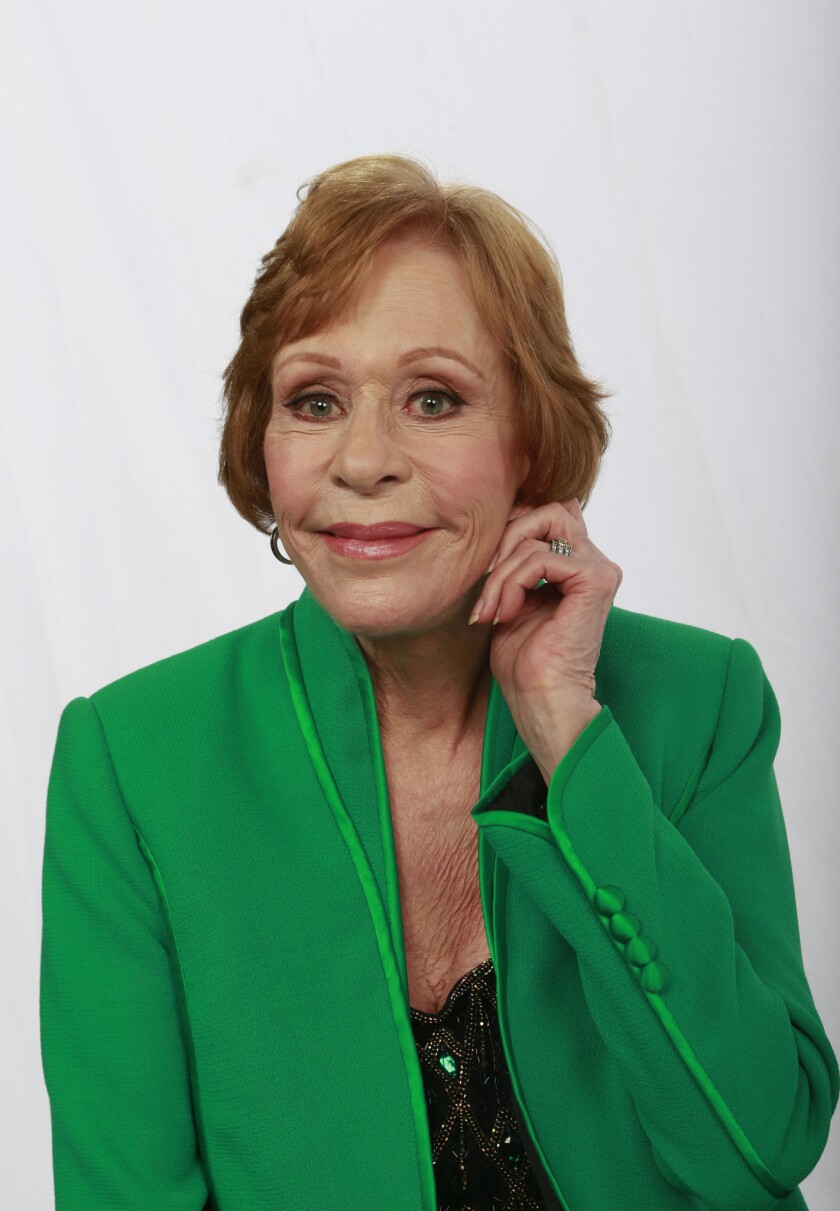 The Emmy Award-winning comedian first met Verdon and Fosse when they guest-starred on "The Garry Moore Show." She then worked with Verdon and Julie Andrews on a musical number for the series. In the late 1960s, Verdon guest-starred on "The Carol Burnett Show" performing a very hip "Feelin' Groovy."
"She had a great sense of humor. She was a hard worker because she started out as a [chorus dancer]. That work ethic was there. I believe the first time I ever remember seeing her was in a Danny Kaye movie where she was a dancer. She stood out. It was called 'On the Riviera.' And I saw her on Broadway in 'Damn Yankees' and 'Sweet Charity.'
When I did my show, I always wanted to incorporate the musical guests or the dancers in our sketches. Gwen was in one — I remember I played the town naughty lady in 'As the Stomach Turns.' She was funny and then I had her come out during questions and answers. She improvised being a lighthouse where she would turn around and then she'd turn around and her mouth would open!"
MARIEL HEMINGWAY
She starred as slain Playboy Playmate and actress Dorothy Stratten in Fosse's last film, 1983's "Star 80."
"He was nice, but he was obsessive. His focus was pointed and without wavering. He was extraordinary that way and was so admirable in my opinion. He didn't want me for 'Star 80' for the longest time. We shared the same agent. Sam Cohn, who kept saying 'Mariel is obsessed with this role. She really wants to read for her.' He's like, 'She's too tomboyish. She this. She's that.'
"Then I went in and read for him and he was like, 'Oh you get it.' I probably learned more from Bob than anybody I ever worked with about process, about creating a character based on really diving deep and of becoming — without being a method actor — the character in the moments that you're doing it.
"He was a challenging person. He was really kind, but he would get frustrated and he would get angry. Not at you, but you could tell he was angry inside and he didn't know what to do with it. So there were moments where you were cautious because he was grappling with something.
"We became very close friends during the process of making the film, which I think you can only do with somebody you're working intimately with. He was one of the great artists."
TOM SELLECK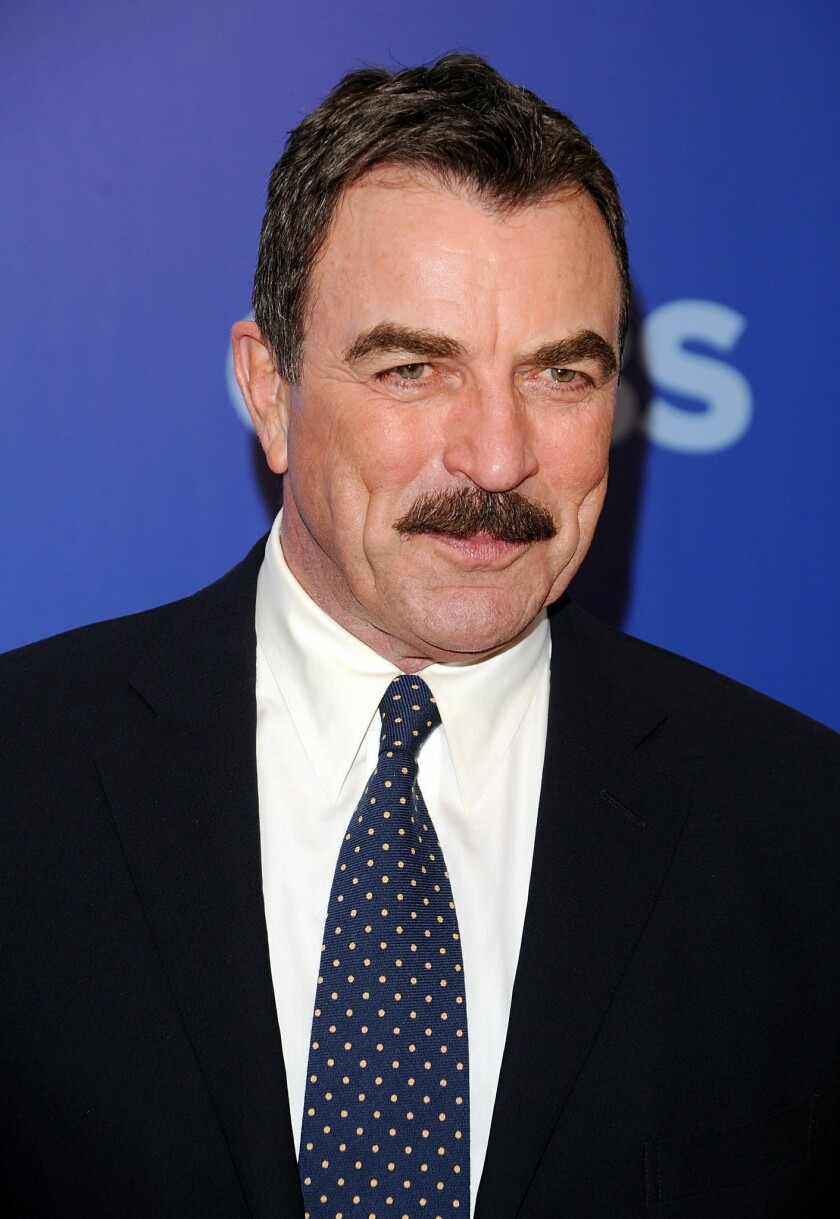 Verdon played the mother of Tom Selleck's "Magnum., P.I." character in five episodes from 1985 to 1988.
"She was somebody you felt you knew after five minutes, but more than that, she was just terrific. I know my mom was proud when Gwen was playing my mom on the show. She was the perfect choice for the part. They were wonderful experiences.
"She was hilarious to sit around and talk about everything under the sun. I just didn't ask her about stories about the good old days. She was always lovely to me. But I have a hunch Gwen Verdon was not someone you wanted mad at you. Here is what I think it was. She had something where you should never mistake kindness for weakness. It was always a great source of pride and still is that she was part of this ensemble."
ARTHUR ALLAN SEIDELMAN
He directed Verdon in her penultimate movie, 1999's "Walking Across Egypt," in which she played the good friend of the protagonist played by Ellen Burstyn.
"Gwen was totally honest. Always a thorough pro. She would not dream of arriving on the set not fully prepared, not knowing every word. Not only her words but the other people in the scene. There was a wonderful innocence about her. If there was a line with a slight double entendre, she would play it so innocently that it was beautify funny.
"The primary thing I remember about Gwen away from the performance conversation is how much she loved dancers. She was magical on stage. She had an incandescent light bulb inside her'.
STEVE GUTTENBERG
He was a young actor when he auditioned for Fosse for "Star 80" and co-starred with Verdon in 1985's "Cocoon" and 1988's "Cocoon: The Return."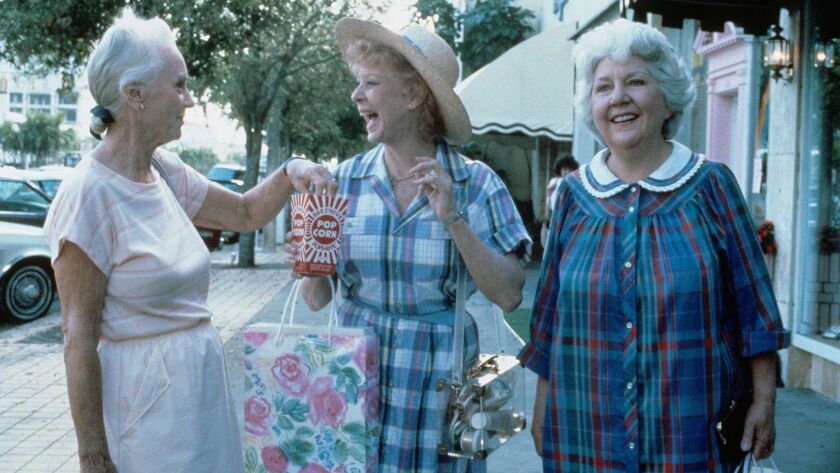 "He was extraordinarily, surprisingly sweet. I had about four or five auditions with him. He would spend 20 minutes just talking with me about things that had nothing to do with show business, really making me feel at ease. And then working with me, it was just me and him in a room. We would go back and forth and back and forth. It was the most creative audition process I've ever had.
"I told Gwen the story of meeting Bob. I remember this specifically because we had dinner several times, just me and her. She said to me Bob is a very different artist. He believes that we're all connected to a band of creativity and that his connection to the band of creativity is no different than Beethoven's connection to the band of creativity. He never thought he was better than anyone else. He just though he put more time into those specific moments.
"I had a big crush on her. We talked about acting a great deal. She said if you're lucky enough to be born with a great instrument, that's not enough. She said you can be born with a Steinway, but if you don't practice it, you'll only be able to play 'Chopsticks.' She was a craftsman."
SANDAHL BERGMAN
Bergman was a Broadway dancer in two of Fosse's Broadway musicals — "Pippin" and "Dancin'," and also made a notable appearance in the "Take Off With Us" number in Fosse's 1979 Oscar-winner "All That Jazz."
"He was a charmer. Good-looking, not that great-looking because he was a little guy. But he charmed everybody. He got people to do what he wanted them to do. He had the ability to get the best out of out of you because he worked harder than you could work. He put in 150% and made me put in 100%.
My last audience with Bob Fosse was for 'Dancin'.' The last interview was a one-on-one. I was doing 'A Chorus Line.' He said to me in the interview, 'Sandahl, you have a great job. 'Chorus Line' is going to run forever. I have no idea what I am doing but we would love to bring you in. That's when I said 'I'm in.'"
MITZI GAYNOR
The actress/singer/dancer first worked with Verdon as a teenager in the L.A. Civic Light Opera production of 'The Song of Norway" and then in the 1953 film musical "The I Don't Care Girl," in which Verdon was the assistant to choreographer Jack Cole. Verdon also appears in the innovative jazz number with Gaynor in "Beale Street Blues."
"I'm the star of the picture but [Cole] did that number for her [Verdon]. She was built like a train. Her step was so singular. She was really a beautiful dancer.
"She was a sweetheart. She was very nice, but you didn't mess with her. She didn't put up with anybody. She was a redhead too!"
'Fosse/Verdon'
Where: FX
When: 10 p.m. Tuesday
Rating: TV-MA-LS (may be unsuitable for children under the age of 17 with advisories for coarse language and sexual content)
---
Get the Indie Focus newsletter, Mark Olsen's weekly guide to the world of cinema.
You may occasionally receive promotional content from the Los Angeles Times.