Memorial Day concert airing on PBS honors female veterans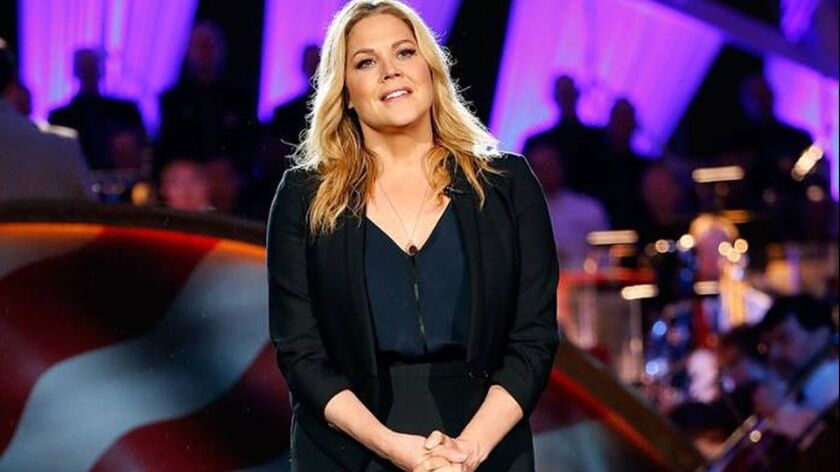 Leigh Ann Hester heard the call of duty when she was a little girl growing up in Bowling Green, Ky.
"I remember going to some type of parade with my family and seeing soldiers march down the street," noted Hester, 36. "I was just kind of awestruck as a little person. I've always looked up to women in uniform, whether police or military."
Hester enlisted in the Kentucky National Guard in 2001. Because women at the time weren't allowed to serve in combat positions, she became a Military Police officer. And in the fall of 2004, Sgt. 1st Class Hester was sent to Iraq.
On March 20, 2005, as team leader of a Humvee providing protection to a convoy of 30 semi-tractor trailers outside of Baghdad, she and fellow squad leader Timothy Nein ran — without benefit of cover — into gunfire from 50 insurgents, who were in an orchard and ditches. Hester and Nein eliminated the threat; only three U.S. soldiers were wounded.
For her courage under fire, Hester became the first woman since World War II to receive the Silver Star for valor in combat.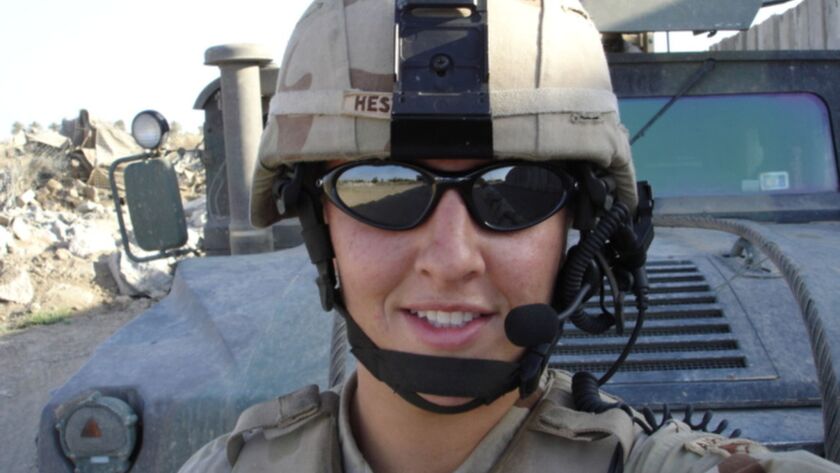 "That wasn't the first time we'd been in that kind of situation," said Hester, who is now a police detective in Franklin, Tenn. "But it was definitely the biggest. Your job there is to eliminate the enemy and keep our own supplies and personnel safe."
Hester will be one of the military heroes recognized Sunday during the 29th PBS "National Memorial Day Concert," which takes place at the West Lawn of the U.S. Capitol. Hosted by Joe Mantegna and Gary Sinise, the concert interweaves performances from such singers as Leona Lewis, Cynthia Erivo and Megan Hilty with actors telling the personal stories of veterans.
The concert airs on PBS on Sunday night. It's also telecast to the troops serving around the world on the American Forces Network.
This year's concert will celebrate the 150th anniversary of Memorial Day and the 70th anniversary of the Women's Armed Services Integration Act.
Actress Mary McCormack, who will be presenting Hester's story, made her first concert appearance last year chronicling the story of a woman who lost her father in Vietnam. There was an overwhelming emotional response when McCormack read the letter the woman sent as a little girl to her father hat he never got.
"I was so moved," recalled McCormack. "I'm just happy to be a part of it. It's heartbreaking what people go through. It's just incredibly inspiring. "
Executive producer Michael Colbert noted the concert focuses on the "real meaning of Memorial Day, to honor those who have served and are serving and to heal from the wounds of war. There's been over 1 million Americans since the dawn of the republic who have given their lives for this country, so that's what we are about — stopping, honoring, remembering."
Colbert gets suggestions for honorees from different service organizations, "friends who work at military hospitals, former military, members of the clergy and on a rare occasion we wonderfully get somebody who writes in and shares their story."
Other stories come from sources like the Los Angeles Times. Last year, The Times ran an article about Joe Annello and Hiroshi "Hershey" Miyamura, who have been friends for 68 years and helped each other survive in a North Korean POW camp. One ended up receiving the Silver Star, while the other was the recipient of the Medal of Honor. John Corbett and Brian Tee will read their stories.
Oscar winner Allison Janney will share the stage with several generations of women who have served in the military since World War II and represent all five branches of the service.
The honorees and their families are in the audience and don't meet the actors until the conclusion of the segment.
McCormack was in tears last year when she left the stage to meet the honoree and her family. "I was nervous to meet them because you want to honor that family."
Hester is still with the National Guard and was last sent to the island of St. Croix to help with hurricane disaster relief. The last time she was on active duty was from 2014-15 when she was a member of the Special Forces' Cultural Support Team in Afghanistan — a unit of women who worked with rangers and also helped train Afghan women.
"People call it crazy sometimes, I guess, but for somebody who has been deployed a few times you kind of miss it," she said, adding she's kind of "teetering" with the idea of going back on active duty.
'National Memorial Day Concert'
Where: KOCE
When: 8 and 9:30 p.m. Sunday
Rating: TV-PG (may be unsuitable for young children)
---
Inside the business of entertainment
The Wide Shot brings you news, analysis and insights on everything from streaming wars to production — and what it all means for the future.
You may occasionally receive promotional content from the Los Angeles Times.