Cult made-for-TV horror movies are getting new life through YouTube and re-releases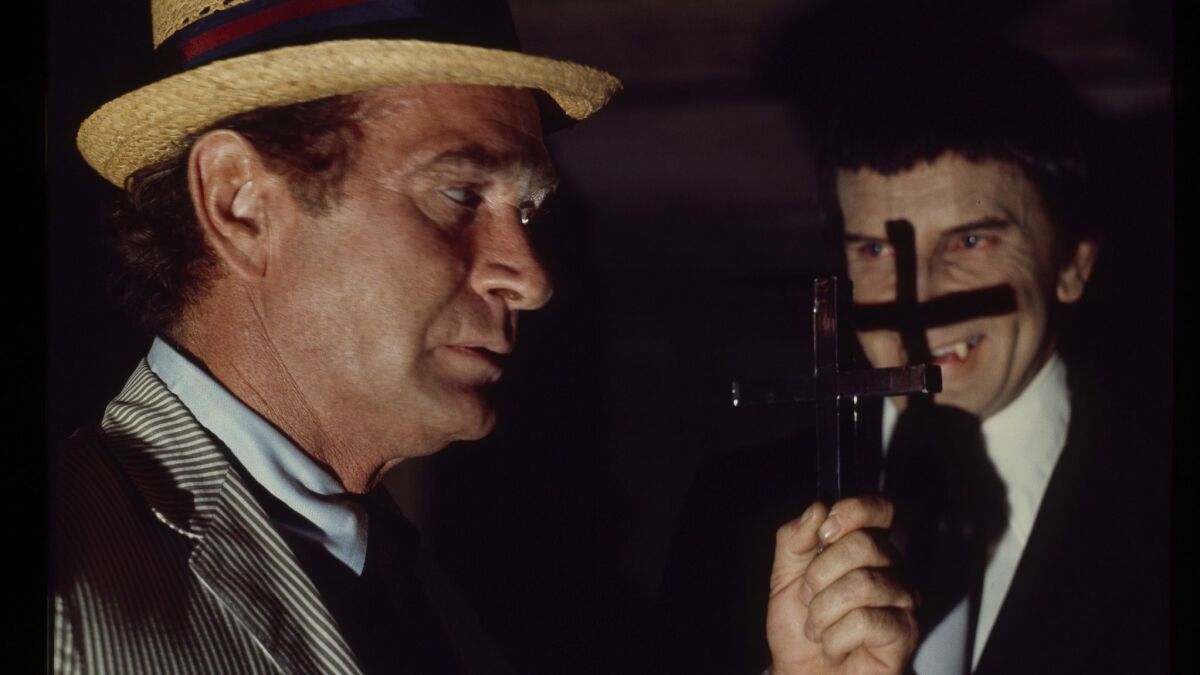 As a young director just embarking on what would become a long and successful career, Bill Norton could never have predicted that, nearly 50 years later, one of his best-loved films would be his low-budget, made-for-TV horror movie for CBS called "Gargoyles." But that's exactly what happened.
"My brother-in-law was a movie buff, and when I started going out with his sister, he was more impressed by the fact that I did 'Gargoyles' than some of the other movies that I did later," said the filmmaker, who would go on to direct more than 20 films as well as episodes of "Buffy the Vampire Slayer," "Medium" and other TV series. "It surprised me."
Norton's brother-in-law is far from the only fan of the 1972 telefilm, which won an Emmy for then-unknown special makeup effects designer Stan Winston. In addition to being one of the most beloved made-for-TV horror titles, it even succeeded in landing Norton a job more than 20 years later with Sam Raimi, who was then working on what would become the successful syndicated fantasy series "Hercules: The Legendary Journeys."
"I got a job directing what became … the pilot for 'Hercules,'" Norton said, referring to the 1994 movie-length pilot "Hercules and the Amazon Women." "Sam Raimi was the producer, and he approved me for the job based on 'Gargoyles.'"
Norton's "Gargoyles" is just one example of the enduring, if largely unrecognized, legacy of the made-for-TV horror film genre, which became a staple of network programming between the late 1960s and late '90s. According to author Amanda Reyes, who edited and co-wrote the 2017 book "Are You in the House Alone? A TV movie Compendium 1964-1999," more than 5,000 made-for-TV movies were released during that period, and hundreds of those were horror films. But due to an apparent indifference by rights holders, the majority are available to watch only via low-quality streams on YouTube.
"Those aren't legal, so I don't always promote them myself," said Reyes, who also runs the blog Made for TV Mayhem and co-hosts its accompanying podcast. "I don't want to see them taken down, because sometimes it's our only access to them."
Nonetheless, Reyes offered up a heavy dose of YouTube clips during a recent lecture on the made-for-TV horror film at L.A.'s Philosophical Research Society, located along a busy stretch of Los Feliz Boulevard. Presented by the Miskatonic Institute of Horror Studies — a nonprofit started by film writer and programmer Kier-La Janisse that offers genre master classes in L.A., New York and London — the lecture saw Reyes take the crowd of roughly 70 through a dizzying array of made-for-TV horror titles, from the "Rosemary's Baby"-esque "The Stranger Within" starring Barbara Eden, to the senior-citizen slasher "Isn't It Shocking?" (an early effort by director John Badham), to "Fantasies," a meta-horror film in which a parade of real-life soap stars become the targets of a serial killer.
Like most TV movies of the era, the majority of these were shot cheaply and quickly, and to modern eyes the camp value of many of these titles seems undeniable.
"I understand that to look at it with adult eyes, or wary eyes, or more sophisticated eyes, they probably seem like they're missing a step," Reyes said. "But … I think that adds to their charm."
Unlike so many theatrically released cult horror films that have found new life on DVD and Blu-ray in modern times, the majority of made-for-TV horror titles remain officially unreleased, lending them an almost mythical quality. Ironically, many were ratings powerhouses when they initially aired, pulling in millions of viewers at a time when the dial consisted of just three networks and perhaps a local station or two. ("The top films that were put in the theater didn't get as many eyes as TV movies," Reyes said.)
Case in point: ABC's 1972 telefilm "The Night Stalker." Written by Richard Matheson and produced by the late "Dark Shadows" creator Dan Curtis, the vampire procedural garnered an eye-popping 33.2 Nielsen rating and 54% share the night of its premiere, making it the highest-rated made-for-TV movie up to that point, with an estimated 70 million viewers. But despite spawning a well-regarded sequel (1973's Curtis-directed "The Night Strangler") and a short-lived TV series, there was no way to go back and watch (or rewatch) the movie once it aired. For filmmakers, this could be a frustrating proposition.
"That used to drive my father insane," said Curtis' daughter Cathy Curtis, who served as a consultant on Tim Burton's 2012 "Dark Shadows" remake and is also involved in an upcoming documentary about her father. "I remember watching "Night Stalker" with him, the first one … and he was getting phone calls, and he's, like, 'I can't believe people are only gonna see it once!'"
Luckily, "The Night Stalker" left an indelible cultural imprint and has long been available for purchase on home-viewing formats. The same goes for the filmmaker's 1975 made-for-TV horror anthology "Trilogy of Terror," whose final chapter famously involves Karen Black being stalked by a knife-wielding Zuni doll. But those were rare exceptions. Not even an early made-for-TV movie directed by Steven Spielberg — the 1972 supernatural horror film "Something Evil" starring Sandy Dennis — has received an official DVD or Blu-ray release since debuting on CBS nearly 50 years ago.
This neglect has resulted in an entire generation of viewers carrying often-vivid memories of films that are in some cases nearly impossible to find. It's a phenomenon that led Philadelphia residents John Powell and Lance Vaughan to found Kindertrauma.com, a long-running website that encourages users to post recollections of pop culture artifacts that haunted them into adulthood.
I saw a TV movie, 'Satan's Triangle,' around 1975, and it just scared the hell out of me for years. A part of me thought that I'd imagined the whole thing.
— Lance Vaughan
"When I was little, I saw a TV movie, 'Satan's Triangle,' around 1975, and it just scared the hell out of me for years," Vaughan said. "A part of me thought that I'd imagined the whole thing. You know, did I dream it? It was never on VHS or anything. I never could find anybody else who saw it. As soon as I had access to the internet, the first thing I did was search for that movie."
Undoubtedly, the transitory nature of the made-for-TV movie (some aired only once) and the medium's intimacy contributed to the lasting impact of these films — if only in the memories of those who tuned in at impressionable ages.
"You are in your living room or your bedroom, and the images are right there next to you as if they're your neighbor or they are your family member," said Mick Garris, who made his name directing several TV miniseries adaptations of Stephen King novels including "The Stand" and "The Shining" for ABC (he also hosts the podcast "Post Mortem With Mick Garris"). "The intimacy of scary scenes like Tobe Hooper's version of 'Salem's Lot,' for example. There are images in there that I think are indelible because of the power of the images and the storytelling, but also because you're there alone with it. It's in your living room and feels much more personal."
"Salem's Lot" has long been available for purchase, largely owing to its pedigree and high production values (it was made for a budget of $4 million, a fortune for a TV film in 1979). But what of those that remain available only as YouTube bootlegs?
"By and large, this category of content was ignored by studios for the home video potential," said George Feltenstein, a noted film historian and senior vice president of theatrical catalog and marketing at Warner Bros. Home Entertainment. Feltenstein has been looking to change that during his tenure at the company, arranging DVD and Blu-ray releases for a sizable number of made-for-TV movies via Warner Archive Collection, an on-demand manufacturing service for classic film and TV content. Included in this effort have been horror titles such as "Don't Be Afraid of the Dark" and "Bad Ronald," a bizarre but surprisingly effective 1974 ABC movie about an emotionally unstable teenage boy secretly living inside the walls of a suburban home.
Even Feltenstein was surprised by the demand.
"What we did initially, when we were first starting out, was we used whatever we had on the shelf," he said. "And whatever we had on the shelf was 10 times better than what bootleggers were selling." But when "Don't Be Afraid of the Dark" became what Feltenstein describes as a "sales phenomenon," he suggested they give the film a more deluxe treatment. "I proposed that we go back to the 35-millimeter camera negative and remaster it," he said. "Which we did, like, a year later." That effort has continued with titles like "Bad Ronald," which was released on Blu-ray for the first time in October in a remastered edition.
Not that all made-for-TV horror films are crying out for a re-release on physical media. Ever the fan of strange and obscure content, even Feltenstein admits that some of these titles are perhaps best left on the shelf.
"Like anything else, there's a lot of not good content in that category," he said. "Not every made-for-television movie was great. There [were] some bad ones, and a lot of ones that don't hold up well."
Still, given the sheer number of made-for-TV horror films that aired in the latter half of the 20th century, there are undoubtedly many forgotten gems just waiting to be rediscovered. And while the demand for these will likely never rival that of theatrically released product, there is nonetheless an eager contingent of devotees eager to gobble them up.
"We see that there is an audience for it," Reyes stressed. "Maybe not a huge audience, maybe not the same audience you get for 'Jaws' or 'Evil Dead.' But there is a sizable, worthwhile audience waiting for this stuff."
Get our L.A. Goes Out newsletter, with the week's best events, to help you explore and experience our city.
You may occasionally receive promotional content from the Los Angeles Times.