'Les Miserables' aims to hit high note in history of film musicals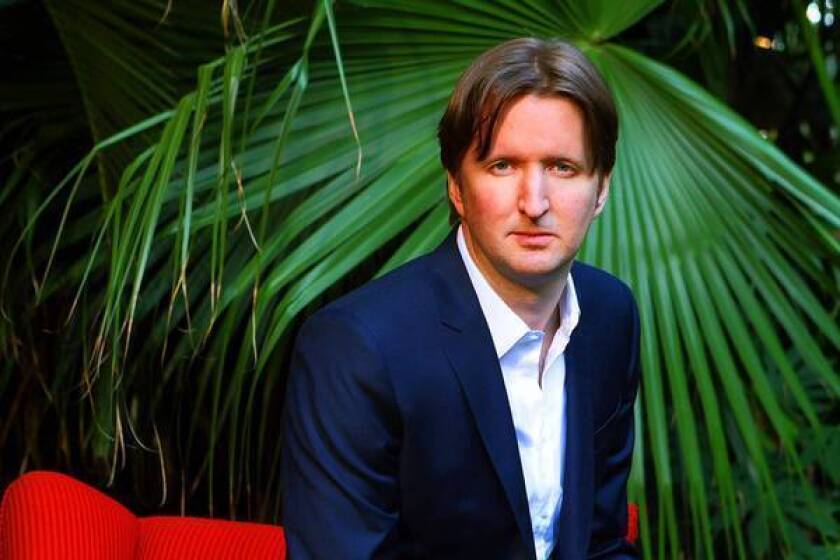 This story has been updated. See below.
Few things are more carefully choreographed than a movie musical, but director Tom Hooper wanted to steep his big-screen adaptation of "Les Misérables" in some gritty reality. So he took a page from Ridley Scott's war film "Black Hawk Down."
At Pinewood Studios outside London, he set up a scene in which 30 student revolutionaries and scores of background players construct a blockade to stave off the French army in 19th century Paris. He hid five cameras on the set with their operators dressed in costume, directed his performers to build a barricade, and shouted "Action!"
"Pianos were falling from above. Things were being thrown at you. It was the most anarchic, terrifying and wildly exciting thing," said Eddie Redmayne, the British actor who plays Marius, a revolutionary. "The adrenaline is real adrenaline, plus it created amazing camaraderie. We never knew exactly where the cameras were, and we built the thing in 10 minutes."
GRAPHIC: Movie musicals' box-office muscle
Some precious antique furniture was destroyed in the process, but Hooper regards that as a small price to pay in his effort to set "Les Misérables" apart from the string of movie-musical misfires in the last decade. Since "Chicago" took home the best picture Oscar in 2002, a number of beloved stage musicals such as "Phantom of the Opera" and "Rent" have crashed and burned when adapted for the screen.
Despite the popularity of musically driven TV shows such as "Glee" and "American Idol" in recent years, moviegoers have proved increasingly finicky when it comes to sing-songy productions. Lighter films, like "Mamma Mia!" and "Hairspray" have done better than serious stories, but "Les Misérables," based on Victor Hugo's novel and centered on the unsuccessful 1815-1832 June rebellion in France, is stuffed with raw performances, offering little levity.
Still, Hooper, the Oscar-winning director of "The King's Speech," has a few things working in his favor: His film is studded with stars including Russell Crowe and Anne Hathaway, and its budget, $61 million, is relatively modest, lowering the financial risk for Universal Pictures. Hordes of fans of the stage version — which has played continuously since its 1985 debut despite initially terrible reviews — are eagerly anticipating the movie.
The film, which opens Christmas Day, has already received four Golden Globe nominations and four Screen Actors Guild nods including best ensemble, and some reviewers have applauded Hooper and his actors' commitment to the emotional material. But other critics have found fault with aspects, including its length (2 hours, 38 minutes) and earnestness.
Before signing on to the job, Hooper screened a slew of musicals: from "Fiddler on the Roof" and "The Sound of Music" to "Evita" and "Sweeney Todd." What he learned, he says, is that each one required audiences to repeatedly suspend their disbelief every time the actors opened their mouths to sing.
ENVELOPE SCREENING SERIES: "Les Miserables"
"Even in the best musicals you were constantly needing to re-forgive them for singing. And when the music is great you could do it — particularly when it's comedic and light — there is a joyous lightheartedness that allows for the forgiveness to operate quite freely," says Hooper over coffee at the Chateau Marmont hotel. "I don't want that to be the relationship I have with my audience where I'm constantly asking them to not notice that it's not real."
Hooper starts singing to prove his point: "If I were to suddenly sing to you about this lovely day we are having, you would wonder, 'Why on earth are you singing?'"
Switching to a spoken voice, he adds: "And you would feel a bit embarrassed and I would feel embarrassed and the audience feels embarrassed."
Hooper's musical reeducation prompted him to change some of the rules, specifically how the songs are sung. Instead of allowing lip-syncing, he had all of the players sing their songs on camera as they listened to a live piano accompaniment via an earpiece. The singers controlled the tempo of each piece. He also stripped the movie of most of its spoken dialogue, with most of the story told through the songs, similar to the stage version.
"Maybe it's more honest to say, no, if in this world we are creating, singing is the primary means of communication, then it should be sung through," he says. "Own it, be confident about it, and don't have any shame about it. Don't be embarrassed by it."
"Les Misérables" follows only two other sung-through, stage-to-screen adaptations: 1975's "Tommy" and 1996's "Evita."
"Les Misérables" centers on Jean Valjean (Hugh Jackman), a man imprisoned for 19 years for stealing bread for his starving niece. The sprawling storyline follows his transformation from new parolee to upstanding citizen, all the while facing off against Inspector Javert (Crowe), who wants to re-imprison him for violating parole. Along the way, he meets unwed mother Fantine (Hathaway), adopts her daughter Cosette (Amanda Seyfried) and raises her as his own until she falls in love with Marius (Redmayne).
Best of 2012: Movies | TV | Pop music | Jazz
In 1998, there was a dramatic version of "Les Miz," starring Liam Neeson as Valjean and Geoffrey Rush as Javert. A dramatic French version in 2000 starred Gerard Depardieu, and Anthony Perkins portrayed Javert in a 1978 dramatic version. Stage producer Cameron Mackintosh has been trying to get his musical version to the screen since soon after it debuted on the West End.
Hooper collaborated on the film with Mackintosh and other creators of the stage musical: musician Claude-Michel Schonberg and lyricists Alain Boublil and Herbert Kretzmer. While maintaining a fealty to the stage version that should make any "Les Miz" fan proud, they altered the score to better fit a cinematic version. In the process, they moved Fantine's iconic number "I Dreamed a Dream" to the end of her societal descent from seamstress to prostitute, while giving hero Valjean a new song, "Suddenly" to reflect his new role as a father, after he rescues Cosette.
"We tried to reinvent the score for the movie," says Mackintosh. "We wanted it to be very big and very small, to reflect what was being directed on the screen by Tom, without diminishing its power from the stage. We took it all apart and put it back together so it can only be a film score."
While all the actors were on board with singing live, the experience proved grueling, both emotionally and to the actors' vocal chords. Redmayne, for example, performed his solo "Empty Chairs at Empty Tables" 23 times.
The result, in Hooper's mind, is more authentic singing performances from each actor. "These actors are not doing renditions, they are authored by them, like soliloquies in a Shakespeare play," he says.
The intensity of the performances is compounded by Hooper's decision to shoot many of the songs at very close range, which has drawn a mixed response. Writing for New York magazine, David Edelstein said: "When an actor begins to sing, the camera rushes in and fastens on the performer's face, positioning itself just below the head, somewhere between the navel and the Adam's apple — and canted from 30 to 45 degrees. ... I imagined the cameraman to be small, fleet and extremely high-strung, like Gollum."
Adam Shankman, director of the 2007 film version of "Hairspray" and this year's "Rock of Ages," says: "I think it is challenging, especially when you add the close-ups. ...It can feel a little relentless."
"The nice thing about opera and sung-through [stage musicals] is that you have the distance," he added. "But I think it's an amazing achievement. [Hooper] went for it, man."
The reaction seems to reflect the divided response to musicals in general, and even to "Les Miz," which opened in 1985 in London to critical pans, but producer Eric Fellner of Working Title isn't concerned.
"The bulk of people love it. It's why the original show is so successful, even though it opened to horrendous reviews," Fellner says. "I think critics look at it and feel it's manipulative but it's the real people that made 'Les Miz' happen. They adored it. They loved it."
ENVELOPE SCREENING SERIES: "Les Miserables"
Still, not all beloved Broadway shows translated successfully to the screen. Joel Schumacher's adaptation of "Phantom of the Opera" only earned $51 million domestically in 2004 (the equivalent of $60.4 million today), while Christopher Columbus' "Rent" grossed only $29 million the following year. Watchers of the genre chalk up those failures to bad reviews, tough subject matters and unknown casts.
Even though "Les Miz" is a tale of poverty set 200 years ago in France, some say audiences these days are eager for more movie musicals.
"Starting with 'Moulin Rouge!' at the beginning of the century, it's amazing how many musical movies and television shows there have been — everything from traditional musicals, to movies and television shows that depend on a lot of musical expression, like 'Pitch Perfect' or the 'Step Up' movies," says Bill Condon, screenwriter of "Chicago" and director of 2006's "Dreamgirls." "I think it's back, and I think it's been back for awhile. I don't think it's the issue it used to be."
The most recent audience pre-awareness surveys suggest "Les Miz" is on track for a strong opening, generating substantial interest among all demographic groups but especially women.
"Les Miz" costar Samantha Barks, who plays the romantically scorned Eponine, says she's witnessed the teen-girl adoration for the musical since she first played the part on the West End stage in 2009.
"I get a lot of tweets saying 'I am Eponine' or 'I've had such an Eponine day,'" says Barks. "It's got something for everyone. Whether you're a young guy and you want to be Enjolras on top of the barricade or little Gavroche. I always wanted to be Eponine, which is strange because she's such a tragic character."
Adds Redmayne, "It's the same stuff as the 'Twilight' series. There's an 'emo quality' to watching the tragedy and the teenage angst. I'm alone and it's miserable."
----------------------------
Correction, Dec. 22, 2012: An earlier version of this story gave the name of the character played by Russell Crowe as Javier. It's Javert.
----------------------------
PHOTOS AND MORE
VIDEO: The making of 'Argo,' 'Les Miz' and more
VIDEO: Holiday movies - A video guide
PHOTOS: NC-17 movies: Ratings explained
---
The complete guide to home viewing
Get Screen Gab for weekly recommendations, analysis, interviews and irreverent discussion of the TV and streaming movies everyone's talking about.
You may occasionally receive promotional content from the Los Angeles Times.