Not-so-evil 'Dead': Is horror the new action?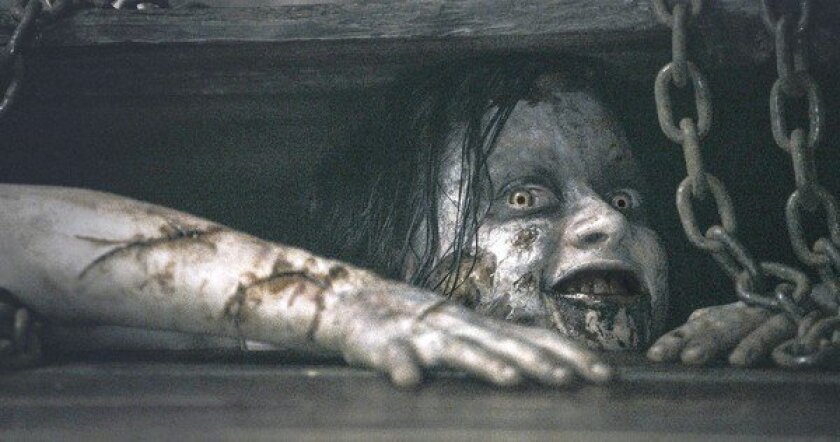 People who offer their Monday-morning quarterback opinions in spaces like this -- yours truly included -- like to parse every number, every success or failure, for a larger meaning. And sometimes you have to look pretty hard to see a trend. Other times, like a possessed spirit in a dark forest, it just jumps out at you.
Consider the most recent box office numbers. Coming in to the weekend, "Evil Dead" and "G.I. Joe: Retaliation" seemed to be locked in a tight battle. Fede Alvarez's big horror sequel and Jon Chu's big action sequel each had a good shot to win the weekend. But when all was said and done Sunday, the race wound up not even being close, with "Evil Dead" solidly beating "G.I. Joe" by a tally of $26 million to $21.1 million.
Now, "G.I. Joe" is of course in its second week; the total of $40-plus million over its first Friday-Sunday period last week handily outdid "Evil Dead's" totals this weekend. But that's somewhat beside the point.
PHOTOS: Scenes from 'Evil Dead'
"G.I Joe," with its enormous TV marketing campaign and major stars, is almost always going to beat a smaller production on the raw box-office totals. But using the more subtle metric of investment-to-return, it's actually been pretty soundly defeated. With a budget of under $20 million, "Evil Dead" has already taken in, in its first weekend, more than it cost to produce. And "G.I. Joe?" Even after two weeks, it's taken in barely half of its $135 million production budget in the U.S.
Ah, but there's the very significant matter of international box office. More on that in a moment.
The "G.I. Joe"-"Evil Dead" contrast illustrates what's been happening these past few months at the U.S. box office, a few months that are indicative of where these genres have in fact been heading.
In 2013 there has been a clear case of major overperformers and underperformers -- movies that did really well given their expectations and their costs, and movies that didn't.
PHOTOS: Movies dealing with possession
The movies that fit in the former category, more or less, are "Mama," "Warm Bodies," "Evil Dead," "The Call" and "Olympus Has Fallen," all of which tallied more than forecasters had predicted and all of which will end up solidly in the black.
Now here are the clear domestic underperformers: "The Last Stand," "Bullet to the Head," "Dead Man Down," "The Host," "The Incredible Burt Wonderstone," "Jack the Giant Slayer" and "A Good Day To Die Hard."
It doesn't take much analysis to see the first list is made up primarily of supernatural genre pieces, particularly horror films. The second is filled with action movies, either old-school ones like "Last Stand" and "Bullet to the Head," or newfangled ones like "Jack the Giant Slayer."
In "Moneyball" or market terms, supernatural genre movies are undervalued while action movies are overvalued. In more layman terms: we want to see supernatural and horror films more than Hollywood thinks we do, and we want to see action movies less than it thinks we do.
Those are all relative numbers, of course, budgets-to-return and the like. When it comes to overall dollars, action still easily trumps the supernatural and other genre movies, right? Yes. But the gap is shrinking. A decade ago the collective annual box office of the top five action movies in the U.S., fueled by pictures like "Terminator" and "Bad Boys" sequels, reached $815 million -- nearly three times the $320 million taken in by genre-y stuff like "Gothika" and "Freddy vs. Jason."
PHOTOS: The politics of horror

But by last year that gap had significantly narrowed. The top five action films edged the genre pictures by a far smaller margin, just $725 million to $526 million. ("Skyfall," "Taken 2," "The Bourne Legacy," "The Expendables 2" and "Wrath of the Titans" vs. "Breaking Dawn Part 2," "Chronicle," "Underworld: Awakening," "The Woman in Black" and "The Devil Inside," if you're keeping score.)
Americans will still go out to see action movies in great numbers. But it's a lot less of a clear-cut choice than it once was. In a climate in which "Walking Dead" dominates the water cooler, where even adults are scarfing up supernatural-themed YA literature -- and, perhaps, in a time when we feel we've seen every action cliché and star out there -- Americans are turning away from action and toward the supernatural.
Which brings us to everyone else around the world. Studio executives are a savvy bunch, and Hollywood of course is an increasingly global business. Many of these action movies are doing better around the world than ever, particularly as new markets in Eastern Europe and Asia expand. "G.I. Joe" is a good example of this. With its $145 million overseas, it has taken in nearly double what it's garnered at home, or 62% of its overall box office. This is a sharp contrast even to the last "G.I. Joe" movie four years ago, where the split was nearly exactly 50-50.
"Die Hard" is even more of a whopper. The movie may have only $66 million to show for its domestic efforts, but it has taken in an astonishing $232 million -- more than three times the total -- overseas. That, too, is a huge jump. (The last "Die Hard" film in 2007 saw more dollars earned overseas than at home, but it was less than double.)
Horror, in contrast, is a lot less popular overseas; in fact, as my colleague Amy Kaufman notes, "Evil Dead" is expected to struggle around the world.
So where does all this leave us? With two straightforward facts: a) Action movies can still be hugely profitable b) Action movies are not nearly as popular in the U.S. as they once were, as other commercial genres gain ground
This leads to some interesting conclusions. At its most basic, it means our tastes are changing. We don't want to see action movies as much as we once did. But that doesn't mean Hollywood studios will stop making them. They just won't be making them for us.
ALSO:
'G.I. Joe: Retaliation wins Easter weekend
'G.I. Joe:' Is Channing Tatum a true A-lister?
PHOTOS AND MORE
TIMELINE: Violence in movies
ENVELOPE: The latest awards buzz
PHOTOS: Greatest box office flops
---
Inside the business of entertainment
The Wide Shot brings you news, analysis and insights on everything from streaming wars to production — and what it all means for the future.
You may occasionally receive promotional content from the Los Angeles Times.