Oscars 2013: MacFarlane opens the show both crude and polished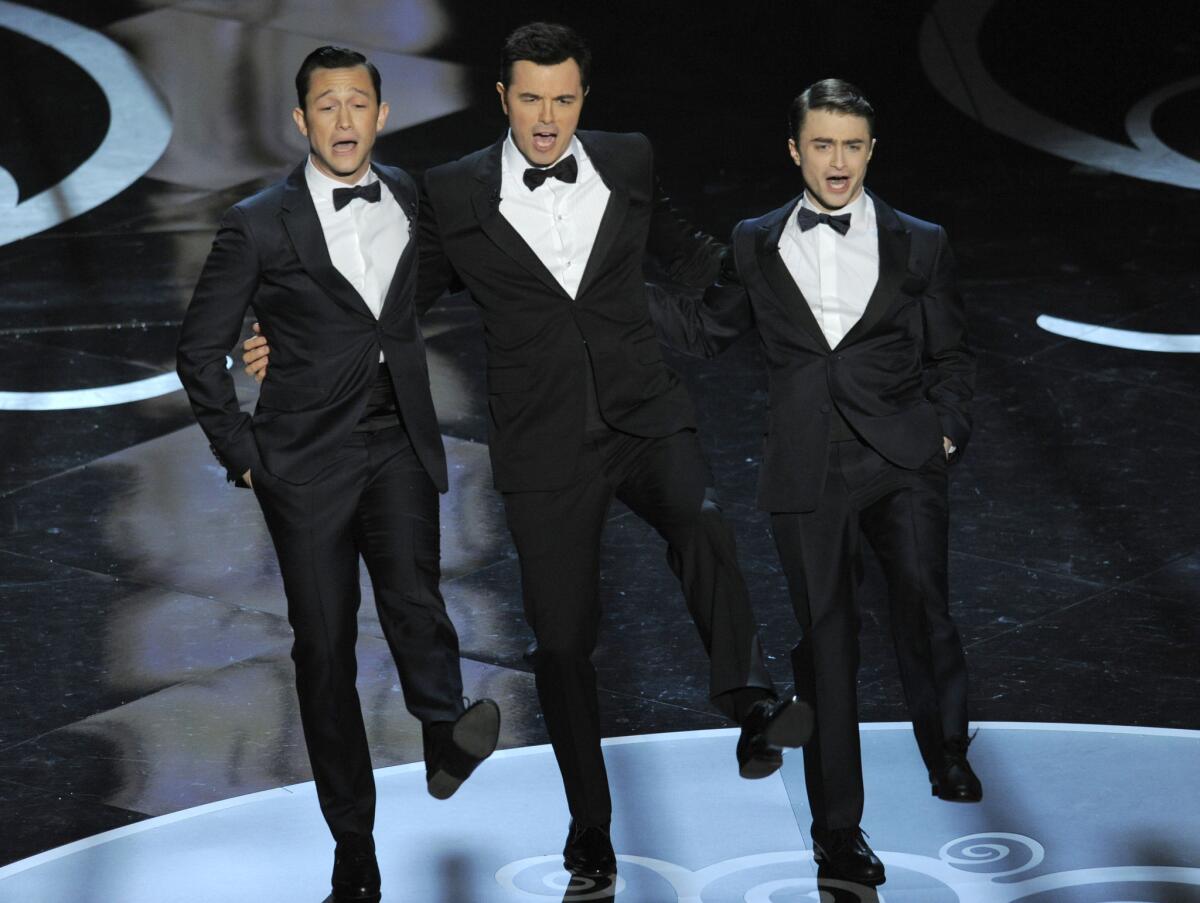 Less than five minutes into Seth MacFarlane's opening monologue Sunday evening, the raunch humor-prone "Family Guy" creator dropped the kind of transgressive comedy cluster bomb many pop watchers had been anticipating.
Describing Quentin Tarantino's slave revenge epic "Django Unchained," MacFarlane called it "the story of a man fighting to get back his woman, who's been subjected to unspeakable violence -- or as Chris Brown and Rihanna call it, a date movie."
As if on cue, the audience inside the Dolby Theatre groaned in mock horror. "That's what we were afraid he would do," MacFarlane joked.
Oscars 2013: Nominee list | Red carpet
"That's as bad as it gets, if it makes you feel any better," he said, before adding quickly: "It's really not as bad as it gets."
Before an estimated audience of a billion people, MacFarlane alternated between making hamburgers out of Hollywood's sacred cows and showing fealty to good old-fashioned showbiz spectacle with elaborate song and dance numbers that made fun of precisely no one.
Referencing Judd Apatow's comedy of Gen-X manners "This Is 40," MacFarlane joked that an alternate title for the senior citizen mortality drama "Amour" could be "This Is 90." He appeared in a film clip dressed in Flying Nun garb to make out with supporting actress nominee Sally Field and pondered Daniel Day-Lewis' ability to stay in character during principal photography on "Lincoln": "If you bumped into Don Cheadle on the studio lot, did you try and free him?" MacFarlane asked.
And in a pre-recorded segment presented by William Shatner -- in character as "Star Trek's" Capt. Kirk, beaming in via satellite "from the future" to caution the host about missteps -- MacFarlane ran through a sung tribute to female on-screen nudity called "I Saw Your Boobs." Accompanied by the Gay Men's Chorus of Los Angeles, the song provided a veritable taxonomy of A-list actresses' topless scenes in movies over the years.
But on the flip side, MacFarlane -- who released his Sinatra-style studio album "Music Is Better Than Words" in 2011 and was nominated for a traditional pop vocal Grammy -- stepped back from the brink of totally stinking up the joint with three straight-ahead song and dance numbers.
Charlize Theron and Channing Tatum joined MacFarlane onstage to run through a polished ballroom dance routine set to the standard "The Way You Look Tonight." The host corralled Joseph Gordon-Levitt and "Harry Potter" star Daniel Radcliffe for a soft-shoe/sung-danced performance of "High Hopes."
Oscars 2013: Nominee list | Red carpet | Ballot | Fashion | Trivia | Timeline
And MacFarlane belted out "Be Our Guest," a Busby Berklee-inspired routine featuring a retinue of dancing girls, as the intro's show-stopping finale.
As the performers left the stage, one proposed media verdict for MacFarlane's efforts was projected onto a curtain: "Best Oscars ever, says everyone except Entertainment Tonight."
ALSO:
VIDEO: Nominees' definining scenes
OSCAR WATCH: What you need to know
BUZZMETER: Pundits make their final picks
Twitter: @__chrislee
MORE OSCAR COVERAGE
VOTE: Play-at-Home Oscar Ballot 2013

TIMELINE: Academy Awards through the years
Get the Indie Focus newsletter, Mark Olsen's weekly guide to the world of cinema.
You may occasionally receive promotional content from the Los Angeles Times.