'Primer's' Shane Carruth in total control with 'Upstream Color'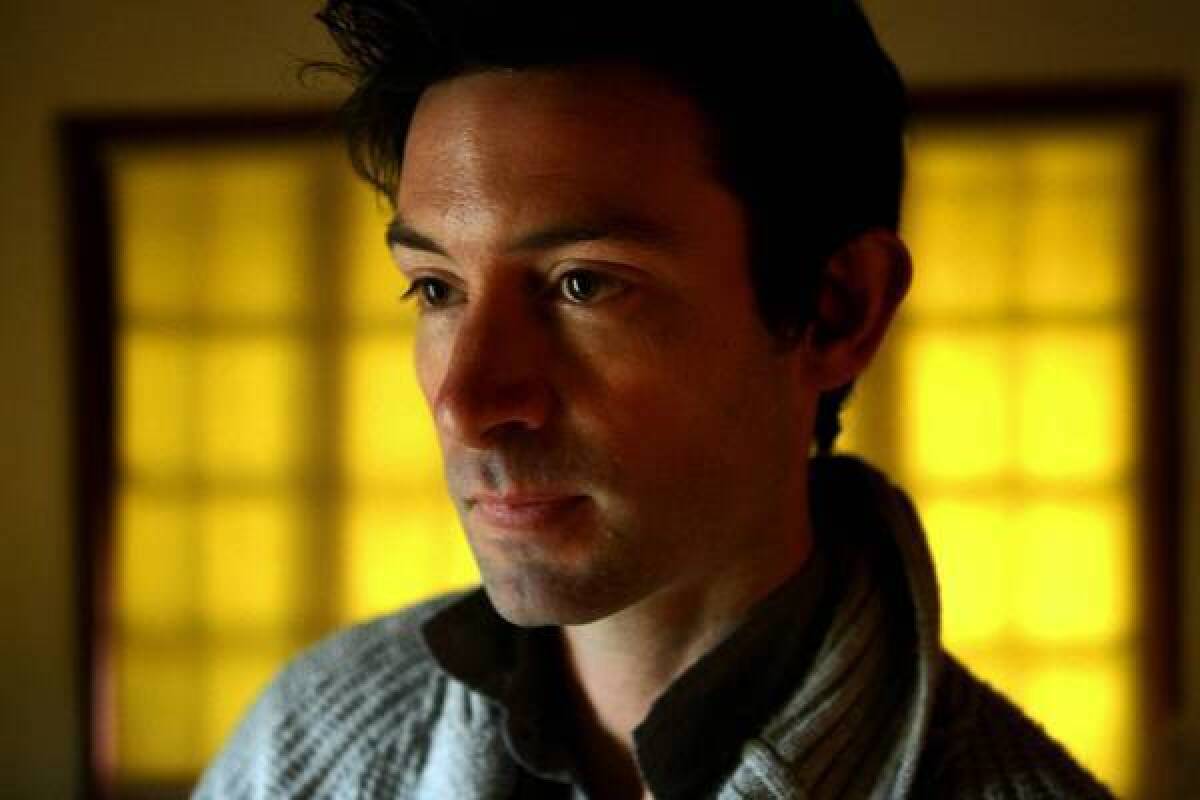 Nine years ago, Shane Carruth burst onto the independent film scene with "Primer," a heady, complex, sci-fi thriller that made time travel seem disturbingly plausible. Shot for only $7,000, the film took the Grand Jury Prize at the Sundance Film Festival, beating out more buzzworthy titles like "Napoleon Dynamite" and "Garden State." Carruth — a one-time software engineer — served as director, writer, producer, actor, cinematographer, editor, composer, casting director, production designer and sound designer.
So when Sundance programmers revealed their 2013 competition lineup, many of the film faithful immediately took notice that there among the high-profile names such as Daniel Radcliffe and Rooney Mara, was Carruth, back at last with a new film called "Upstream Color." For a time, "Upstream Color" was trending higher on Twitter than "Sundance" itself.
Part of what made "Primer" so remarkable and Carruth such an intriguing figure was his apparent ability to do it all, a one-man-band approach to the more typically collaborative medium of feature filmmaking. It also made his subsequent nearly decade-long silence seem that much louder.
PHOTOS: Sundance Film Festival 2013 dramas in competition
With "Upstream Color," Carruth is again director, writer, producer, cinematographer, composer, co-editor and actor. In the movie, a young woman (Amy Seimetz) is abducted and seemingly brainwashed via an organic material harvested from a specific flower. She later meets a man (Carruth) and after the two fall for each other, they come to realize he may also have been subjected to the same process.
Now 40, Carruth still has a boyish handsomeness and quiet, intense charm about him, as well as a certain controlled asceticism — underscored when he ordered a salad with no dressing and a glass of water during a recent lunch. He is somewhat tight-lipped about what he was doing during his time away from the spotlight. He speaks of an ambitious sci-fi project called "A Topiary" as "the thing I basically wasted my whole life on."
The frustration of that unrealized project seems to have spurred his autodidact polymath instinct to learn something new — how to market and release his own film — rather than depend on others to do things for him. So he's adding distributor to his long list of jobs on "Upstream Color."
With a pair of teaser clips already out online, a trailer will be released this week ahead of the film's premiere on Monday in Park City, Utah, with plans for a New York City opening April 5. (A few select additional festival appearances, and a handful of surprise pop-up screenings around the country, will follow the film's Sundance debut; a Los Angeles opening is slated for mid-April.) The film will become available on digital and cable platforms soon after.
"The people that this is for, it will be for," Carruth said of the audience he wants for "Upstream Color," which he describes as "an earnest film," explaining his desire to sell the film for what it is and not what a more conventional distributor might try to make it out to be. "Everything about the choice to do the distribution is about contextualizing" the movie, Carruth said during a recent interview in Los Angeles.
"I think he's not interested in mediators, he's not interested in having people speak for him or in speaking through others," said Mark Urman, who was head of theatrical distribution at ThinkFilm when that company released "Primer" after Sundance in 2004, and is now president and chief executive of the distribution company Paladin. "I think that's his temperament, that's his nature. I don't think he wants to be dependent on apparatuses."
PHOTOS: Sundance 2013 premieres
Born in South Carolina, Carruth moved around the country as a child, his father an Air Force sergeant. He attended high school outside Dallas before studying mathematics at Stephen F. Austin State University in Texas. After working for a short time as a software engineer, he dedicated himself to learning filmmaking and creating "Primer."
With its densely layered, thematically rich storytelling, "Upstream Color" is in part about the mutual psychosis that can be an essential part of romance, the agreement of a shared madness. It's intense and hypnotically powerful, and a more intimate and moving film than "Primer." "Color" is somehow at once emotionally direct, while narratively abstract.
In describing "Primer," even the normally effusive festival notes called the film "intermittently incomprehensible." This time around, Carruth seems eager to avoid such labels.
"What I don't want is this whole concept of it being a puzzle movie or 'Primer' being a puzzle movie," Carruth said. "That's not a fun little box to be in."
Carruth hopes by releasing the film himself, he can position it as he sees fit. "It's not necessarily about revenue or that I don't think it will sell; it's that I get to frame this thing exactly the way I think it needs to be framed," said Carruth, who recently moved from Dallas to New York City. "I get to continue narrating through marketing, releasing teasers and artwork that you could make the case aren't the most commercial ways to sell this but they absolutely are in tune with the way I think of the film and what I want to communicate."
Urman said that the only other filmmaker he had ever worked with who wanted to maintain as much overall control as Carruth was Vincent Gallo. He recalled teaming with Carruth on "Primer" as "a challenging experience... I remember it vividly."
SUNDANCE FILM FESTIVAL 2013: Complete coverage
"With a lot of independent filmmakers, they need a lot of information," said Urman of walking a first-time filmmaker through the steps of marketing and distribution. "And with Shane it was more of a tutorial. One definitely had the sense that as he was absorbing the information he was already thinking of his own way to do it and a better way to do it."
Even with "Primer," Carruth was forward-thinking in his deal making, taking less money upfront to hold onto the film's rights and the possibility of making more in the long term. "Primer" is now available for download via his own website and recently appeared on other digital outlets as he was planning how to release "Upstream Color." His mixture of curiosity and resolve has evolved into even rethinking the very purpose and value of a festival premiere.
"What most films would do if they're going to be in the dramatic competition at Sundance is wait for a [sales] deal," said Michael Tuckman of mTuckman Media, who is booking theaters for "Upstream Color." "I think that's the real novel part of this, to be able to look in the mirror and say, are we going to wait for a seven-figure deal, or are we going to put our own plan in place and use Sundance not as an auction but rather as part of a release plan."
While Carruth acknowledges he has taken out a loan for the distribution of "Upstream Color" and that he financed the film with his own money and contributions from friends — "it's definitely money that comes from people that are not in film finance," he said — he wants to keep many of the specifics of how "Upstream Color" came to be to himself.
"There are a few things I'm trying my best not to talk about," said Carruth, "and that's the tech specs on the camera and the workflow and the budget. Last time around, I was grateful to have some praise for 'Primer' but they would say, 'it's a great movie for the budget.' And I don't ever want to hear that phrase again. It would be shocking I think, if people knew, but I'm not going to tout it and I hope it doesn't ever get out."
Perhaps just as Terrence Malick went from a period of artistic silence to his recent concentrated prolificness, Carruth now seems energized to enter a phase of new productivity. He plans to be shooting another film, currently titled "The Modern Ocean," by this summer.
"I now know what I will be doing. I will be doing this," Carruth said. "I will be making films and I'm going to keep working, no matter what I have to do. And I don't plan to ever ask for permission from anybody."
PHOTOS AND MORE
VIDEO: The making of 'Argo,' 'Les Miz' and more
VIDEO: Holiday movies - A video guide
PHOTOS: NC-17 movies: Ratings explained
---
Get the Indie Focus newsletter, Mark Olsen's weekly guide to the world of cinema.
You may occasionally receive promotional content from the Los Angeles Times.