Nick Offerman found his groove with 'Parks and Recreation' and has been busy ever since
Nick Offerman has been working as an actor for two decades, but the Illinois native, 46, didn't quite find his groove until he was cast on the NBC comedy series "Parks and Recreation." His role as stoic, wise parks director Ron Swanson struck a chord with viewers, cementing Offerman as a beloved actor and comedian. This month Offerman appears in the more serious film "The Founder" alongside Michael Keaton, where he plays Dick McDonald, one of the real creators of McDonald's.
"I've had the good fortune to work for many years, but in pretty supporting roles by and large, with a couple of exceptions," the actor says. "When I got the call to do a film about this gripping historical story that's largely unknown, directed by John Lee Hancock, I felt like, 'Good Lord, hurry up and sign me up before they see some of my early work.'"
The IMDB Files: Hollywood star reflect on their key roles »
Offerman notes that he and his wife, actress Megan Mullally, select their projects based foremost on the writing. He doesn't take it on unless the script is good, even if it means spending only a day or two on set. Over the years, he's appeared on episodes of dozens of TV shows, including "24," "CSI: NY" and "Will & Grace," which starred Mullally.
Michael Keaton, Nick Offerman and John Carroll Lynch star in "The Founder."
"I've had a lot of jobs where I show up for one day and do some juggling with the actors involved," Offerman says. "And then I say, 'Have fun with the rest of your three-month shoot. I'm going back to my wood shop.' As an actor trying to find your spot you're just generally happy to get a job and keep your SAG insurance."
But the actor, who has several projects upcoming in 2017, knows that whatever the job is, he's capable — which is something he proved to himself working with Keaton on "The Founder." "I'm ignorant enough to think I can pull off anything until somebody shows me that I can't," Offerman confirms. "I'm a very hard worker."
Here the actor discusses some of his most memorable roles.
"The Founder," Dick McDonald (2017)
"They did such an incredible job of making us feel like we were shooting a little period indie on a stage in Atlanta. It boiled down to a couple of rooms with me and Michael Keaton and John Carroll Lynch yelling at each other while wearing pants from the '50s. I was walking among masters and I was glad I was able to be there."
"Fargo," Season 2: Karl Weathers (2015)
"I really enjoyed the first season of 'Fargo' and I told my wife, 'This is a little violent for our taste, but it's such a great show for actors and if they called me I would do it.' It was right after we finished 'Parks and Recreation' and one thing I wasn't looking to do was jump back on another series. But [creator] Noah Hawley got in touch and he talked to me about the role of Karl Weathers and I said, 'I told my wife if you called I would answer.' The writing he gave me was some of the best I'd ever had."
"Parks and Recreation," Ron Swanson (2009-2015)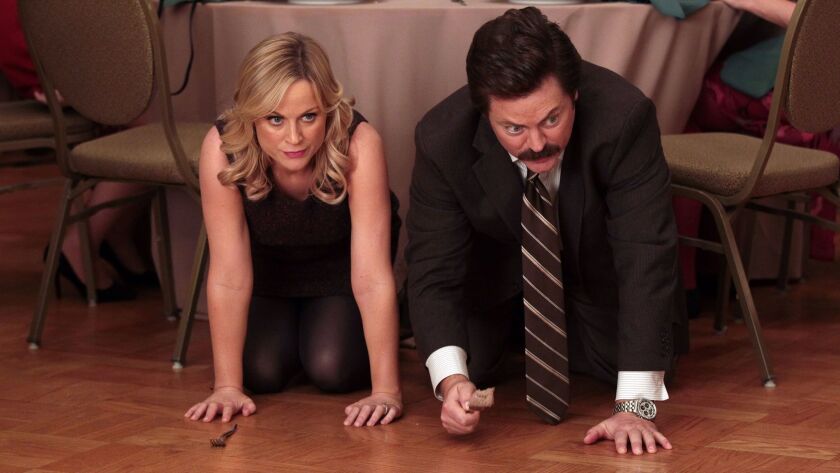 "Over the years I've learned that TV sets are generally run by love or by fear. I always pined for a situation like [my wife] had on 'Will & Grace.' When 'Parks and Rec' came around I was so astonished to find myself in a situation run by love and funnily enough shooting on the same lot as 'Will & Grace.' I was thrilled to learn that the dialogue was cleverly penned enough that I could get people to tolerate me for 125 episodes. There's no accounting for taste when it comes to those Ivy league comedy writers, but they did a great job. If you said to me, 'Write a role for yourself that will be beloved by a great audience and will capitalize on your strengths,' I could never have the wherewithal to come up with that character. It was a wonderful family of collaborative artists all doing our best to tell the best stories that were riddled with heart and common sense."
"Childrens Hospital," Det. Chance Briggs (2008-2015)
"That is one of the funniest performance arenas I've ever had the pleasure of appearing in. The only rule was that there were no rules. It was playground where you could make a much bigger ass of yourself than you usually can in any televised medium. They got almost anyone to come be on the show because everyone knew you were going to have more fun that you were usually allowed."
"21 Jump Street," Deputy Chief Hardy (2012)
"My favorite thing about this job — and its sequel — is that I worked the very first day of filming and only one day. Both movies started with me and Channing [Tatum] and Jonah [Hill] in that same office, which is in a post office in New Orleans. Whatever gravitas I have, between my Centurion speech patterns and my whiskers, I thank Mother Nature for it because it puts me in a room with the funniest, most charming guys working and we get to toss the ball around a little bit."
"Gilmore Girls," Beau Belleville (2003-2005)
"I hadn't really seen it, but I was excited to get cast on it because I loved to get jobs, especially then when I wasn't working on a series regularly. They kept telling me to talk faster. I did my best, but something I've never been good at is talking fast. They ended up cutting out air from between my words. They literally edited my talking to fit the very narrow slot they had allotted my dialogue."
"Sin City," Shlubb (2005)
"I'm a huge fan of comic books and graphic novels. It was a really big deal to audition for Robert Rodriguez in a hotel room at the Four Seasons. I didn't hear anything for two months and then I got a call, 'You got the job.' I was over the moon. Getting to work with Bruce Willis was a great education, both good and bad. He's amazing at what he does, but he's perhaps not the greatest collaborator. We spent a lot more time with his stunt double. Bruce would come in at the end and say the line once and then go back to his trailer. It was a great lesson in how to treat your fellow actors — or not treat them."
"Treasure Island," Samuel (1999)
"Sundance movies have always been my bread and butter. I equate them with the storefront theater I was in in Chicago. This was the first film I had a big part in and it was at Sundance in 1999. It was really a work of art. It's really strange and inventive. Even though not a great many people saw it, I felt like it was me driving my flag in my particular, weird mountain."
"City of Angels," construction worker (1998)
"I got cast in this great scene with Nicolas Cage and I arrived to the construction set where they were filming. The director said, 'I have some bad news. We've already gotten the information from your scene in a previous scene, so we're cutting your scene. But we're having lobster for lunch today so I'd love for you to stick around and do a line as one of these three workers.' I was very crestfallen, but I like lobster as much as the next thespian. So I did this line. Nicolas Cage says, 'Is this blood?' and I say, 'Is it red?' I got an incredible amount of feedback from that sweet lobster-laden gig."
---
Inside the business of entertainment
The Wide Shot brings you news, analysis and insights on everything from streaming wars to production — and what it all means for the future.
You may occasionally receive promotional content from the Los Angeles Times.