Sally Hawkins, Doug Jones and Guillermo del Toro talk about the strange romance at the heart of 'The Shape of Water'
The romance at the heart of Guillermo del Toro's celebrated "The Shape of Water" is sincere, sweet and strikingly strange. A mute cleaning woman (Sally Hawkins) and a fish-man (Doug Jones), who also happens to be an Amazonian river god, meet, connect and fall truly, madly, deeply in love.
It's the kind of story that could only come from a filmmaker who sees "Creature from the Black Lagoon" not as a horror flick but a "home invasion movie."
"This guy was just puttering around his river and in comes these people going on a rampage," Del Toro says, offering his interpretation of the classic 1954 movie. "If you switched it to a home and a human, it'd be the most egregious thing."
WATCH: Video Q&A's from this season's hottest contenders »
With that kind of bent perspective, you would be correct in surmising that "The Shape of Water" takes its beauty-and-the-beast tale to some surprising places. It's a love story about understanding, not transformation. The lovers' passion is reciprocal and almost immediate. The roadblocks come from outside forces, namely the cruel federal agent (Michael Shannon) who has imprisoned the fish-man at a top-secret government lab.
Perhaps the best twist of all: It's the woman driving the action. She's the one who needs to save the day.
Befitting such an unusual story, the actors playing the lovers in "The Shape of Water" have never been cast as romantic leads in their careers though they've each worked steadily for two decades.
Of course, for Jones, playing monsters and creepy crawly creatures in several Del Toro movies isn't a natural path to on-screen ardor, though his amphibious man in "Hellboy II" came close.
"The love was requited but it couldn't come to completion, as is the fate of most monster love stories," Jones says of his "Hellboy" character.
"These monsters have a pretty lonely dating life," Del Toro agrees. "They don't even get to go out for coffee."
"Sounds like my love life," Hawkins interjects with perfect comic timing.
These monsters have a pretty lonely dating life. They don't even get to go out for coffee.
— Guillermo del Toro
Get this trio together and the conversation quickly turns into a mutual admiration society. Del Toro proclaims that "every love story ever made should have Sally Hawkins as the protagonist," and then goes one step further. "'Die Hard' would be more interesting with Sally." Who's going to argue? Bruce Willis?
Both Jones and Hawkins note that Del Toro sees things no one else sees, starting, naturally, with each of them headlining a love story. Hawkins, 41, has long been one of England's most respected actresses, scoring an Oscar nomination opposite Cate Blanchett in "Blue Jasmine" and winning a Golden Globe and countless critics prizes for playing an irrepressible schoolteacher in Mike Leigh's 2008 film "Happy-Go-Lucky."
She's thoughtful and funny, but not fond of publicity, mostly because talking about herself leaves her anxious. "Was it OK?" Hawkins whispers, after the interview ended. "You never know. It's scary."
The 6-foot-3 Jones, meanwhile, will tell you his life's story — and ask you yours — within minutes of meeting. He owns enormous hands, which have served him well whether playing the menacing Pale Man in Del Toro's "Pan's Labyrinth" or inhabiting the piano-playing crescent moon who celebrated the wonders of eating dinner at McDonald's in a string of late-'80s TV commercials that paid for Jones' first house. Jones sometimes ends conversations by asking for a hug in a way that's warm, earnest and endearing. "Touch is one of my love languages in real life," Jones, 57, says.
Prior to beginning a lengthy rehearsal period for "The Shape of Water," Hawkins and Jones had never met. They were nervous.
Hawkins: "I was scared of meeting you."
Jones: "I was scared of meeting you! Are you kidding? Geez. You're magical and I didn't know if I could live up to the magic."
Hawkins: "Straight back at you."
They repeat a variation of this exchange a half-dozen times over the course of an hour. In Hawkins and Jones, Del Toro found two sensitive souls, perfectly attuned to their outsider characters' wordless longings. Hawkins couldn't speak; Jones was encased in a creature suit so tight he needed three people to help him squeeze into it. There were also times when he couldn't even see Hawkins as the eyes in his mask were painted over, filled in later digitally.
To make it work, they took dance lessons, learning each other's body movements as well as establishing a foundation of trust. They laughed and cried, shared secrets about their insecurities, so that when the time came to portray characters who not only fall in love, but save each other's lives, they were ready.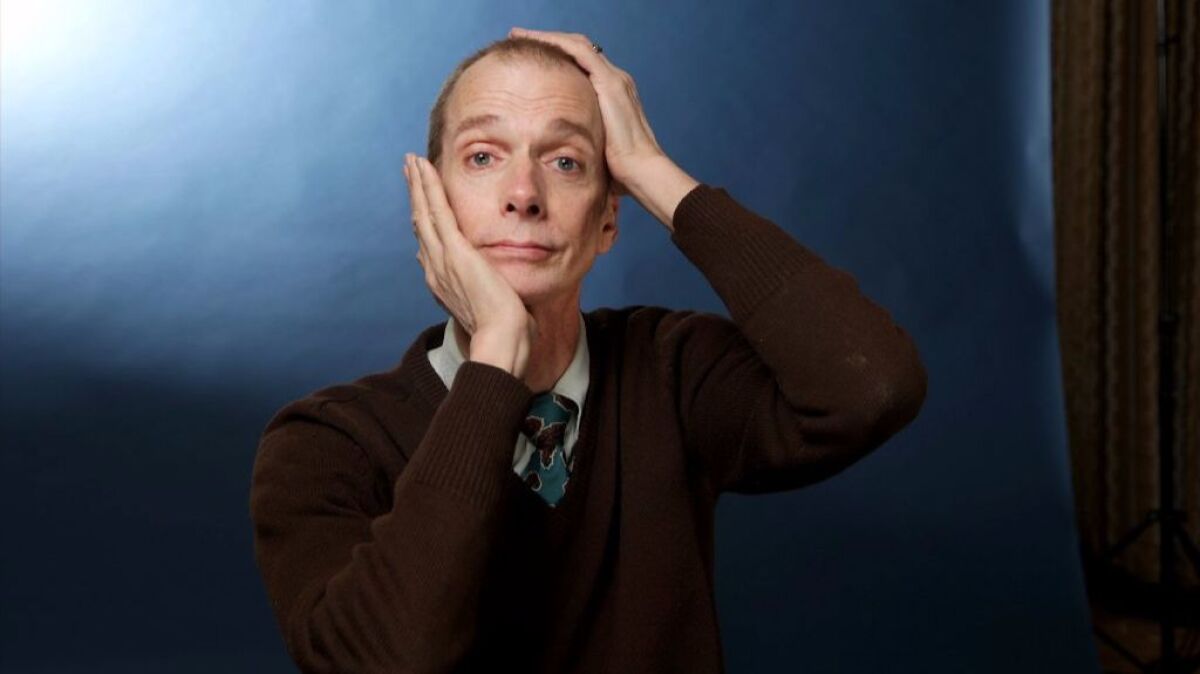 I think we were both scared. Before almost every take, we'd hold each other, caress each other's faces, say, 'I love you. I'm so glad you're here.'
— Doug Jones on co-star Sally Hawkins
"This incredible heart that Dougie has as a human being just emanates from him," Hawkins says. "This pure soul and depth of feeling. So little of our conversation is through words, but the energy somebody gives off. And Doug vibrates with this incredible power. It was a gift to watch him."
Del Toro repeatedly told Jones, "You are a romantic leading man" ("He wanted to screw it in my brain," Jones says), discouraging him from using the controlled movements that had served him well in his previous collaborations with the filmmaker.
"He needed to give back to Sally, to listen to her, to look at her, to be there not as a performer, but as an actor," Del Toro says.
"I was scared," Jones says. He turns to Hawkins, taking her hand. "I think we were both scared. Before almost every take, we'd hold each other, caress each other's faces, say, 'I love you. I'm so glad you're here.' "
"We've seen the worst," Hawkins adds. "It was such a gift to have that time to get to know each other and build that trust."
"What I love about this love story," Jones continues, "is that it's these two pure hearts finding each other in the midst of turmoil."
"They recognize each other," says Hawkins. " 'Oh, at last. Someone like me. Where have you been all my life?' "
"I was down in the Amazon, baby," Jones replies, "hoping there might be a woman waiting somewhere for me."
Get our L.A. Goes Out newsletter, with the week's best events, to help you explore and experience our city.
You may occasionally receive promotional content from the Los Angeles Times.