'12 Years a Slave': A captivating story of survival, reviews say
The drama is based on the 1853 autobiography "Twelve Years a Slave" by Solomon Northup
(Jaap Buitendijk / Associated Press)
Old bottles hang in a tree, placed there for spiritual reasons.
(Carolyn Cole / Los Angeles Times)
Sarah Paulson, left, and Lupita Nyong'o star in the film.
(Francois Duhamel / Associated Press)
Steve McQueen ("Shame") directed the film, some of which was shot at a family plantation near New Orleans.
(Francois Duhamel / Associated Press)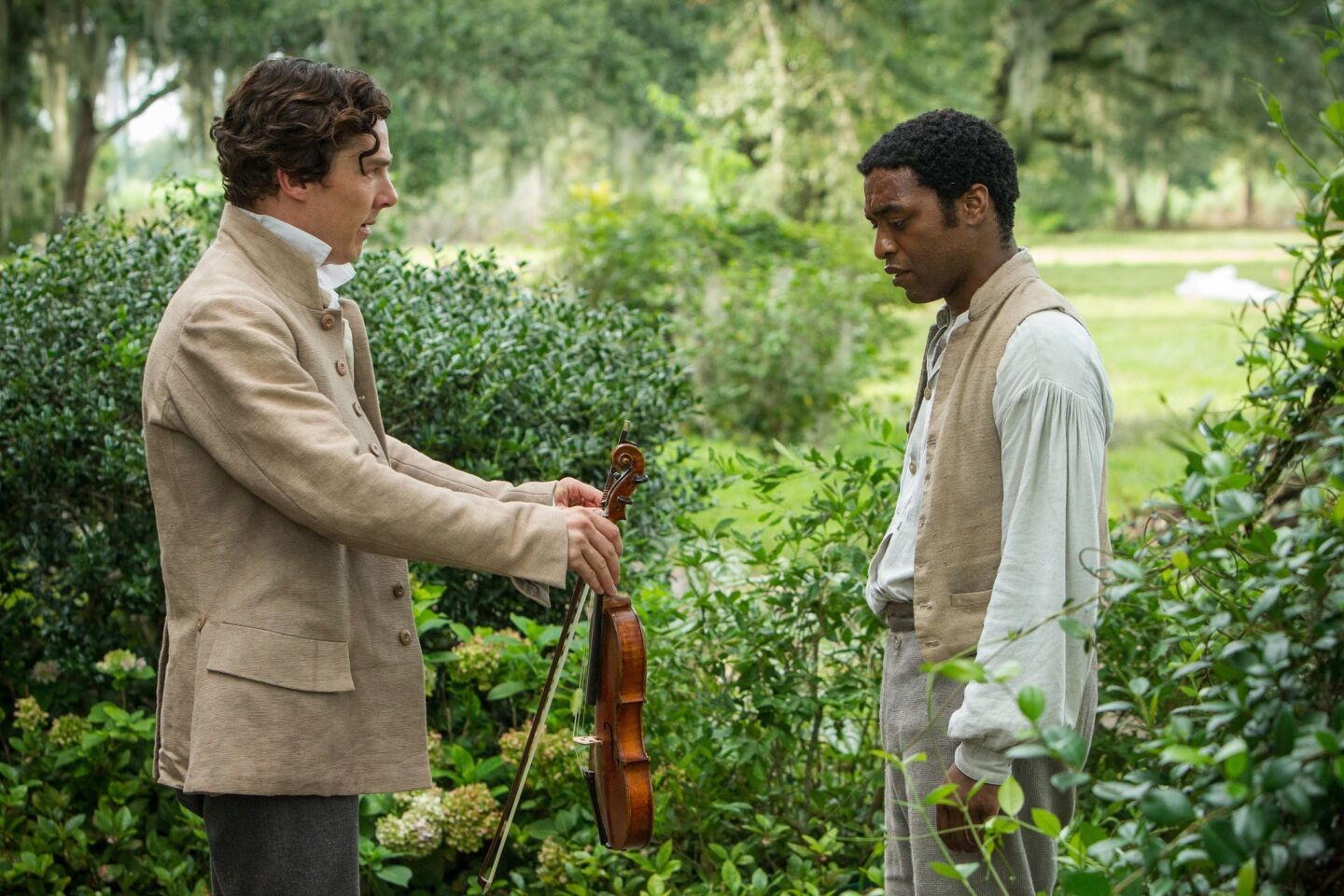 Benedict Cumberbatch, left, and Chiwetel Ejiofor in a scene from "12 Years a Slave."
(Jaap Buitendijk / Associated Press)
Michael Fassbender, left, Lupita Nyong'o and Chiwetel Ejiofor.
(Francois Duhamel / Associated Press)
Critical acclaim continues to mount for Steve McQueen's historical drama "12 Years a Slave," which has garnered near-universal praise since its premiere at the Telluride Film Festival in late summer. Adapted from the 1853 autobiography of the same name by Solomon Northup, the film stars Chiwetel Ejiofor as a free black man from upstate New York who is kidnapped, spirited to the South and enslaved for more than a decade. Reviewers are applauding the unflinching direction and strong performances.
The Times' Kenneth Turan finds the film powerful but difficult to watch. He writes, "this film intends to do more than tell us a story. It wants to immerse us in an experience, and it does. Obviously, no film can re-create the unspeakable degradation of one human being owning another, but in making the attempt '12 Years' insists we feel things in a particularly oppressive way. This is impressive filmmaking, but it is not easy to take in."
The film also features "potent performances across the board," from Ejiofor, frequent McQueen collaborator Michael Fassbender, producer Brad Pitt, and newcomers Lupita Nyong'o and Adepero Oduye.
PHOTOS: Scenes from '12 Years a Slave'
The New York Times' Manohla Dargis says, "There is much to admire about '12 Years a Slave,' including the cleareyed, unsentimental quality of its images … and how Mr. Ejiofor's restrained, open, translucent performance works as a ballast, something to cling onto, especially during the frenzies of violence."
She also writes, "'12 Years a Slave' isn't the first movie about slavery in the United States — but it may be the one that finally makes it impossible for American cinema to continue to sell the ugly lies it's been hawking for more than a century. … It's at once a familiar, utterly strange and deeply American story in which the period trappings long beloved by Hollywood — the paternalistic gentry with their pretty plantations, their genteel manners and all the fiddle-dee-dee rest — are the backdrop for an outrage."
In the Washington Post, Ann Hornaday raves, "Intense, unflinching, bold in its simplicity and radical in its use of image, sound and staging, '12 Years a Slave' in many ways is the defining epic so many have longed for to examine — if not cauterize — America's primal wound. But it's also a crowning achievement of a filmmaker whose command of the medium extends beyond mere narrative and its reductive, sentimental snares to encompass the full depth and breadth of its most expressive and transforming properties. '12 Years a Slave' isn't just a cathartic experience that happens to be an astonishing formal achievement: It works its emotional power precisely because it's so elegantly constructed, from the inside out."
WATCH: Envelope Screening Series — '12 Years a Slave'
The Wall Street Journal's Joe Morgenstern doesn't hold back either, writing, "Movie audiences have never been presented with anything quite like the intertwined beauty and savagery of '12 Years a Slave,' so it's anyone's guess whether they'll extend the embrace that Steve McQueen's film deserves. Such is the power of this landmark event, though, that it seems certain to transcend the movie realm and become a new reference point in contemporary culture—a defining vision of what slavery looked like, and felt like, in the U.S. before the Civil War."
It's nearly impossible to find a bad review of "12 Years a Slave" — the film boasts a "96% fresh" rating on Rotten Tomatoes and a 97 out of 100 on Metacritic — although a few critics find McQueen's direction somewhat frigid. New York's David Edelstein writes, "From a political and humanist standpoint, there are plenty of reasons to champion '12 Years a Slave' … it's smashingly effective as melodrama. But McQueen's directorial voice — cold, stark, deterministic — keeps it from attaining the kind of grace that marks the voice of a true film artist."
And the Village Voice's Stephanie Zacharek writes, "It's all so perfect, so right. But is there any blood in its veins? '12 Years a Slave' is a pristine, aesthetically tasteful movie about the horrors of slavery," she says, but "it's a picture that stays more than a few safe steps away from anything so dangerous as raw feeling."
That said, most critics seem to agree with the Chicago Tribune's Michael Phillips, who writes, "There are a few drawbacks but a few hundred more rewards to be found here in McQueen's third and finest feature." Further on, he adds, "To say (rightly) that '12 Years a Slave' is the best [movie about slavery yet] so far says too little. To say we needed a movie like this, after the facetious spaghetti-Western-blaxploitation make-believe of Quentin Tarantino's 'Django Unchained,' says even less. Let's just say a film this good, and this quietly distinctive in its style, is always welcome."
ALSO:
Scarlett Johansson: 'I feel very disconnected' from 'Her' awards buzz
'Guardians of the Galaxy': Video of Vin Diesel on stilts fuels Groot buzz
Stars who turned down, or were turned down for, ultimately famous roles
Get our L.A. Goes Out newsletter, with the week's best events, to help you explore and experience our city.
You may occasionally receive promotional content from the Los Angeles Times.