'12 Years a Slave' writer John Ridley denies Steve McQueen feud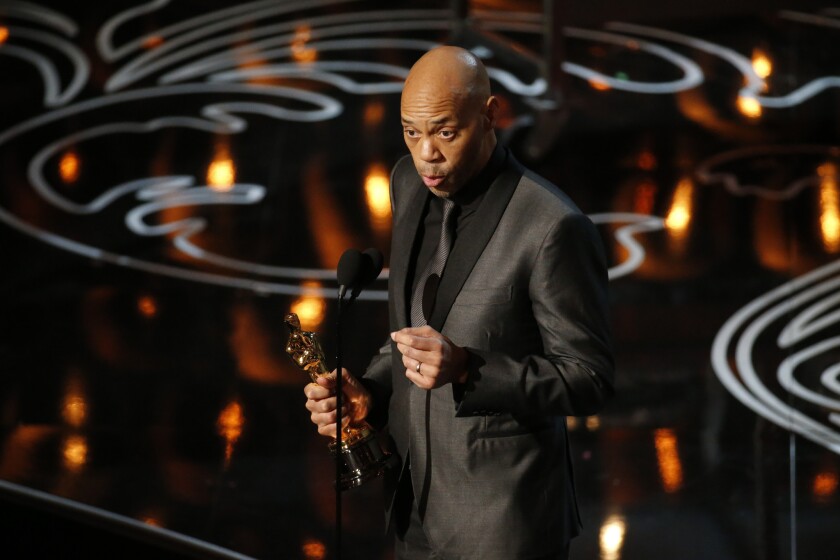 A week after "12 Years a Slave" writer John Ridley and director-producer Steve McQueen both refrained from thanking one another after winning Oscars — the former for adapted screenplay, the latter for best picture — Ridley downplayed rumors of a rift between the two men.
"You can't help people's perceptions, but I am sorry that people perceived that" as a feud, Ridley told HuffPost Live at the SXSW Film Festival, adding that he had said it was "fun" working with McQueen when he gave his acceptance speech at the Spirit Awards the day before the Oscars. "I am here because of him and because of his work and how he puts things together."
Some observers detected frostiness between Ridley and McQueen on Oscar night, first when Ridley's name was called and he walked by McQueen without looking at him, only to hug "American Hustle" director David O. Russell. McQueen, meanwhile, reacted to the win with what appeared to be halfhearted applause.
BEST MOVIES OF 2013: Turan | Sharkey | Olsen
Ridley thanked "the entire cast, the entire crew" during his acceptance speech but didn't mention McQueen by name. For his part, McQueen didn't mention Ridley, despite reading off a laundry list of names.
Reports followed that Ridley and McQueen had been quarreling over the script credit for "12 Years."
Ridley told Indiewire from Austin that he and McQueen had discussed sharing a "screenplay by" credit or a "story by" credit, but ultimately didn't because of the intricacies of Writers Guild of America rules.
While Ridley seems eager to put the rumors of a feud behind him, he still hasn't been particularly effusive in speaking of McQueen, and it seems inapt to equate the comparatively small Spirit Awards with the grand stage of the Oscars.
This wouldn't be the first such kerfuffle Ridley has been involved in: He also clashed with Russell over the 1999 film "Three Kings." If Ridley and McQueen are indeed back on hugging terms, that would put them about 15 years ahead of schedule.
ALSO:
Wes Anderson's 'Grand Budapest Hotel' gets first-rate reviews
SXSW 2014: Five movie stories, including 'Chef' and 'Veronica Mars'
Box office: '300' sequel rises to the top
---
Inside the business of entertainment
The Wide Shot brings you news, analysis and insights on everything from streaming wars to production — and what it all means for the future.
You may occasionally receive promotional content from the Los Angeles Times.