Review: '47 Ronin' doesn't quite cut it as a samurai fantasy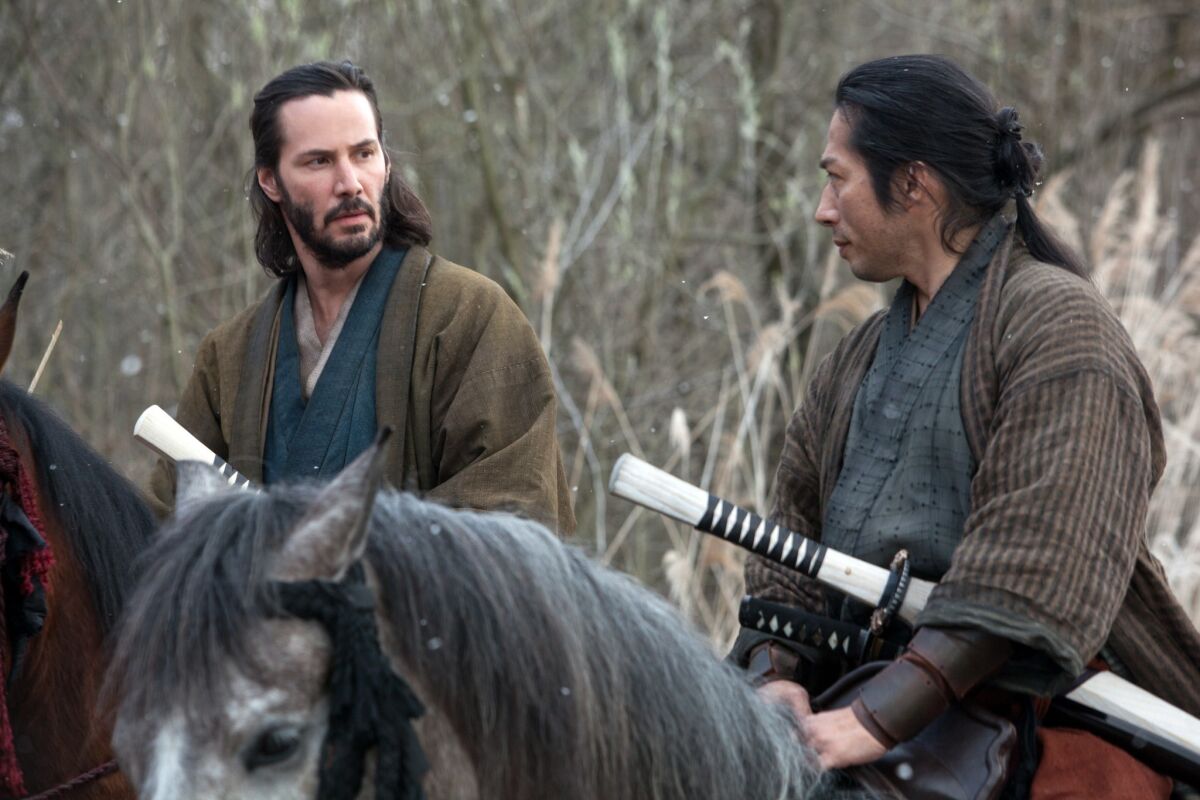 There's the kind of movie that comes riding into theaters on such a prolonged wave of bad buzz — changed release dates, backstage whispers of production troubles and a swelling budget — that the film itself starts to seem beside the point, something to just get out of the way. That's the case with "47 Ronin," an overlong, underwhelming movie now hitting theaters that certainly wasn't worth the wait.
The story opens with a stentorian voice-over announcing that ancient feudal Japan, as history buffs will no doubt be happy to learn, was a time of witchcraft and demons. Kai (Keanu Reeves) — referred to throughout the film as a "half-breed," though it is somewhat unclear if that is half-Anglo or half-demon — lives in exile in the woods, protected by the benevolent Lord Asano.
After Asano is forced to commit seppuku by the ruling shogun following an incident in which he was bewitched, his faithful samurai, led by Oishi, are cast adrift as masterless Ronin. The evil Lord Kira has eyes on Asano's daughter, Mika, and eventually Kai, Oishi and the Ronin attempt to save Mika and avenge Asano's death.
PHOTOS: Best films of 2013 | Kenneth Turan
The ad campaign for the film is focused on Reeves, understandably, so one could be forgiven for spending time during the film wondering "Where's Keanu?" and "Who are all these other people?" Though Reeves does have a key role, the storytelling and screen time is also very much focused on such performers as Hiroyuki Sanada as Oishi, Tadanobu Asano as Kira, Kô Shibasaki as Mika and Rinko Kikuchi as a treacherous witch. Those expecting all Keanu all the time will be left feeling off-balance.
The film comes at something of a transitional moment in Reeves' career, as he has been on a run of unexpected, seemingly passion-driven projects such as producing the engaging documentary "Side By Side," about shooting on film versus digital moviemaking, as well as his directing debut with "Man of Tai Chi." That film, in which Reeves played the villainous leader of an underground fighting circuit, pulsed with the enthusiasm of a martial arts film fan.
"47 Ronin," which is directed by Carl Rinsch, has no such feelings behind it. For a film whose story is so steeped in honor, there is something dutiful but uninvolved about it, respectful without really understanding the deeper traditions — a student faking it through a quiz. Though based on history, the movie is hung up on creating a fantasy-world version of Japanese feudal life. (Japanese filmmaker Takashi Miike's recent "Hara-Kiri" and "13 Assassins" both created more vibrant, lived-in variations on similar themes.)
PHOTOS: Best films of 2013 | Betsy Sharkey
Rinsch, making his feature debut, shows the shortcoming of someone coming from the image-based world of commercials and advertising. There are moments of genuine beauty and a few terrifically eye-popping effects, but no feel yet for storytelling.
The film becomes something like the punch line to an old "screw in a light bulb" joke: What does it take to make a samurai fantasy film? More than "47 Ronin."
---
'47 Ronin'
MPAA rating: PG-13 for intense sequences of violence and action, some disturbing images and thematic elements
Running time: 1 hour, 59 minutes
Playing: In wide release
---
Get the Indie Focus newsletter, Mark Olsen's weekly guide to the world of cinema.
You may occasionally receive promotional content from the Los Angeles Times.