Review: 'Bidder 70' is a gripping look at an eco-activist's journey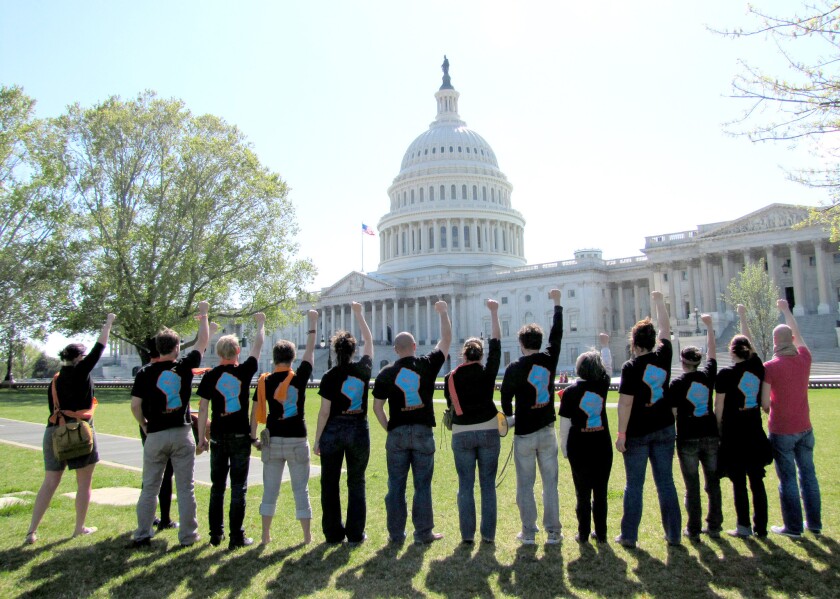 In December 2008, University of Utah economics student Tim DeChristopher impulsively — and successfully — bid on 12 parcels of land in southern Utah whose oil and drilling rights were being auctioned off by the Bureau of Land Management under outgoing President George W. Bush. That might have been OK had DeChristopher planned to pay for and exploit the properties. But the 27-year-old preservationist was actually at the sale as part of a peaceful protest against the fossil fuel industry when he was randomly handed a bidder's paddle: No. 70.
DeChristopher's staunch and inspiring journey after that fateful auction (which was later invalidated by incoming Interior Secretary Ken Salazar) — and the two-count federal indictment he received for his actions — is efficiently tracked by married filmmakers Beth and George Gage in the vital and involving documentary "Bidder 70."
The film follows DeChristopher as he waits out nine trial postponements over the course of two years. Along the way, he visits mountaintop coal removal projects in his birth state of West Virginia; works with Peaceful Uprising, a grassroots eco-action group he co-founded, and leads a student occupation of the Department of the Interior.
Such notable environmentalists as Robert Redford, Terry Tempest Williams, Bill McKibben and Nobel Peace Prize winner Terry Root also weigh in here on DeChristopher's behalf.
Though viewers may already be aware of how DeChristopher's 2011 trial ended, the film maintains a gripping air of tension and mystery leading up to the verdict (he was sentenced to two years in federal prison for fraud but released after 21 months). Fortunately, DeChristopher is once again free to serve as an articulate and charismatic voice for "climate justice."
-----------------------------
"Bidder 70." No MPAA rating. Running time: 1 hour, 12 minutes. Playing at Laemmle's Music Hall, Beverly Hills. Saturday and Sunday mornings only at Laemmle's Monica 4-Plex, Santa Monica and Laemmle's Playhouse 7, Pasadena.
---
Inside the business of entertainment
The Wide Shot brings you news, analysis and insights on everything from streaming wars to production — and what it all means for the future.
You may occasionally receive promotional content from the Los Angeles Times.