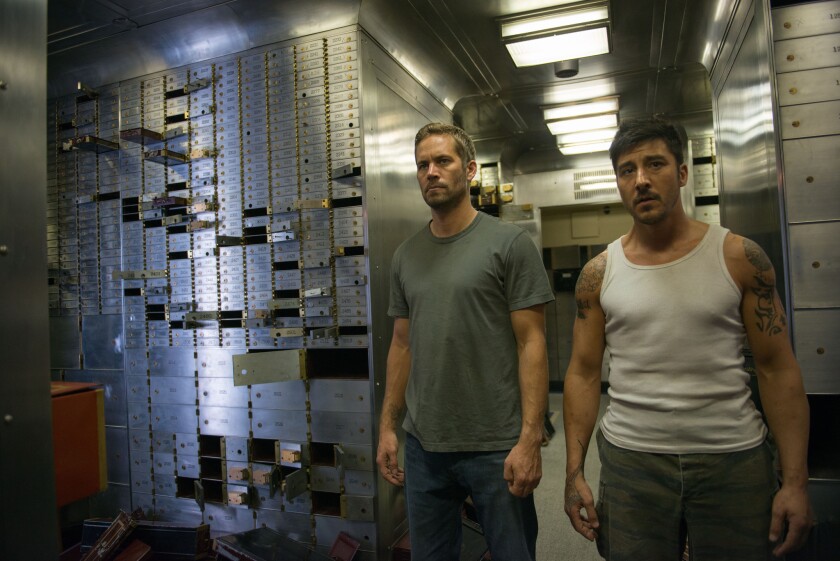 "Brick Mansions," Paul Walker's penultimate film (prior to "Fast & Furious 7"), is a dumb and ugly action picture that works strictly as a reminder of the late actor's head-turning good looks and modest charisma. Otherwise, this remake of the 2004 French thriller "District B13," directed by Camille Delamarre (editor of "Transporter 3" and "Taken 2"), is a dizzying mishmash of showy stunts, muddled narrative and some seriously risible acting and dialogue.
Prolific filmmaker Luc Besson's screenplay, faithfully adapted from the "B13" script he wrote with Bibi Naceri, has relocated this dystopian crime tale from 2006 Paris to 2018 Detroit (as if the Motor City didn't have enough image problems). It's centered on a bleak, government-quarantined housing project called Brick Mansions, home to the city's most lawless criminals.
The worst of the bunch: ruthless drug kingpin Tremaine (rapper-actor-director RZA), who's in possession of an old Russian surface missile that's, y'know, poised for destruction.
REVIEW: More movie reviews from the Times
Enter Damien Collier (Walker), an upright cop sent undercover to bring down Tremaine, whom Collier believes murdered his policeman dad. But to infiltrate Brick Mansions, Damien must pair up with its longtime resident, Lino (David Belle, reprising his role from "B13"), a "French Caribbean ex-pat" (really?), ex-con and vigilante whose ex-girlfriend (Catalina Denis) Tremaine has kidnapped. The acrobatic Lino also conveniently sports killer combat skills, which are put to eye-popping use here. (Belle co-founded Parkour, a propulsive discipline that uses swift, efficient body movements to conquer environmental obstacles.)
Evil henchmen (played by Gouchy Boy, Robert Maillet and others) and one particularly nasty henchwoman (Ayisha Issa), dubious lawmen and shady politicians all get in Damien and Lino's way as they fight, race, crash and trash their way around the city in pursuit of their own brand of justice. To see car accident victim Walker at the helm of so much vehicular mayhem is, to say the least, unsettling.
The action sequences of "Mansions" are edited within an inch of their lives, adding more incoherence than thrills. The film takes a ham-fisted stab at sociopolitical commentary via its twisty ending, but that only serves to make the preceding mayhem and plotting even less plausible than they already seemed.
It should also be noted that the movie's PG-13 rating seems excessively light given the level of physical, emotional and thematic brutality on display here, not mention an apparent beheading and several uses of the N-word. It's dispiriting stuff.
--------------------------
"Brick Mansions"
MPAA rating: PG-13 for frenetic gunplay, violence and action; language; sexual menace and drug material.
Running time: 1 hour, 29 minutes.
Playing: In general release.
---