Cannes 2014: 'Winter Sleep,' 'Foxcatcher' take home big honors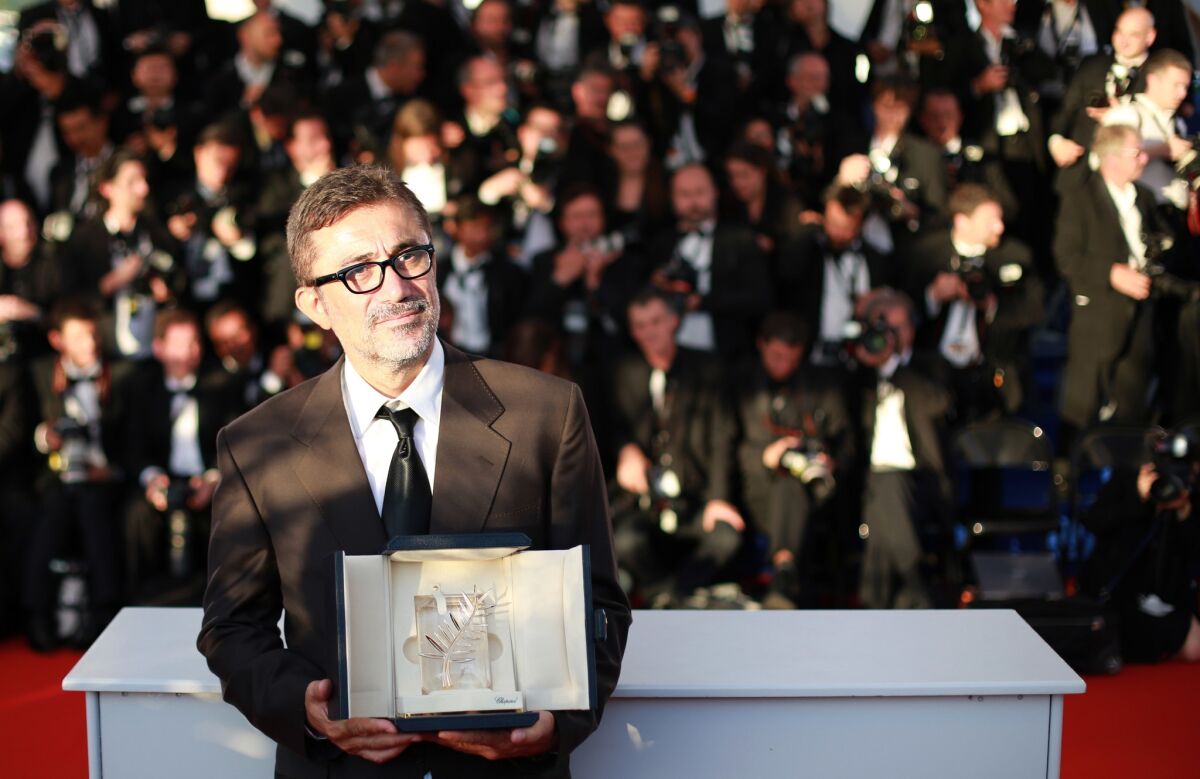 Reporting from Cannes, France —
The longest film in the Festival de Cannes walked off with the biggest prize Saturday night as Nuri Bilge Ceylan's three-hour and 16-minute "Winter Sleep" took home the Palme d'Or.
Turkish director Ceylan was visibly moved despite having won three previous honors at Cannes as he accepted the award for this thoughtful, discursive film about a former actor and his relationship with his wife, his sister, and his world. "I dedicate this award to the young people of Turkey who lost their lives during the last year," Ceylan said.
This year's 67th Cannes festival, which included Jane Campion as the jury's chairman, was an especially good one for English-language films, as one American, one Canadian and one British film won major awards.
The U.S. feature, "Foxcatcher," starred an unrecognizable Steve Carrell, Channing Tatum and Mark Ruffalo in a mesmerizing, particularly American horror story of seduction, rejection, betrayal and murder in the little-known world of Olympic wrestling. It won the best director prize for Bennett Miller.
The director thanked his trio of stars and Megan Ellison, whose Annapurna Films was "Foxcatcher's" key backer. "It's really something to be supported like that," he said, "and to come out the other side."
The best actor award went to Timothy Spall, who starred as the brilliant but difficult 19th century English painter J.M.W. Turner in Mike Leigh's immersive and beautifully created "Mr. Turner."
Spall gave the evening's longest and most moving speech, starting with the revelation that "he was in North Holland on my boat with my arm up a pipe and covered in grease when I got the call to come back."
Searching for his acceptance speech on his cellphone – he had written it while flying back – Spall begged the audience's indulgence for his disorganization: "I spent a lot of time being a bridesmaid, but this is the first time I've been a bride."
Spall gave special thanks to director Leigh, with whom the actor has made seven films over a 33-year period. And he spoke emotionally about his absence from Cannes when Leigh's "Secrets and Lies" won the Palme d'Or. "Eighteen years ago I was having chemo for leukemia," he revealed before closing with a heartfelt, "most of all I thank God I'm here and still alive."
Winning the best actress award was Julianne Moore, who was part of the ensemble in "Maps To The Stars," which was directed by David Cronenberg and written by Bruce Wagner. Moore took on the role of a fading actress desperate for a part her mother made famous.
Another Canadian film (but this one in French), Xavier Dolan's "Mommy," took one of two Prix Du Jury Cannes handed out. The movie is an in-your-face examination of the relationship between a difficult mother and her 15-year-old ADHD son.
The competition's youngest director at 25 years old, Dolan shared the award with its most senior director, 83-year-old Jean-Luc Godard. He also got a Prix Du Jury for his latest cinematic puzzle, "Goodbye to Language," a film that's only 70 minutes long but shot in 3D.
The competition's only female director, Italy's Alice Rohrwacher, took the Grand Prix, considered Cannes' runner-up award, for "The Wonders," a from-the-heart coming-of-age story set in a very unconventional counterculture family.
Taking the screenplay prize were director Andrey Zvyagintsev and his co-writer Oleg Negin, responsible for the Russian "Leviathan," a bleak but impeccably made lamentation for the current state of a country, which is portrayed as corrupt as corrupt can be.
---
Get the Indie Focus newsletter, Mark Olsen's weekly guide to the world of cinema.
You may occasionally receive promotional content from the Los Angeles Times.