Cannes Film Festival projects cross-cultural cinema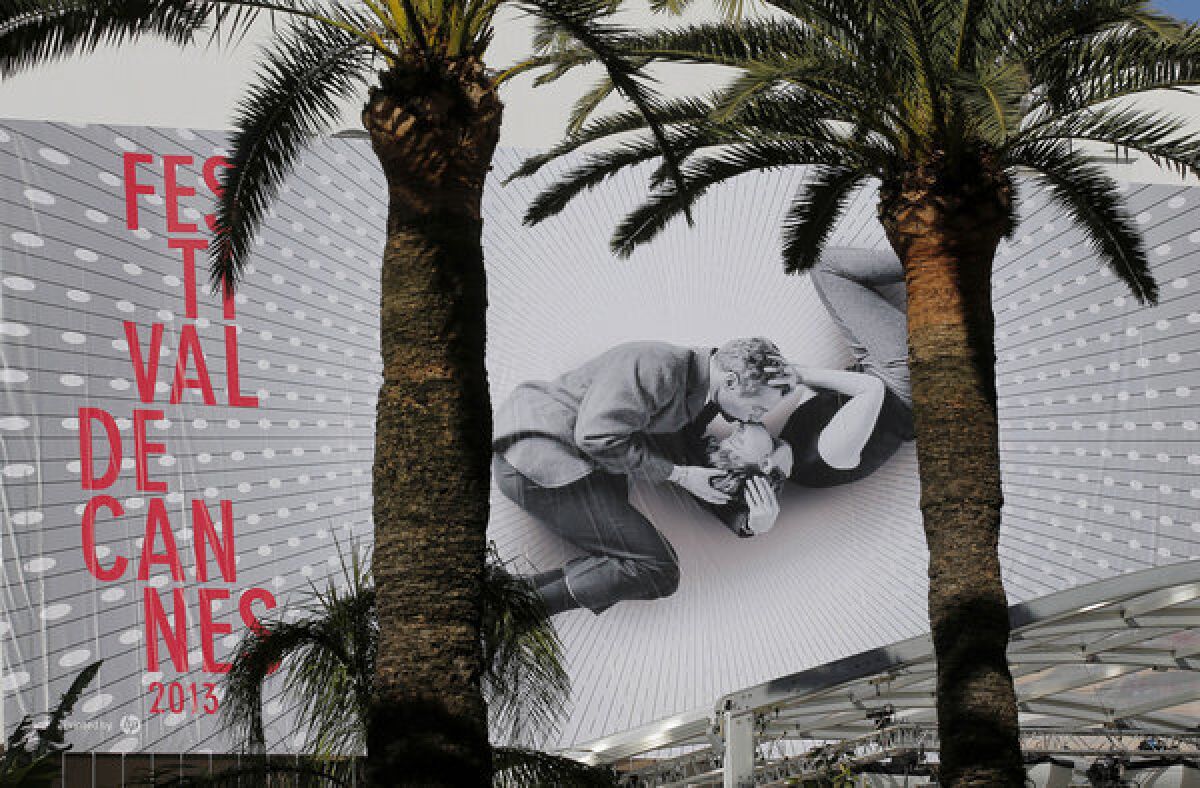 CANNES, France —
— Invariably, the Cannes Film Festival chooses a striking image for its official annual poster. But the 2013 version can be seen as a particularly apt metaphor for the dual nature of the world's most essential cinema event.
Paris-based graphic designers have adroitly repurposed a black-and-white photo from 1963's "A New Kind of Love" featuring Paul Newman and Joanne Woodward in an embrace. As sinuously as they are entwined, that's how fluidly the American and international components of the film world come together at Cannes, which opens Wednesday night with the big Warner Bros. blockbuster "The Great Gatsby," directed by Baz Luhrmann, who happens to be Australian.
This cross-cultural cross-pollination is visible everywhere: The covers of French film magazines are featuring Americans like Steven Spielberg (the president of this year's jury), while advertising for Hollywood's forthcoming "Hunger Games" sequel, "Catching Fire," blankets the Hotel Majestic's prime real estate — with signs not only in English but also in French, Russian and Chinese.
Canadian Ryan Gosling's image is hard to escape here as well, thanks to his starring role in the competition film "Only God Forgives." Directed by Nicolas Winding Refn, who's Danish, the movie was shot, in English, entirely in Thailand. Which explains why that country is putting on a Thai Night cocktail party hosted by Her Royal Highness Princess Ubolratana Rajakanya Sirivadhana Batnavadi. In the flesh.
Winding Refn's film is hardly the only notable cross-national work in competition. Iranian director Asghar Farhadi, whose spectacular "A Separation" won the foreign-language Oscar in 2012, is returning to the festival with "Le Passe" (The Past). He shot the film in France with French actors — it costars Bérénice Bejo ("The Artist") and Tahar Rahim ("A Prophet").
Meanwhile, Arnaud Desplechin — the most French of French directors — is represented by "Jimmy P," an English-language film made in the U.S. starring Benicio del Toro as a Native American World War II veteran with post-traumatic stress disorder. Fellow countryman Guillaume Canet has gone the same route with his out-of-competition "Blood Ties," an English-language, Brooklyn-based drama of crime and punishment with Clive Owen.
Appropriately for a year in which the American Pavilion meeting place is celebrating its 25th anniversary with a spiffy makeover, some of the most anticipated films competing for the Palme d'Or are directed by Americans and deal with quintessentially domestic subject matter. They are "Behind the Candelabra," Steven Soderbergh's look at the relationship between Liberace (Michael Douglas) and Scott Thorson (Matt Damon); "The Immigrant," James Gray's 1920s tale of how bad things can happen to blameless immigrants; "Inside Llewyn Davis," Joel and Ethan Coen's Greenwich Village-set folk music movie; and "Nebraska," Alexander Payne's latest, which stars Bruce Dern as a stubborn old man convinced he's won a million dollars in a magazine sweepstakes.
Two California-centric films are among the highlights of the festival's Un Certain Regard sidebar. Sofia Coppola is here with "The Bling Ring," about a rash of burglaries of celebrity homes in Los Angeles, while Ryan Coogler has brought his Oakland-set "Fruitvale Station," which took top honors at Sundance in January.
Showing out of competition are several potentially interesting films with American connections, starting with "All Is Lost," J.C. Chandor's follow-up to "Margin Call" starring Robert Redford as a beleaguered sailor, and James Toback's "Seduced and Abandoned," a documentary featuring Alec Baldwin about Cannes and the movie business.
CHEAT SHEET: Cannes Film Festival 2013
Then there is "Max Rose," Jerry Lewis' first starring role in 17 years. (It's not a comedy.) And though "Muhammad Ali's Greatest Fight" is directed by Stephen Frears, who's British, the film's look at the boxer's tussle with the U.S. legal system is sure to have stateside interest.
Cannes wouldn't be Cannes if it didn't include new films by established auteurs in its various sections. This year's crop includes work by France's Claire Denis ("Les Salauds"), Israel's Ari Folman ("The Congress" opens the Directors' Fortnight), Hong Kong crime master Johnnie To ("Blind Detective"), Italy's Paolo Sorrentino (reunited with his "Il Divo" star Toni Servillo in "La Grande Bellezza") and the Roman Polanski drama "Venus in Fur."
Also especially strong this year is Cannes Classics, the section devoted to restorations of and tributes to films of the past. Kim Novak is scheduled to appear with a sparkling print of "Vertigo," and Alain Delon may do the same with René Clément's "Plein Soleil." And some of Elizabeth Taylor's prime jewelry will make the trip to accompany a 50th anniversary showing of "Cleopatra."
Given all this excitement, it's no surprise that French companies are eager to show up at Cannes to do a little branding of their own. Mouton Cadet is sponsoring a chic wine bar, Magnum ice cream is taking over a beach and even the city itself is doing a little self-promotion.
"The World Comes to Cannes: What About You?" asks a poster near the Palais des Festivals. Fair enough, but another tag line calling this town "A Place for Serenity" is stretching the truth. At least for the next 12 days.
---
Get our L.A. Goes Out newsletter, with the week's best events, to help you explore and experience our city.
You may occasionally receive promotional content from the Los Angeles Times.