'Blue Jasmine' and Woody Allen were irresistible to Cate Blanchett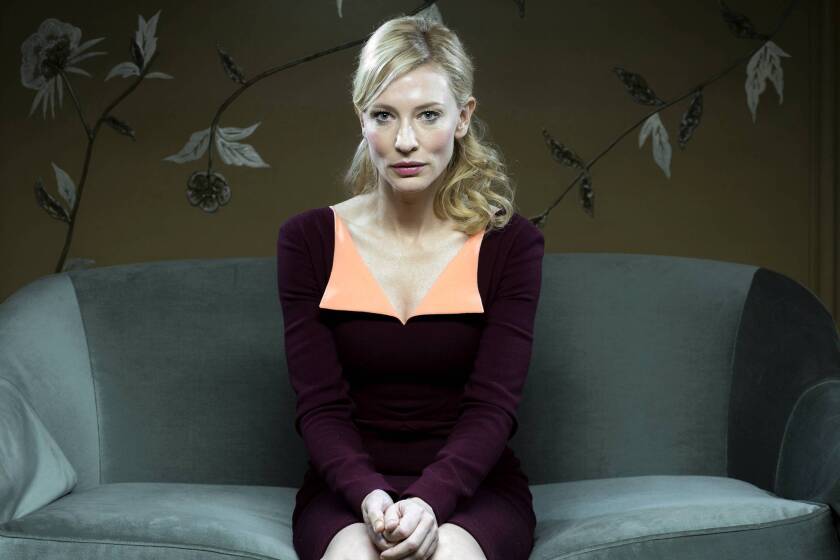 Cate Blanchett glances around at the early evening crowd seated at the Beverly Hills Hotel's Polo Lounge, a mix of well-heeled regulars, rubbernecking out-of-towners and McCarthy salad devotees. The laid-back vibe doesn't quite jibe with Manhattan's Upper East Side, whose shops, cafes and restaurants Blanchett haunted last summer, people-watching to prepare for her role as Jasmine, the fallen New York socialite, in Woody Allen's latest movie, "Blue Jasmine." But it's close enough for Blanchett to note a certain similarity.
"There are certain places in L.A. where you see women who have given away their agency," Blanchett says, sipping an herbal tea. "You can almost feel the impotent rage. With Jasmine, there's such an anger at herself for being so stupid to have believed her husband, to have looked the other way when he lied to her. And you don't have to live on the Upper East Side to think, 'Why the hell didn't I see that? Why didn't I do something about it?'"
"Blue Jasmine" follows the title character's gradual disintegration after she flees Manhattan in the wake of her philandering husband's imprisonment for financial fraud. The government took everything they owned, so Jasmine, wearing pearls and a white Chanel jacket and, wielding her Hermès Birkin purse almost as a battle shield, shows up at her sister's modest San Francisco apartment, her monogrammed Louis Vuitton luggage sharply contrasting against the ordinariness of her new surroundings.
PHOTOS: Woody Allen's leading ladies
Watching Jasmine, we immediately sense her anger and desperation, heightened by the chemically enhanced mood swings, which become more pronounced as the story unfolds. Jasmine is entitled and, at times, unfeeling, but Blanchett grounds the performance with a moving humanity, anchored by the character's guilt over the repercussions of her actions upon her young stepson. The film concludes, shatteringly, with a broken Jasmine alone on a park bench after her sister, Ginger (Sally Hawkins), asks her to leave.
That scene remains hard to this day for Hawkins to discuss without tearing up, which she does when discussing Blanchett's work.
"There was a moment of Jasmine in close-up, and I didn't see Cate. I just saw Jasmine," Hawkins says. "And that was quite terrifying and heartbreaking. I've had that a few times with acting, where there's no screen between the other actor and myself. It just blurs."
Adds Alec Baldwin, who plays Jasmine's smooth-talking husband, Hal, whose life with her we see through flashbacks: "Hopefully, Cate's going to get everything that is coming to her. She's absolutely breathtaking. She just reels you in. You don't do movies with Woody to get paid. It's for the glory of working with Woody. Everyone is grateful to be there. An absolutely staggering number of people who are winning awards now are in these films, doing the greatest work of their career, and they're not getting paid. All of their focus is on giving the performance for the performance's sake."
RELATED: Woody Allen on regrets — He's had a few
Blanchett, 44, says she had given up the idea of ever working with Allen, believing the moment had passed or that he just wasn't interested. Then, last year, Allen called her at her Sydney home, telling Blanchett he had something for her.
"You already decide when Woody calls that you're going to do it, but I went through the charade and said, 'Absolutely. I'd love to read it,'" Blanchett remembers. "So he sent it, and I was just gobsmacked. He asked me to call him as soon as I read it, which I did the next day, and then it was a really short call. You could count the seconds. 'See you in San Francisco. Thank you.'"
Before Blanchett arrived in the Bay Area, she did a handful of things to prepare. There was the aforementioned anthropological study in Manhattan, which she conducted during the day before performing in a Sydney Theater Company production of "Uncle Vanya" at New York's City Center. (Blanchett and her husband, playwright Andrew Upton, serve as the Sydney company's artistic directors.)
Blanchett also met with Hawkins to "make sense" of the sisters' relationship, coming up with their own back story. (There's love, but they're not good for each other, hence Ginger's move to the opposite coast.) There were sessions with a vocal coach. And there was also what Blanchett saw as a required repeat viewing of Robert Weide's 2012 "American Masters" documentary on Allen. It was, she says, a revelation, though her own experience with the director was altogether different.
PHOTOS: Woody Allen's highest grossing films
"A lot of actors said, 'You don't get anything back,' but I really found him forthcoming," Blanchett says. "I felt him simultaneously fascinated by the work and utterly disinterested. And I found that really refreshing because there's no preciousness. The danger, because we all revered him so much, is that we can cover ourselves in cotton wool and make our offerings precious. And, I think it's his background in stand-up comedy, but, with him, it works or it doesn't work. And if it doesn't work, he'll tell you. And if it works, we're moving on. When I realized he was never going to be entirely happy, I stopped trying to please him and just started doing the work.
"And, yes, I'd love to do it again," Blanchett adds. She then leans in, conspiratorially and whispers, "I have to say that in public to shame him into employing me."
---
Inside the business of entertainment
The Wide Shot brings you news, analysis and insights on everything from streaming wars to production — and what it all means for the future.
You may occasionally receive promotional content from the Los Angeles Times.