Art Directors Guild and Cinematheque celebrate 'Touch of Evil'
1944: Canadian actress Deanna Durbin eating an early breakfast while sitting under a hairdryer on location for the filming of Universal's musical "Can't Help Singing."
(Hulton Archive/Getty Images)
1955: Director George Sidney, left, wears a diving mask while directing American swimmer and actress Esther Williams on the set of his film "Jupiter's Darling." The cameraman is wearing scuba gear.
(Hulton Archive/Getty Images)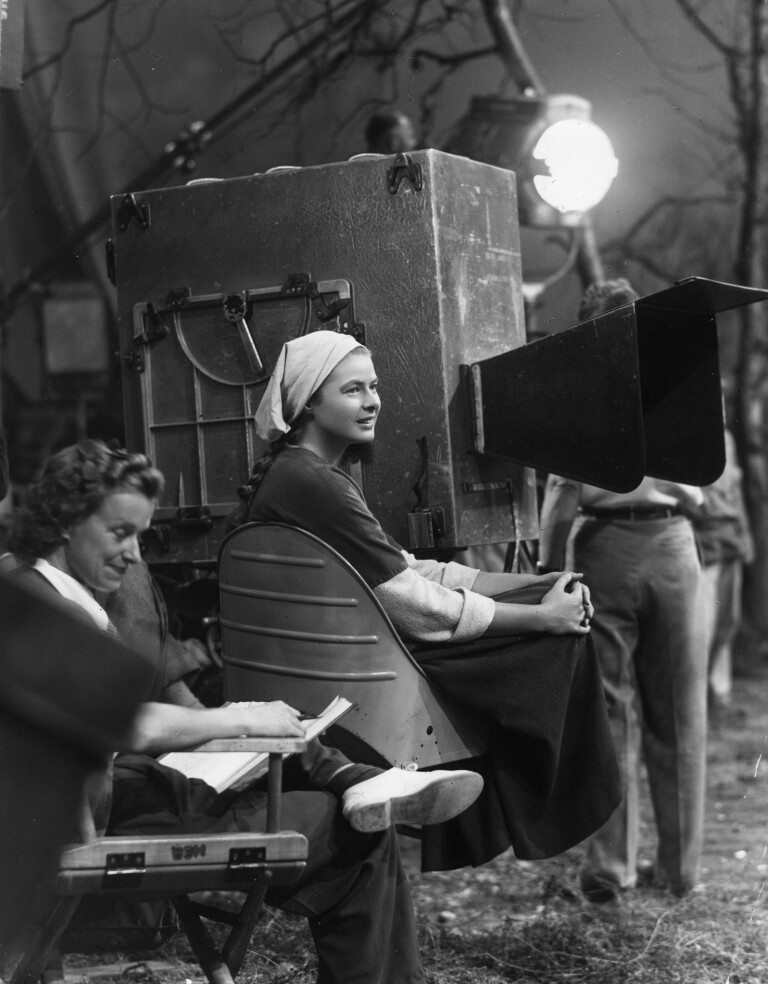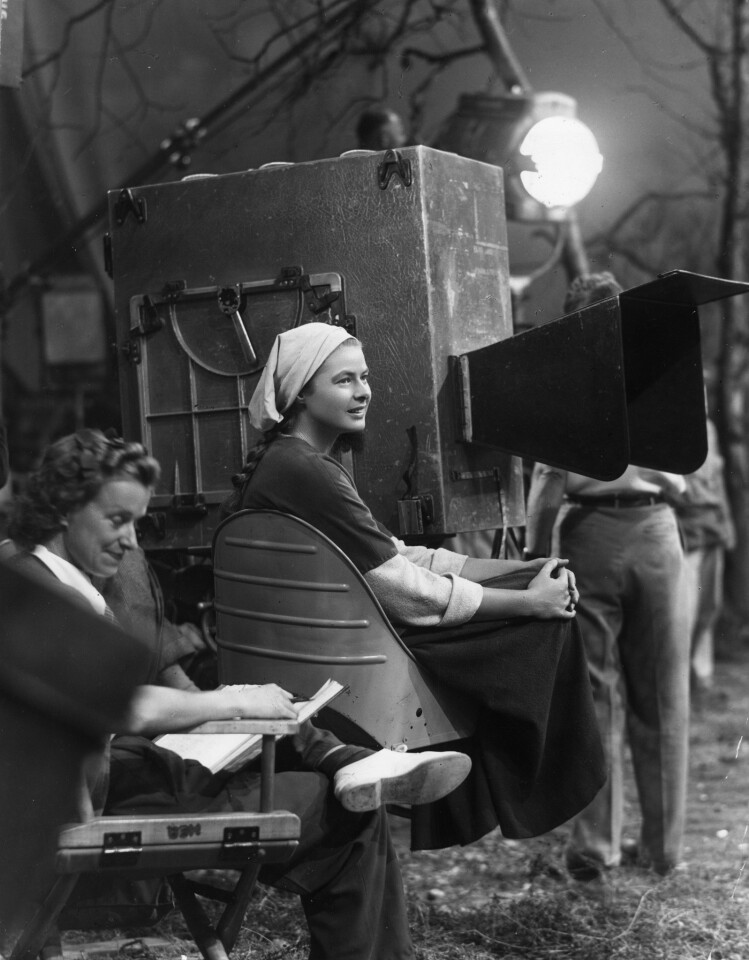 1948: Actress Ingrid Bergman sits next to the camera during a break in filming on the set of director Victor Fleming's film "Joan of Arc."
(Hulton Archive/Getty Images)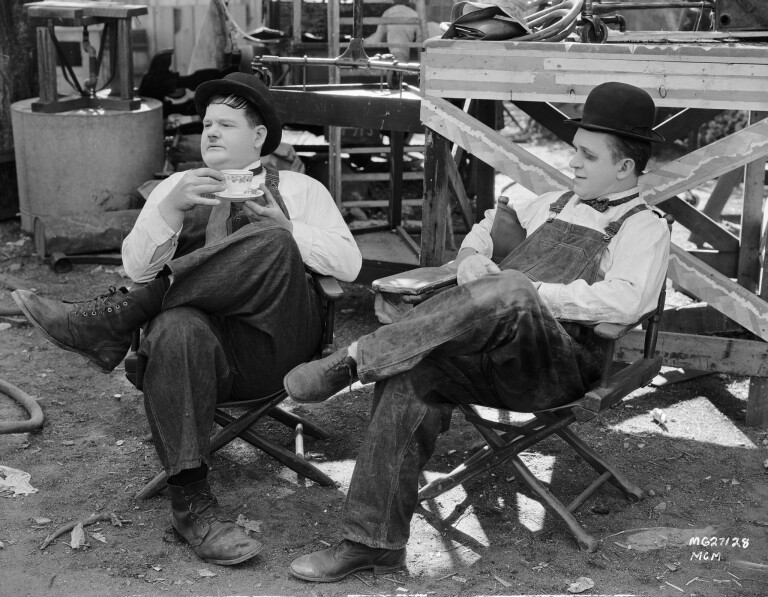 1932: Stan Laurel, with a blackened eye, and Oliver Hardy during a break in the filming of "Towed in a Hole," directed by George Marshall. [For the record: This caption previously stated that the film was 1928's "The Finishing Touch."]
(John Kobal Foundation/Getty Images)
February 1958: Montgomery Clift on location in Indiana with Elizabeth Taylor for the filming of "Raintree County."
(BIPS/Getty Images)

Circa 1935: Mary Boland and Charles Ruggles with writer Herbert Fields, film editor Richard Currier, script girl Evelyn Earl, director Alfred Santell, cameraman Alfred Gilks, head electrician "Sailor" Holton, Dean Jagger and Leila Hyams on the set of Paramount's "People Will Talk."
(Hulton Archive/Getty Images)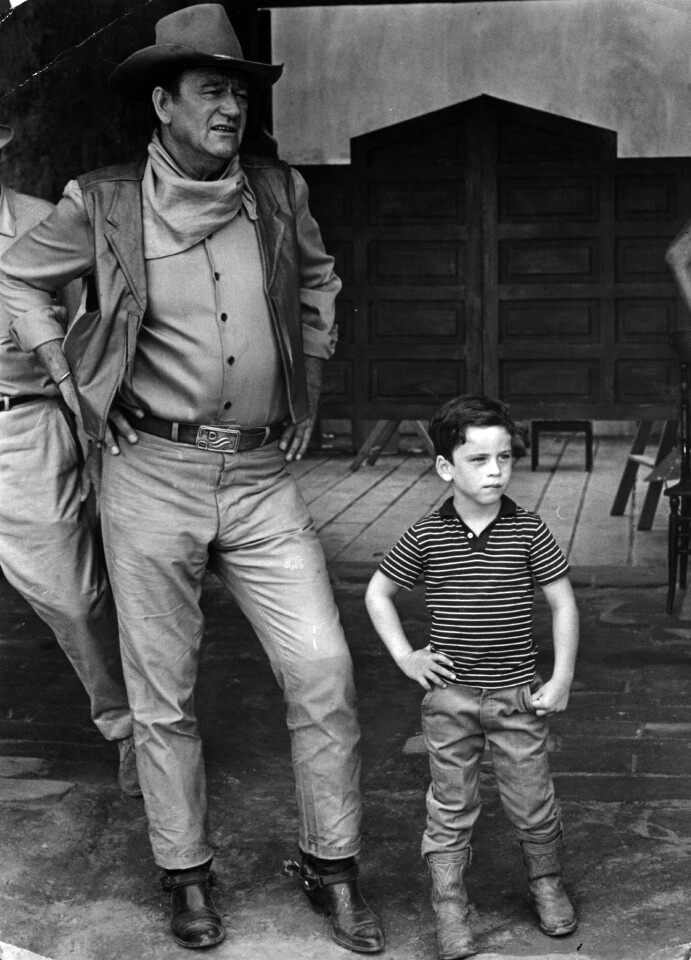 1967: John Wayne, with his son, on location in Mexico for the filming of "The War Wagon."
(Keystone/Getty Images)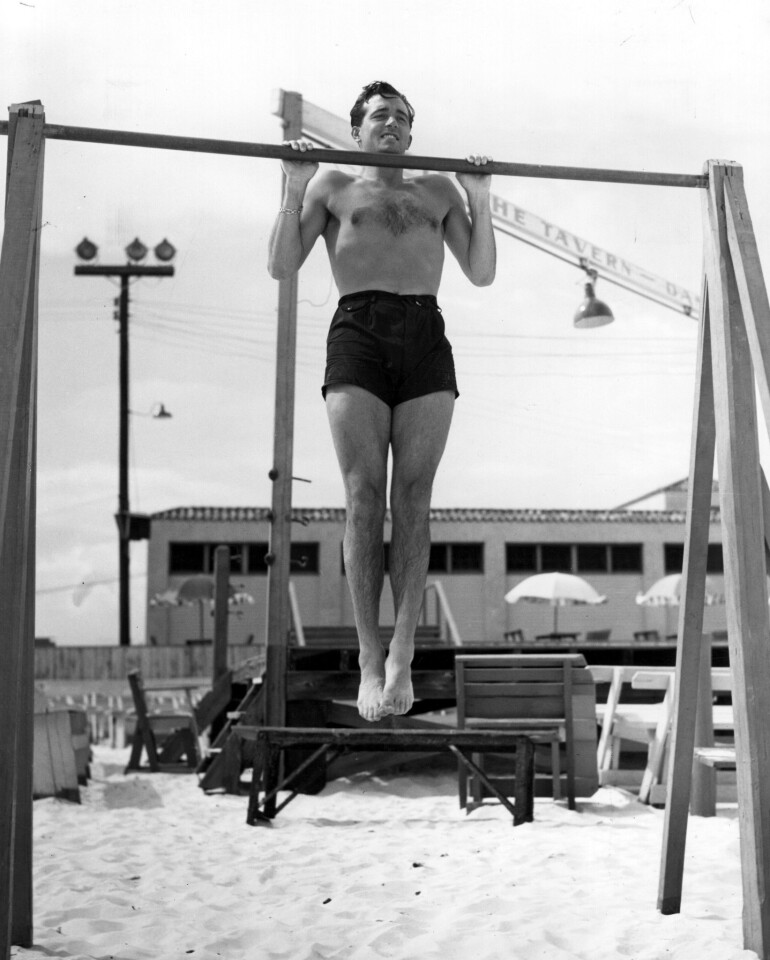 Circa 1938: John Payne, who was once a wrestler, became a general all-purpose leading man mainly in westerns and musicals. He is keeping fit on location in Pensacola, Fla., during filming of "Wings of the Navy."
(Homer Van Pelt/Getty Images)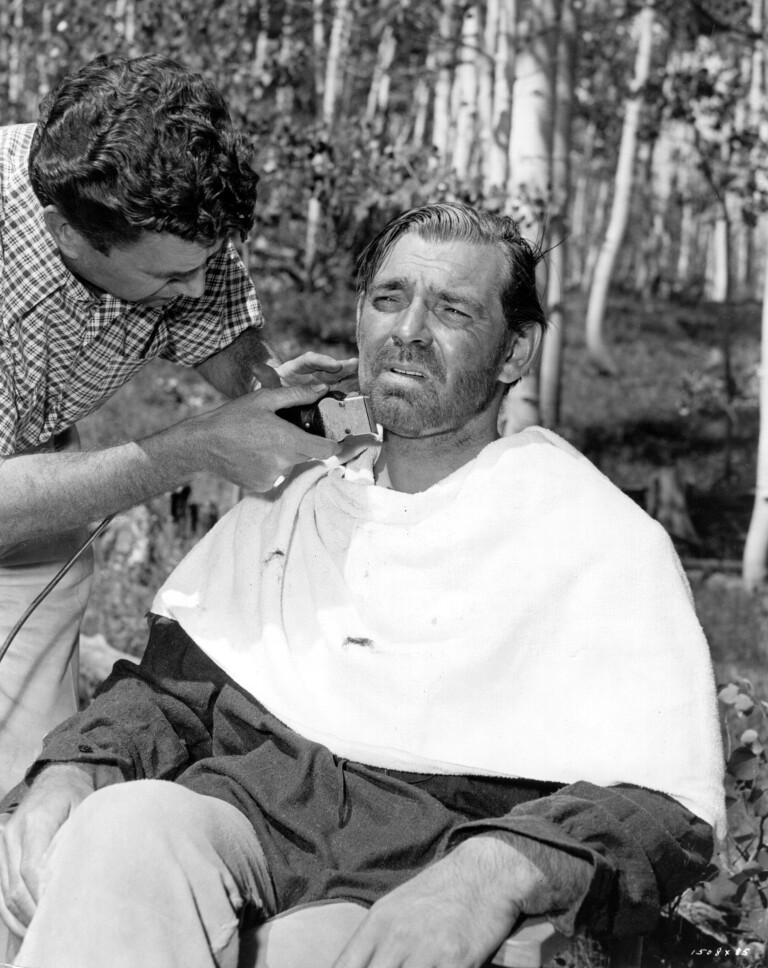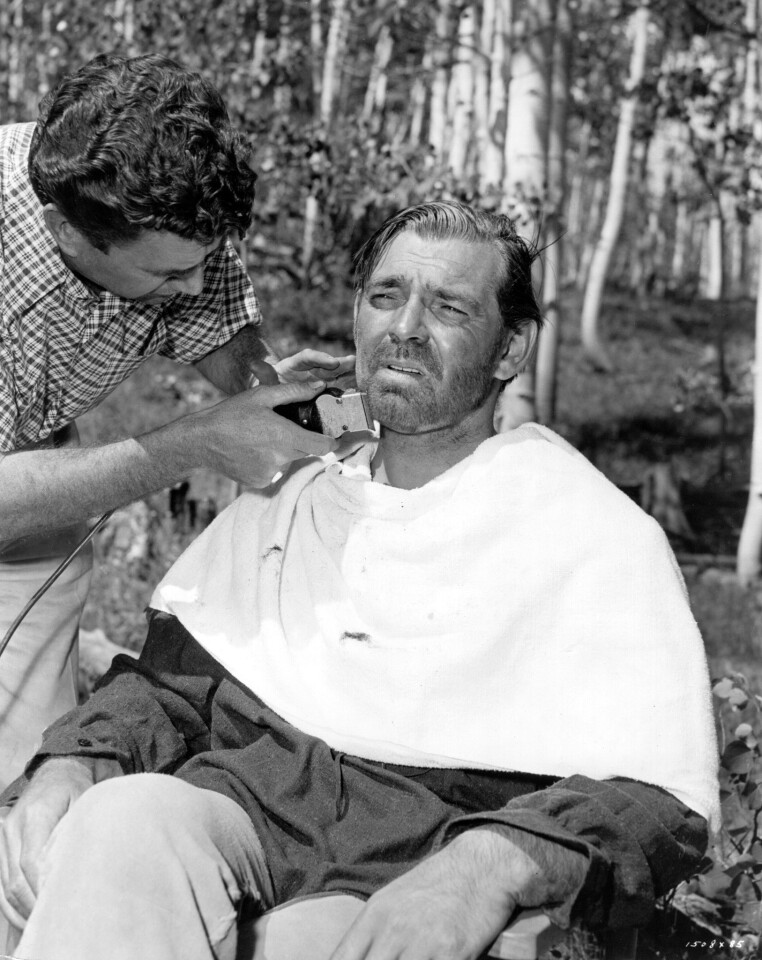 1951: Clark Gable having a shave during filming of the MGM production "Across the Wide Missouri."
(MGM Studios/Getty Images)
Circa 1923: Mildred Harris, a leading lady and first wife of Charlie Chaplin, is applying make-up on the beach between production shoots.
(Edward Gooch/Getty Images)
Circa 1937: Dorothy Lamour, playing with "Jiggs" the chimpanzee, while on location in Palm Springs for "Her Jungle Love."
(Hulton Archive/Getty Images)
Comedy team Jerry Lewis and Dean Martin performing on the set of the television show "Hollywood vs TV."
(Gene Lester/Getty Images)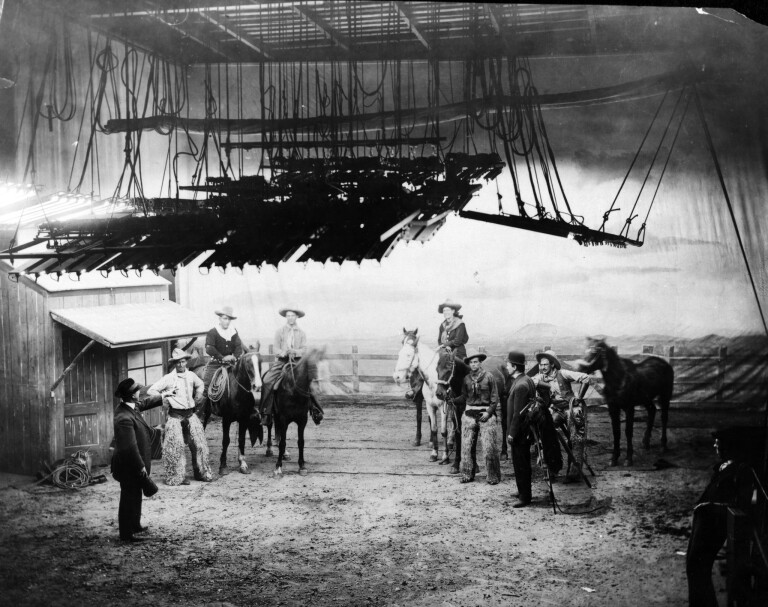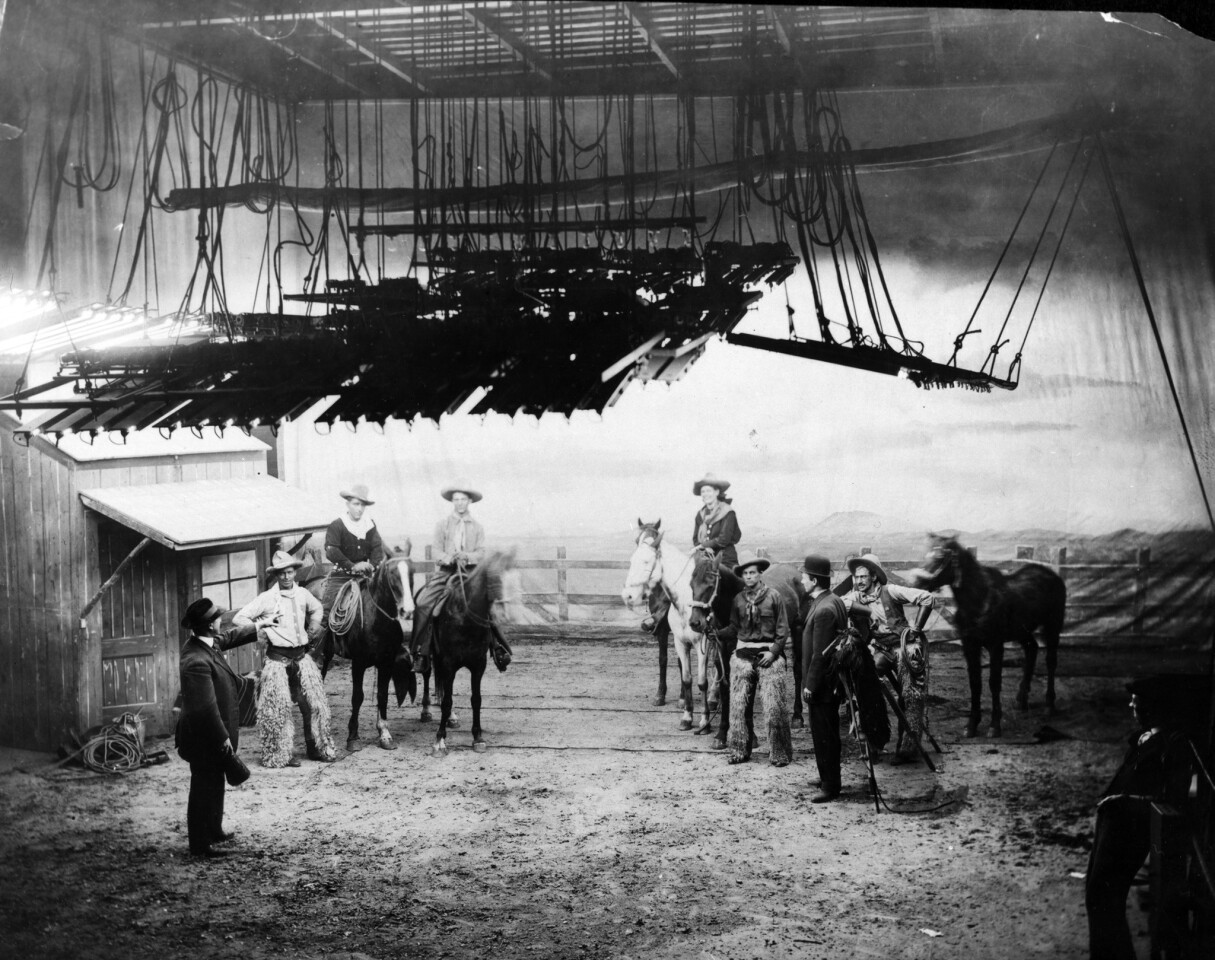 Circa 1915: Filming a Broncho Billy movie at Essanay Studios in Chicago. Broncho Billy, America's first cowboy hero of the silver screen, is the second figure from the left, wearing chaps and a white hat.
(Chicago History Museum/Getty Images)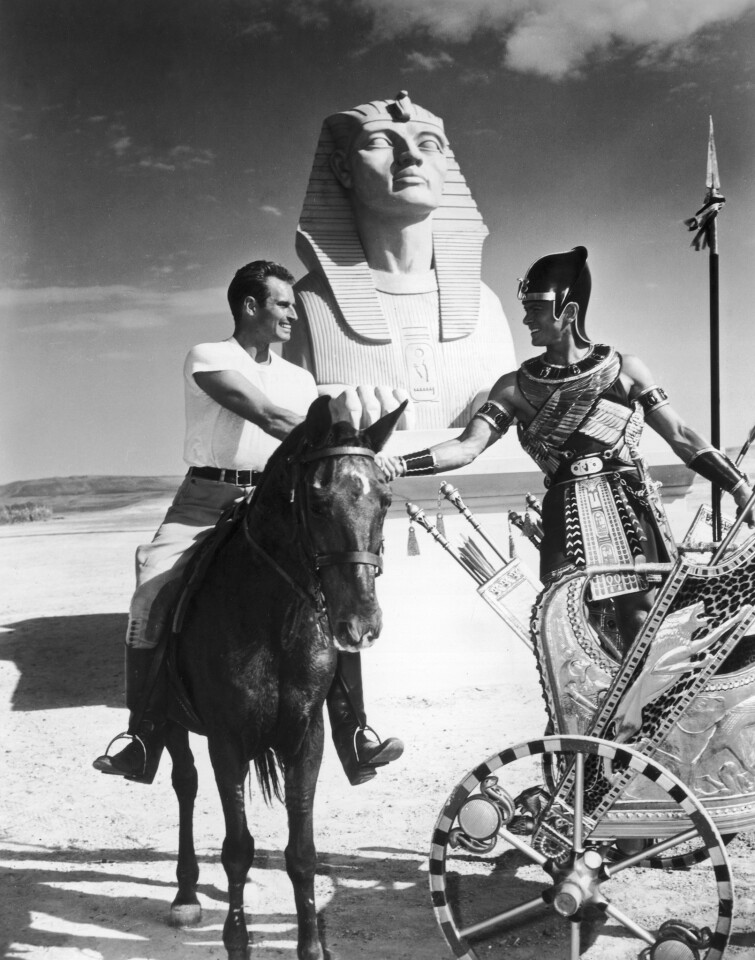 1955: Charlton Heston, left, rides on horseback while shaking hands with Yul Brynner, who stands in a chariot before filming the chase sequence on the set of director Cecil B. DeMille's film, "The Ten Commandments."
(Hulton Archive/Getty Images)
Barbra Streisand offers a cup of coffee to Prince Charles as they chat on a set at Warner Bros. studio in Los Angeles on March 19, 1974. The Prince is visiting Southern California while his ship is docked in San Diego.
(DFS/Associated Press)
Al Pacino, center, is on the set of "Author! Author!" in New York City's Washington Square on Oct. 20, 1981.
(David Handschuh/Associated Press)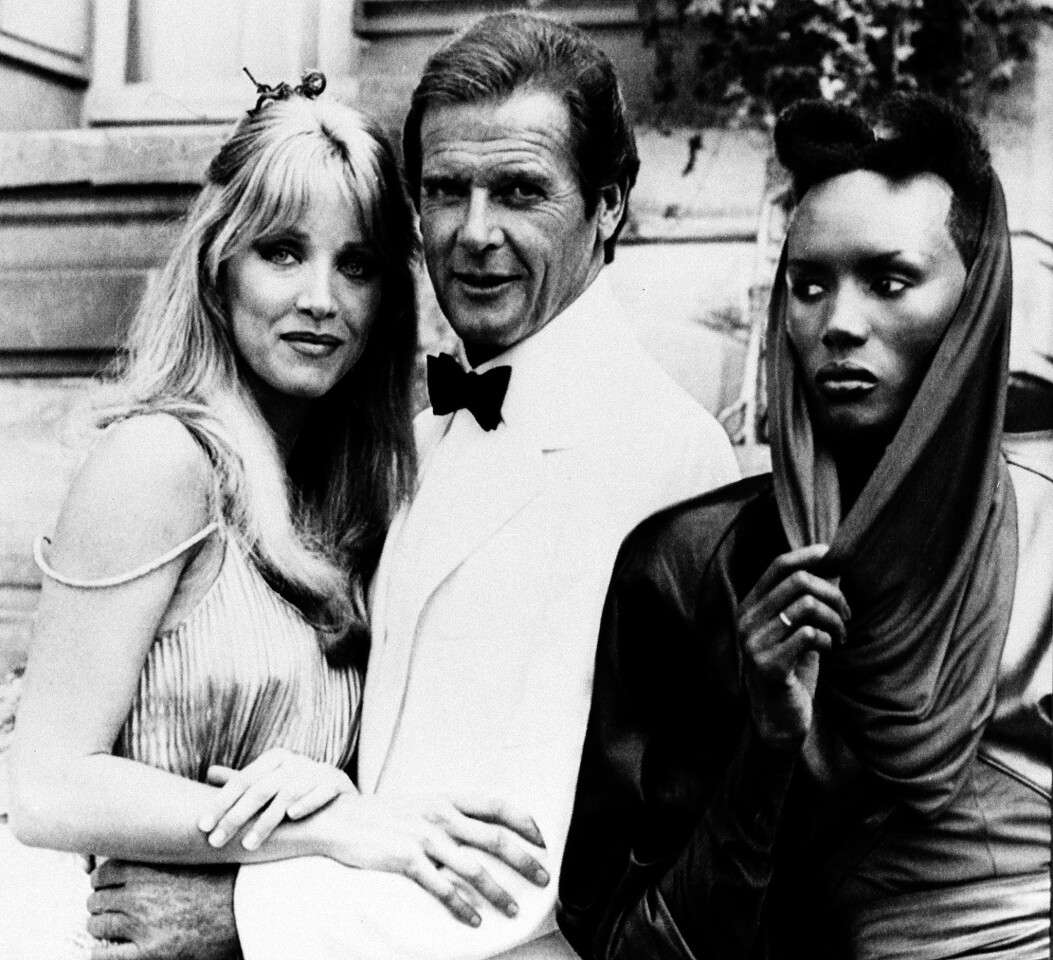 In this Aug. 17, 1984, photo, actor Roger Moore, as British secret agent James Bond, is seen with his costars Tanya Roberts, left, and Grace Jones on the set of "A View to a Kill," near Paris, France.
(Alexis Duclos/Associated Press)
Actor Larry Hagman on the set of his TV series "Dallas" on Feb. 2, 1979.
(George Brich/Associated Press)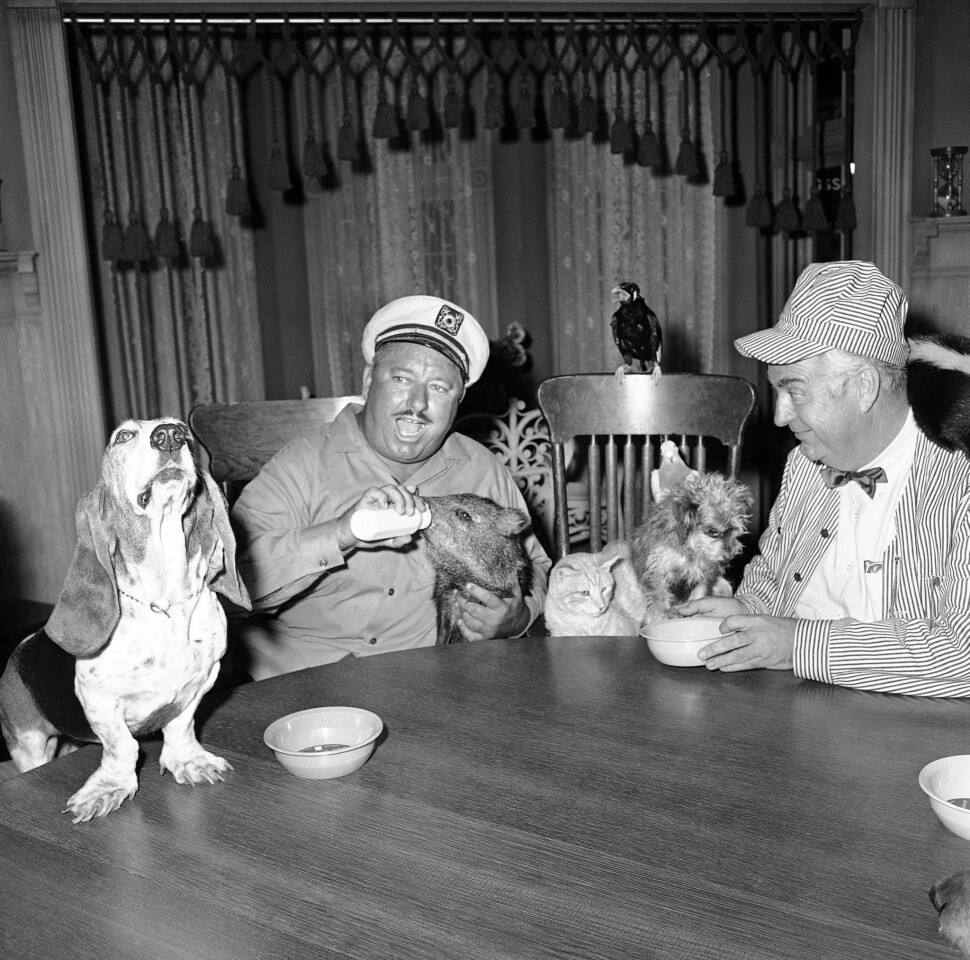 Phoebe, a mynah bird and one of the stars of the TV series "Petticoat Junction," perches on the back of a chair during a break in filming in Hollywood on Aug. 9, 1963.
(David F. Smith/Associated Press)
Elizabeth Taylor leaves the set of "The VIPs" at London Airport on March 20, 1963. Taylor was following in the wake of her costar, Richard Burton, who had stormed off the set complaining about the crowd of onlookers milling about.
(Victor Boynton/Associated Press)
Buster Keaton, comic film actor from the silent era, dressed as Santa Claus, and Bobbi Shaw as Santa's helper are on the set of "Beach Blanket Bingo" in Los Angeles on Dec. 17, 1964.
(DAD/Associated Press)
James Whitmore points out buildings of the Manhattan skyline to British actress Deborah Kerr on a Hollywood sound stage, Sept. 18, 1949. The backdrop was prepared for a scene in "Please Believe Me."
(Frank Filan/Associated Press)
Technicians rig wires and charges in preparation for blasts and fires to be set off in buidings along a recreated Los Angeles street for the film "The War of the Worlds" on June 6, 1952. The houses are painted to match existing buildings in Los Angeles.
(Ellis R. Bosworth/Associated Press)
General view of the set built at Chatsworth, Calif., for "The Big Fisherman" on Oct. 24, 1958. The buildings depict the city of Tiberias built on a hill overlooking the Sea of Galilee. In the foreground are extras dressed as Roman soldiers awaiting their cue to ride.
(David F. Smith/Associated Press)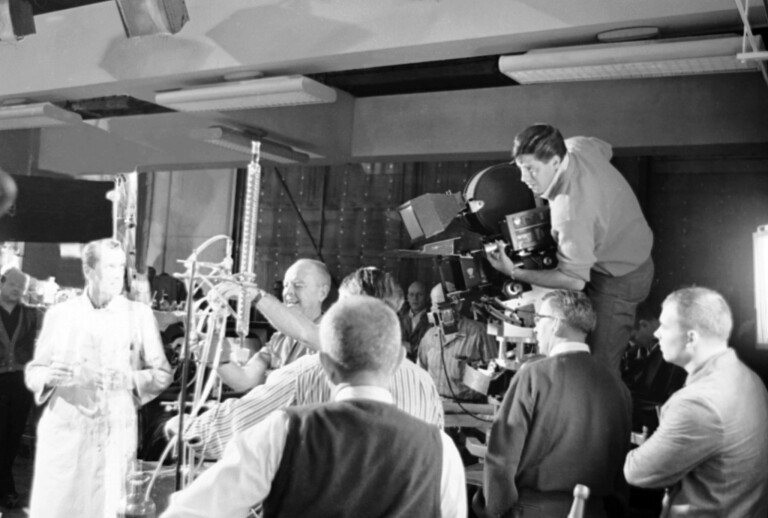 Director Jerry Lewis, right, checks camera angle on the set of "The Nutty Professor" on Dec. 3, 1962, in Los Angeles.
(David F. Smith/ Associated Press)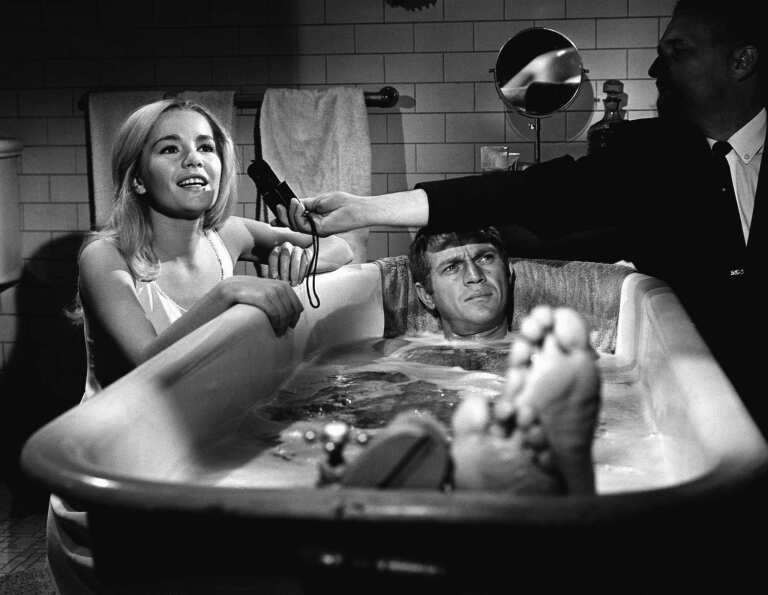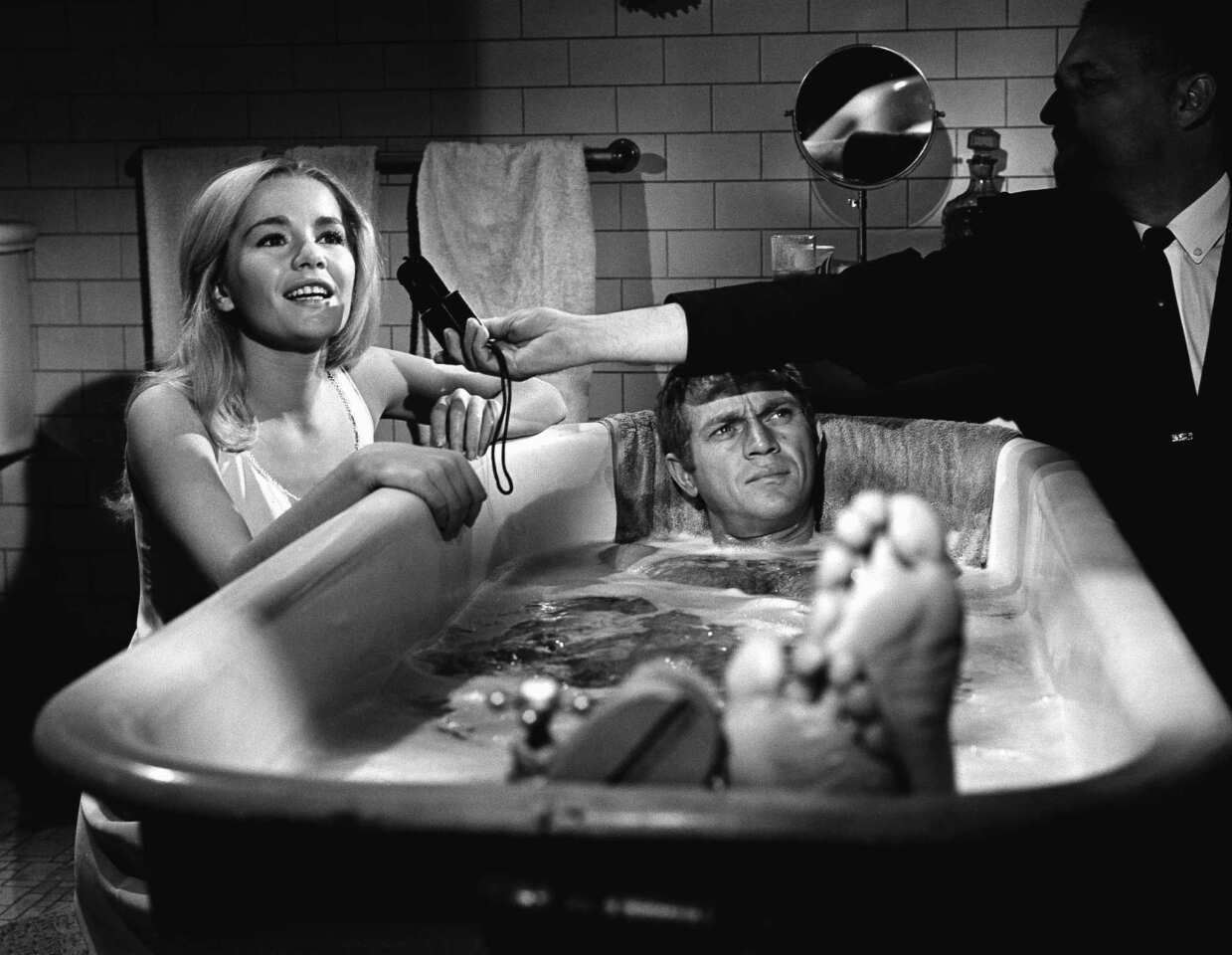 Tuesday Weld and Steve McQueen on the set of "The Cincinnati Kid" in 1965. Cameraman Phil Lathrop is taking a light meter reading before filming the scene.
(MGM/Associated Press)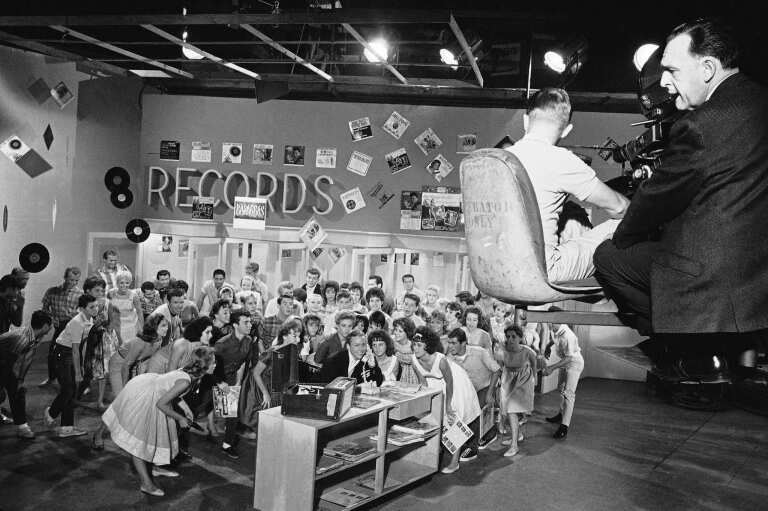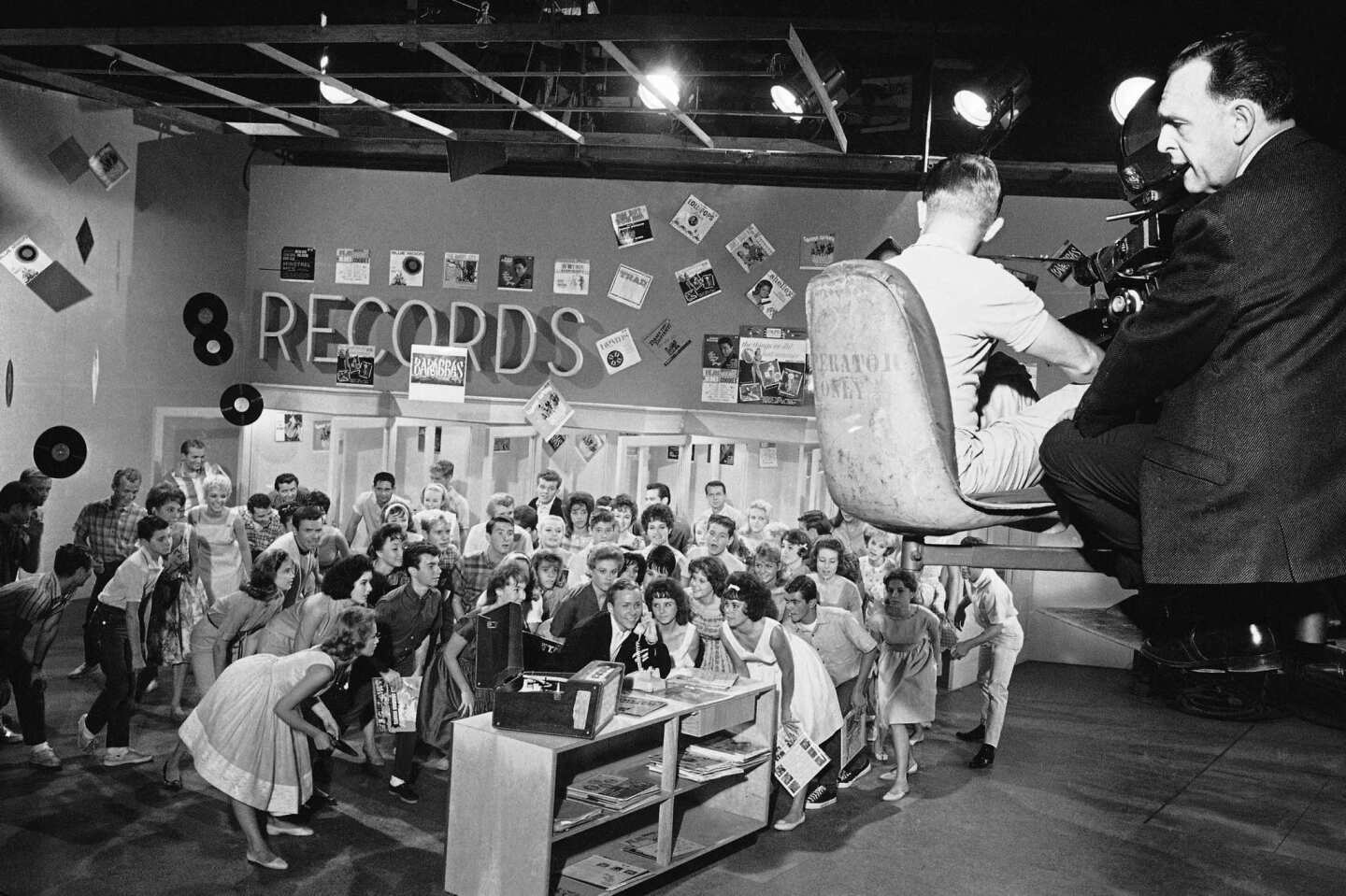 Scores of teen-agers film a musical number for "Bye, Bye, Birdie" on Jan. 10, 1963. Director George Sidney is on the camera crane.
(Don Brinn/ Associated Press)
Director Michael Cimino, left, talks with actor Robert De Niro, wearing beret, during a break in filming of "The Deer Hunter" on location in Bangkok, Thailand, on Sept. 11, 1977.
(Neal Ulevich/Associated Press)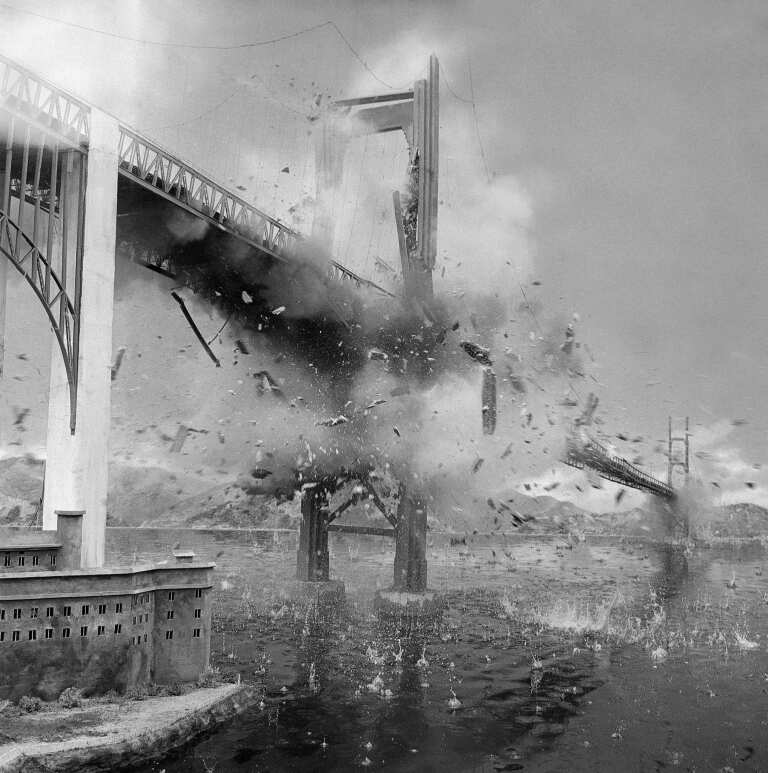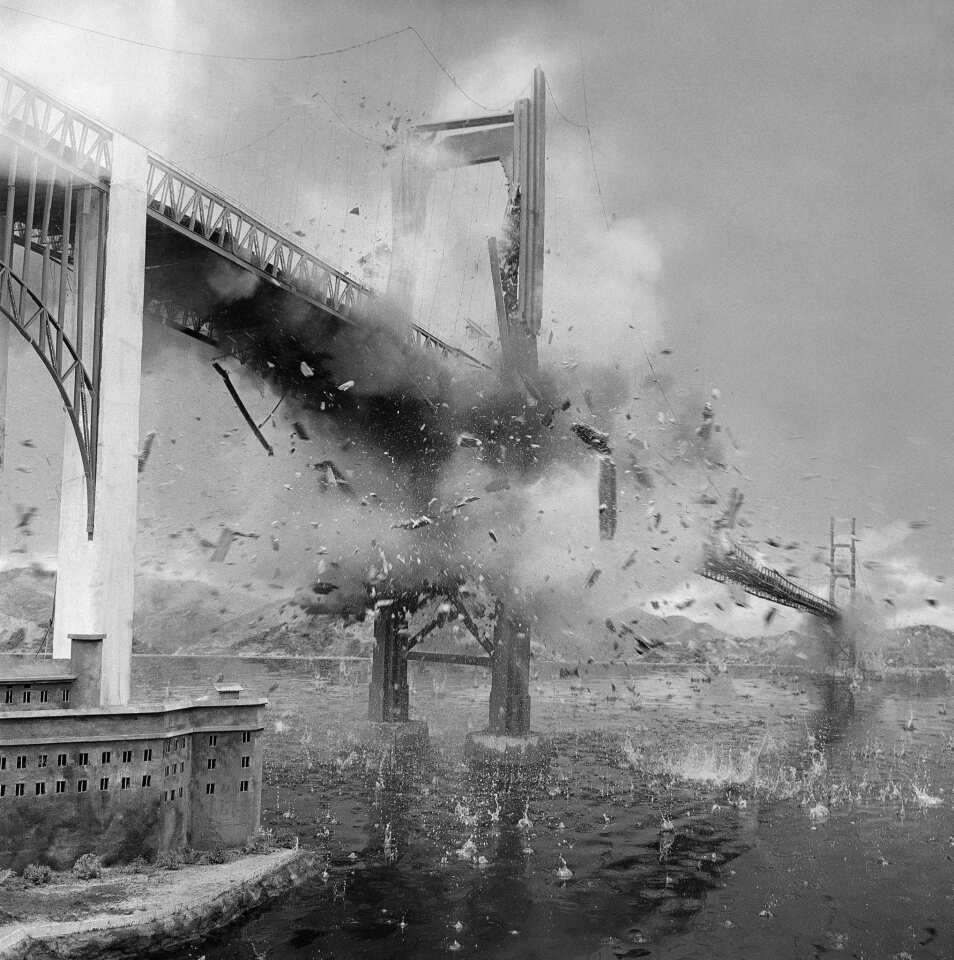 A model of San Francisco's Golden Gate Bridge is blown up in "41 Days of Terror" on Oct. 25, 1960.
(Nobuyuki Masaki/ Associated Press)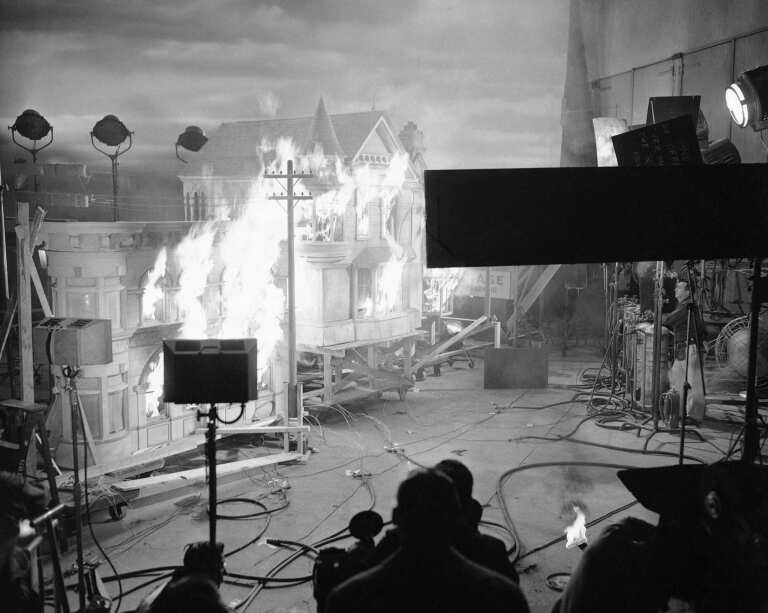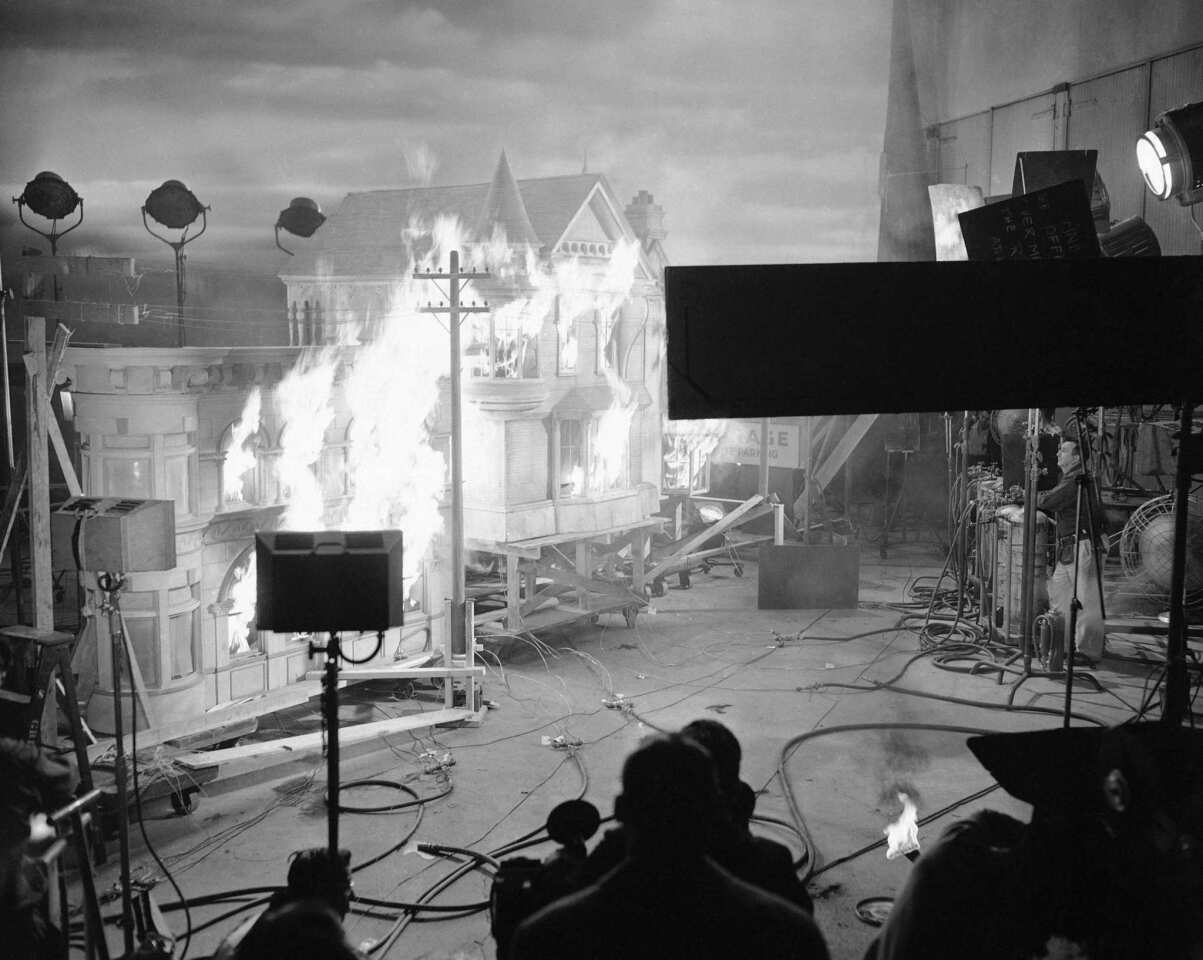 A scale model of a Los Angeles street goes up in flames on a Hollywood sound stage during filming of the scene from "War of the Worlds" on June 6, 1952.
(Ellis R. Bosworth/ Associated Press)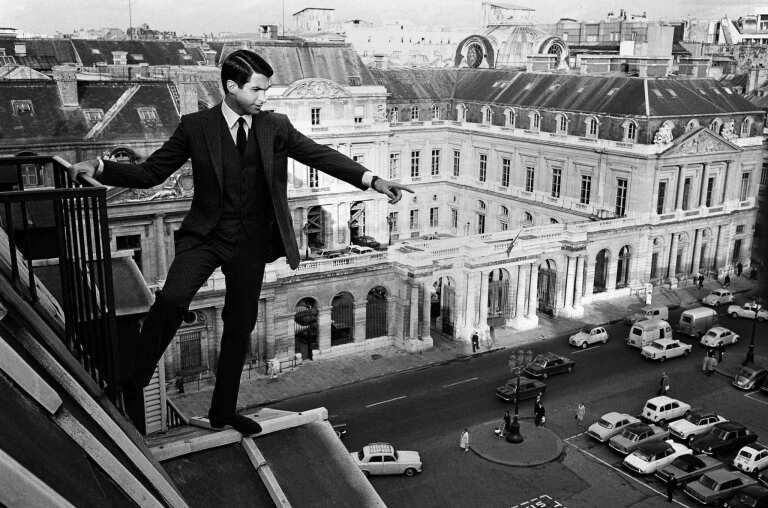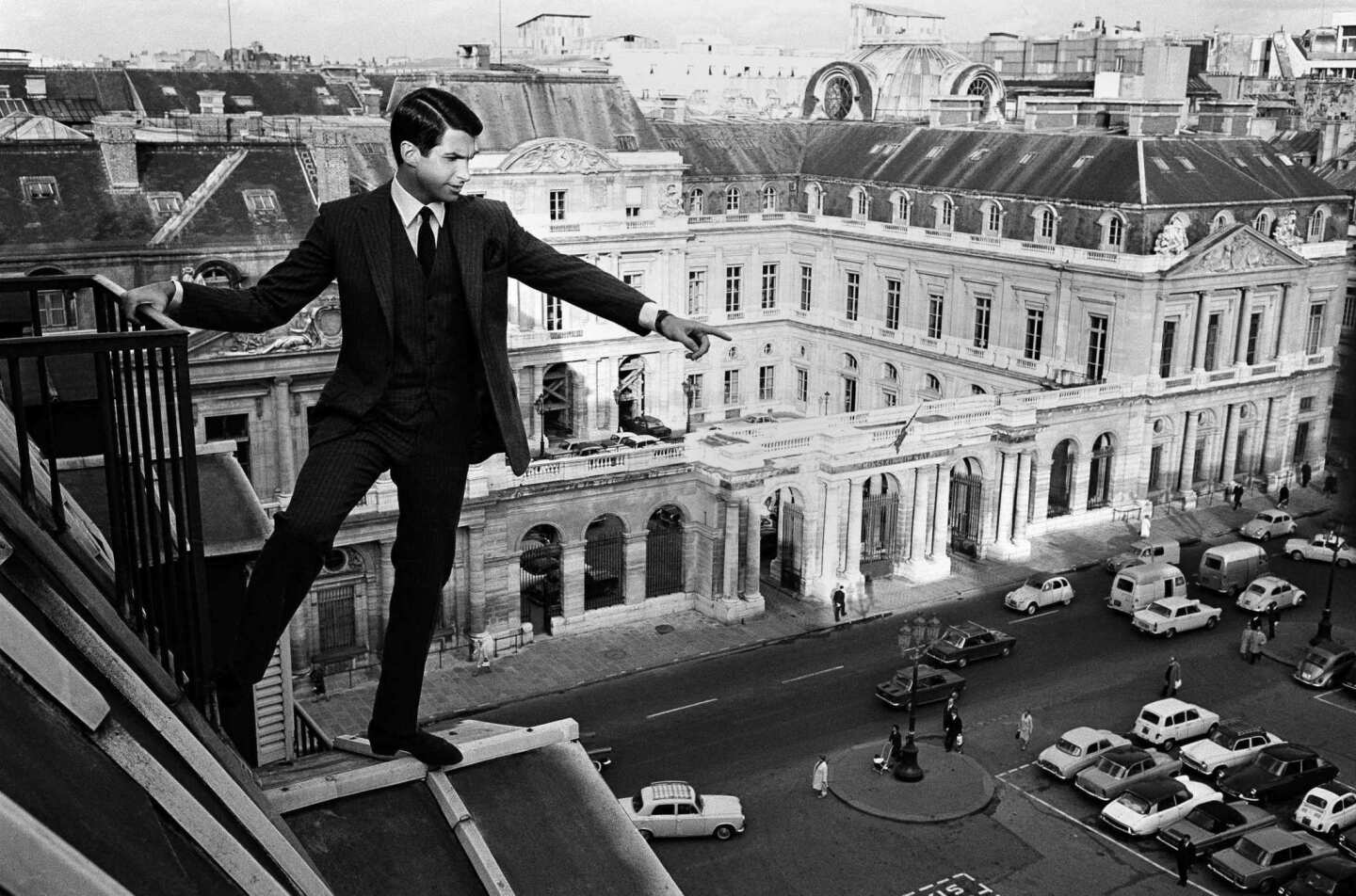 George Hamilton walks on the roof of the Hotel Louvre during filming of "Jack of Diamonds" on Oct. 17, 1966, in Paris.
(Jean Jacques Levy/Associated Press)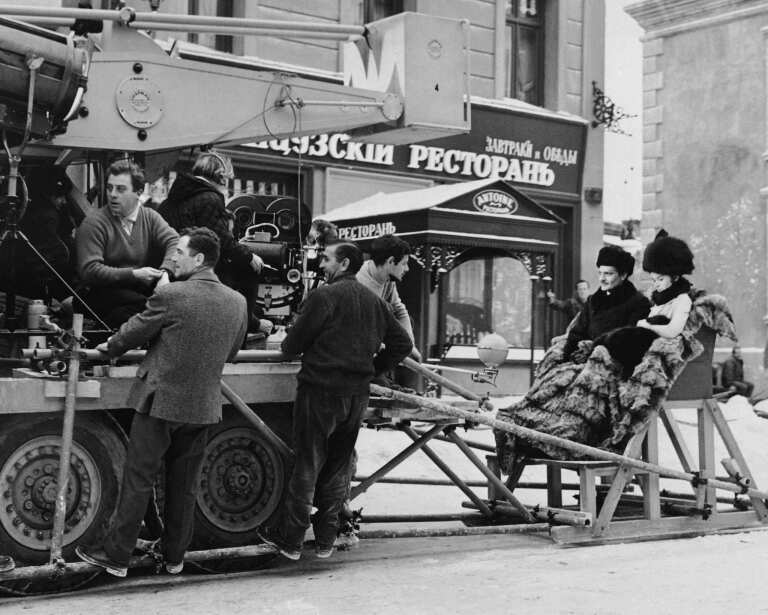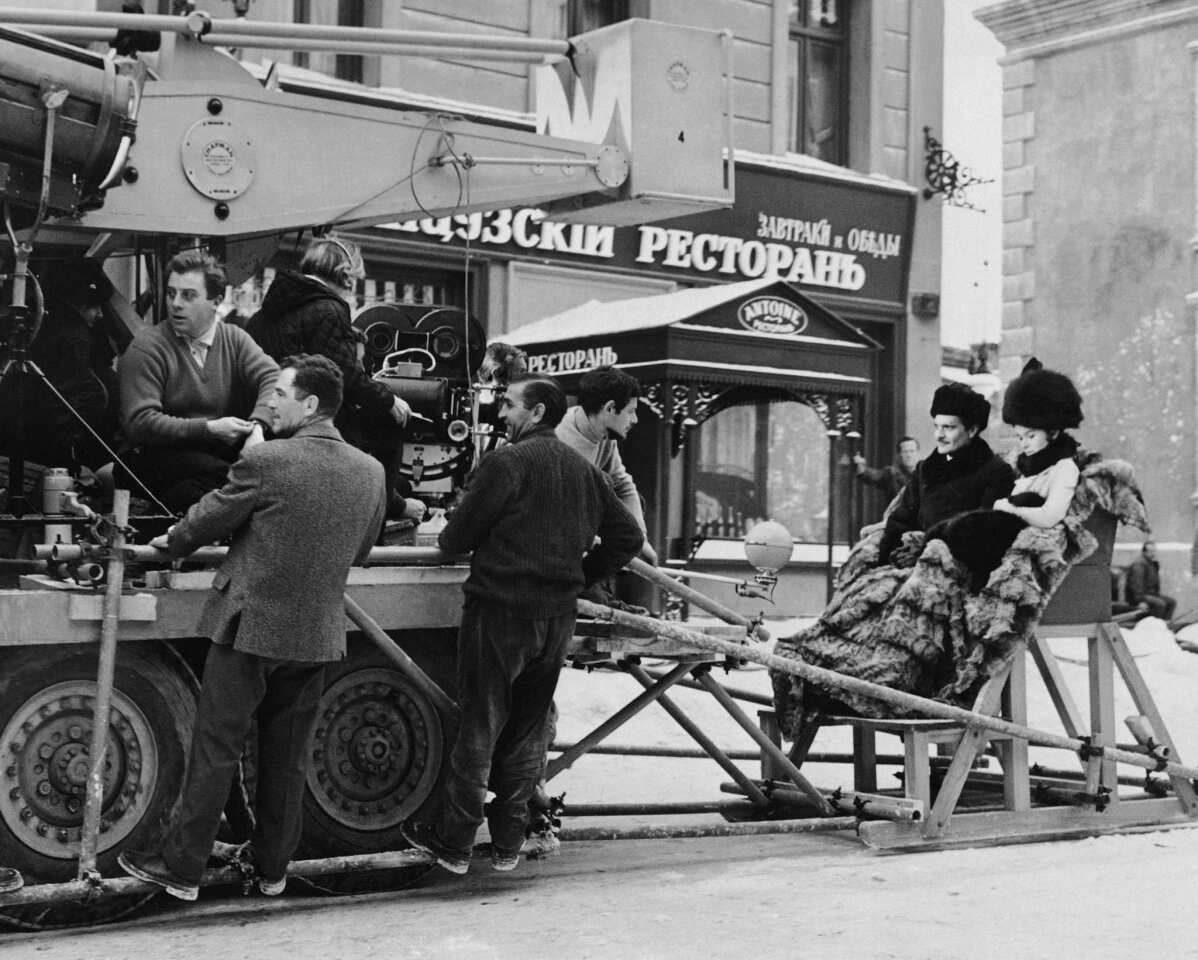 Stars Omar Sharif and Geraldine Chaplin wait while a photography crew checks a camera during filming of "Doctor Zhivago" in Spain.
(MGM/Associated Press)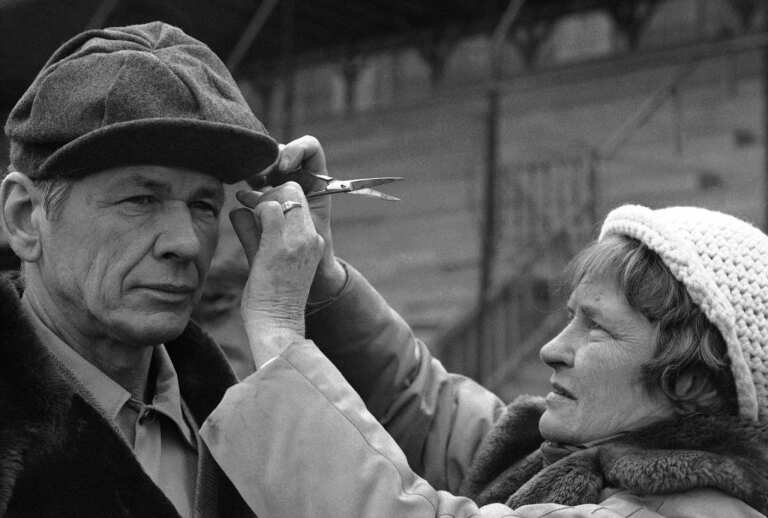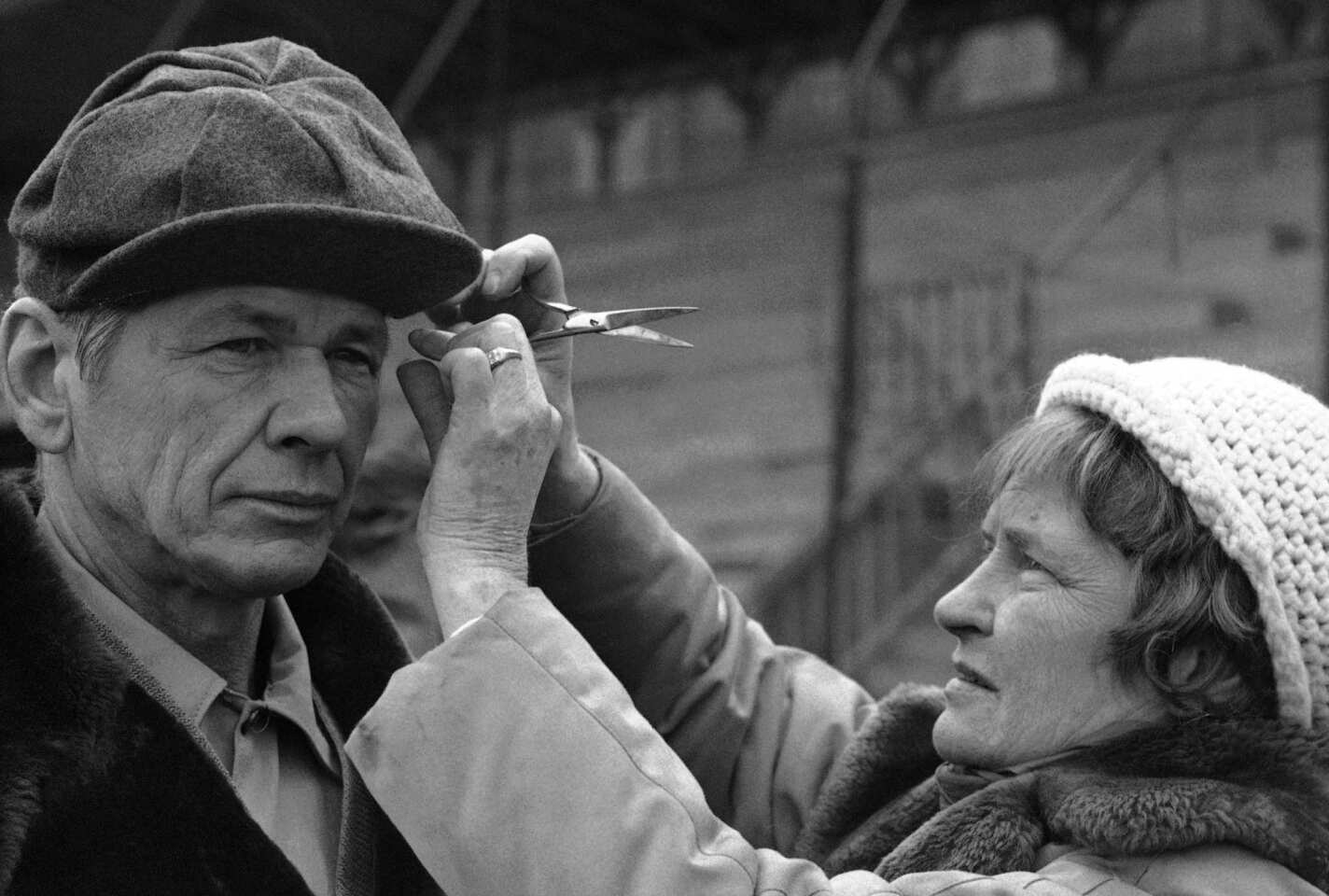 Actor Charles Bronson, at Sing Sing in Ossining, N.Y., on March 30, 1972, while cameras roll for "The Valachi Papers."
(Ron Freh/ Associated Press)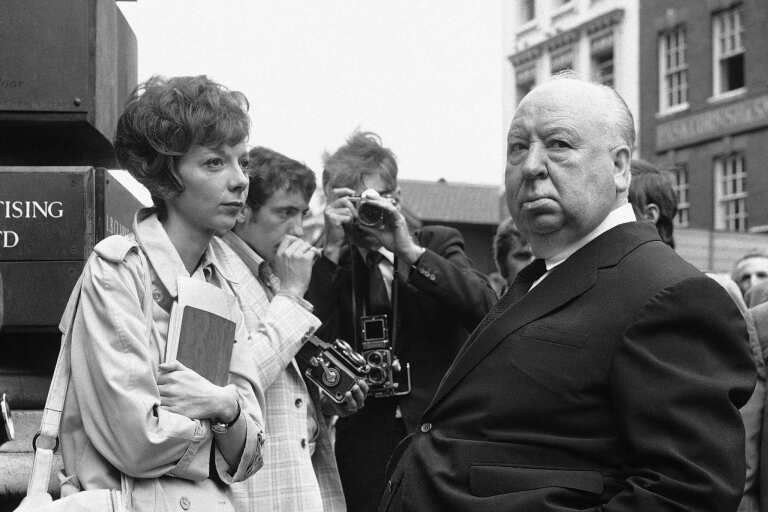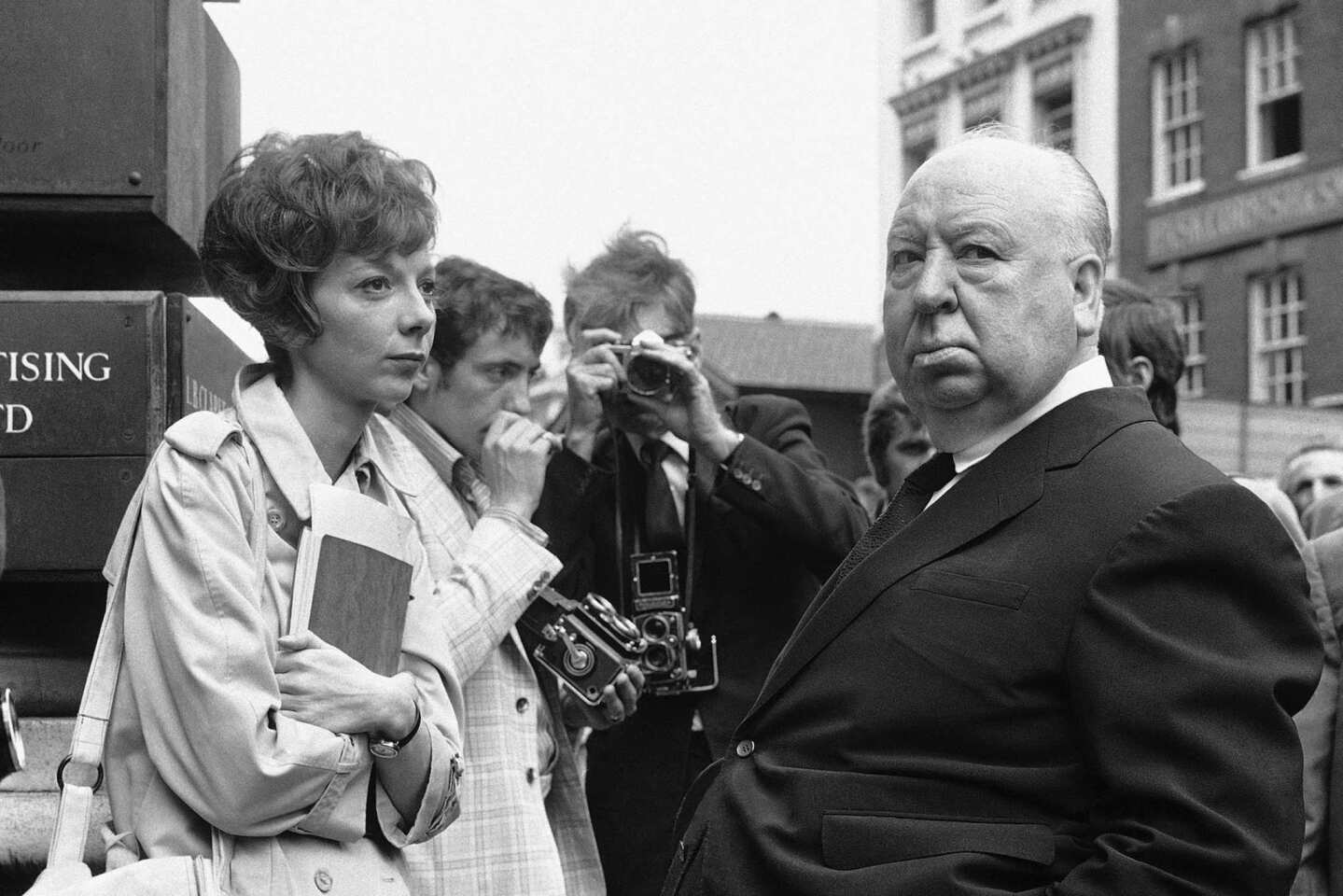 In this July 26, 1971, photo, Alfred Hitchcock, right, discusses filming with actress Anna Massey, one of the stars of "Frenzy", in Covent Garden Market in London.
(Leonard Brown/ Associated Press)
Director Ron Howard takes a seat behind the camera during the production of his comedy "Gung Ho" while on location at the Allegheny County Airport near Duquesne, Pa., in August 1985. At right is his father, actor Rance Howard, who has a cameo.
(Keith B. Srakocic/Associated Press)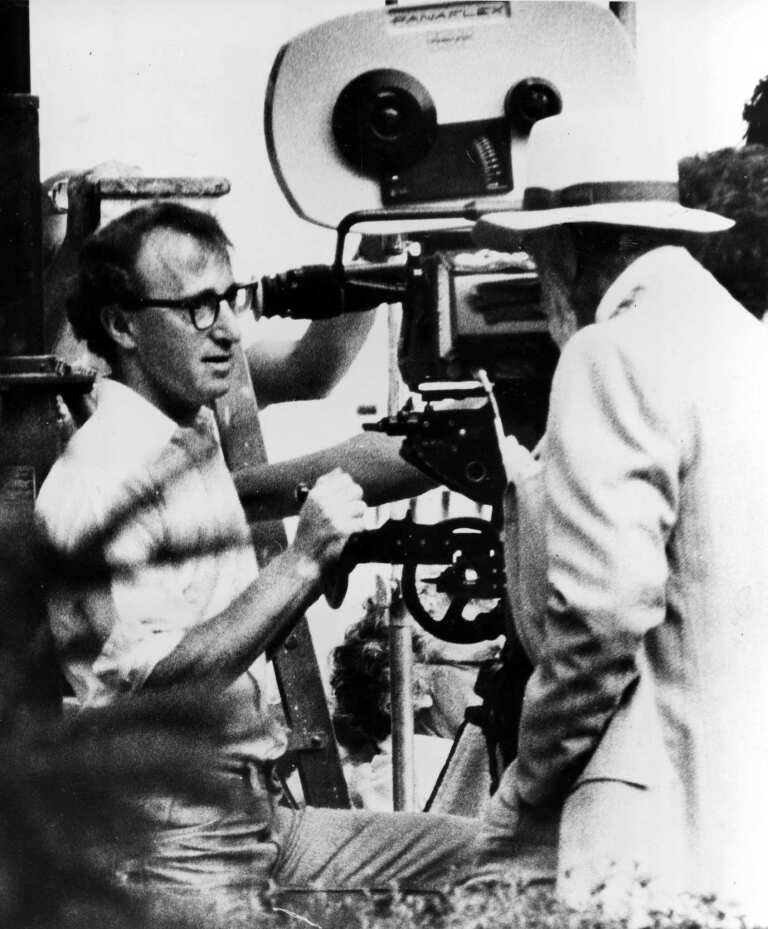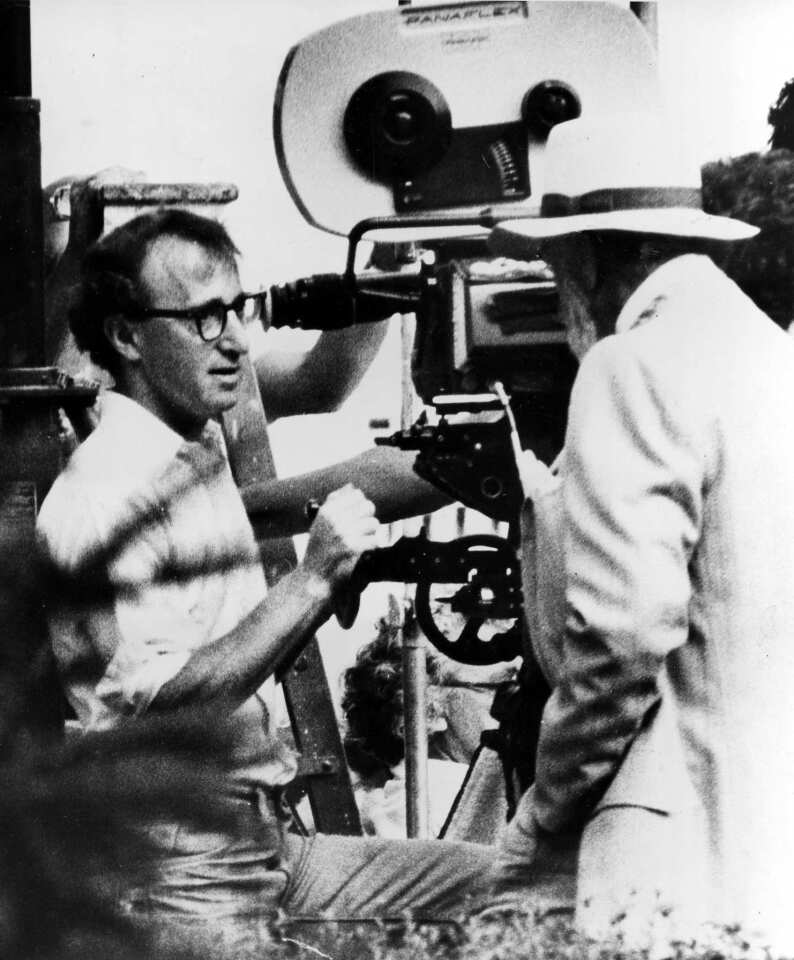 Director Woody Allen chats with Oscar-winning actor Jose Ferrer, right, during the production of his comedy "A Midsummer Night's Sex Comedy" in New York's Upper West Side on Aug. 18, 1981.
(Loren Portnow/ Associated Press)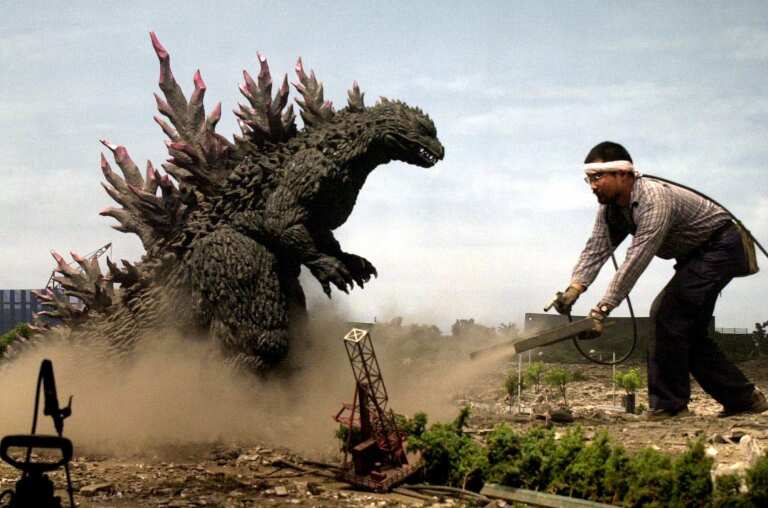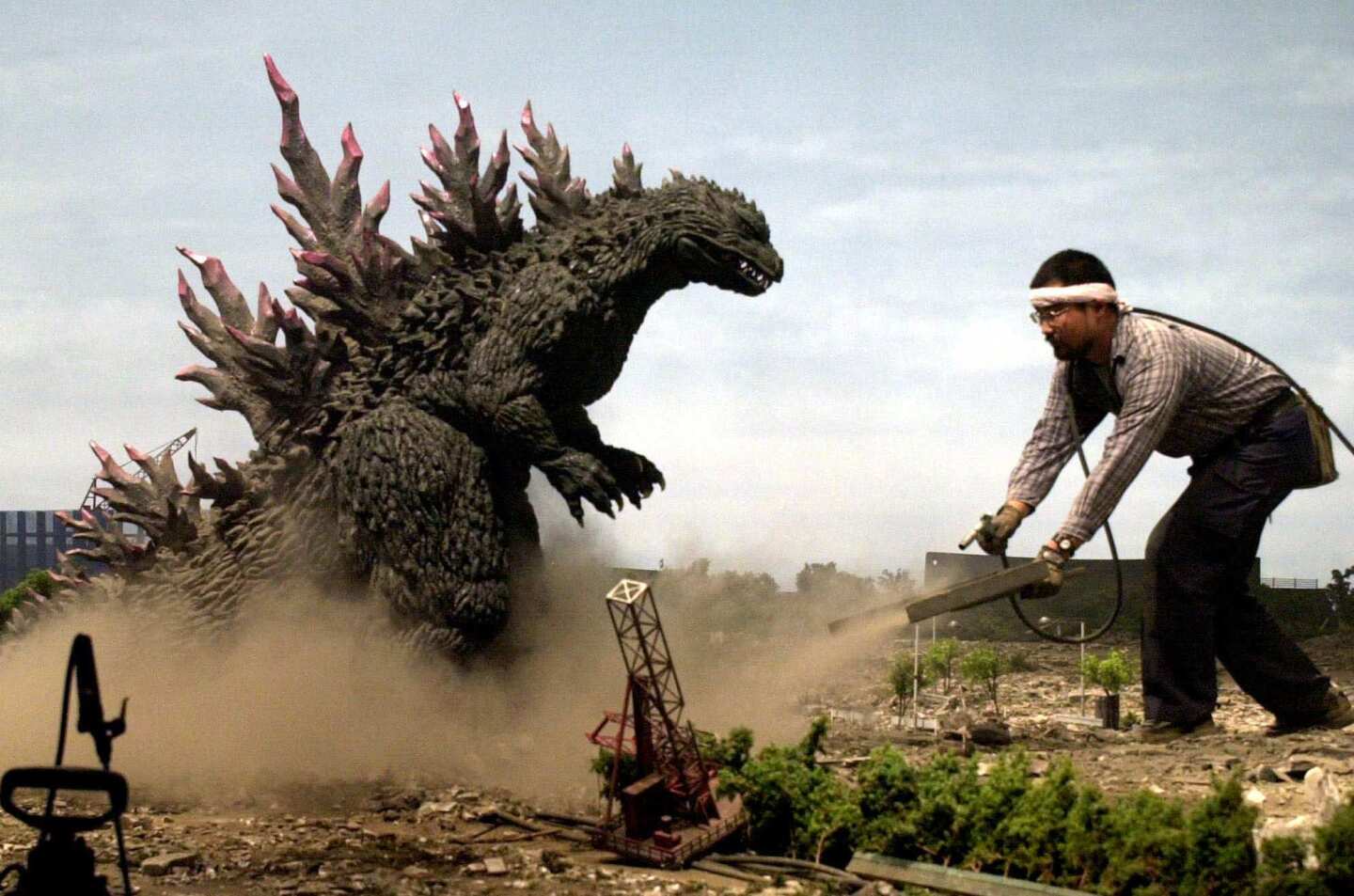 The legendary movie monster Godzilla creates a dust storm during the production of the Toho production company's 24th Godzilla movie at its studio in Tokyo on Aug. 3, 2000. During the production of "Godzilla vs. Megaguirus," 1,500 of the monster's fans applied to a week-long "see Godzilla filming" tour organized by Toho and a travel agency.
(Tsugufumi Matsumoto/Associated Press)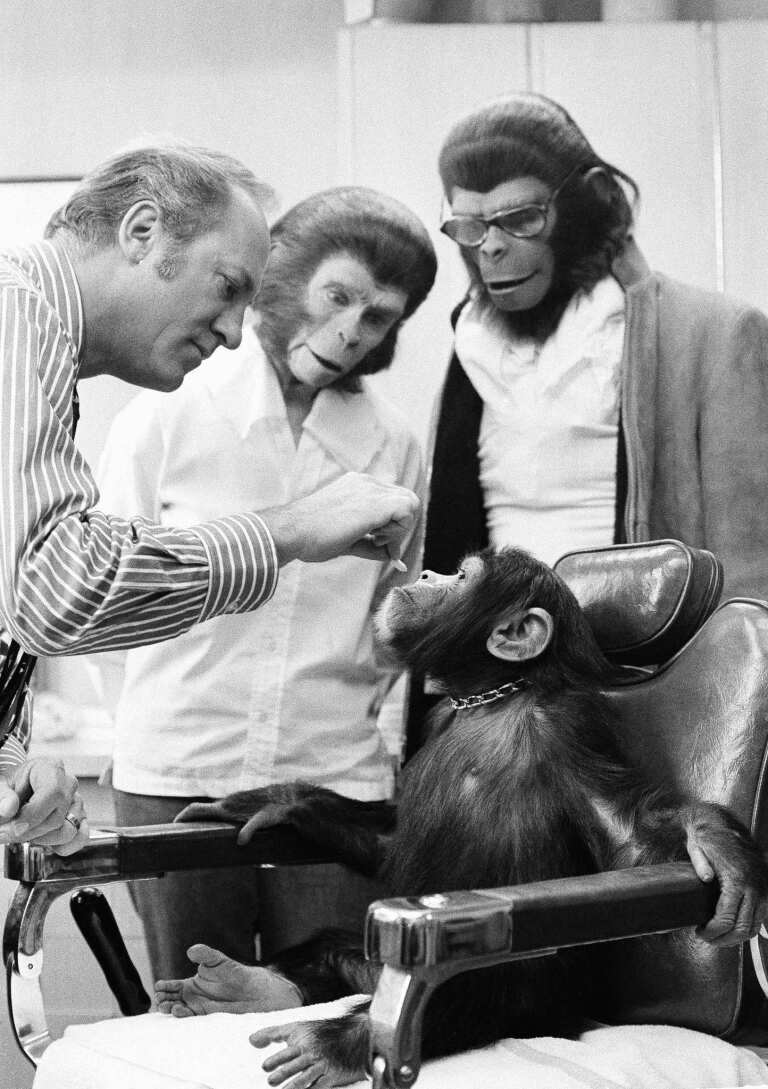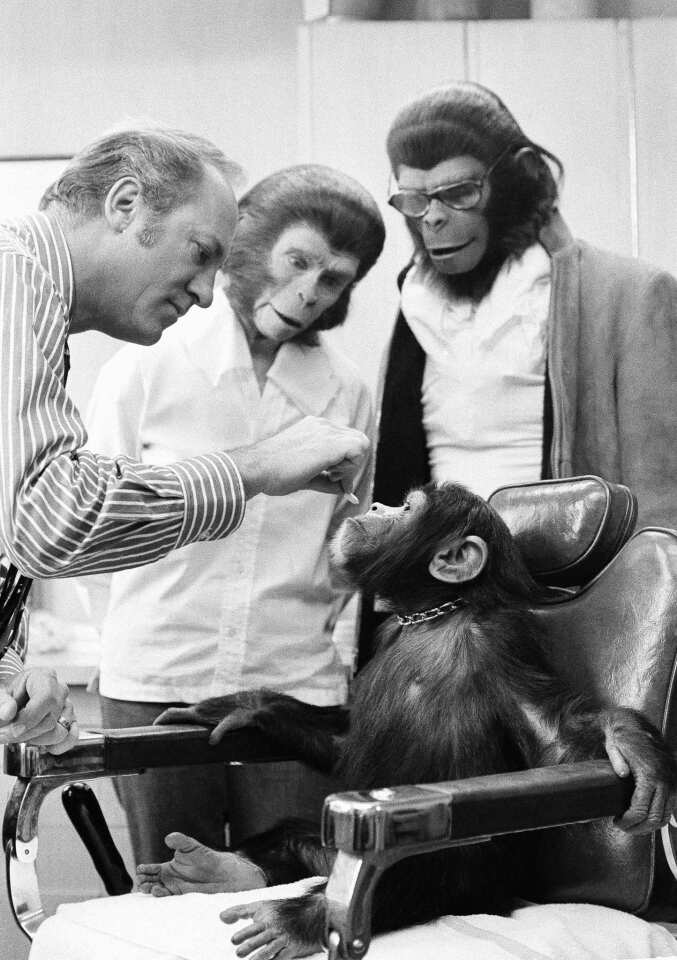 A real chimp, Kelly, is getting a human-style plastic nose for his role in "Escape from the Planet of the Apes" because his nose is flatter than the actors in ape makeup. A film technician, left, applies the nose while actors Kim Hunter and Roddy McDowell look on in Hollywood on Jan. 20, 1971.
(David F. Smith/Associated Press)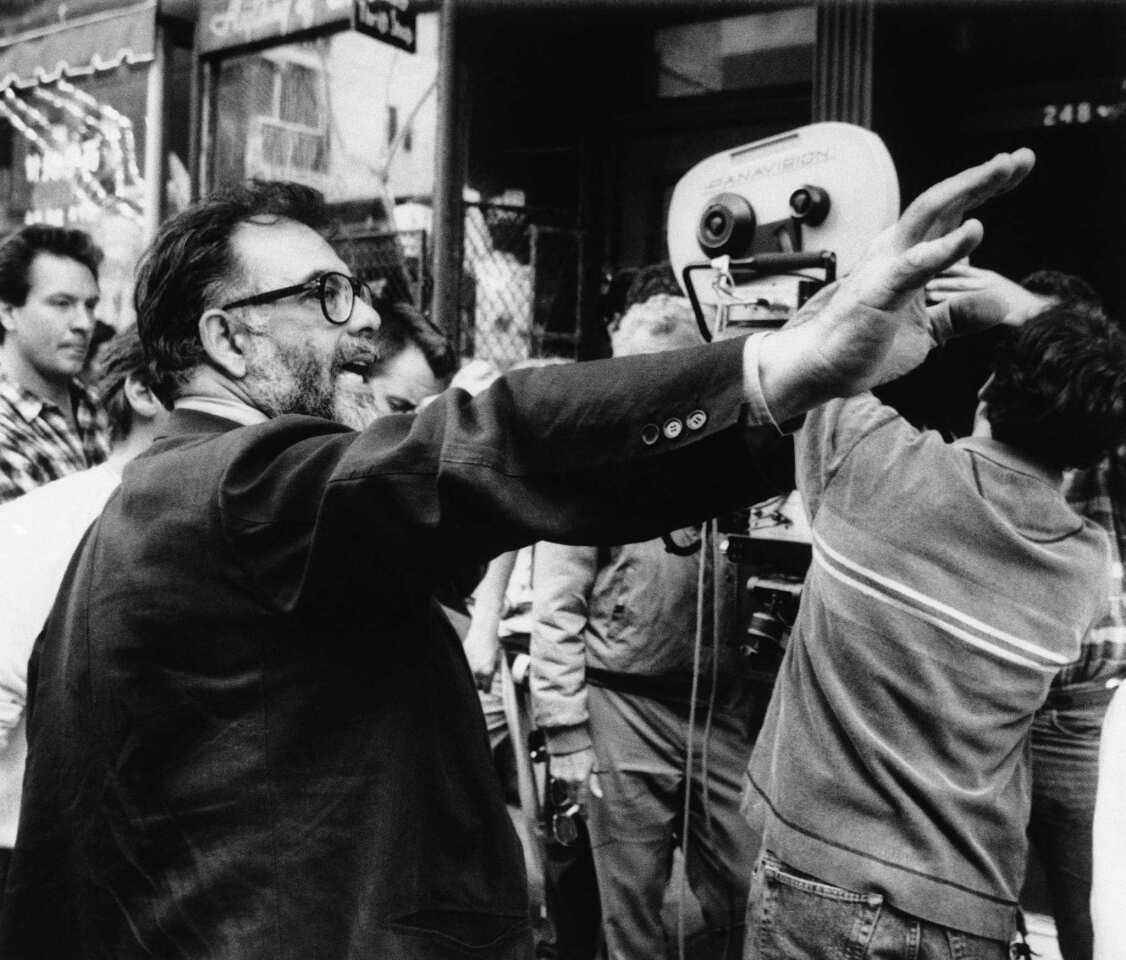 Director Francis Ford Coppola instructs his crew as they set up to shoot a scene in New York's Little Italy for "The Godfather III" on May 19, 1990.
(Gene Page/Associated Press)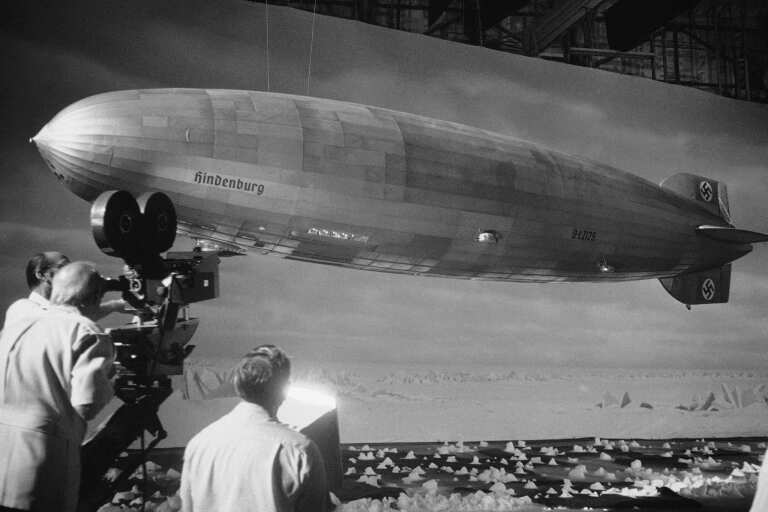 Special effects artists shoot the model of the dirigible the Hindenberg during the filming of Robert Wise's "The Hindenberg" on Aug. 18, 1974, at Universal Studios in Los Angeles.
(David F. Smith/ Associated Press)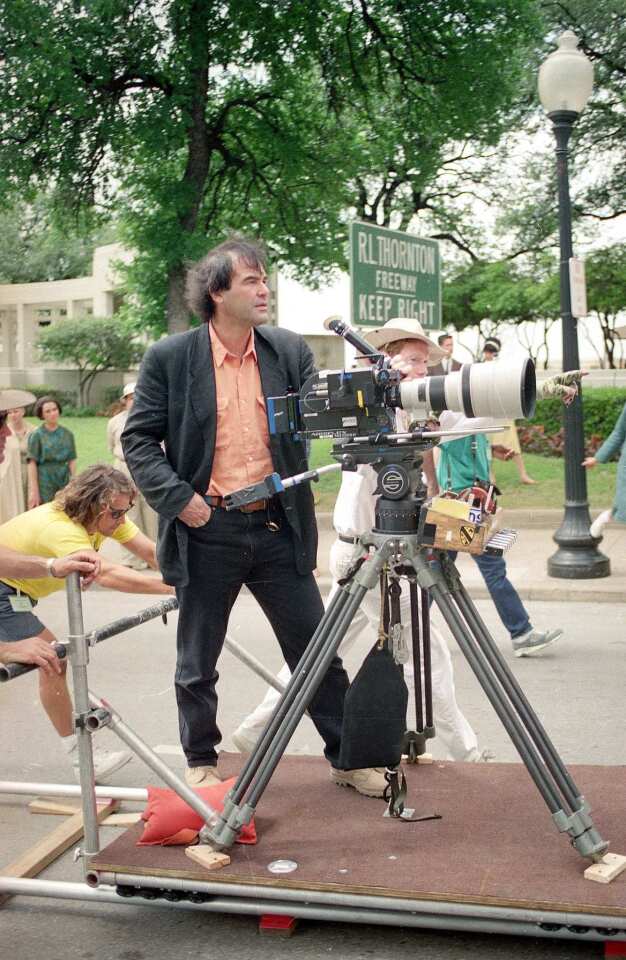 Two-time Oscar-winning film director Oliver Stone ("Platoon," "Born on the Fourth of July") gets a look at a camera angle for a motorcade scene in his film "JFK" in Dallas, Texas, on April 17, 1991.
(Pat Sullivan/Associated Press)
The American Cinematheque and Art Directors Guild Film Society series, "Setting the Scene," continues Sunday at the Aero Theatre in Santa Monica with a screening of Orson Welles' 1958 film noir masterpiece, "Touch of Evil."
Besides screening the restored version of the classic, which stars Welles, Charlton Heston, Janet Leigh, Mercedes McCambridge and Marlene Dietrich, the program will celebrate the career of the film's production designer and ADG 2013 Hall of Fame inductee Robert Clatworthy.
Clatworthy, who died in 1992, won the Oscar for his work on 1965's "Ship of Fools," and was nominated for Alfred Hitchcock's 1960 masterwork, "Psycho," the 1962 Doris Day comedy, "That Touch of Mink," the 1965 Depression-era Hollywood tale, "Inside Daisy Clover" and Stanley Kramer's 1967 drama, "Guess Who's Coming to Dinner."
Following the screening, there will be a Q&A moderated by production designer Thomas A. Walsh with Norm Newberry, Universal Studio veteran and supervising art director, production and theme park designer.
ALSO:
Wendy Davis' 13-hour Texas filibuster: Five similar movies
Pedro Almodovar books trip back to sexy comedy in 'I'm so Excited'
Magnificent 'Wild Horses' at the Palm Springs Short Festival
---
The complete guide to home viewing
Get Screen Gab for weekly recommendations, analysis, interviews and irreverent discussion of the TV and streaming movies everyone's talking about.
You may occasionally receive promotional content from the Los Angeles Times.