CinemaCon: Clint Eastwood on why 'American Sniper' was so big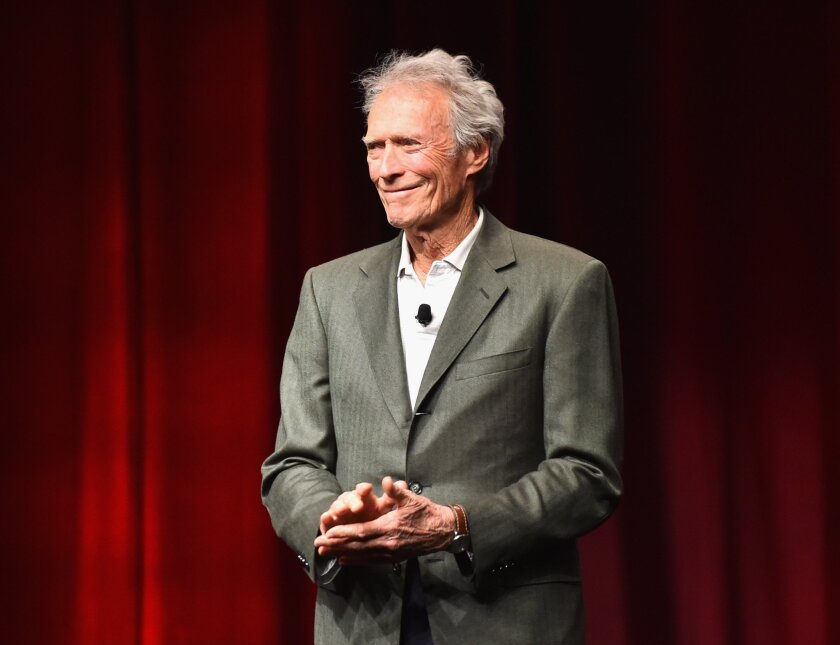 Reporting from Las Vegas —
Clint Eastwood's "American Sniper" grossed more at the domestic box office than any other film released last year — nearly $350 million.
Hollywood was stunned by the success of the film, given that it was an adult-oriented, R-rated war drama and not a superhero tent pole. But its 84-year-old director wasn't surprised that the film so deeply touched Americans: He saw the response as a sign that the country is looking to connect with the human side of war.
"There's been a lot of news in this last year about the wars in Afghanistan and Iraq, and everybody has opinions on it, but nobody has really thought about it from the point of view of the people that go there," said Eastwood. "It opens a lot of questions that are fun to broach."
Eastwood was at CinemaCon in Las Vegas this week to receive Fandango's Fan Choice Award and sat down for an interview in front of theater owners on Wednesday to celebrate the honor. As is typically the case in such Q&A sessions, Eastwood was asked to reflect on his early days in Hollywood, sharing the first film that had an effect on him ("Sergeant York") and his directorial influences (Sergio Leone and Don Siegel). Asked why he decided to make the jump from acting to directing, Eastwood said it had to do with "natural curiosity" and "absolute control."
"After a while you think, 'Yeah, I'd like to do this,'" he said. "'Someday you're going to look up on the screen, Eastwood, and see a guy you don't want to see anymore. Then you can direct.'"
On set, he said, he likes to stay out of the way as actors work — and he doesn't like being bothered by people.
"You answer about 400 questions a day, and, after a while, you kind of don't know what you're thinking," he said. It's very annoying when people ask you the same thing twice, so you start rationing out what you're going to talk about."
Eastwood took over the directing reins on "American Sniper" from Steven Spielberg, who was forced to drop out of the project due to a scheduling conflict.
"I did call him and say, 'I'm taking your leftovers,'" Eastwood said. "He said, 'No, no, it'll be great.' ... He was very supportive of me doing it."
Eastwood went on to credit the success of the film partly to Warner Bros.' marketing team and also to those who publicly maligned it, including Michael Moore. (The "Fahrenheit 9/11" director said that snipers were "cowards" and said the movie owed its ticket sales to the "'Passion of the Christ' crowd.")
"That's his opinion. Everybody keeps saying I threatened to kill Michael Moore. That's not true," Eastwood said, taking a long pause. "It isn't a bad idea."
As for his plans in Sin City tonight, Eastwood likely won't be hitting the slots. He already has plans to see his son Scott's big acting debut in "The Longest Ride," the Nicholas Sparks adaptation that hit theaters April 10.
"I'll see if he's a chip off the old block," the elder Eastwood said. "I'll probably not try to say too much [to him about his performance] one way or the other. He seems to be doing fine without me. I've seen him with a couple of the dates he's had recently, and he's doing much better than me."
Follow @AmyKinLA for more news from CinemaCon
---
The complete guide to home viewing
Get Screen Gab for weekly recommendations, analysis, interviews and irreverent discussion of the TV and streaming movies everyone's talking about.
You may occasionally receive promotional content from the Los Angeles Times.