'Finding Dory,' 'Moana,' 'Toy Story 4' among projects discussed at Disney's D23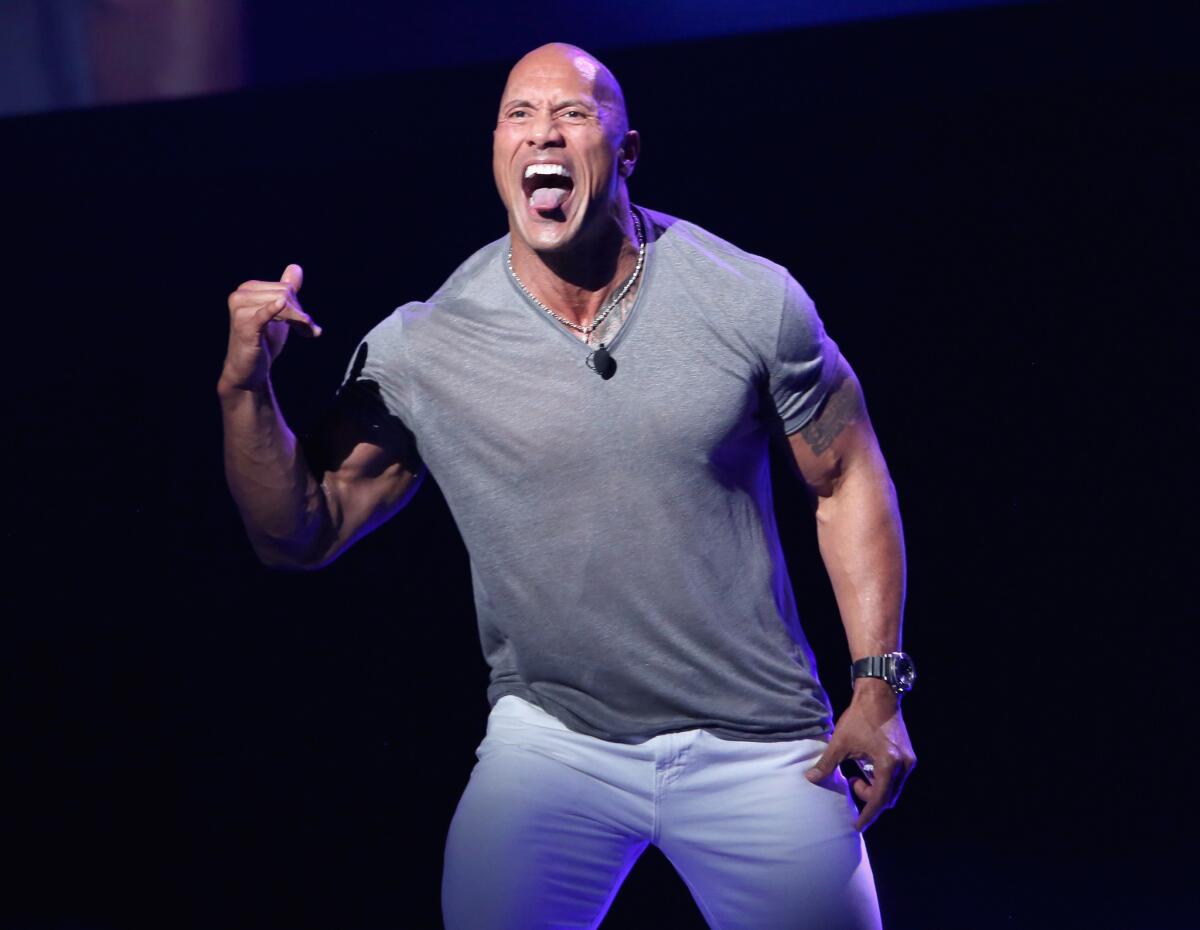 The Rock is getting his own Disney fairy tale, Pixar is getting its first Latino protagonist and "Toy Story 4" and "Finding Dory" are getting off the ground.
That was just some of the news the Walt Disney Co. announced at the animation portion of D23, the media company's three-day fan event in Anaheim.
The 3-hour presentation featured updates on upcoming Walt Disney Animation Studios and Pixar Animation Studios projects. In between Disney and Pixar chief creative officer John Lasseter firing free Hawaiian shirts out of a cannon and Randy Newman playing the "Toy Story" anthem "You've Got a Friend in Me" at the piano, here are some of the highlights:
FROM PIXAR
-- Director Andrew Stanton brought the first significant footage from Pixar's "Finding Dory," the 2016 sequel to his 2003 hit, "Finding Nemo." Appearing with Ellen Degeneres, who supplies the voice of Dory, as well as other members of the voice cast including Ed O'Neill and Ty Burrell, Stanton said the story for "Finding Dory" picks up six months after the original film. Dory, the memory-addled, orphaned, blue tang fish, gets pulled into an undertow and has a flashback about the "jewel of Monterey, California." The footage showed Dory back under the sea yearning to find her family and then in a tank, as that "jewel" turned out to be an ocean sanctuary where wounded animals are treated and released.
FULL COVERAGE: D23 EXPO
-- Lasseter discussed the next film he's directing for Pixar, 2017's "Toy Story 4," which he said is a love story involving Woody and Bo Peep, inspired by his marriage to his wife, Nancy.
-- The Emeryville-based studio announced the title of director Lee Unkrich's long-gestating Day of the Dead movie: "Coco." The film will feature Pixar's first Latino protagonist, a 12-year-old Mexican boy named Miguel.
-- Peter Sohn, director of "The Good Dinosaur," delivered a sweet presentation about acquiring a love of movies from his Korean mother, whom he said couldn't understand the dialogue in many American films, but always comprehended the Disney ones. The footage Sohn showed from "The Good Dinosaur," which is due in theaters Nov. 25, included strikingly photoreal shots of the natural world where the movie's characters, a dinosaur named Milo and a human boy named Spot, are adventuring.
-- "Riley's First Date?" a short film based on the characters from Pete Docter's "Inside Out," had its world premiere at the presentation. The short, directed by "Inside Out" head of story Josh Cooley, will be available digitally Oct. 13 and on Blu-ray Nov. 3.
FROM WALT DISNEY ANIMATION STUDIOS
-- Among the Walt Disney Animation Studios titles, "Moana" stood out, in part because of an outsized hero who came to present it, Dwayne Johnson, a.k.a. The Rock. "This is my heritage," Johnson said, after it was announced that he would voice a demigod named Maui in the 2016 movie, which is set 2000 years ago in the South Pacific. "I am proudly half Samoan and half-black." "Moana," which is about a 16-year-old girl named Moana who longs to be a navigator, is the first CG-animated film from two maestros of 2-D animation, Ron Clements and John Musker, who made "The Little Mermaid" and "Aladdin." A scene the duo shared of a younger Moana playing with the Pacific Ocean, itself a character in the film, suggested they are working in top form in the new medium.
-- The Burbank studio gave a name to its upcoming Jack and the Beanstalk film from "Tangled" director Nathan Greno: "Gigantic," and announced that Oscar-winning "Frozen" songwriters Bobby Lopez and Kristin Anderson-Lopez are writing songs for the 2018 film.
-- "Zootopia" directors Byron Howard and Rich Moore showed a significant chunk of footage from their 2016 talking animals comedy, in which Ginnifer Goodwin supplies the voice of a Judy Hopps, a bunny who is also a meter maid. In one amusing section, Judy visits an animal DMV staffed by sloths, who work just as fast as you would think they do.
-- Notably absent from the D23 presentation was any discussion of "Frozen 2," the much-anticipated sequel to the Oscar-winning 2014 musical. Though "Frozen" directors Chris Buck and Jennifer Lee are at work on the film, Disney has yet to give it a release date or describe the basic outlines of the plot. The only mention of the fairy tale franchise at D23 Friday came from Disney chief Alan Horn, who said, presumably of the movie's signature track, "Let It Go," "I'm that close to getting that song out of my head."
Follow me on Twitter at @ThatRebecca
MORE:
Here's what Disney World's 'Avatar' land will be like
Captain Phasma's 'Star Wars' Chrometrooper suit revealed at D23 in all its shiny glory
Disneyland's fabled make-out ride Adventure Thru Inner Space returns through virtual reality
Get the Indie Focus newsletter, Mark Olsen's weekly guide to the world of cinema.
You may occasionally receive promotional content from the Los Angeles Times.