Forest Whitaker says 'The Butler' served him well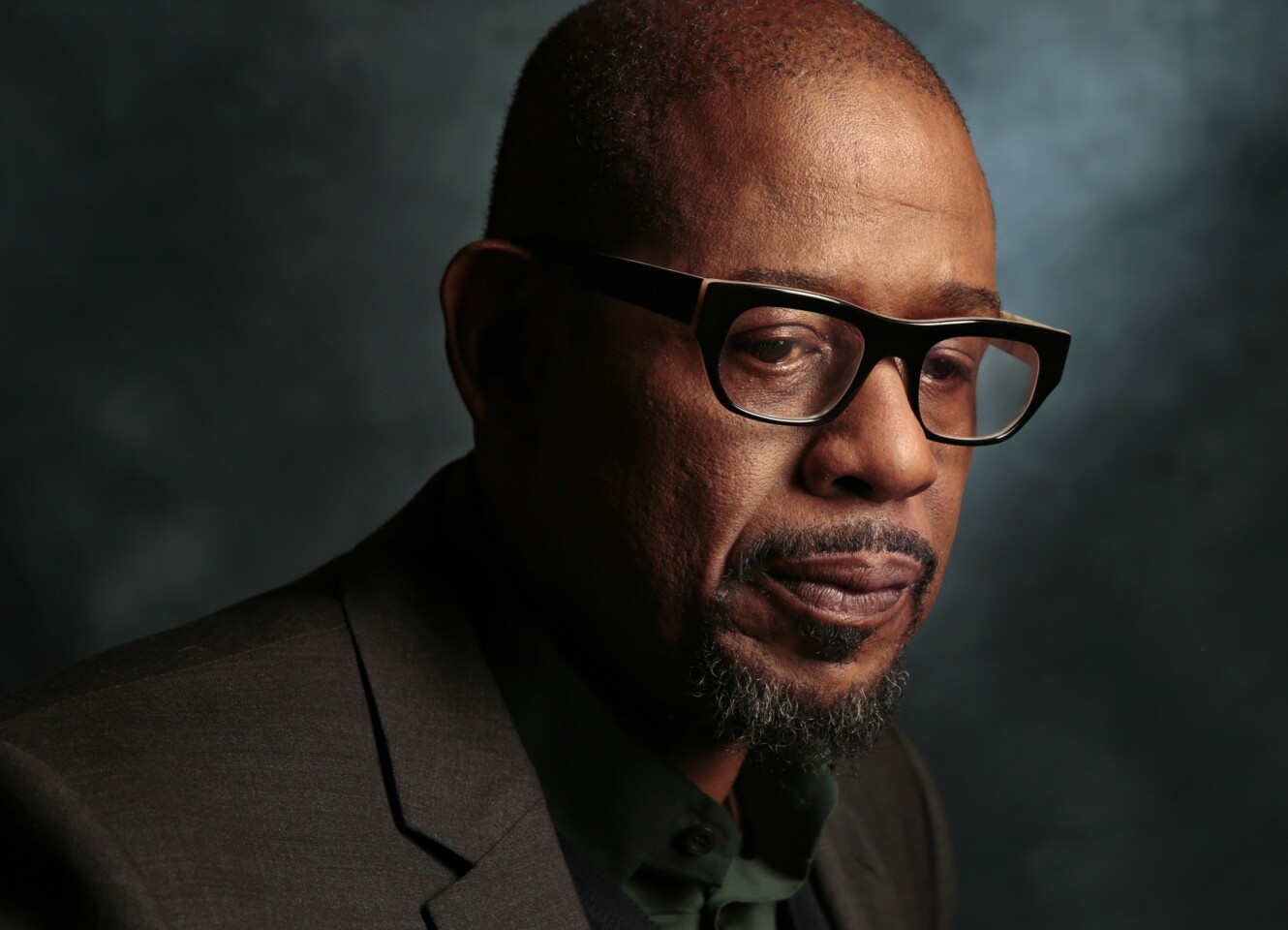 From "The King of Scotland" to "The Butler," here's a look at some of Forest Whitaker's memorable movie roles throughout the years.
By Christy Khoshaba
(Carolyn Cole / Los Angeles Times)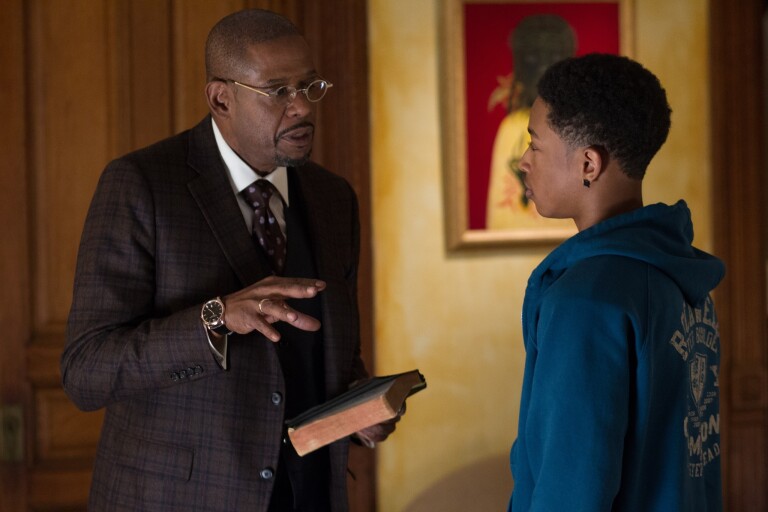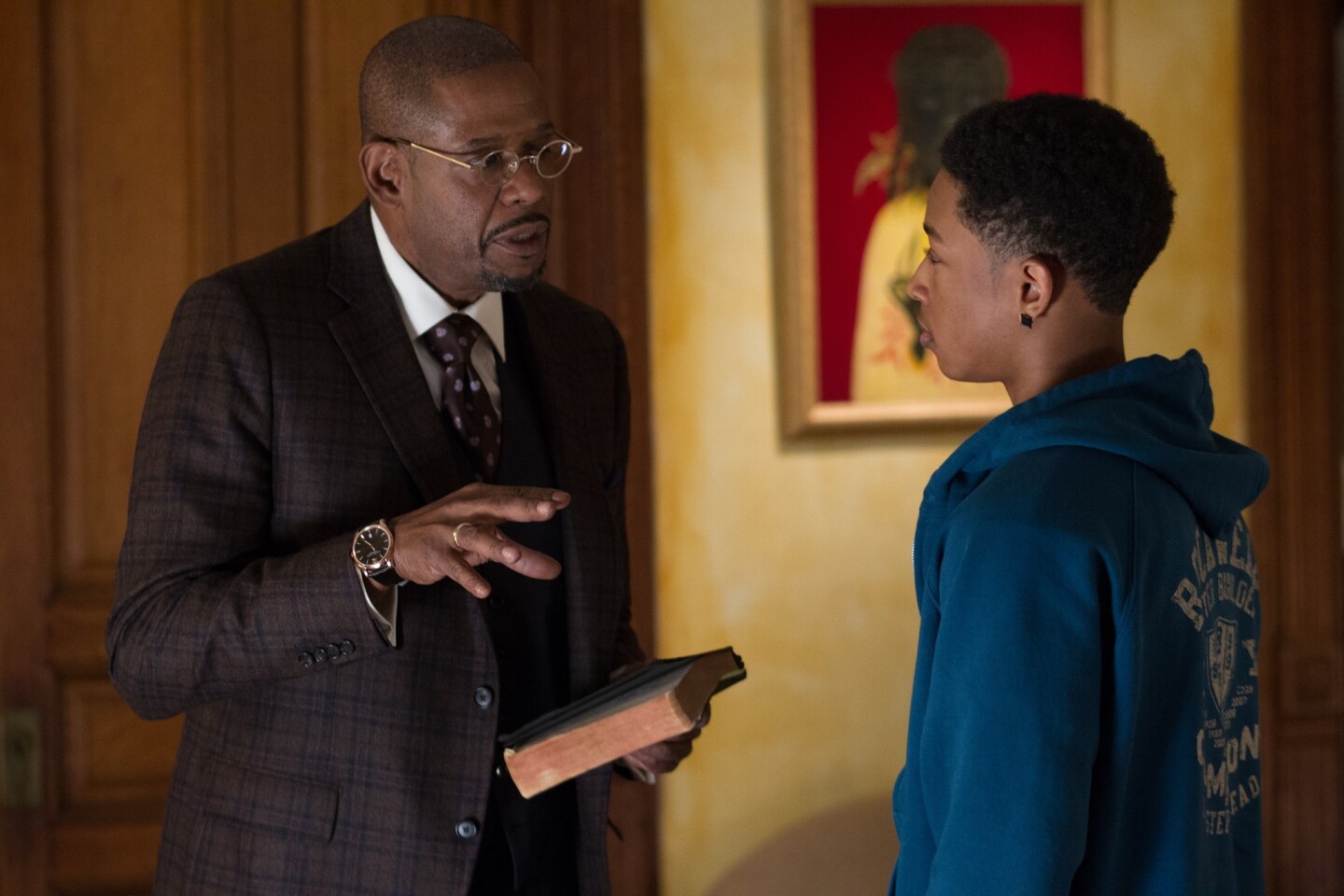 Forest Whitaker plays the wise Rev. Cornell Cobbs in the musical drama "Black Nativity." He becomes an inspiration for Langston (Jacob Latimore), right, a street-smart teen raised by a single mother who embarks on a surprising journey.
(Phil Bray / AP)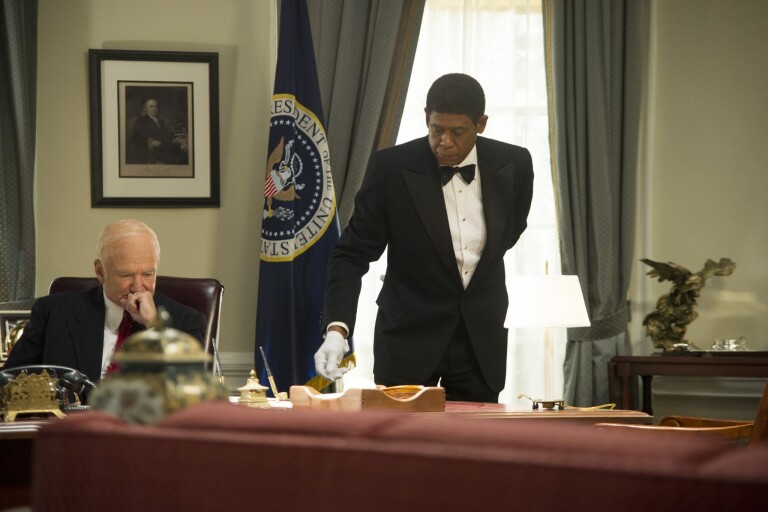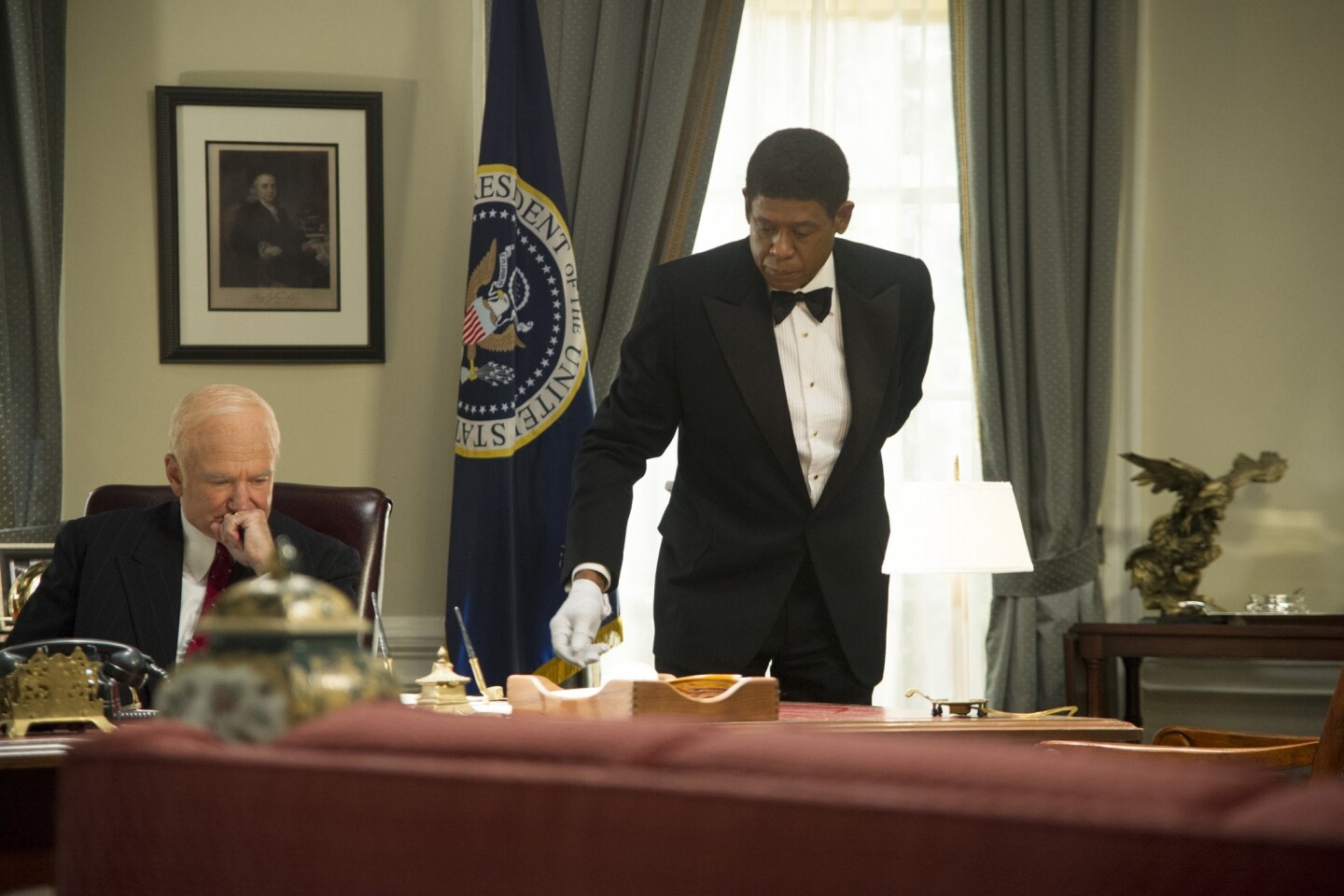 Forest Whitaker stars alongside Robin Williams in Lee Daniels' "The Butler." The film tells the story of White House butler Cecil Gaines (Whitaker), who served during seven presidential administrations between 1957 and 1986.
(Anne Marie Fox / The Weinstein Company )
Oprah Winfrey and Forest Whitaker discuss the historical drama "The Butler" on stage during the film's Academy of Motion Picture Arts and Sciences screening of the film on Aug. 6, 2013, in New York. Oprah plays Gloria Gaines, the wife of the butler.
(Rob Kim / Getty Images )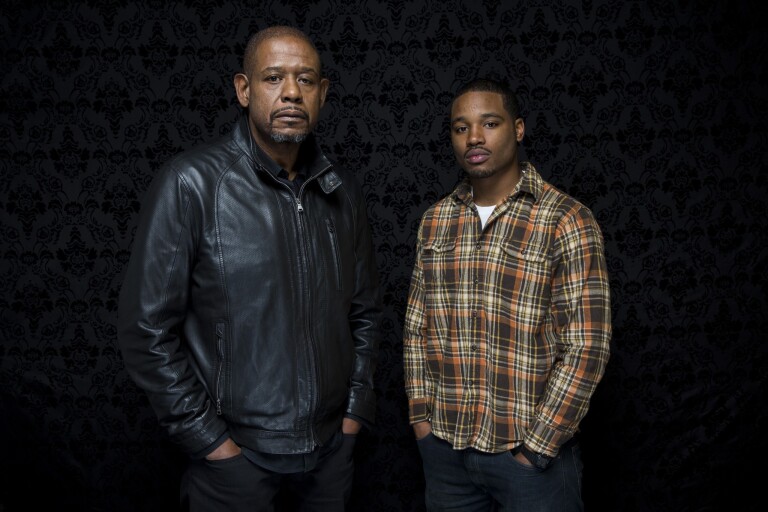 Forest Whitaker, producer, and writer and director Ryan Coogler, from the film "Fruitvale Station." The film debuted at the 2013 Sundance Film Festival, winning the Grand Jury Prize and the Audience Award for U.S. dramatic film.
(Jay L. Clendenin / Los Angeles Times)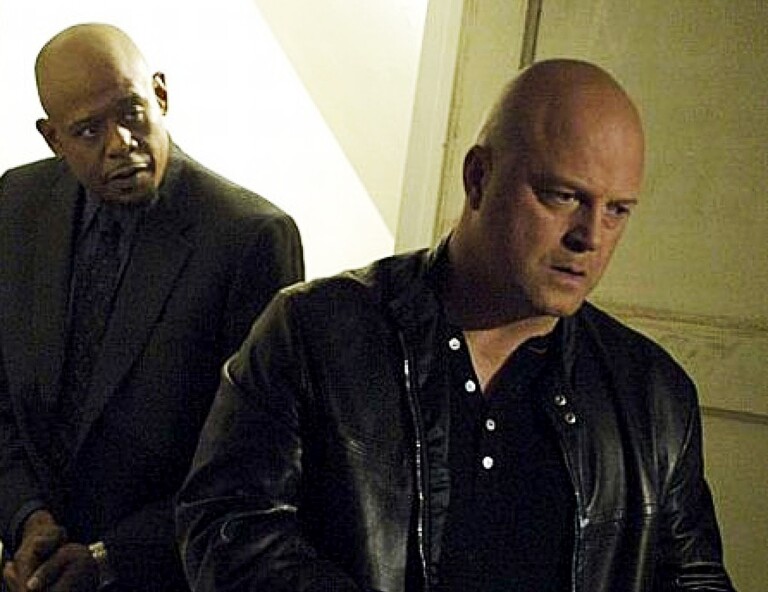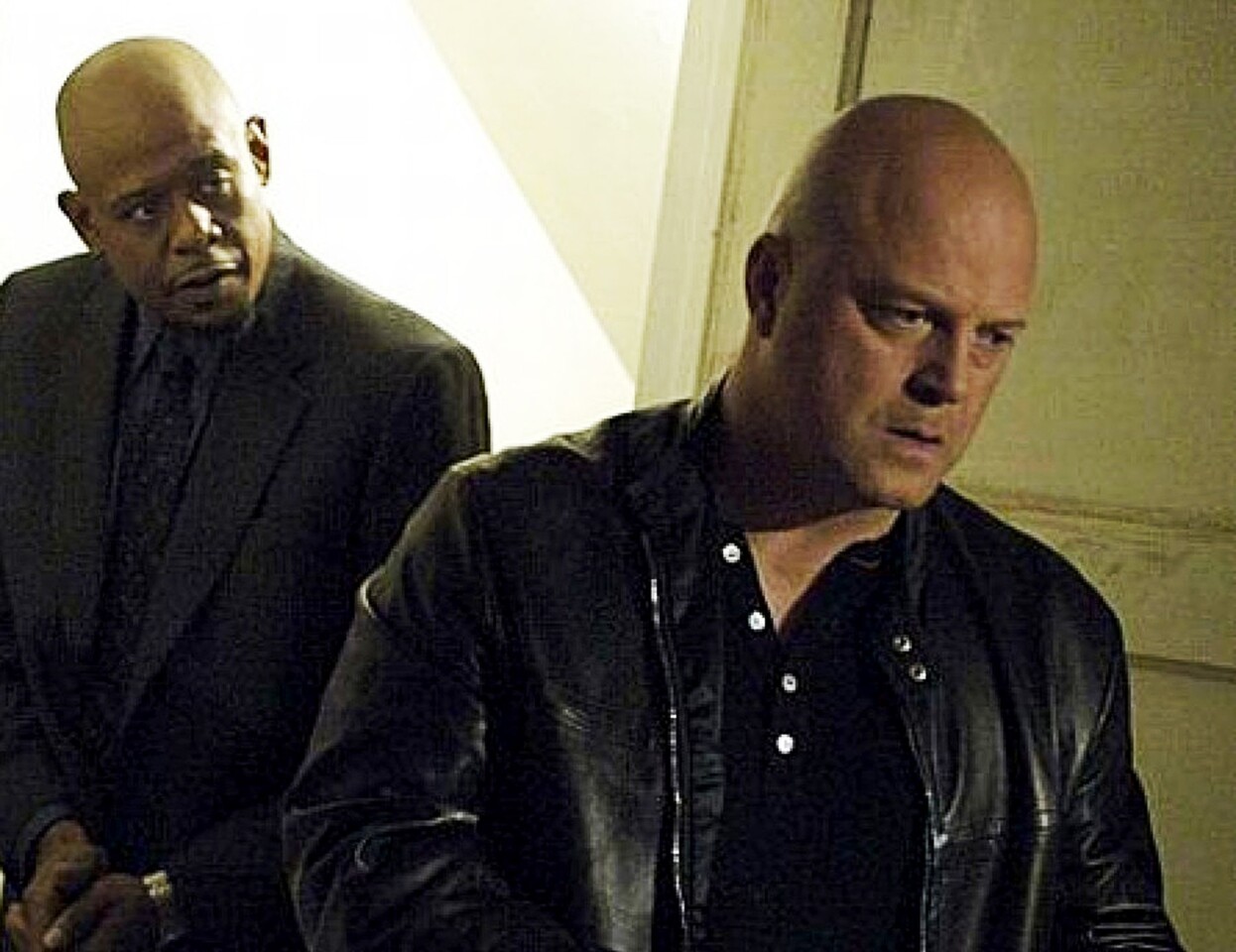 Forest Whitaker played a cop in the 2013 crime thriller "Pawn" with Michael Chiklis, right.
(Anchor Bay Films)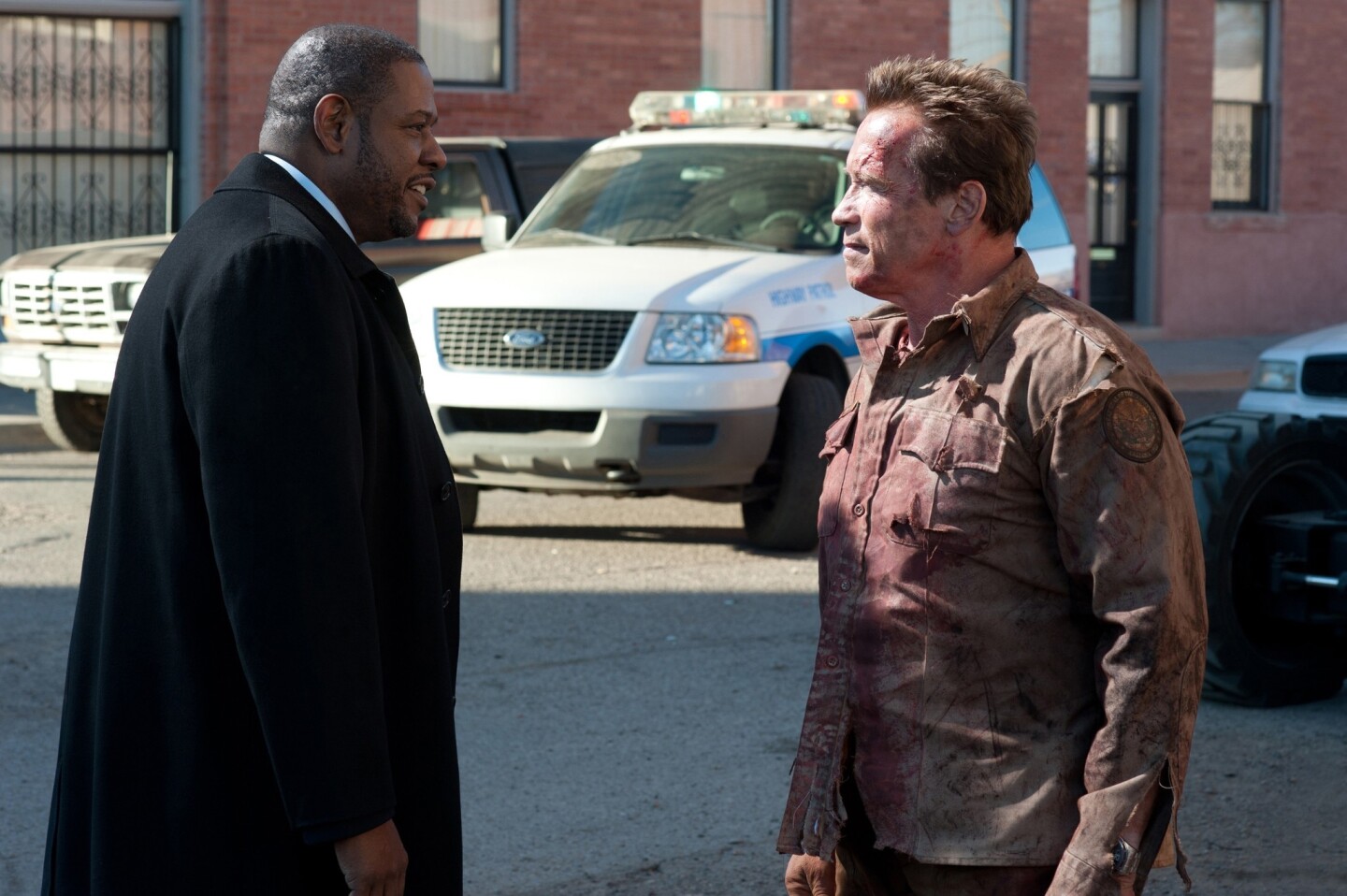 Forest Whitaker played Agent John Bannister in the 2013 thriller "The Last Stand" alongside Arnold Schwarzenegger, as Sheriff Rick Owens.
(Merrick Morton / Lionsgate)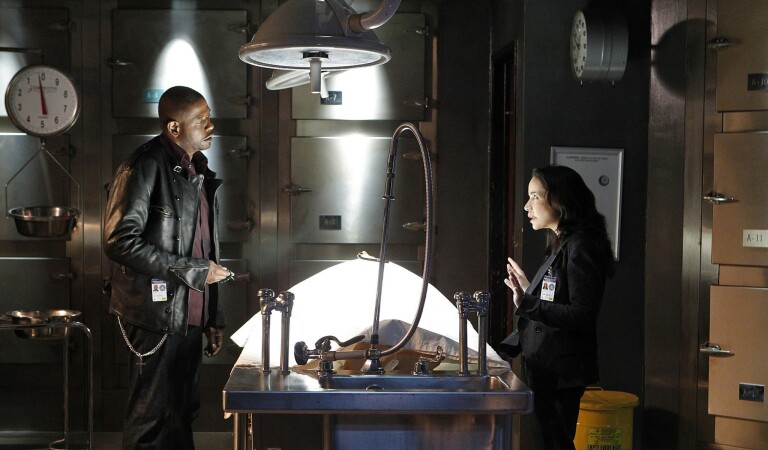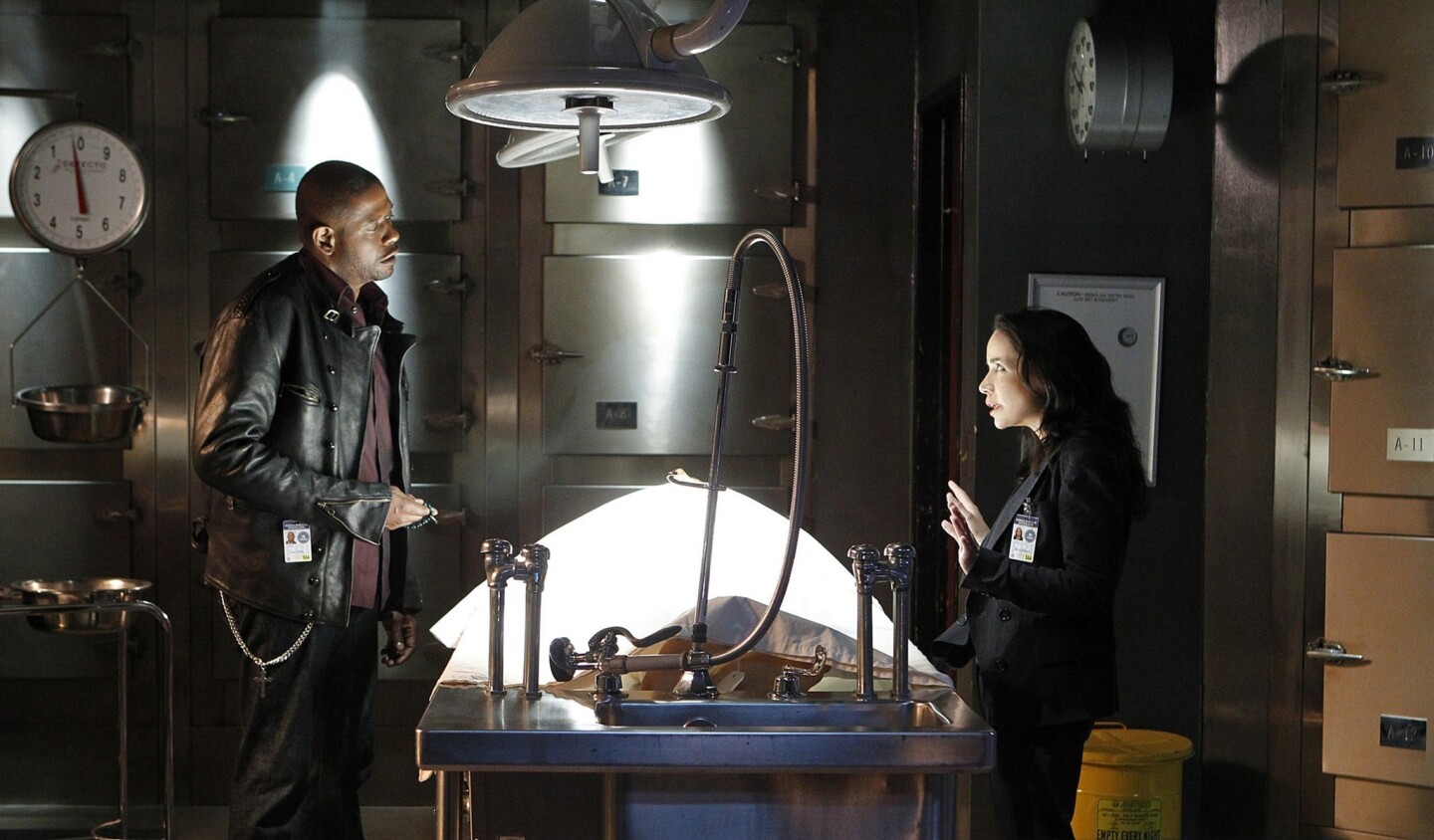 Whitaker starred in the 2011 short-lived police drama "Criminal Minds: Suspect Behavior" on CBS. The program was spin-off from the popular 2005 TV series "Criminal Minds."
(Sonja Flemming / CBS )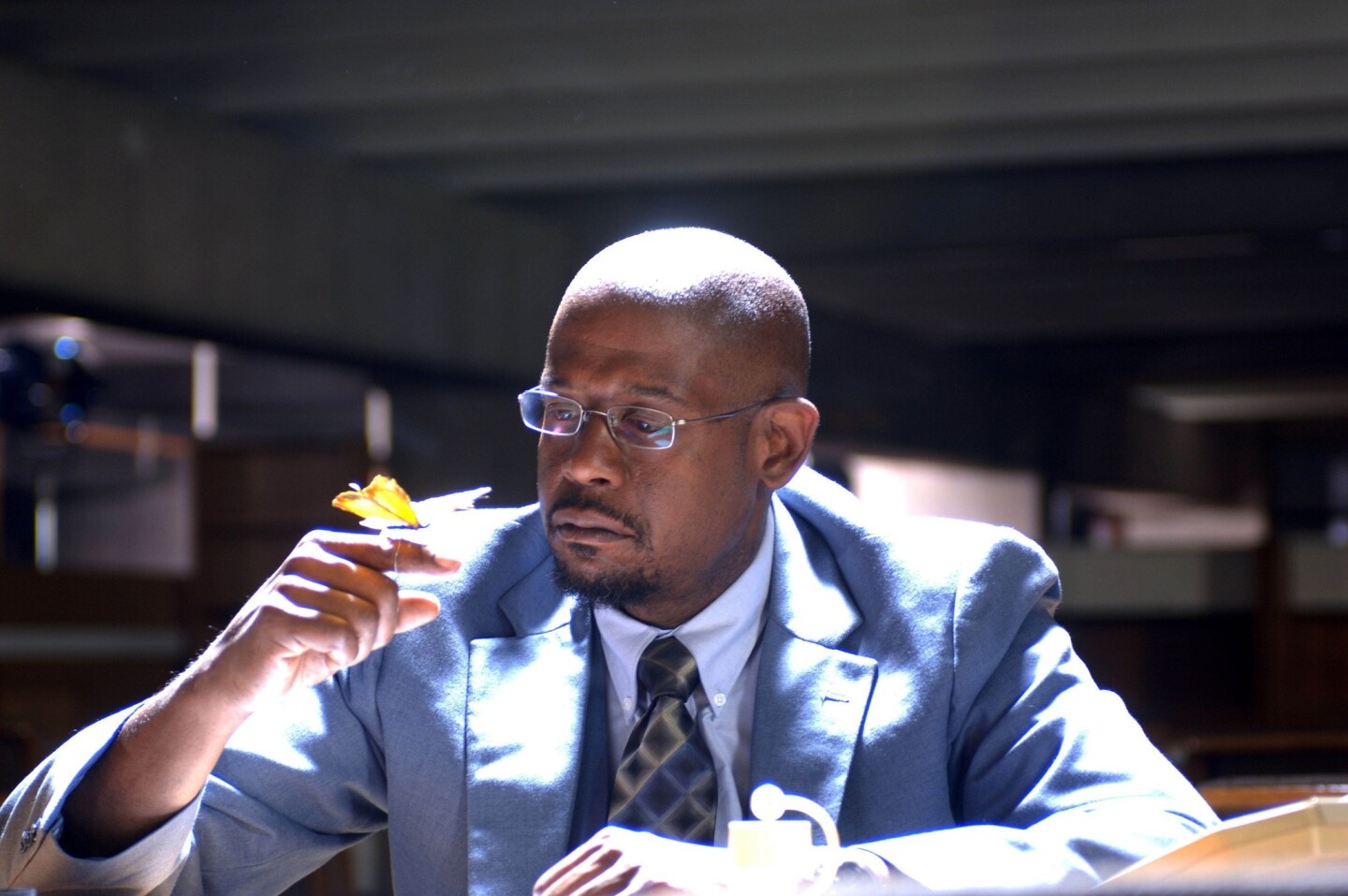 Forest Whitaker is a butterfly-obsessed banker in the 2007 crime thriller "The Air I Breathe."
(THINKFilm)
Forest Whitaker starred in the 2010 American-Canadian sci-fi action-thriller "Repo Men" alongside Jude Law. The film is based on the Eric Garcia's novel "The Repossession."
(Kerry Hayes / Universal Pictures)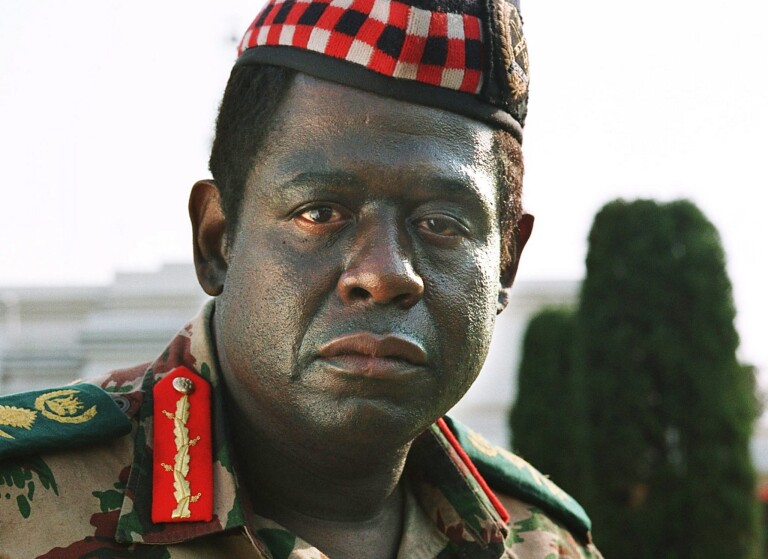 Forest Whitaker's role depicting merciless Ugandan dictator Idi Amin in the film "The Last King of Scotland" earned him a 2007 Oscar win.
(Neil Davidson / Fox Searchlight)
Forest Whitaker starred in the 2007 biopic drama "The Great Debaters," directed by and starring Denzel Washington and produced by Oprah Winfrey through her production company Harpo Productions. The film is based on an article written by a debate team member from historically black Wiley College. The article argued the importance of giving blacks equal rights as whites in the American South circa the 1930.
(Robert Zuckerman / The Weinstein Company)
NEW YORK — Forest Whitaker tends to talk about his work with a mystical flourish. Movie roles, he says, have helped him achieve transcendence, learn the value of quiet and appreciate fear.
Yet the star of Lee Daniels' "The Butler" is surprisingly direct about how he squandered an opportunity after his Oscar turn as Ugandan dictator Idi Amin in 2006's "The Last King of Scotland."
"I thought I found a new way to work after that movie. I could be this intense person, someone who vibrated differently, and it would make me a better actor," he said. "Then I tried it on a few movies, and it didn't work."
But last year he began shooting "The Butler," and "something changed," he said. "The energy changed."
PHOTOS: Forest Whitaker: Career retrospective
As the period drama arrives in theaters next week, Whitaker's prolific, praised and puzzled-over Hollywood career indeed seems to be in the midst of a resurgence.
After toiling in recent years on nondescript films such as the Keanu Reeves crime picture "Street Kings" and the fact-based basketball movie "Hurricane Season," Whitaker stars as Cecil Gaines, a White House staffer who attended to seven presidents and served as a silent witness to history. The actor also produced this summer's art-house sensation, "Fruitvale Station." Still to come this fall and beyond are turns in the holiday musical "Black Nativity," the Leonardo DiCaprio-produced revenge drama "Out of the Furnace" and the French director Rachid Bouchareb's auteur piece, "Enemy Way."
Whitaker also produced and lent his voice to "Rising From Ashes," a documentary about a Rwandan cycling team's bid to compete at the London Olympics.
Inspired by the story of White House staffer Eugene Allen, "The Butler" examines tensions within Gaines' family and in the country at large during the Civil Rights era. As his Zelig-like work evolves (the movie shows Cecil present as Robin Williams' Eisenhower contemplates integration and James Marsden's JFK pushes a Civil Rights agenda), Whitaker's character is also facing complexity at home. He is married to the supportive but alcoholic Gloria (Oprah Winfrey, in her first live-action film role in 15 years) and raising a son, Louis, who undertakes a brand of campus activism that veers from the preachings of Martin Luther King Jr. to the teachings of the Black Panthers.
Though Cecil has overcome a sharecropping childhood to become a fixture in the halls of power, Louis believes that his father has been too submissive. It's this tension that provides the movie's ideological and emotional spine.
Whitaker, who's known for his level of preparation, calls this "the most specific work I've ever done on a character."
He trained with a butler consultant and met, quietly, with one of the famously discreet White House butlers. He studied proper hand movements and tray-lifting, and he spent hours with confidantes of Allen, who died in 2010. Because the movie spans many decades, Whitaker created an elaborate system of flash cards that would remind him of his character's age and experience in a given scene. "It's not easy to be 90 in the morning and 35 in the afternoon," he said.
It was all in the interest, "of feeling it deep inside me, to know the places I was coming from so I could know who I needed to be," he said over a late lunch at an uptown restaurant. "I wanted to feel the collective experience of Cecil's life, so when I walked at 90 you could feel that weight. I wanted my parents and grandparents and all the people of their generation to feel like this accurately represented them."
As he talks, Whitaker demonstrates a sweet-tempered quality and, even at 52, a wide-eyed enthusiasm for small things; his eyes light up at the sight of the vegan soup he's ordered. His soft-spokenness is all the more striking when one thinks about his intense performance in "The Last King of Scotland," which had him inhabit Amin's megalomaniacal tendencies for weeks at a time.
He said the part changed him, and not necessarily for the better. During the shoot, he said, he felt a hard-edged side to his personality developing. He conducted an interview with a London newspaper where he found himself practically yelling at the reporter. After that, he told his publicist no more on-set interviews.
Still, the live-wire act carried over into his other choices and roles, and it left him feeling a professional chill until just before "The Butler." "I had touched on some frustration. I didn't feel like I was challenging myself," he said.
As Gaines, in part because he's a more soulful character, Whitaker sought to inhabit a quieter place. To put himself in the right frame of mind, he and Winfrey would act as a couple even when they weren't shooting, rubbing each other's shoulders and calling each other by their characters' names.
Before shooting had begun for the day, Winfrey would take Whitaker's hand and say "Let's go for a walk, Cecil," and the two would stroll arm-in-arm around the New Orleans set. Danny Strong, who wrote "The Butler," said he embraced the choice of Whitaker because this part "needed someone whose soul you could hear even when he was being quiet."
PHOTOS: Billion-dollar movie club
The historical reference points in "The Butler" have strong personal analogs for Whitaker. Growing up in the Los Angeles area in the 1960s and early 1970s, he saw Black Panthers recruiting on the corner of his street in Carson. When it came time for high school, his address put him in the district for a Compton school. His parents told school officials that Whitaker lived with his cousin in West Adams, enabling him to be bused to a predominantly white school in Pacific Palisades.
The film reflects his experience in other ways.
"When I look at Cecil, I think of my father, who as a young man left Longview, Texas, and came to Los Angeles even though his father didn't want him to go and never once visited him," Whitaker said. "And then my father wanted me to go to West Point — that was a high calling to him — and couldn't believe I wanted to study acting or music. These are many generational divides in the black community that this film touches on."
PHOTOS: Hollywood backlot moments
Whether Whitaker returns to a role like Idi Amin after this film remains to be seen. He already has an eclectic resume — not many actors can say they played Charlie Parker (1988's "Bird") starred opposite Kristen Stewart in a David Fincher movie ("The Panic Room"), won an Oscar and starred in one of the most lampooned movies ever made ("Battlefield Earth").
But he said he feels more possibilities are open to him now. He is considering taking the part of Bishop Desmond Tutu in an upcoming Roland Joffe movie, and he is energized to produce and perhaps even direct a long-gestating movie about Louis Armstrong.
He says that he owes this rebirth, which he maintains is spiritual as much as professional, to "The Butler." "'Scotland' shifted my cellular being, taught me transmutation," he said. "This movie taught me how to live with the magic."
---
The complete guide to home viewing
Get Screen Gab for weekly recommendations, analysis, interviews and irreverent discussion of the TV and streaming movies everyone's talking about.
You may occasionally receive promotional content from the Los Angeles Times.