Outfest 2014: Dan Bucatinsky, Jason Collins share how 'It Got Better'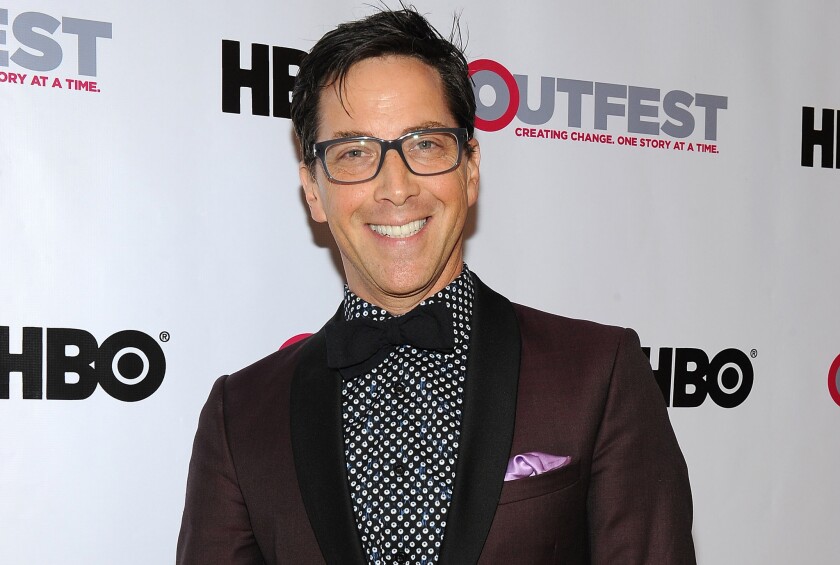 Actors and producing partners Dan Bucatinsky and Lisa Kudrow teamed up this year with It Gets Better Project founder Dan Savage to create "It Got Better," a six-part Web series featuring lesbian, gay, bisexual and transgender icons describing their path to openness and confidence in their sexuality. The entire series screened at the Directors Guild of America on Sunday as part of Outfest, the Los Angeles LGBT film festival.
The episodes feature actress Jane Lynch, NBA veteran Jason Collins, "Project Runway" star Tim Gunn, actor George Takei, "Orange Is the New Black" actress Laverne Cox and pop singers Tegan and Sara, all delving into their personal history and the struggles they faced before finding support for their identities.
"By sharing the shared stories of the LGBT icons that are the cast members, 'It Got Better' demonstrates the universality of the coming-out experience, which we all know, or some of us know, can be an isolating experience," said Ted Farley, executive director of the It Gets Better Project, before a panel discussion following the Sunday screening.
The It Gets Better Project was created in 2010 as an online space to support LGBT youths, many who of whom deal with bullying and insecurity. The program is a platform for viewers to upload videos describing the acceptance they have found as LGBT people. The project has more than 50,000 videos encouraging LGBT youth, including those from celebrities and straight allies such as President Obama.
"It Got Better" follows in the confessional style, with the six LGBT celebrities looking into the camera and telling their personal stories, often brought to tears when describing moments of insecurity. In the vein of their previous producing endeavor, the series "Who Do You Think You Are?" tracing the ancestral roots of celebrities, Kudrow and Bucatinsky brought a historical component to "It Got Better." The stories and photographs of the famous subjects growing up are accompanied by a timeline of historical events in LGBT history, such as the Stonewall riots of 1969.
"I feel we can really inspire others in telling the story in how we overcome our obstacles, not just in the result," Bucatinsky said, speaking to a crowd of about 150.
Collins, the Brooklyn Nets player who came out in 2013, also sat on the panel, adding that "as a society, we're on the right path, but obviously we have a lot further to go."
In his episode, which has more than 55,000 views on YouTube, Collins explains how he found a mentor to help him come out through an It Gets Better Project video featuring his friend Keith Anthony. Collins first revealed that he was gay to Anthony in 2011, and Anthony provided the support Collins needed to tell his family and friends.
"I remember in that email that I wrote to my friend Keith, I think I actually used the words, 'Would I ever be so brave to do something like that -- film an It Gets Better,' " Collins said in an interview after the event. "And here I am, cover of Sports Illustrated, cover of Time magazine, participating in the 'It Got Better' project. So it's kind of funny just how far I've come since 2011."
During the panel, Collins noted that he has served as a mentor to other athletes, including NFL player Michael Sam, before they came out too.
"There are others I have spoken to who aren't quite comfortable and ready to come out," Collins said during the panel. "It's all about support, and I never tell someone what they should or shouldn't do. Everyone has their own path. I just try to remind them that when you do come out, there's this huge community waiting to support them and love them. And not having that stress in your life is going to make you a better athlete and a better person."
In an interview afterward, Bucatinsky said he hopes "It Got Better," which received backing from Lexus and L/Studio, can expand into a longer piece. The screening Sunday was the first time the six episodes were shown together as one film.
"My dream would be eventually to put them into a longer-form piece and either do it as a TV special or in other venues," Bucatinsky said. "No matter what the generation is, there's a commonality to it. You often hear of all of them feeling tired, tired of the closet or tired of hiding. Gunn said it: 'I was 20, and I just felt tired.' What that leads to and how one gets over that exhaustion of the closet is something that we find in multiple interviews."
---
The complete guide to home viewing
Get Screen Gab for weekly recommendations, analysis, interviews and irreverent discussion of the TV and streaming movies everyone's talking about.
You may occasionally receive promotional content from the Los Angeles Times.