June Squibb on her first Oscar nomination at age 84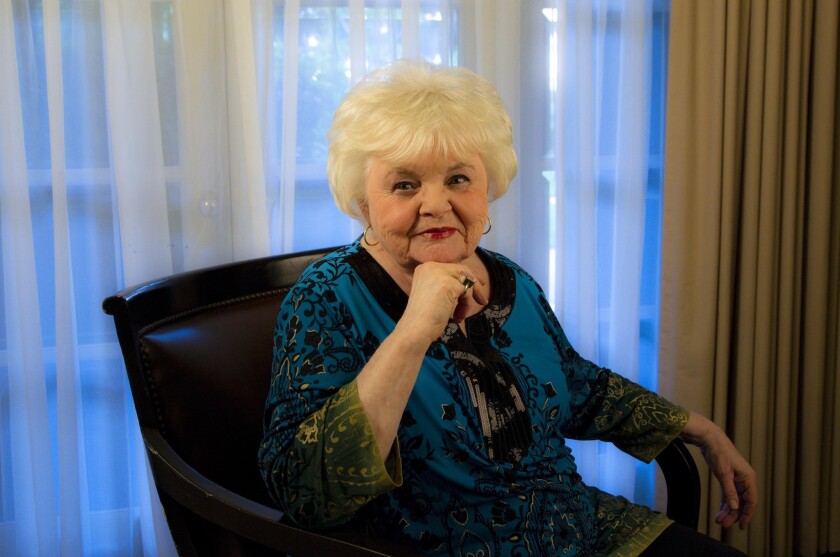 June Squibb earned her first Oscar nomination Thursday at age 84. If she were to win in the best supporting actress category for her role in "Nebraska," she would make Academy Award history by becoming the oldest winner in any of the acting categories. The Times reached Squibb at home Thursday morning for her reaction to the nomination:
How are you?
Good. Very good, in fact. My son and I watched the nominations together at my house in Sherman Oaks. When he heard, he was so dear. He got up and came over and held me -- and we were both almost crying and it was lovely. He's doing all of the events with me. He's a filmmaker himself so there are a lot of directors that he admires and respects tremendously and likes to see at events.
How have the events been?
I thought the Golden Globes were a lot of fun. My dress for one -- I loved it. I was just so comfortable in it. I just felt really good.
PHOTOS: Oscars 2014 nominee reactions
Have you ever been to the Oscars before?
I've just watched it on the television.
What do you think it will be like?
I have no idea, other than the fact that the red carpets are pretty much all the same. I'll probably be talking to a lot of the same people. Now what's nice is I've met some of them two or three times or more. The TV people you sort of know now.
Have you been getting lots of calls from people eager to work with you?
Yes, I have gotten a few.... I think something is happening now.... I don't even know the particulars -- it's a television show. I had also shot three shows after Cannes -- "The Millers," "Getting On" and "Girls."
PHOTOS: Oscars 2014 top nominees
What does it feel like to be getting this much recognition at this stage in your career?
I've worked my whole life -- years on stage -- and a lot of wonderful things have happened, but it's fun to have it in film. I've been doing it since the early '90s, and it's really kind of fun to do.
What performances have you enjoyed this year?
I haven't been able to see all that much. I did see Matthew McConaughey's "Mud," and I don't think he's up for that, but I think he's doing such great work now. I did see "August: Osage County," and my God, there's some wonderful people in that. I'm friends with Margo Martindale. We were neighbors in New York for 30 years.
Why do you think it was such a strong year for film?
I think it's probably one of the richest years we've had in film. There were just extraordinary films this year and we simply don't have that kind of thing every year. I feel blessed because there's so many women who could have been put in my category, and I think we all feel that way a little bit this year.
Oscars 2014: Complete list of nominees
Did you have a backup career if acting didn't work out?
My backup career was sort of modeling. I did a lot of the print modeling and what they used to call industrial modeling at the big conventions. I was the Ortho girl for bug spray for gardening and Santa Claus' helper. Luckily I didn't have to do it very often.
Is there another movie role you would have liked to have had this year?
Of course, things like "Philomena" -- I'm sure that's a wonderful film, and she's such a wonderful actress [Judi Dench]. Some years there are roles for older women and some years there aren't. I was never a leading lady or an ingenue. I was always a character actress. I think you're better off in that respect as you get older. I've had wonderful roles. I've done leading roles, but never the idea of a straight role that isn't somehow a character role.
ALSO:
Oscars 2014: Play-at-home ballot
Oscars 2014: Snubs and surprises

---
Get the Indie Focus newsletter, Mark Olsen's weekly guide to the world of cinema.
You may occasionally receive promotional content from the Los Angeles Times.