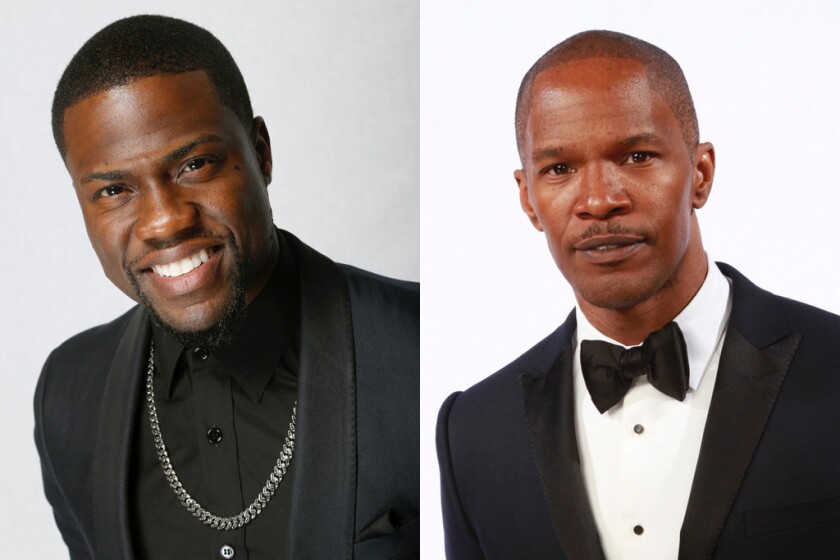 After the box-office success of their comedy "Ride Along," Kevin Hart and director Tim Story are saddling up again.
Hart is in talks to reunite with Story as well as team up with Jamie Foxx in the hitman movie "Black Phantom," according to a Variety report. The new movie would tell the tale of "a double-crossed mob hitman who enlists the help of the Black Phantom, the same African-American hitman who had been sent to kill him," the report says.
Hart might be the busiest buddy in Hollywood, still riding high from the $130-million cop comedy "Ride Along" and having earned kudos from critics for stealing scenes in the rom-com "About Last Night."
BEST MOVIES OF 2013: Turan | Sharkey | Olsen
For those keeping score, Hart is already slated to partner up with Ice Cube for "Ride Along 2," with LeBron James for a basketball movie called "Ballers," with Will Ferrell for a prison comedy called "Get Hard," with Josh Gad for a nuptial farce titled "The Wedding Ringer" and with Seth Rogen for another (yet untitled) buddy-cop flick. He's also in the ensemble relationship comedy "Think Like a Man Too," a sequel to 2012's "Think Like a Man" (both directed by Story).
Thus far Hart has a pretty solid track record working with Story, with "Ride Along" being the high-water mark. Still, the sheer amount of similar-seeming projects on Hart's plate does raise the question of whether audiences will grow weary of seeing him in such roles.
Foxx, for his part, will next appear as the villain Electro in "The Amazing Spider-Man 2" and as Will Stacks, an updated version of Daddy Warbucks, in a remake of "Annie."
Story, in addition to "Ride Along 2" and "Think Like a Man Too," has also had his name attached to "Diplomats," a comedy inspired by former NBA player Dennis Rodman's diplomatic efforts in North Korea.
ALSO:
Gawker seeks dismissal of Quentin Tarantino copyright lawsuit
President Obama zings Zach Galifianakis over 'Hangover' movies
Eva Green: 5 things to know about the '300: Rise of an Empire' star
---