Mickey Rooney dies at 93; social media reacts
Actor Mickey Rooney, born Joe Yule Jr. on Sept. 23, 1920, in Brooklyn, N.Y., has died. His career spanned eight decades. From singing and dancing to comedy and drama, the Emmy Award-winning actor was a versatile performer who also had an active social life outside of showbiz that was just as chronicled. Here are some images from his life on- and offscreen.
(Kirk McKoy / Los Angeles Times)
Mickey Rooney once wrote of
Judy Garland
, shown with the actor in 1939's "Babes In Arms," that she had more emotional impact on his life than any of his wives.
(MGM)
Thirteen-year-old actor Mickey Rooney is shown reading his movie contract before signing the document as his manager Harry Weber looks on in Los Angeles on Sept. 18, 1934. Rooney received $150 per week from the movie studio.
(Associated Press)
Jackie Cooper, left, and Mickey Rooney use cameras owned by visiting newspaper men on June 22, 1935.
(Frank Filan / Associated Press)
Actor Mickey Rooney, left, and actress Bette Davis are presented crowns after being named King and Queen of the Movies by readers of 55 newspapers in Hollywood on Jan. 25, 1940. Columnist Ed Sullivan, who conducted the poll, is at center.
(Associated Press)
Mickey Rooney hands a gift to Ann Rutherford in "Andy Hardy's Private Secretary," 1941.
(Archive Photos / Getty Images)
June Allyson
and
Mickey Rooney
in 1943's "Girl Crazy." Rooney's off-screen romances were numerous and he was married eight times.
(UCLA Film & TV Archive)
Buddy Hackett, left, and Mickey Rooney in the 1963 movie "It's a Mad, Mad, Mad, Mad World."
(United Artists)
Elizabeth Taylor and Mickey Rooney in 1944's "National Velvet."
(MGM / UA)
Mickey Rooney in his Army uniform as he steps out of the induction center at Ft. MacArthur on June 15, 1944.
(Los Angeles Times)
Mickey Rooney as gangster "Baby Face" Nelson/Lester M. Gillis and Carolyn Jones as his girlfriend Sue Nelson in "Baby Face Nelson" (1957).
(UCLA Film and Television Archive)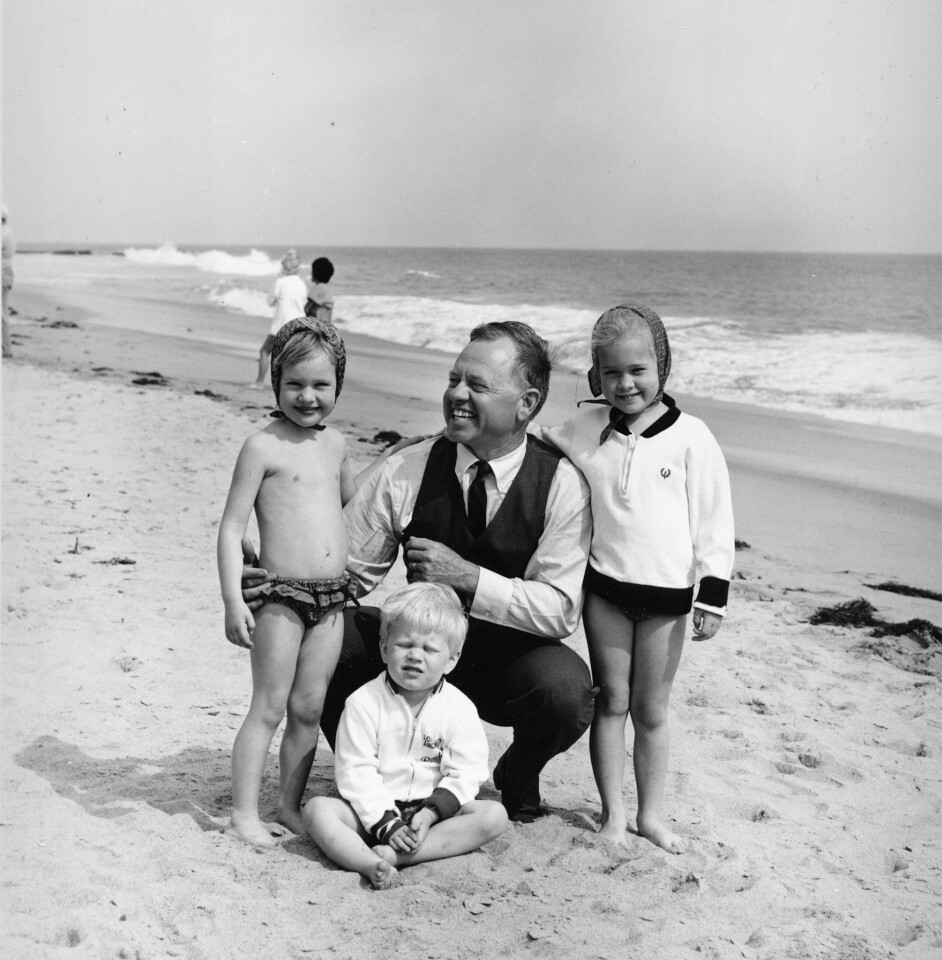 Mickey Rooney is pictured with his children at a beach location in this undated photograph. From left are daughter Kerry, 4, son Kyle, 3, and 5-year-old daughter Kelly.
(Associated Press)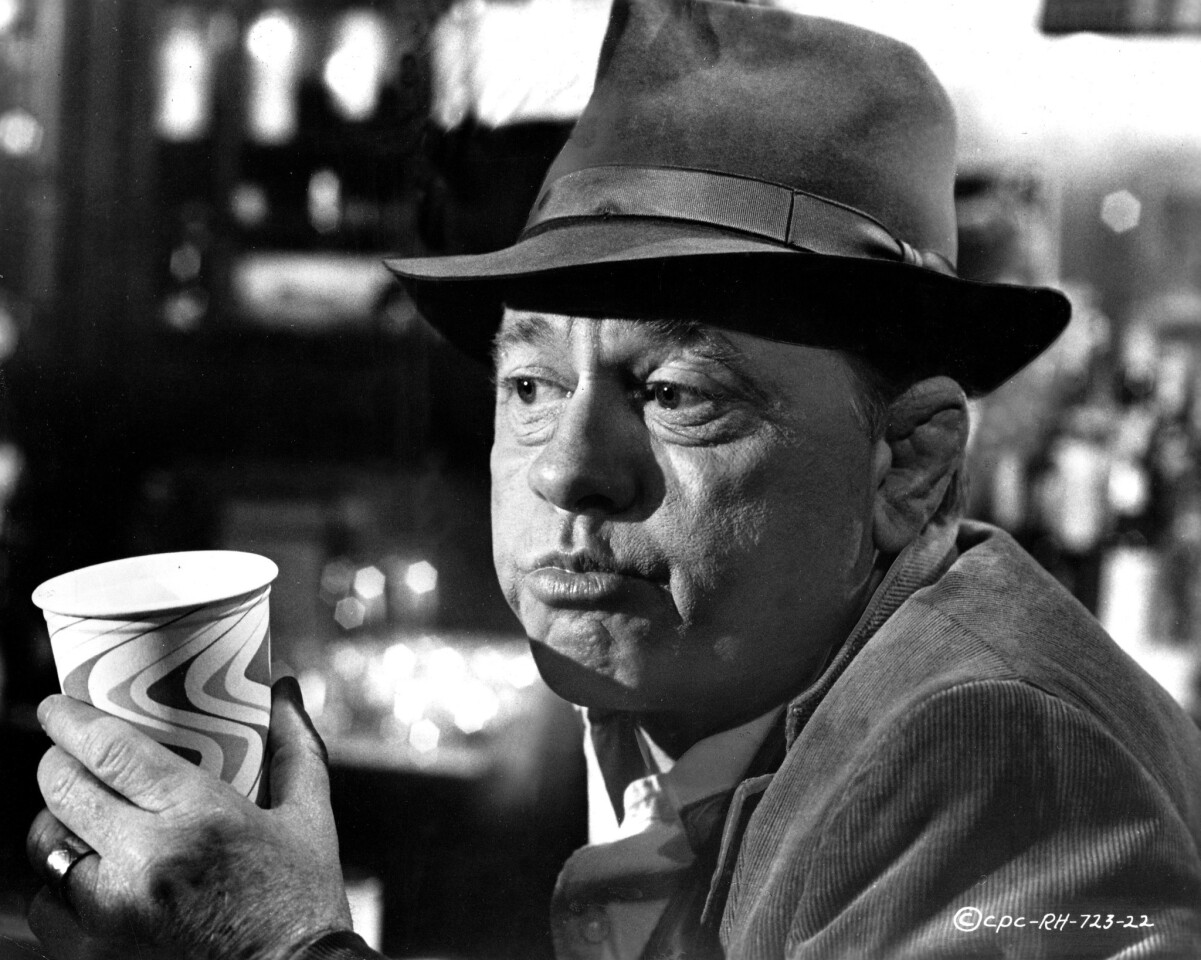 Mickey Rooney in "Requiem for a Heavyweight" in 1962.
(Columbia Pictures)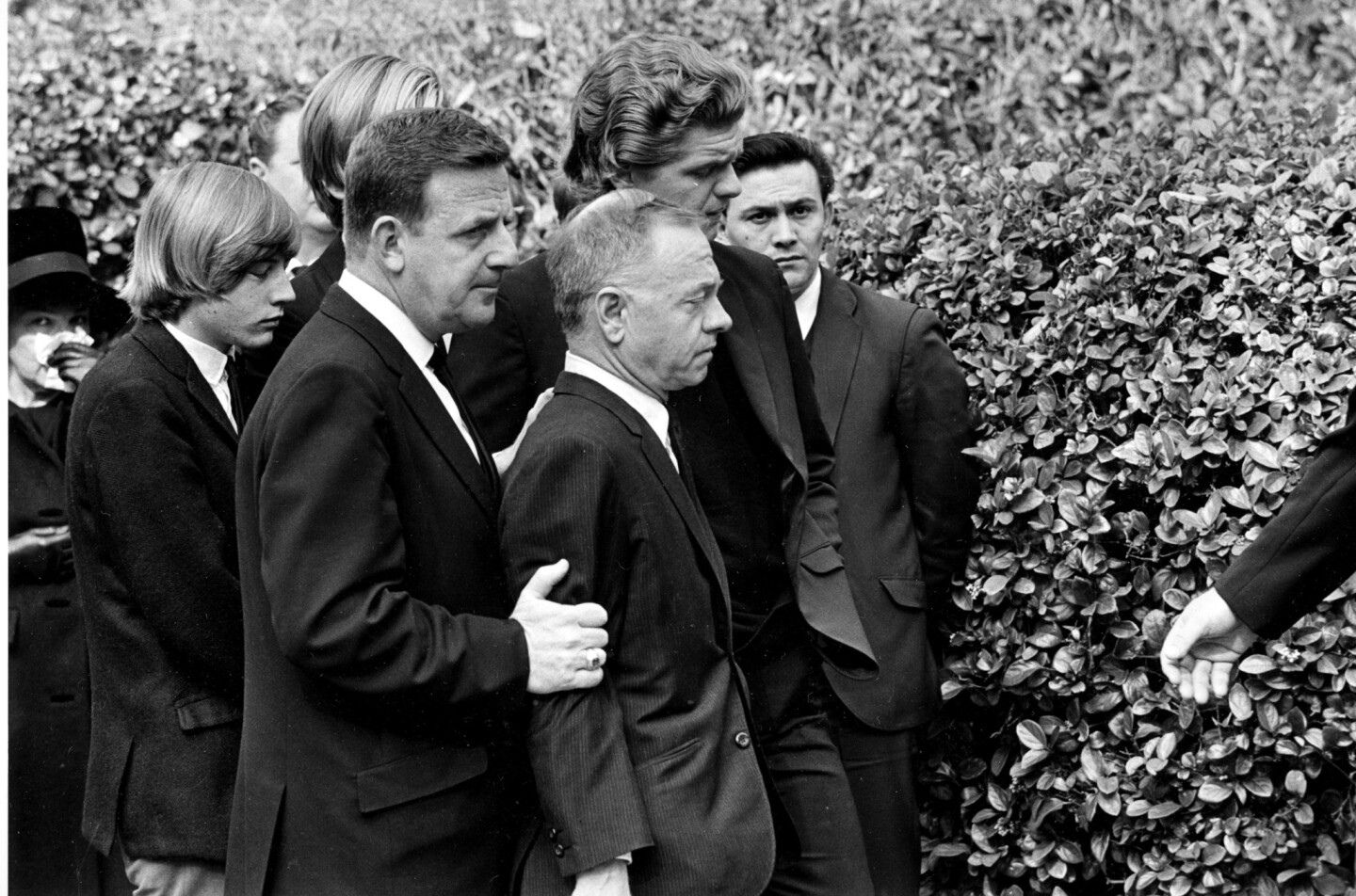 Mickey Rooney watches the casket of his estranged wife, Barbara, carried from the church after funeral services at Forest Lawn in Hollywood on Feb. 4, 1966. Barbara was shot to death Jan. 31 by an actor friend in a murder-suicide. Rooney is comforted by his business manager Red Doff at left.
(Associated Press)
Mickey Rooney (with wife Jan behind him) salutes as the intersection of Hollywood and Vine was designated as "Bob Hope Square." This was to mark the occasion of the entertainer's 100th birthday on May 29, 2003.
()
Mickey Rooney
and wife Jan Chamberlin at an AFI opening-night gala in Dallas in March 2008.
(Chris Blumenshine / Getty Images)
Mickey Rooney makes his way to the Governor's Ball, after the 65th Emmy Awards, held in the L.A. Convention Center, Sept. 22, 2013.
(Jay L. Clendenin / Los Angeles Times)
Dick Van Patten, left, and Mel Brooks flank Mickey Rooney on March 30, 2014, at Santa Anita Park in Arcadia.
(Associated Press)
Actor Mickey Rooney, who has died at the age of 93, was performing in his parents' vaudeville troupe, dressed in a little tuxedo, by the time he was just 17 months old.
He went on to become one of Metro-Goldwyn-Mayer's biggest stars during the Golden Years of Hollywood, topping the box office in 1939, 1940 and 1941.
He is being remembered Sunday for his legendary career, which included later success in television and on Broadway. Younger audiences may know him best for his role as one of the robbers in the 2006 hit, "Night at the Museum."
Read the full obituary: Mickey Rooney dies at 93; celebrated child actor of the 1930s and '40s
---
Inside the business of entertainment
The Wide Shot brings you news, analysis and insights on everything from streaming wars to production — and what it all means for the future.
You may occasionally receive promotional content from the Los Angeles Times.